National periodontics organization honors Dr. Hom-Lay Wang

4

min read
Ann Arbor, Mich., Sept. 20, 2017 -– School of Dentistry faculty member Dr. Hom-Lay Wang has received two of the top awards presented annually by the American Academy of Periodontology.
Wang was presented with the Distinguished Scientist Award and the Outstanding Periodontal Educator Award during the academy's annual conference earlier this month in Boston, Mass. The AAP represents more than 8,000 periodontists who are specialists in the prevention, diagnosis and treatment of inflammatory diseases affecting the gums and supporting structures of the teeth and in the placement of dental implants.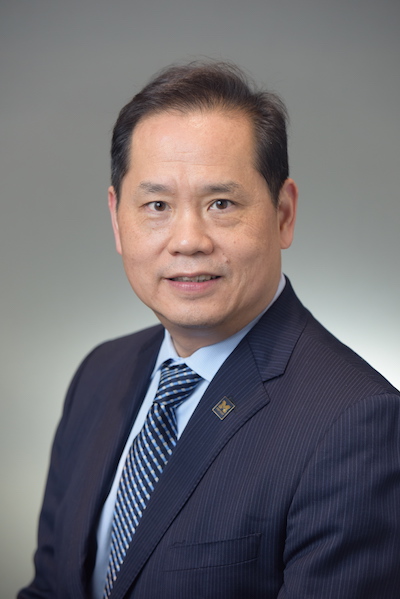 Wang is the endowed Collegiate Professor of Periodontology and has served as director of the graduate periodontal program for more than 20 years.
The Distinguished Scientist Award is presented to an academy member who has actively contributed to the basic science or clinical science of periodontology through published literature, pre- or postdoctoral education and scientific conferences and symposia. The AAP cited Wang's research interests in oral plastic surgery, regeneration, tissue engineering and other implant-related topics. He has published more than 130 scientific abstracts, 25 book chapters, and 500 scientific articles, with more than 25,000 citations of his work, making him one of the most prolific authors in the profession, according to the nomination. He has served on the editorial boards of more than 30 scientific publications, including the Journal of Clinical Periodontology, the Journal of Implant and Advanced Clinical Dentistry, and the AAP's Journal of Periodontology. He has given more than 650 lectures around the world.
The award for Outstanding Periodontal Educator recognizes an exemplary periodontal faculty member whose career demonstrates excellence in teaching and is an inspiration to students. Nominees must have made a consistent and significant impact on teaching and educational innovation in periodontics over the course of their career. Wang has trained more than 85 graduate students from all over the world, with many entering private practice or becoming educators. His students have attained fellowships, training grants from the National Institutes of Health and research awards. Five of his students have won the AAP's Balint Orban Memorial Competition, and 11 have been named as finalists.
Dr. Alexandra Plonka, a 2013 graduate of the dental school, said in her nomination letter: "Dr. Wang exudes passion and excitement for periodontics, encouraging his students to appreciate, master and contribute to the field. During classroom discussion and rigorous oral exams, he stresses we understand, not memorize. The knowledge is ours to apply to clinical practice and unexpected scenarios in our future careers."
In thanking the academy for the awards, Wang credited the people he has worked with and his wife and daughters. "I would not have all these achievements without the help from my former mentors, my co-workers, my staff, my research team and, most importantly, my students who have worked together with me over these years," he said. "Countless long-nights and weekends, we have all worked together to better science, our society, our academy and our patients. These awards do not just belong to me, it belongs to all of us … it is our award."
Wang joined the periodontics department at the U-M School of Dentistry as an assistant professor in 1989. He was promoted to associate professor in 1997 and professor in 2002. His periodontal and dental implant-related clinical research includes a specific focus on barrier membranes, bone grafting and growth factors. Wang is a Diplomate of the American Board of Periodontology and he was also a director of the board from 2004-2010. He has been actively involved in numerous professional organizations, including as president of the International Congress of Oral Implantologists from 2010-11.

###
The University of Michigan School of Dentistry is one of the nation's leading dental schools engaged in oral health care education, research, patient care and community service. General dental care clinics and specialty clinics providing advanced treatment enable the school to offer dental services and programs to patients throughout Michigan. Classroom and clinic instruction prepare future dentists, dental specialists, and dental hygienists for practice in private offices, hospitals, academia and public agencies. Research seeks to discover and apply new knowledge that can help patients worldwide. For more information about the School of Dentistry, visit us on the Web at: www.dent.umich.edu.

Contact: Lynn Monson, associate director of communications, at dentistry.communications@umich.edu, or (734) 615-1971.