Dentistry alumnus Robert Browne honored as Veteran of the Game

3

min read
Ann Arbor, Mich., Sept. 20, 2017 -– School of Dentistry alumnus Dr. Robert W. Browne was honored Saturday as the "Veteran of the Game" at the University of Michigan football game vs. the Air Force Academy.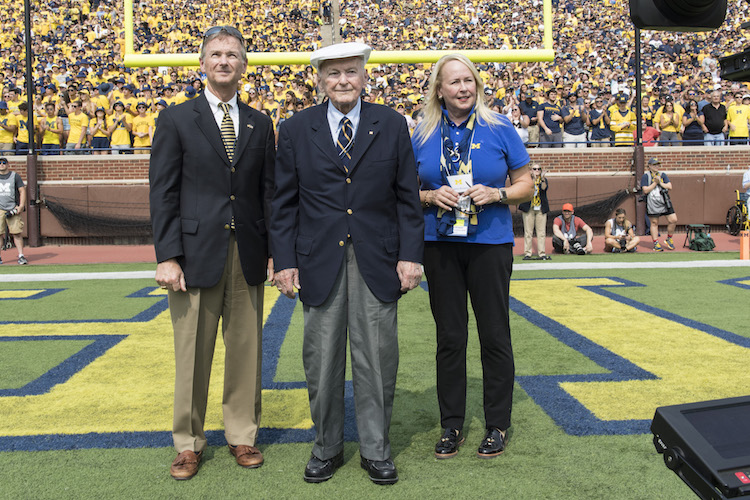 Dr. Browne was introduced to the Michigan Stadium crowd of 111,387 as a veteran of the Army Air Corps during World War II. Information on the stadium video screens highlighted his service as a pilot who flew combat missions over New Guinea, the Philippines and Okinawa, among other locations.
After the war, Dr. Browne received three degrees from U-M –- his undergraduate degree in 1948, his Doctor of Dental Surgery degree in 1952 and his master's degree in orthodontics in 1959. He retired after practicing orthodontics for many years in Grand Rapids and is now a resident of North Palm Beach, Fla. Dr. Browne is a major benefactor of the School of Dentistry; its Orthodontic Clinic and an endowed professorship are named for him.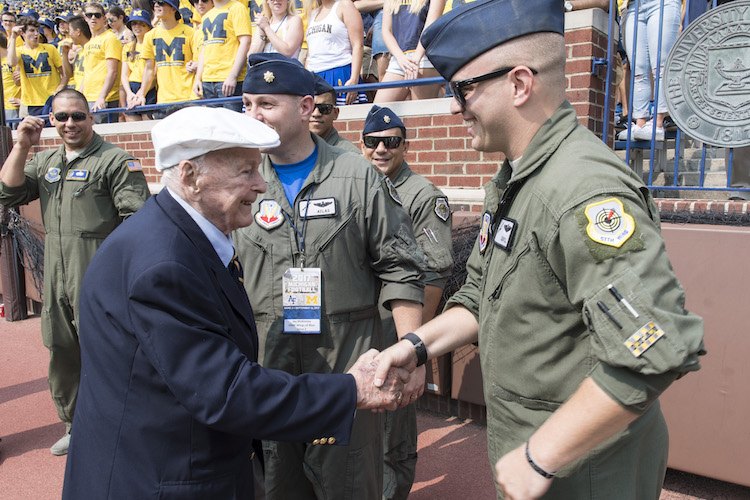 Dr. Browne was accompanied on the field Saturday by his daughter Cynthia Browne, of Aiken, S.C., and his son Jim Browne, of Dallas, Texas, both of whom are also U-M alumni. Cynthia earned a DDS in 1986 and is a retired orthodontist. Jim graduated with a BBA in 1978.
The U-M Athletic Department has been presenting a "Veteran of the Game" at football games since 2014. The veterans are also honored during a tailgate before the game.


###
The University of Michigan School of Dentistry is one of the nation's leading dental schools engaged in oral health care education, research, patient care and community service. General dental care clinics and specialty clinics providing advanced treatment enable the school to offer dental services and programs to patients throughout Michigan. Classroom and clinic instruction prepare future dentists, dental specialists, and dental hygienists for practice in private offices, hospitals, academia and public agencies. Research seeks to discover and apply new knowledge that can help patients worldwide. For more information about the School of Dentistry, visit us on the Web at: www.dent.umich.edu.

Contact: Lynn Monson, associate director of communications, at dentistry.communications@umich.edu, or (734) 615-1971.