University Research Corridor tour stops at DaSilva lab

5

min read
Legislative assistants for members of Congress focus on research
Ann Arbor, Mich., Aug. 21, 2017 -– Legislative staffers for several members of Michigan's Congressional delegation toured the high-tech lab of a School of Dentistry faculty member this week to learn more about his pain research and improvements in telemedicine.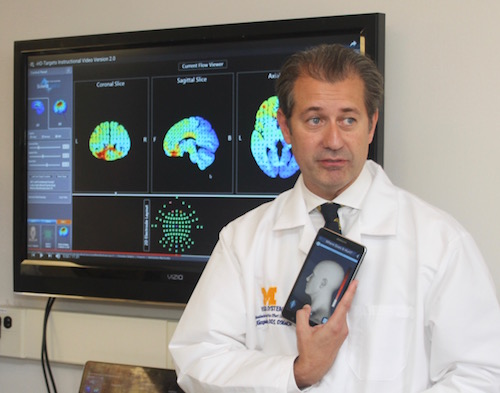 The University Research Corridor organized the three-day tour of its three member universities – the University of Michigan, Michigan State and Wayne State – to provide a sampling of some of the latest cutting-edge research in the state. Participants included legislative assistants and other staff members of U.S. Senators Debbie Stabenow and Gary Peters and Representatives Mike Bishop, Debbie Dingell, Sander Levin, John Moolenaar, Fred Upton and Tim Walberg.
Dr. Alex DaSilva, associate professor in the Department of Biologic and Materials Sciences at the School of Dentistry, showed the legislative delegation how he and his researchers use a variety of neuro-imaging techniques, including 3D software and equipment, to examine pain centers in the brain in a clinical environment. They have adapted Microsoft HoloLens technology similar to video gaming equipment that uses 3-D goggles. Sensors placed on a subject's head send information wirelessly to the HoloLens, which shows color-coded areas of brain activation in real-time. The augmented reality superimposes holograms over the real world, which in this research is the subject's brain.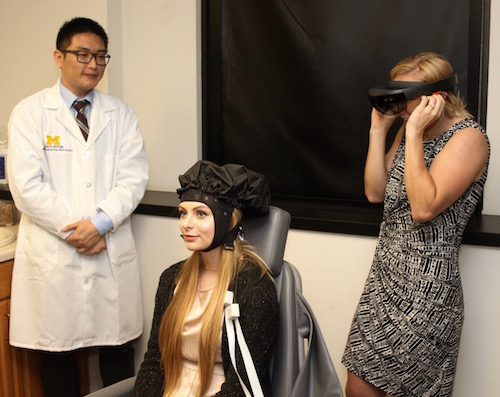 The research investigates novel therapeutic approaches to alleviate chronic pain disorders, including migraines, head and neck cancer pain temporomandibular disorders or other pain associated with the orofacial complex.
DaSilva and his assistants helped the legislative staffers don the 3-D goggles so that they could see the brain holograms examined by the researchers.
The researchers also discussed new technology that will allow the pain research to be conducted with distant patients so that they don't need to travel to Ann Arbor. Advances in telemedicine mean the researchers can remotely deliver treatment in a safe and precise manner, as well as communicate with and receive data from patients who may live, for example, in the far reaches of Michigan's Upper Peninsula. "This is one of our main goals, to make cutting-edge treatments for pain available to patients in need, independent of where they are," said DaSilva, who has treated patients who have come from as far away as Hawaii to participate in his pain research.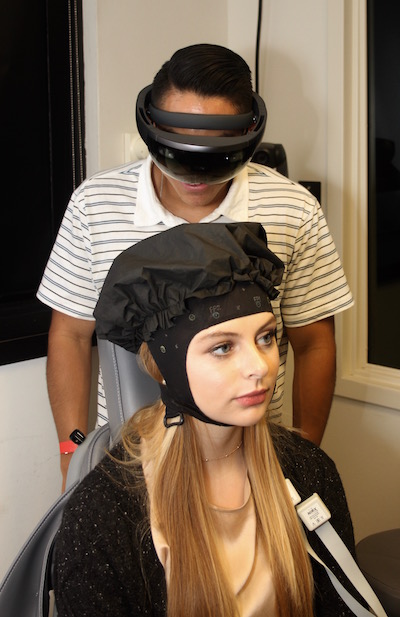 During initial in-person visits, the patients are given devices and trained to use them so that they can continue to share pain data once they've returned to their residence. That distance-treatment approach allows the lab to provide pain relief, continue their clinical research trials and gather health data in a much more efficient and ongoing way than if they relied only on irregular in-person visits to the U-M campus.
DaSilva is director of the H.O.P.E. lab, or Headache and Orofacial Pain Effort, which is a multidisciplinary collaborative effort to investigate the brain as a research and therapeutic target for chronic pain disorders. The work is in conjunction with the Center for Human Growth and Development and the U-M 3-D Lab.
The University Research Corridor tour made several other stops on the U-M campus, meeting with engineering and medical school faculty and research labs, the Transportation Research Institute and the Mcity autonomous car initiative.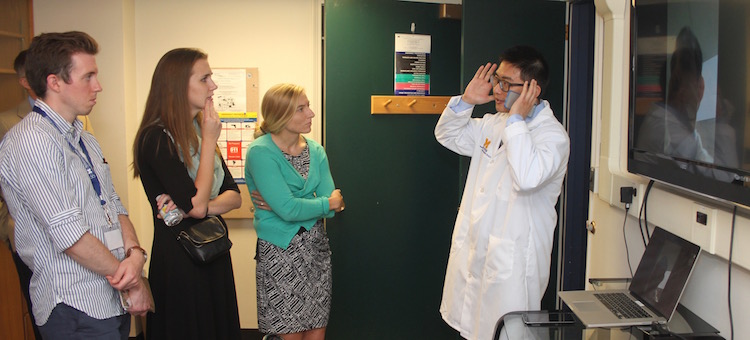 ###

The University of Michigan School of Dentistry is one of the nation's leading dental schools engaged in oral health care education, research, patient care and community service. General dental care clinics and specialty clinics providing advanced treatment enable the school to offer dental services and programs to patients throughout Michigan. Classroom and clinic instruction prepare future dentists, dental specialists, and dental hygienists for practice in private offices, hospitals, academia and public agencies. Research seeks to discover and apply new knowledge that can help patients worldwide. For more information about the School of Dentistry, visit us on the Web at: www.dent.umich.edu.

Contact: Lynn Monson, associate director of communications, at dentistry.communications@umich.edu, or (734) 615-1971.