D4 John Le returns from year of NIH research

2

min read
Ann Arbor, Mich., Aug. 11, 2017 -– Fourth-year dental student John Le has returned to the School of Dentistry after spending a year as a researcher at the National Institutes of Health in Bethesda, Md.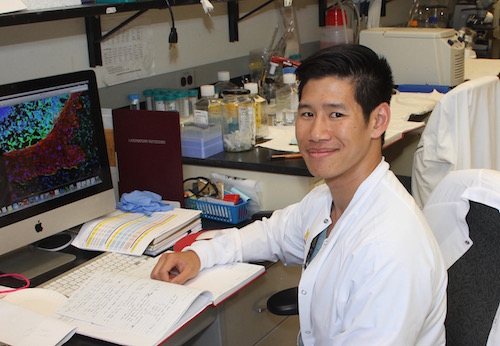 Le and another dental student who completed the Medical Research Scholars Program are featured in an article posted on the website of the National Institute of Dental and Craniofacial Research. They were the only two dental students along with 50 medical students in the program for 2016-17.
In the interview, Le says the year was invaluable experience as he prepares for a career as a surgeon-researcher. His work at the NIDCR, under the direction of Dr. Janice Lee, explored how bone repairs itself, and in particular how aging affects the process. Part of his research was transplanting bone marrow stromal cells, which can turn into bone cells, into mice of various ages.
This was the second consecutive year that a student from the U-M School of Dentistry was selected for the prestigious MRSP. Tarek Metwally, now a D4, was part of the 2015-16 cohort.
The article including Le is on the NIDCR website.
###
The University of Michigan School of Dentistry is one of the nation's leading dental schools engaged in oral health care education, research, patient care and community service. General dental care clinics and specialty clinics providing advanced treatment enable the school to offer dental services and programs to patients throughout Michigan. Classroom and clinic instruction prepare future dentists, dental specialists, and dental hygienists for practice in private offices, hospitals, academia and public agencies. Research seeks to discover and apply new knowledge that can help patients worldwide. For more information about the School of Dentistry, visit us on the Web at: www.dent.umich.edu.

Contact: Lynn Monson, associate director of communications, at dentistry.communications@umich.edu, or (734) 615-1971.