How do students reach dental school? Lots of ways

10

min read
Ann Arbor, Mich., July 31, 2017 -– The stories of three members of the Class of 2021 – Carla Jones, Oleg Nicolaev and Lauren Paolini – illustrate the sometimes direct and sometimes meandering routes that the 109 class members took on their way to the School of Dentistry.
Early dentistry fascination
Carla Jones is one of many who have taken the most traditional route, entering dental school either immediately after receiving an undergraduate degree or after a so-called "gap year" before beginning. While some class members take their time choosing dentistry, or perhaps switch to dentistry after considering other options, Jones is among the students who have known for a long time that they would end up in dental school.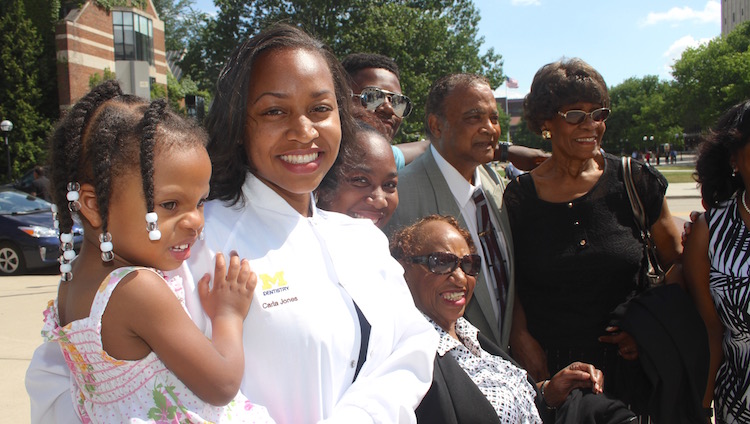 Jones grew up in Lansing, Mich., and received her undergraduate degree in biology from North Carolina A&T last spring. During college she explored medicine as well as dentistry but settled on dentistry, which her mother, Wanda, said is fitting given her daughter's longstanding interest in it. Wanda Jones says Carla talked about being a dentist from the age of 10.
Carla remembers her childhood visits to her pediatric dental office in great detail. "I would look to the left to the big wall of the No Cavity Club and I would most times be on it," she said. "And then I would have my exam and if my brother had one, we could kind of compete with one another for best oral health exam. After that we could get a toy from the green dinosaur container." Or maybe a Beanie Baby for earning extended time on the No Cavity Club wall.
"That really just excited me. I was always the one out of my siblings to brush my teeth. My parents didn't have to ask me to do that. Later on, much more interest developed when I started volunteering at dental clinics. I knew that I would want to be in this position – and here I am," she said, as she stood with her family on the steps outside Rackham after the White Coat Ceremony on Friday.
The long route from Europe
Oleg Nicolaev's route to U-M is a much more winding road. In 2007, he left his native Moldova in eastern Europe at the age of 20 to work in the Wisconsin Dells for a summer as a resort lifeguard. American hotel and service companies often recruit young Moldovians since job prospects in the country are bleak, he said.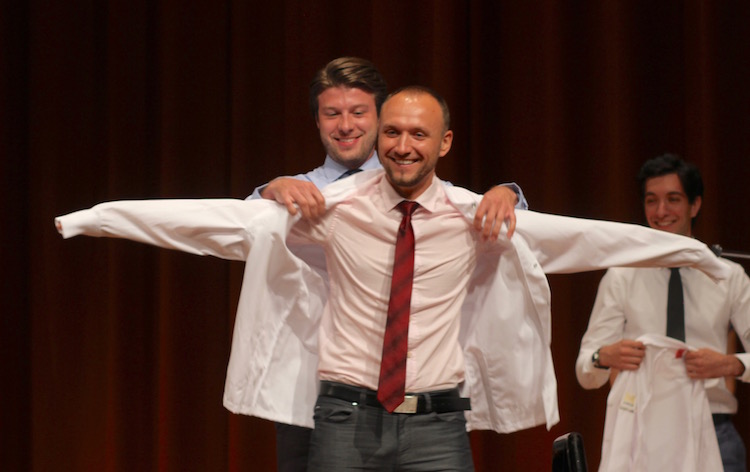 Nicolaev immediately loved the friendliness and opportunities of the American culture. He wanted to save up enough money to buy a car back home since his family had never owned one. He and his roommates tracked down second jobs as lifeguards at another resort and he worked a third job in a factory on weekends. When it came time to return to Moldova at the end of the summer, his friends talked him into staying for a few more months to find new jobs since he still didn't have enough money for a car.
He traveled to Vermont, Florida and Louisiana pursuing and finding short-term jobs for less than a year. He returned to Madison, Wisc., where several of his immigrant friends were living and decided that he wanted to stay in the U.S. It took him five years, and legal wrangling, to obtain his permanent resident card. That allowed him to be admitted to a technical college in Madison for a year, then the University of Wisconsin, where he earned his biology degree. During the 10-year period before and during his undergraduate years, he worked at McDonald's, Pizza Hut, a plastic tubing manufacturer, an oil extraction pipe company, a window blind manufacturer and a computer refurbishing company. He also may be the most experienced semi-truck driver in school history because he obtained his trucking license and hauled many different kinds of freight all over the country for several summers.
In Moldova, Nicolaev had been in his second year of college and at one point had investigated what it would take to become a dentist. During his time in Madison, he met two dentists who encouraged him to refresh his dentistry dreams. One of them, Dr. Andrew Wright, is a U-M alumnus who counseled Nicolaev that U-M should be his choice out of the five dental schools that accepted his application.
As Nicolaev reflects on his last 10 years in this country and now starting at a top dental school at age 31, he is proud of his accomplishment. "It was definitely a challenge for me. It was a totally different lifestyle that I needed to adjust to when I came to the United States. I did this. Through my perseverance, hard work and dedication, I am one step away from my dream of becoming a dentist."
He has already decided that he won't return to his native country to start a dental practice. "I will definitely stay in the United States, that's for sure. I'm not going back to Moldova," he said. "I get disappointed sometimes when I go back because the culture is so much different. People are so much nicer here. Because of the financial burden that people have back in Moldova – not having a job, being unemployed – that is reflected in their lifestyle, their attitude, their behavior around the whole society. It's a striking difference, when I go there and come back here to the United States. When I went back the first time, I had a cultural shock. … at the end of the two weeks, I told my mom I want to go home. And she almost cried (and said), 'So this is not your home anymore?' So I associate home now with the United States."
Athletic opportunity calls
Lauren Paolini's home is about eight miles south of Ann Arbor, in Saline, so it would seem to be a short trip to the School of Dentistry in Ann Arbor. It was actually a very long trip – an eight-year adventure around the world that included stops at two Olympic games and many other international athletic competitions.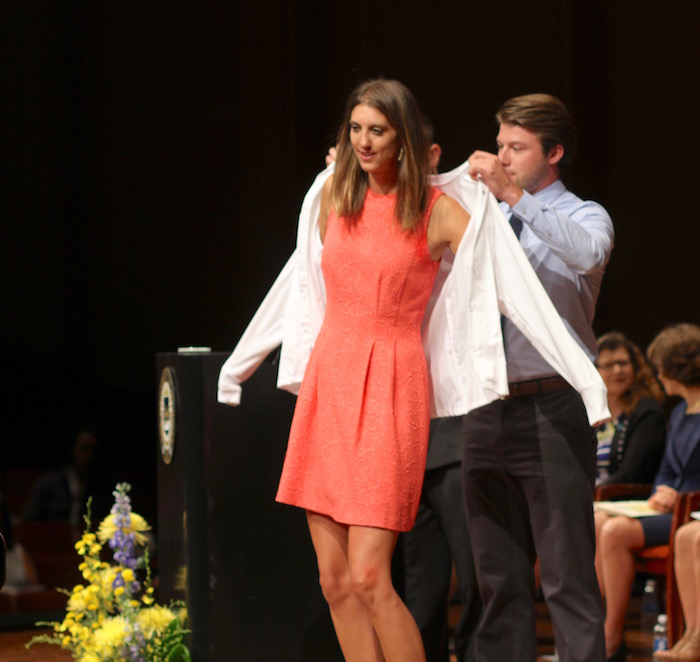 Paolini assumed she would enter dental school after graduating with a degree in biology from the University of Texas. But then things got interesting. She had attended Texas on a volleyball scholarship and her athleticism earned her an invitation to try out for the U.S. national team. She made the team, which carries an opportunity to reach the Olympic Games, but that would mean postponing dental school. Was it even an option to pass up a chance at the Olympics?
Among the people she turned to for guidance was her longtime dentist, Dr. Katherine Kelly, who is a part-time faculty member in the dental school's Department of Orthodontics and Pediatric Dentistry. "I was like, OK, how does this (volleyball commitment) fit for dentistry because I really want to go to dental school, but now I have this incredible once-in-a-lifetime offer," Paolini said. "I talked a lot to Dr. Kelly about it. Can I do this? Can I put dentistry on hold and play volleyball? She was like, absolutely, school will always be there for you. So I thought I'd do a year or two of volleyball, and my one year turned into eight."
From 2008-12, she traveled to international competitions with the U.S. team. When the team roster was selected for the 2012 Olympics in London, Paolini made the cut as an alternate player. That means she continued to travel and practice with the Olympic team, but would only play in London if one of her position players on the 12-member team was unable to compete. She did not play in the Olympics while the team was earning the silver medal, but she says the experience of practicing and supporting the team in other ways was an incredible experience.
In the world of world-class volleyball, the preparation of a U.S. team for the Olympics never stops. So after the London games, the cycle started over for the 2016 games in Rio de Janeiro. Paolini was still on the U.S. team and the lure of making it to a second Olympics meant continuing to postpone dental school while she traveled to international competitions in the run-up to Rio. She again made the Olympic team as an alternate, again did not get to play in the Olympics (the team won the bronze medal), and again says it was an amazing journey nonetheless.
"The way I look at it now is that (volleyball) was my first career and now I've retired from that, and I'm moving on to my second career, which is dentistry," she said.
Now that Paolini is walking the halls of the School of Dentistry as a student, she is in a familiar place. As a young child, she and her parents spent countless hours at the dental school and U-M hospitals for multiple surgeries and follow-up treatment to repair her cleft palate. Later, she wore braces for more years than most children as a patient in the Orthodontics and Pediatric Dentistry Department. Grateful for her dentists and doctors, and so experienced with the treatment methods, Paolini decided on a career in dentistry.
"For me, dentistry was always my goal and what I wanted to do and where I saw myself. Volleyball wasn't," Paolini said. "So it was interesting for me to be at that (Olympic) level. I never saw it coming. … It wasn't like I had dreamed about volleyball since I was a kid. I was dreaming about being a dentist since I was a kid."
"It's like a full circle to be in school here and learning essentially from the people who worked on me. … I kind of fell in love with the profession through that. I think I was very fortunate to have a lot of good orthodontists and dentists work on me throughout that time."
She is leaning toward orthodontics and pediatric dentistry as her specialty, but will wait to see how the next four years net out. "I would love to give back to that program in some way and help patients there now. (I can) tell them, 'I was here, I was you.''
###

The University of Michigan School of Dentistry is one of the nation's leading dental schools engaged in oral health care education, research, patient care and community service. General dental care clinics and specialty clinics providing advanced treatment enable the school to offer dental services and programs to patients throughout Michigan. Classroom and clinic instruction prepare future dentists, dental specialists, and dental hygienists for practice in private offices, hospitals, academia and public agencies. Research seeks to discover and apply new knowledge that can help patients worldwide. For more information about the School of Dentistry, visit us on the Web at: www.dent.umich.edu.

Contact: Lynn Monson, associate director of communications, at dentistry.communications@umich.edu, or (734) 615-1971.