Gwozdek Named Mentor of the Year

4

min read
Ann Arbor, MI — January 22, 2013 — University of Michigan School of Dentistry dental hygiene educator and clinician Anne Gwozdek has been named the 2013 Mentor of the Year by Philips Sonicare and PennWell Corp., the publisher of RDH magazine. Her photo will appear on the cover of the April issue of the magazine along with a feature story about her career. The award will be presented in June during the American Dental Hygienists' Association's annual convention in Boston.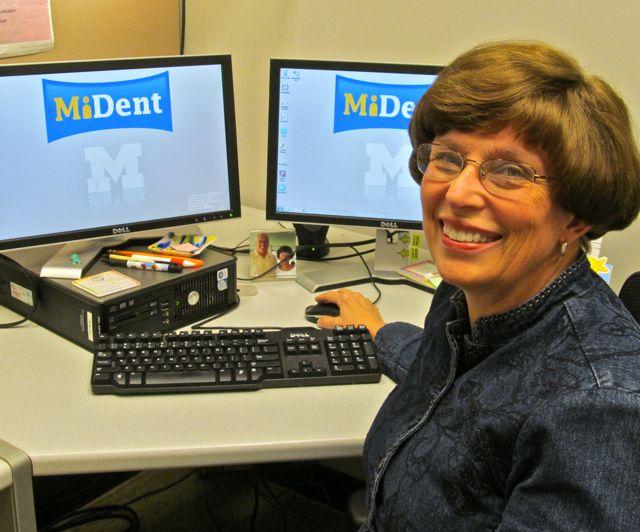 Gwozdek, a clinical assistant professor of dentistry, has directed the School's dental hygiene degree completion program since its inception in January 2008.  The distance learning program offers dental hygienists an opportunity to earn a Bachelor of Science degree while remaining employed or maintaining family commitments.  The success of that program led to the School launching a second online learning program last September leading to a Master of Science degree in dental hygiene.
Two dental hygiene colleagues and two former students nominated Gwozdek for the award: Karen Essell (BS DH 1969), Mary Gilson Layher (BS DH 1981), Elizabeth Easter (BS DH 2012), and Kathy Yee (BS DH 2009).
Professional, Personal Influence Described
"Anne's contributions to our profession are the result of her encouraging, collaborative, and well-prepared approach," Layher wrote in her nomination. Meeting Gwozdek in the 1990s when she was editor of the Michigan Dental Hygienists' Association's magazine, Bulletin, Layher wrote that Gwozdek's encouragement and mentoring "led me to become vice president of the Michigan Dental Hygienists' Association in 1998 and a delegate to the American Dental Hygienists' Association."
Layher also lauded Gwozdek's "amazing ability to network, educate, and collaborate with those she has encountered." That approach, Layher noted, led to the state legislature approving a bill in 2002 that allowed dental hygienists to administer local anesthesia as well as developing and implementing the School's online Bachelor of Science degree completion and Master of Science programs.
Essell said she listened to advice Gwozdek gives to dental students and dental hygienists: Be open to new opportunities and looking for new ways to apply your education. "My newest role as a research hygienist was facilitated by Anne. She introduced me to a program that she felt would fit my skill set," Essell said, adding, "Anne has a wonderful way of evaluating people's strengths and nurturing them."
Easter, who was president of the Student American Dental Hygienists' Association during her final year at U-M, said "Mrs. Gwozdek always offered advice and encouragement that helped me to see how my education could benefit me in areas I may not have even thought about before, such as research."
In addition to career advice, Easter said that Gwozdek "provided priceless advice that enabled me to effectively network with other schools to learn more about how they encouraged student involvement. Because of her suggestions," Easter said, "our School's membership in SADHA surpassed 90 percent at the end of the 2011/2012 academic year."
"This prestigious award couldn't be given to a more deserving person," said Janet Kinney, director of the dental hygiene program.  "So many of us, myself included, have stories about how Anne has impacted our lives and professional careers for the better, helping us to achieve goals we never thought we could reach."
Gwozdek earned her dental hygiene certificate from the U-M School of Dentistry in 1973. She was a dental hygienist at a private practice in Dearborn, Michigan, for 16 years and later at a private practice in Canton, Michigan. She served a one-year term as president of the Michigan Dental Hygienists' Association in 1999 and became a member of School's dental hygiene faculty two years later. In 2007, Gwozdek earned a master's degree in educational media and technology from Eastern Michigan University. She has also been an advisor to the Student American Dental Hygienists' Association.
"Every dental professional fondly remembers a mentor who made a difference in their lives, someone who acted as a trusted and loyal adviser and friend, who motivated, inspired and supported our personal and professional growth," said Gail Stoops, RDH, the senior manager of professional relations at Philips Oral Healthcare. "The Philips Sonicare/RDH Mentor of the Year Award recognizes outstanding dental hygienists who have positively impacted the lives of other professionals," she added. The award has been presented annually since 2004.