Dental Students, Faculty, Staff Awarded for Diversity Efforts

3

min read
Ann Arbor, MI — January 24, 2013 — A group of dental students who created a service project for homeless veterans who lack access to dental care, a dental hygiene alumna who provides oral health care screenings to low-income preschoolers, and an adjunct clinical lecturer who recruits underrepresented minority students from high schools across Michigan and encourages them to apply to the School of Dentistry are this year's recipients of the Ida Gray Award.
The School of Dentistry's Multicultural Affairs Committee presented an award to students, a staff member, and a faculty member during a celebration of Martin Luther King Jr. Day Jan. 21.

Students: Wolverine Patriot Project
Five second-year dental students, led by Jesse Edwards, himself a veteran, established the Wolverine Patriot Project to bring free oral health care to homeless veterans in Gaylord, Michigan.  The other dental students sharing the award were Tony Guinn, Dental Class of 2015 president, Ameen Shahnam, Kevin Goles, and Mariam Dinkha.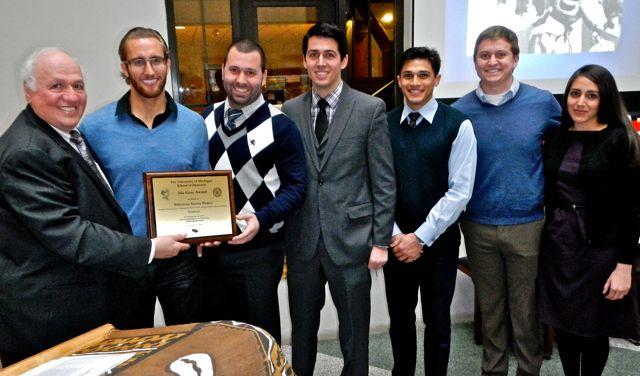 "This group of dental students exemplifies what dentistry should be all about: bringing the best possible care to those who suffer from a lack of dental care and making the world a better place," said Dean Peter Polverini.
Staff: Elizabeth Easter
Currently a staff member at the Michigan Center for Oral Health Research after earning her dental hygiene degree last spring, Elizabeth Easter "has displayed an exceptional degree of community involvement," Polverini said.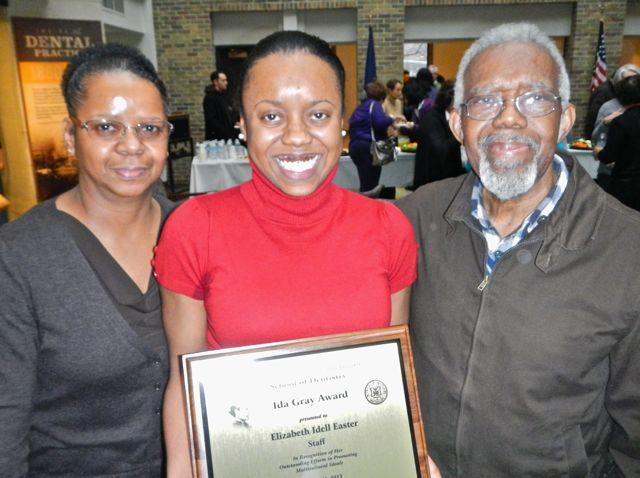 During her three years in the School's dental hygiene program, he cited Easter's participation in the Head Start Smiles Fluoride Varnish Program Practicum Project where she performed oral health screenings on low-income preschoolers and provided oral hygiene education to the preschoolers and staff.
Easter was actively involved in other programs including volunteering at the Washtenaw Community Dental Clinic as well as at the New Beginnings Academy where she taught oral health care to 4 and 5 year olds, participated in the annual Give Kids a Smile program and participated in the Ypsilanti High School Mentoring program.
Faculty: Juana Gissendanner
An adjunct clinical lecturer in the Department of Periodontics and Oral Medicine, Gissendanner, who earned a Bachelor of Science degree in dental hygiene from the School of Dentistry in 1988, has been actively recruiting underrepresented minority students from high schools across Michigan to consider a career in oral health for more than a decade.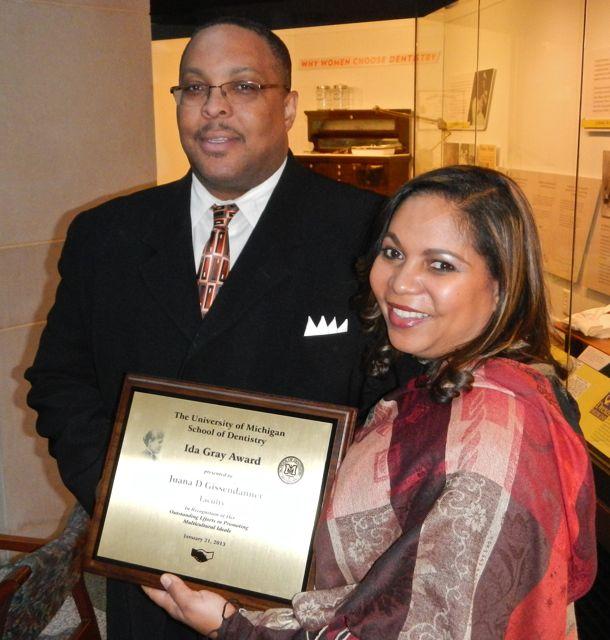 Gissendanner has been a faculty advisor for the National Dental Hygienists' Association and was president of the organization in 2011. She helped establish the student chapter (SNDHA) at the School of Dentistry and encouraged minority students to join.
"Juana Gissendanner plays an important role in our School, and we are grateful for all her work," Polverini said. "She encourages students from underrepresented minority backgrounds to be role models in their communities and motivates other students to pursue a career in dentistry."
Dr. Ida Gray was the first African-American woman in the U.S. to earn a Doctor of Dental Surgery degree, doing so at the University of Michigan School of Dentistry in 1890. After earning the degree, she practiced dentistry in Cincinnati and later moved to Chicago where she became the first African-American woman to practice dentistry there.
The School's Multicultural Affairs Committee presents the Ida Gray Award annually to a faculty member, staff member, and a student, or group of students, who contribute to advancing diversity and improving the climate for working, learning, patient care, and research at the University of Michigan School of Dentistry