Dental Care for Veterans

8

min read
Dental Students, Dental Alumni Involved
Is it fate? A remarkable confluence of events? Or maybe a little of both?
A group of dental students from the University of Michigan School of Dentistry and a husband and wife dental team who earned their dental degree from U-M in 1989 and run a private practice have joined forces to provide oral health care to disabled and homeless veterans in Gaylord, Michigan.
The veterans-focused oral health care initiative they created is known as the Wolverine Patriot Project.
The Project's origins can be traced to a second-year dental student, Jesse Edwards, who asked himself a simple question not so long ago, "How can I help those who have served this country?"
Edwards enlisted in the military after graduating from Lapeer West (Michigan) High School. He served as a dental technician for two years at the Great Lakes Naval Air Station in Waukegan, Illinois, and also served for three years at the Marine Corps Air Station in Yuma, Arizona.
"I saw many oral health care problems with our servicemen and women that needed to be addressed when I was a dental technician," Edwards said. "Those five years of active duty fueled my desire to go to dental school, become a dentist, and help our veterans after I graduated."
It turns out Edwards is helping veterans even sooner than he thought he would.
When he arrived at U-M to begin his dental studies in the summer of 2011, Edwards said he was intrigued with the School's Pathway program which gives dental students opportunities to explore career options in health care delivery, leadership, and research while they work to complete their dental education. The Leadership Pathways gave him the opportunity to pursue his dream.
"Virtually Nonexistent" Dental Care for Veterans
A conversation with several other dental students including Tony Guinn, Dental Class of 2015 president, Ameen Shahnam, Kevin Goles, and Mariam Dinkha, led to some startling discoveries and what Edwards described as "disturbing insights" about the plight of military veterans seeking oral health care in Michigan.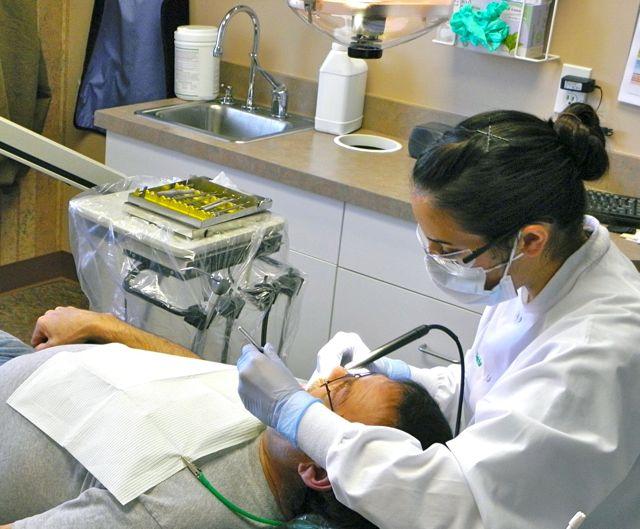 Edwards and the four other dental students learned that more than 723,000 veterans live in Michigan, more than seven percent of them are homeless, and most do not qualify for dental benefits for one reason or another.
"Veterans receive medical care, but dental care for them is virtually nonexistent," Edwards said. "That bothered me. I wanted to do something to change that."
He added that veterans who need oral health care "often have to jump through a lot of hoops trying to find what care might be available, if any." That could include contacting a church, the United Way, or going to a hospital. It's not uncommon for some veterans to use the Internet at a public library to learn what kind of care might be available and where.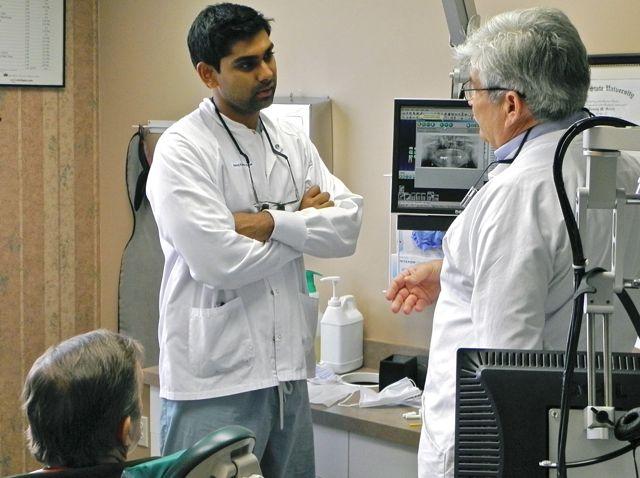 Some Michigan veterans are referred to Patriot Place in Gaylord, a temporary residence for homeless veterans. Run by Goodwill Industries of Northern Michigan, Patriot Place helps veterans make the transition from homelessness to independent living. It works with the Veterans Administration and other government agencies to help secure benefits, including medical and dental care, and also provides housing and jobs skills training.
However, no dental or health care is provided at that facility in Gaylord, "so the residents have only one option, traveling to a free-care clinic in Saginaw, about two hours from Gaylord," Edwards said. "I wanted that to remove that obstacle to care for them too."
School of Dentistry Alums Respond
Edwards and the other dental students in the School's Leadership Pathway drafted a proposal for the Wolverine Patriot Projectto provide dental care to veterans. During a visit to Gaylord, Dr. Bill Piskorowski, assistant dean for Community-Based Dental Education, talked about the project to two U-M School of Dentistry alumni, Dr. Edward Duski and his wife, Dr. Janis Chmura Duski, whose office was only a few miles from Patriot Place.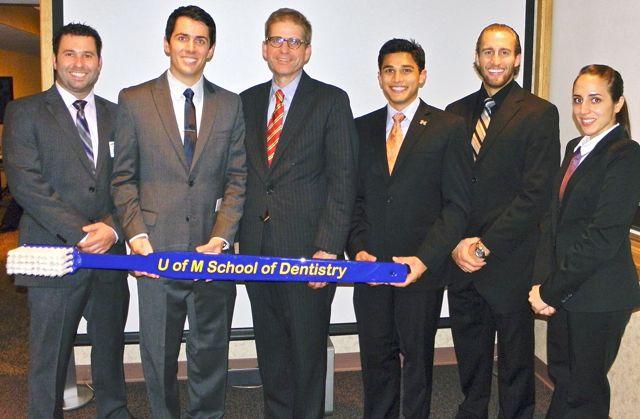 The Duskis, who served in the U.S. Air Force from 1989 to 1992, jumped at the chance to work with U-M dental students to provide dental care to the veterans.
"We recently became empty nesters and were looking for an opportunity to give back. As veterans and as dentists, Bill's request was that opportunity we were looking for. His offer was icing on the cake," Ed Duski said.
In late October, Edwards, the other dental students, and the Duskis talked about their plans to provide oral health care to veterans during a meeting in Gaylord with local community and political leaders, dentists, and representatives from charitable organizations. "The turnout that night in October was incredible," Janis Duski said.
Jason Allen, senior deputy director of Veterans Affairs with the State of Michigan, was also there. "I was impressed with the efforts of everyone to help veterans in Michigan," Allen said. "The dental students did their homework. They understood what the veterans needed to do to receive the oral health care they are eligible for."
Allen noted that although Michigan has the 11th largest population of veterans among the states in the nation, it has the lowest utilization of health care benefits by veterans. "In fact, we are last when it comes to veterans using benefits under terms of the G.I. Bill," he said. "More than $1.5 billion in health care benefits are being left on the table annually by veterans who do not know they are eligible for the benefits or unable to access them."
"Hard to Hold on to Your Emotions"
The Duskis closed their private practice for two days and worked with eight dental students and four community leaders. For most of the 18 veterans who were examined, it was their first visit to a dentist in years. Each veteran received a comprehensive examination that included an oral exam, X-rays, and periodontal charting for gum disease. Many had significant gum disease and were edentulous.
"Since most of the veterans had not seen a dentist in a long time, we took the time, in some cases two or three hours with a couple of the patients, to listen to what they had to say," Edwards said. "They really opened up and gave us a lot of information about their health history and service in the military."
The experience had a profound impact on the Duskis.
"It was hard to hold on to your emotions listening to some of the stories the veterans told us about their military experiences as well as listening to them describe their health concerns," Janis Duski said.
"We learned so much about each of them," Ed Duski said. "Helping them was our way of acknowledging their sacrifices and saying 'Thank you for a job well done'." The 16 veterans will return in January to hear the dental students and the Duskis describe the comprehensive treatment plan that has been developed for each of them.
As for their future involvement, the Duskis leave no doubt they want to remain involved.
"We want to continue working with the School of Dentistry to make this a sustainable program in the Gaylord area because there is definitely a need for oral health care for veterans," Ed Duski said. "We will ask other oral health care professionals in the Gaylord area to join us."
He was profuse in his praise for the dental students. "The professionalism of the dental students and their ability to connect with the veterans was incredible. I'm glad Jan and I were able to witness that because it was an experience we will never forget," he said. "The University of Michigan School of Dentistry has so much to be proud of."
Allen said he is looking forward to continuing to work with dental students, dentists in private practice, and the Michigan Dental Association to ensure Michigan's veterans are aware of possible dental and other health care benefits they are entitled to.
A Statewide Model?
Jesse Edwards said the Wolverine Patriot Project is just getting started.
"We want this to be an on-going program, and we would like the program to become a template to provide oral health care to veterans that can be used in other communities throughout Michigan," he said. "We would also like to get more dentists in other communities involved and, in the process, enhance the education we as dental students receive with these clinical experiences."
Dr. Bill Piskorowski, assistant dean for Community-Based Dental Education, is the mentor for the Wolverine Patriot Project. He is assisted by Dr. Howard Hamerink, adjunct clinical associate professor of dentistry and Community-Based Dental Education academic program manager.