Dental school PhD candidate draws national and international awards

7

min read
Ann Arbor, Mich., Sept. 19, 2023 – When Yao Yao left China in 2017 for a summer research internship at the University of Toronto in Canada, she expected it would be an interesting experience after which she would return to her home country, finish her final year of dental school and then decide on her next educational move.
Instead, the summer of assisting with world-class health science research in the lab of a world-class scientist opened Yao to new possibilities. "I was really struggling and unsure what to do next after the bachelor's degree," she said, with most options pointing toward some form of clinical care. Her uncertainty changed after spending the summer in Toronto with a team of 40 researchers examining spinal cord injuries under the direction of Dr. Michael Fehlings, a leading expert in the field. Half of the team focused on basic scientific research and half focused on how that might translate to clinical care.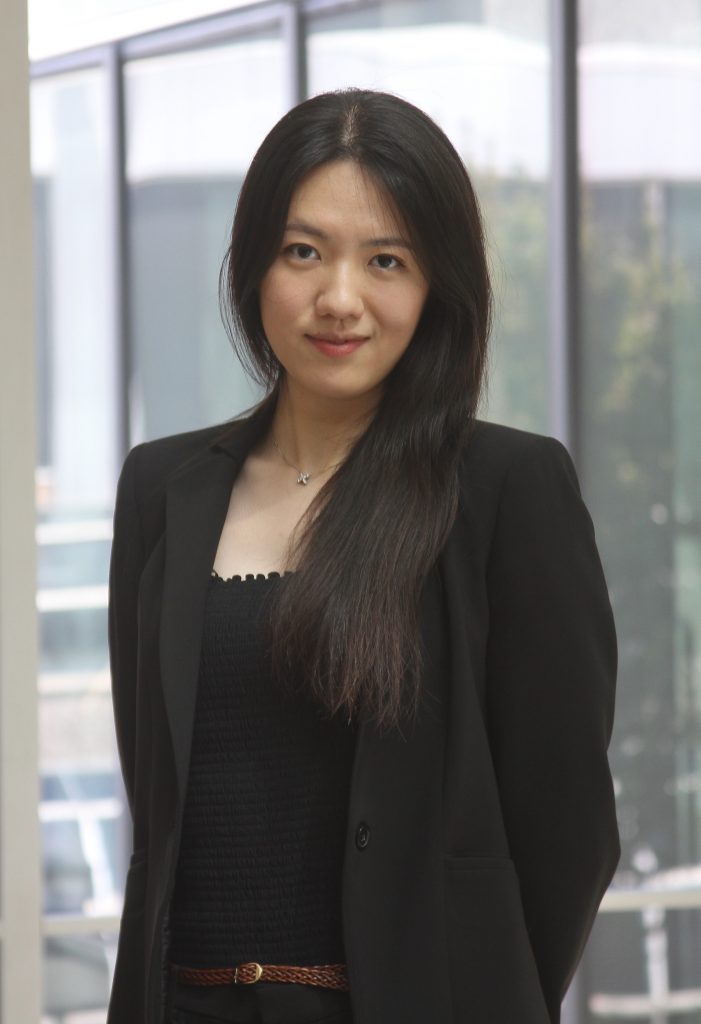 "That was a very unforgettable experience," Yao said. "That enabled me to see how a professor or principal investigator can lead such a large research team and bridge the basic scientific research with the clinical treatments. That was very inspiring. After that, I was very determined to pursue a research-focused degree after my bachelor's degree."
Yao wanted to explore research related to her training in dentistry, so she applied to graduate programs at dental schools across the U.S. She chose the Oral Health Sciences PhD program at the University of Michigan School of Dentistry, arriving in 2018 to start the five-year course of study. This fall, she is working to finish her dissertation in anticipation of receiving her PhD early next year.
Among the indications that moving into research was a good choice for Yao are two awards – one national and one international – that she has received in recent months. She was presented with the Outstanding Student Researcher Award by the American Association for Dental, Oral and Craniofacial Research (AADOCR). She was one of only two people in the country to receive the award among the dental students, dental residents, graduate students and postdoctoral fellows. The Student Research Group of AADOCR established the award to provide national recognition for outstanding student researchers who are highly productive in research and dedicated to advancing dental research.
Yao also received the Women in Science Promising Talent Award this year from the International Association for Dental Research (IADR). It is presented by the executive committee of the IADR Women in Science Network to recognize the dedication and talent of women early in their dental-related education and careers. Yao was selected from applicants around the world in the award category for women working on their master's or PhD degrees, or as postdocs in oral, dental and craniofacial research. Yao said she was grateful for the award since many researchers further into their careers, with excellent publication records, were eligible for the award.
When Yao first arrived at the U-M School of Dentistry in 2018, she worked with Dr. William Giannobile in the area of periodontal tissue engineering, specifically in designing and fabricating tiny 3-dimensional scaffolds that facilitate the growth of soft tissue and hard tissue in the defects around teeth. In 2020, Yao joined Dr. Joerg Lahann's group to continue her research in developing novel functional biomaterials.
Lahann is director of the University of Michigan Biointerfaces Institute and a professor of Chemical Engineering at the U-M College of Engineering, with additional appointments in the Biomedical Engineering, Macromolecular Science and Engineering, and Materials Science and Engineering departments. His lab's team of researchers, located at the North Campus Research Center, focus on three interdisciplinary areas – scaffolds, nanoparticles, and surface chemistry.
After joining the Lahann team, Yao decided to shift her research focus to the field of nanoparticles, prompted in part by learning about how the vaccines for the COVID-19 virus used nanoparticle as their carriers. Nanoparticle research has grown rapidly in recent years as scientists explore and advance how the incredibly small particles can be used as drug delivery platforms and in gene therapy. "In the Lahann Lab, I design and develop protein nanoparticles to safely deliver genetic material into cells and tissues, similar to what mRNA COVID-19 vaccines do, but for other dental and medical applications," Yao said. Her dissertation title – "Electrohydrodynamic Jetted Nanoparticles with Cell/Tissue Specificity for Non-Viral Gene Therapy" – reflects an advanced "jetting" technique used by the Lahann lab.
Yao has been part of seven publications over the course of her research at U-M and during her undergraduate degree in China, five of which have been as first author. She has also collaborated with U-M dental school faculty Drs. Yuji Mishina and Hom-Lay Wang, as well as several researchers at the Harvard University dental school, which have led to the publication of several review papers.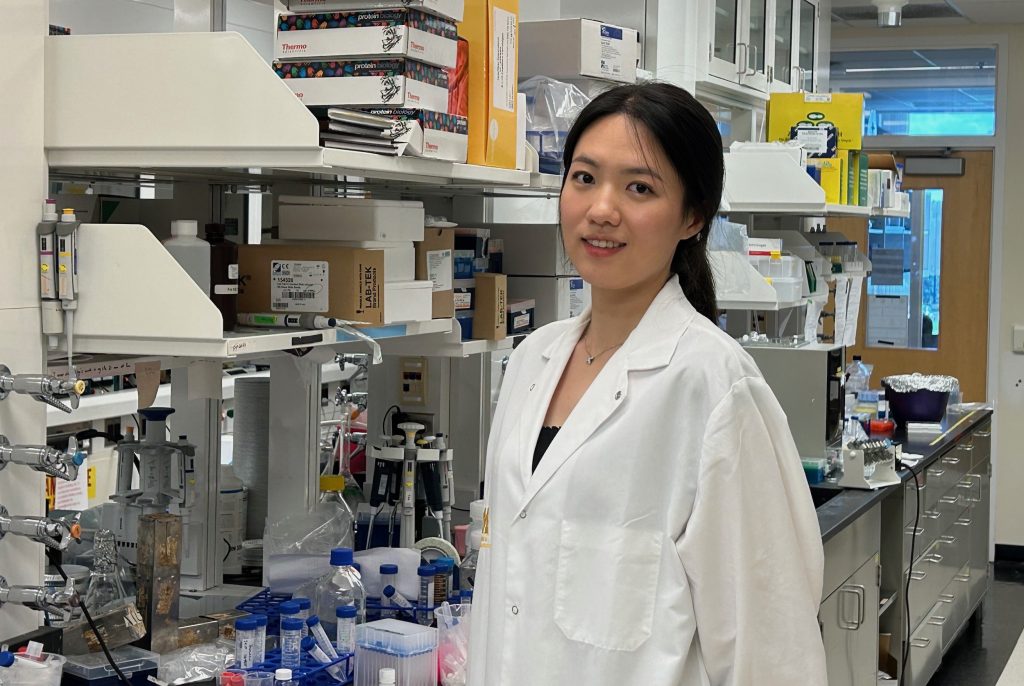 As the scope of Yao's research has grown and she approaches the completion of the PhD program, receiving the Women in Science Promising Talent Award is particularly significant for her. She says she is honored to be acknowledged among the increasing number of women who are entering the various fields of scientific research that have long been dominated by men. That change is happening in tandem with a much greater emphasis on collaboration across scientific disciplines. Rather than silos of expertise, as has been the longstanding tradition in academia, research initiatives like the Biointerfaces Institute draw researchers from many areas into closer collaboration, with the intent of making better and faster advances in human health.
Yao said she is grateful for the help of faculty and other research colleagues for their guidance in many areas, from how to have a greater impact on research teams to developing her own writing style when publishing her research. She credits Dr. Vesa Kaartinen, Associate Dean for Research and former director of the Oral Health Sciences program at the dental school, with recommendations that contributed to the awards she has received.
She likes her perspective that mixes ties to the dental school with the engineering expertise in the Lahann lab at the North Campus Research Center. "It is unique that you can stand at the intersection of engineering and dentistry," she said. "You can see how you can serve or function as a bridge between bioengineering and clinical dentistry. I really cherish that opportunity. It is not that easy to communicate and coordinate with a group of people with a totally different background, but that's actually the trend of interdisciplinary collaboration. If I can develop this kind of experience – to know how to initiate, sustain and maintain such collaboration – it will be a lifelong success for me."
The help Yao has received from many mentors so far is something she is already trying to pay forward. Beginning several years ago, she has helped younger students and researchers break into the world of advanced science, just as her mentors did for her. She is currently mentoring an undergraduate student in the Lahann lab.
"Everyone can do something to make a difference," she said. "The next generation of students, either female or underrepresented or students from socially and economically disadvantaged groups, I can give them as much help as possible. Some of them need scientific skills, some need leadership skills, some need information to know how to get admitted to PhD or master's programs. Mentorship can affect students in a very long-term way. Good mentorship can make people stay passionate about research and grow in a very impressive and amazing way."
###
The University of Michigan School of Dentistry is one of the nation's leading dental schools engaged in oral healthcare education, research, patient care and community service. General dental care clinics and specialty clinics providing advanced treatment enable the school to offer dental services and programs to patients throughout Michigan. Classroom and clinic instruction prepare future dentists, dental specialists and dental hygienists for practice in private offices, hospitals, academia and public agencies. Research seeks to discover and apply new knowledge that can help patients worldwide. For more information about the School of Dentistry, visit us on the Web at: www.dent.umich.edu. Contact: Lynn Monson, associate director of communications, at dentistry.communications@umich.edu, or (734) 615-1971.