Alumni Profile: Dr. Rohit Reddy (DDS 2008) – An immigrant success story in dentistry and business, built with an insistence on excellent patient care

17

min read
This profile is one in an ongoing series highlighting School of Dentistry alumni, donors and students.
________________________________
Rohit Reddy has a spirit of gratitude about him.
Time and again as he describes his very successful life's journey so far, he stops to praise those who helped him along the way.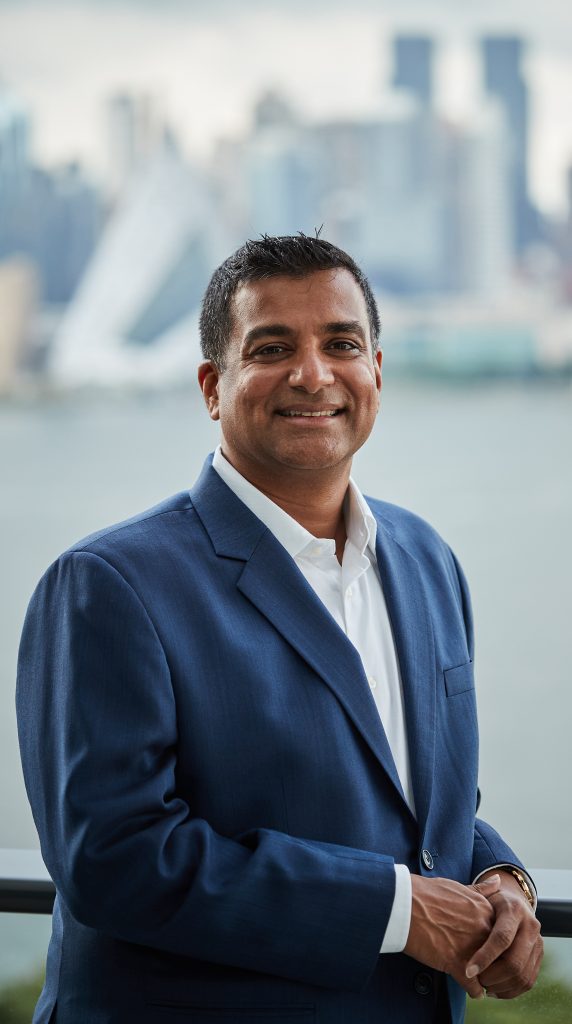 He describes himself as "a kid from India" when he arrived at O'Hare Airport in Chicago on a cold December day in 2003. Actually, he was a young man who already held a dental degree from a dental school in his native Bangalore, India. He was following an older sister's example of coming to America to expand her education.
He viewed it then as a bold adventure. He was so filled with optimism about making his way in America that he bought only a one-way airline ticket. Today he muses about his unlikely path and the unplanned steps and connections that brought him success in his new country. "It is not a typical story," he says.
After 20 years of navigating a series of challenges, many unique to the immigrant experience, today Reddy is Chief Executive Officer of Dental Acquisition Group (DAG), a thriving private practice group that acquires and operates dental offices. Starting with one practice in 2012, Reddy and a business partner steadily built a network of 35 general dentistry practice locations with more than 600 employees in seven states – Ohio, Michigan, Indiana, Virginia, North Carolina, Kentucky and Florida.
It was not the type of success he expected after earning his DDS from the University of Michigan School of Dentistry in 2008. "I was trained to be a dentist," Reddy says, "but here I am: I meet with bankers, private equity people, suppliers, all kinds of different people. I had never imagined that in my life I would be meeting all of these interesting people. It's so humbling."
His winding road through dentistry to business began that day 20 years ago when he walked out of the O'Hare terminal. He had never felt weather that cold before. The only analogy he could think of was that it would be like living in a refrigerator. He has long since become accustomed to the Midwestern winters, which were the least of the challenges for the "kid" who had been accepted into the Master of Public Health program at Northern Illinois University (NIU) in DeKalb.
Enrolling in a master's program was one of the few ways to obtain a visa in India. Reddy spent two years at NIU earning his MPH degree and making friends among the graduate students. He was grateful to be offered a work program that covered half of his tuition, but the catch was that he needed to drive an hour away four days a week to teach math, science and nutrition to underprivileged women and children at a community clinic program. "Give me a few weeks," he told the NIU administrator who asked if he could drive and if he had a car. Reddy's sister loaned him a well-used car and he took driving lessons that somewhat prepared him for the Illinois traffic.
The next step in his career plan was to gain admission to a highly regarded U.S. dental school so that he could earn a DDS degree and the credentials that would allow him to practice in the U.S. In 2006, Reddy initially came up one position short of gaining admission to U-M's two-year Internationally Trained Dentist Program (ITDP). He was impressed that U-M went beyond the other schools' standard meet-and-greet oral interviews and also required applicants to complete two skill tests as part of the application process. He felt he demonstrated excellent credentials for admission, but he was not initially offered a spot in the ITDP class. He still recalls a phone conversation with Admissions Director Pattie Katcher, who counseled patience. Oftentimes, she said, someone who was granted admission will decide against enrolling. Within a few days, that scenario played out and Reddy was given a vacated seat in the class.
The U-M dental school was much different than what he had experienced when earning his Bachelor of Dentistry degree in India. There, the onus for success is on the individual students who may fail repeatedly without remediation, Reddy said. "It wasn't really geared toward you excelling. It was more geared toward you surviving," he said. "When I came to Michigan, I didn't feel that way. I felt like I could be whoever I want to be, I could do whatever I wanted to do. The faculty did a really good job. My entire Michigan experience has been nothing but fabulous because of the teachers I had."
Reddy quickly pulls names of faculty from his memory bank of gratitude. He remembers the late Dr. Hal O'Kray as a congenial, friendly prosthodontics expert who was always willing to help Reddy improve his skills, sometimes coming to the school on a Saturday from his home outside of Ann Arbor. "He would take time out of his day, even on a Friday or a Saturday, to come into the lab just to help me," Reddy remembers. "It left an impression on me. Here's this guy who is spending his time and expertise on me because he has this hope in me that one day I will become an excellent dentist. I found that to be very profound. It filled me with a sense of hope."
Reddy credits the steadfast instruction of Dr. Tatiana Botero, still a faculty member at the school, with his love of endodontics. "She was another one who would always take time to help," Reddy recalls. "It is because of her that I loved endodontics. I was never fazed by doing root canals. I think she made it so easy for me that I could do them in my sleep. I think it was Hal O'Kray who taught me to love dentures and fixed prosthodontics, and it was Tatiana Botero who taught me to love endodontics."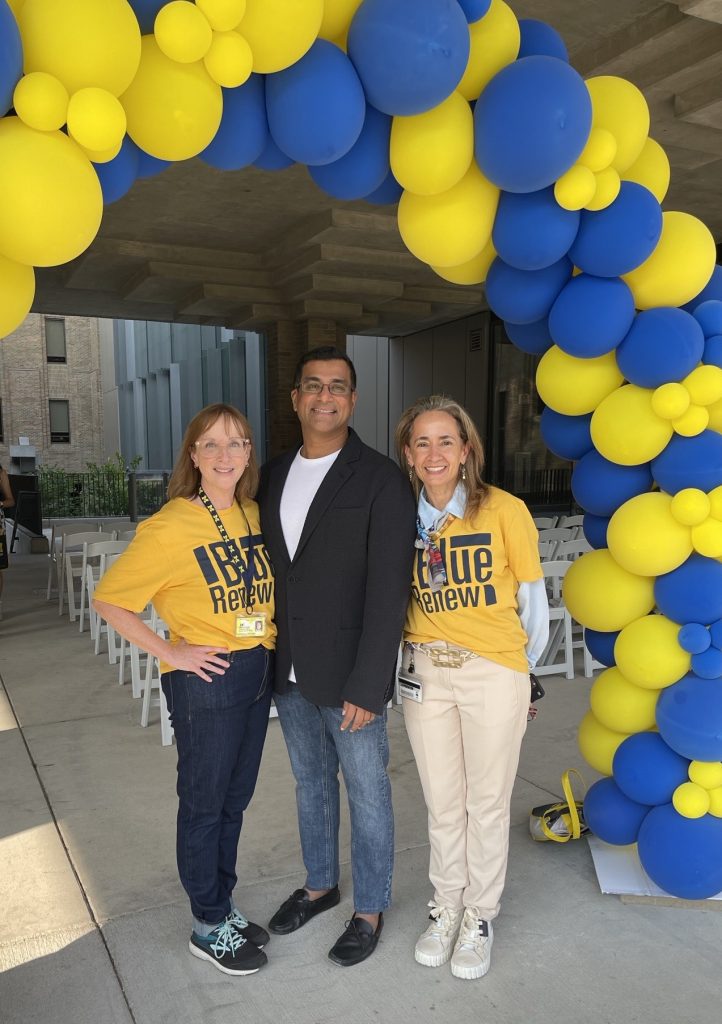 Current faculty member Dr. Mark Snyder is also on Reddy's thank-you list, as another upbeat mentor who was always willing to provide constructive guidance. Reddy also credits Pattie Katcher for going well beyond her role in admitting students. Over the two years that the international students were navigating their new world of American higher education and customs, Katcher would make them feel welcome by hosting group social events at her home to create a sort of substitute family atmosphere since the students' families were far away.
"Pattie Katcher taught me that despite everything difficult you faced, you could still do well," Reddy said. "She always had this open, friendly, smiling face. That was my experience in Michigan. It was a smiling, friendly place for me and it still is."
With his U-M DDS degree in hand after graduation in 2008, Reddy searched for a place to practice during a time when the U.S. economy had tanked. His friend and future DAG business partner, Dr. Sujay Rangaswamy, a dentist then practicing in Ann Arbor, recommended that Reddy look in the South where the economy seemed stronger. Reddy found and accepted a position at a private dental practice in Houston, Texas.
It only lasted about six months because Reddy, still holding immigrant status, had one year to apply for and obtain an H-1B visa or a Specialty Occupations Visa in order to continue to work in this country. His employer in Houston had agreed to sponsor and apply for Reddy's visa, which is another requirement. However, that year there were more visa sponsor applications nationally than the limit imposed by the government. When that's the case, the government holds a lottery and Reddy was not among the immigrants chosen for a visa that year.
Reddy needed a solution if he was to stay in the U.S. He found it, at least temporarily, at a community health center in Midland, Texas. There was no national cap on the number of immigrant healthcare providers that community clinics can sponsor in their role as health centers for underserved patients. "So here was this kid from India who came here only five years ago and he's offered a position in good ole Midland, Texas," Reddy laughs at the memory. "They had two dental chairs but no equipment and no staff. I had to buy the equipment and scanners, and set up the staff, the protocols, the training. I had a little bit of experience from India that helped, plus what I had learned at the U-M dental school."
As the one-year visa deadline approached, Reddy received a gift of sorts – a phone call from a former U-M dental school classmate, Adam Mileski, who was in the U.S. Army as part of the military's Health Professions Scholarship Program for dental students. Mileski encouraged Reddy to explore military options, including a new program, the Military Accessions Vital to National Interest. It granted U.S. citizenship to immigrants in health profession fields, including doctors and dentists, in exchange for practicing for several years in military reserve units.
Reddy entered the program and was commissioned as an officer in the U.S. Army. He went through basic training and a leadership program in Texas, then was assigned to the 965th Dental Company, a U.S. Army Reserve unit based in Seagoville, Texas. During his five-year commitment in the Army Reserve, he was required to devote one weekend a month to providing dental check-ups and treatment for soldiers at locations around the country, plus one longer training period each year. Over the years, he was assigned duty in Wisconsin, California and Arizona in addition to his work in Texas. After his five years of active duty, he was on standby inactive service for three years, making a total military commitment of eight years, from 2010-18.
"There were a lot of good people," Reddy says of his entry process into the military and the years that followed at bases around the country. His gratitude extends to his former classmate who took the time to call him with the idea. "If Adam hadn't called, I wouldn't have known about the citizenship program."
With the citizenship part of his life settled, Reddy turned his attention to his practice of dentistry. In 2010, he decided to return to Michigan and he spent the next couple of years working for practices in Ann Arbor and Toledo, Ohio, before joining Comfort Dental Care, the Ann Arbor practice of his friend, Dr. Sujay Rangaswamy. It was during that time that Reddy suggested to Rangaswamy that they consider buying other dental practices.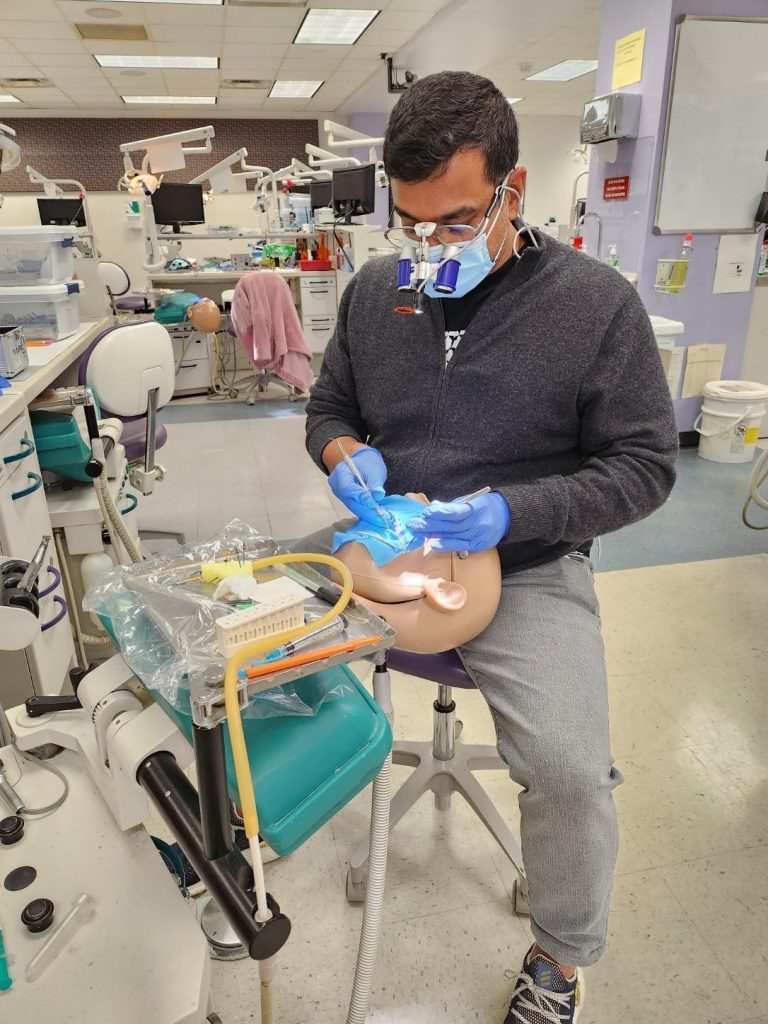 Their first purchase, in Flint, Michigan, in 2012, did not go well and they ended up selling it. But they learned important lessons in the process, not the least of which was to go slow because most people, including patients, don't like change. Their second purchase, of a practice in Ohio that had been owned by the same family of dentists for 100 years, went much better. Reddy and Rangaswamy slowly began acquiring more practices, usually from retiring dentists. About half of their practices are in Ohio, with fewer in each of the other six states. In Michigan, in addition to the Comfort Dental Care practice in Ann Arbor, they own practices in Garden City, Howell and Mt. Pleasant.
The DAG business model was developed as a hybrid between the longstanding tradition of sole-practitioner dentists and the rapidly growing trend of DSOs, short for Dental Service (or Support) Organizations. Several large, national-level DSOs have linked hundreds of dental clinics across the country by providing business management, marketing and other non-clinical support services that allow their dentists to focus primarily on patient care. As the trend advanced, DSOs have been criticized – unjustly, the DSOs maintain – because of a perception that they emphasize generating revenue and meeting patient quotas, to the detriment of patient care.
Reddy and Rangaswamy wanted their model to be both dentist- and patient-friendly. Reddy traveled the Midwest meeting dentists who were close to retiring and wanted to leave their longtime practices in good hands. Reddy's purchase pitch is that DAG will pay a fair price for the practice, perform technology and other infrastructure upgrades that are often overdue, and allow the owner to continue treating patients during a transition period of a year or two. DAG brings in a new dentist during the transition who will emphasize excellent patient care just as the original owner has emphasized, often for decades.
"Our overwhelming mission is that we want to take care of patients in the way they deserve, like what has always been done in a family practice," Reddy said. "You would know your dentist, he or she would know you, and you have a dental home. That is the philosophy that we have always tried to have. We truly go to an office with the intent of making it better. We respect the existing staff and keep the good things that are there, but we add the best of all of the operational systems out there. Then we combine those with the old-school way of taking care of the patient. It has worked and I think what we are doing is very special. It is rewarding that the retiring dentist trusts us enough to give us the opportunity to take the practice forward and keep it going."
The DAG's group buying power helps keep costs low and the DAG management team offers assistance to the practice in whatever way is needed, including for the new dentists who join each practice. "One of the issues we are seeing is that young dentists who go to work for these big corporate chains are truly not given a career – they are given a job. The difference we are trying to make is to give young dentists a career. Some of the dentists who come to work for us, we make them partners. We help them buy an office and own their own office with us. We partner with them."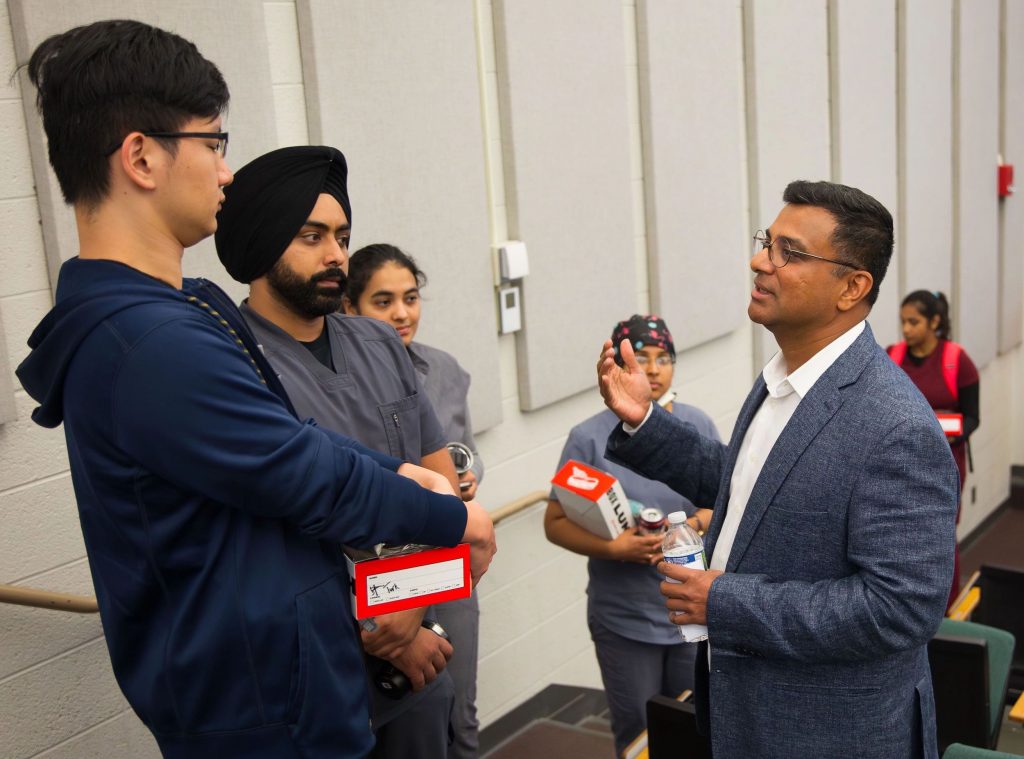 Reddy and several members of DAG's management team were recently at the U-M School of Dentistry for two lunch-and-learn recruiting sessions, one for mostly fourth-year DDS students and the other for Dental Hygiene students. At the DDS session, he and the other DAG representatives answered a steady stream of questions from students who are considering how and where they will begin their dentistry careers after graduating next spring. Salary, future opportunities for growth, work schedules and career support were among the questions.
"I sat right here in this row in this same lecture hall," he told students at one point, "so I know what you are going through." And because he remembers what it was like, particularly the difficulty of paying tuition, he recently made a significant financial gift to the dental school for student scholarships. His $150,000 gift will be allocated for scholarship support for DDS, Dental Hygiene and ITDP students.
Reddy has returned to the dental school frequently in recent years, in part for sentimental and gratitude reasons and in part a practical need to recruit dentists and hygienists for DAG practices. He retired from practicing dentistry about six years ago after the increasing workload necessary to manage DAG began to intrude too frequently on his daily dental practice. After nine years of living in Ann Arbor, in 2020 he moved to Weehawken, New Jersey, where he lives with his wife Priyanka, who is a DAG marketing executive, and their four-year-old daughter Inara.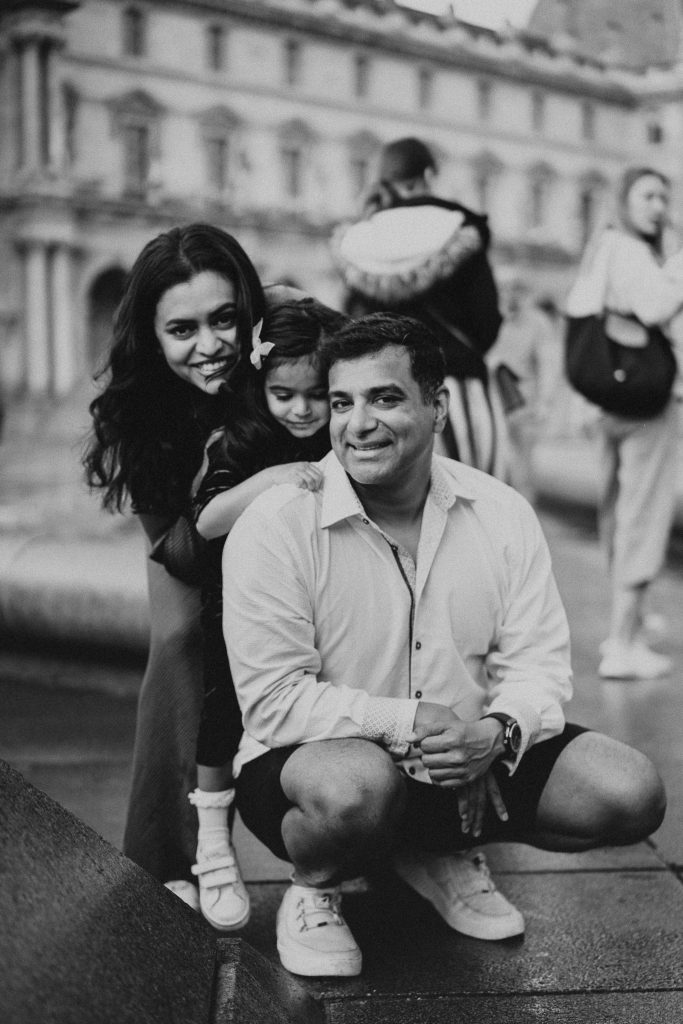 Reddy's passion for DAG and his gratitude for those who have helped him along the way are never far below the surface of his conversations. "If it was not for the opportunity at Michigan, I would not be here. If it was not for my business partner Sujay or classmate Adam or the military or the U-M dental program, I would not be doing what I am doing today," he says. "I also couldn't have accomplished any of this without the unwavering support of my wife Priyanka and her belief in me, especially in the early days of trying to build DAG. She is truly my cheerleader."
The ribbon-cutting last year for the completion of the school's major Blue Renew renovation and expansion was another opportunity for Reddy to return to the school. "The one unique thing about Michigan that I liked right off the bat as a student was that everyone was so friendly. People truly cared about where you were from, what you did. It was just this warm, congenial atmosphere that made me feel at home – and it still does. It feels like my happy place. I think it is important to always have a happy place that you can go back to. Life goes on. You've done a lot of things, but you always know in your heart of hearts that, hey, there's this place that you call home and there's this place that you really had a great time."
"I've always wanted to give back to the school and I see no better way than student scholarships," Reddy said. "The single biggest reason I'm doing this is that I love Michigan. I would not be where I am without all of these wonderful people. What makes an institution so special is the people in it and the kindness you receive. I think the ultimate aim of my gift is to have it resonate with the many people who will come after me."
###
The University of Michigan School of Dentistry is one of the nation's leading dental schools engaged in oral healthcare education, research, patient care and community service. General dental care clinics and specialty clinics providing advanced treatment enable the school to offer dental services and programs to patients throughout Michigan. Classroom and clinic instruction prepare future dentists, dental specialists and dental hygienists for practice in private offices, hospitals, academia and public agencies. Research seeks to discover and apply new knowledge that can help patients worldwide. For more information about the School of Dentistry, visit us on the Web at: www.dent.umich.edu. Contact: Lynn Monson, associate director of communications, at dentistry.communications@umich.edu, or (734) 615-1971.