School of Dentistry adjunct faculty member Dr. William Mason writes book on atraumatic extractions

4

min read
Ann Arbor, Michigan, May 26, 2023 – Dr. William Mason, Adjunct Clinical Assistant Professor of Dentistry, has authored his first book, "The Dentist's Guide to Atraumatic Extractions."
Mason, a periodontist who practices in Saginaw, Michigan, is a member of the Dean's Faculty. An alumnus of the school (DDS 1981, MS perio 1984), he's been an adjunct for about 20 years, teaching monthly in the Graduate Periodontics Clinic.
Mason said the book grew out of what originally was going to be only a magazine article for the Journal of the Michigan Dental Association. As he wrote the piece, he realized he had a lot of material and to do it justice, he should write a book. "This is not really a textbook," he said. "It is more like a how-to book for a general dentist or a periodontist who wants to take out teeth carefully."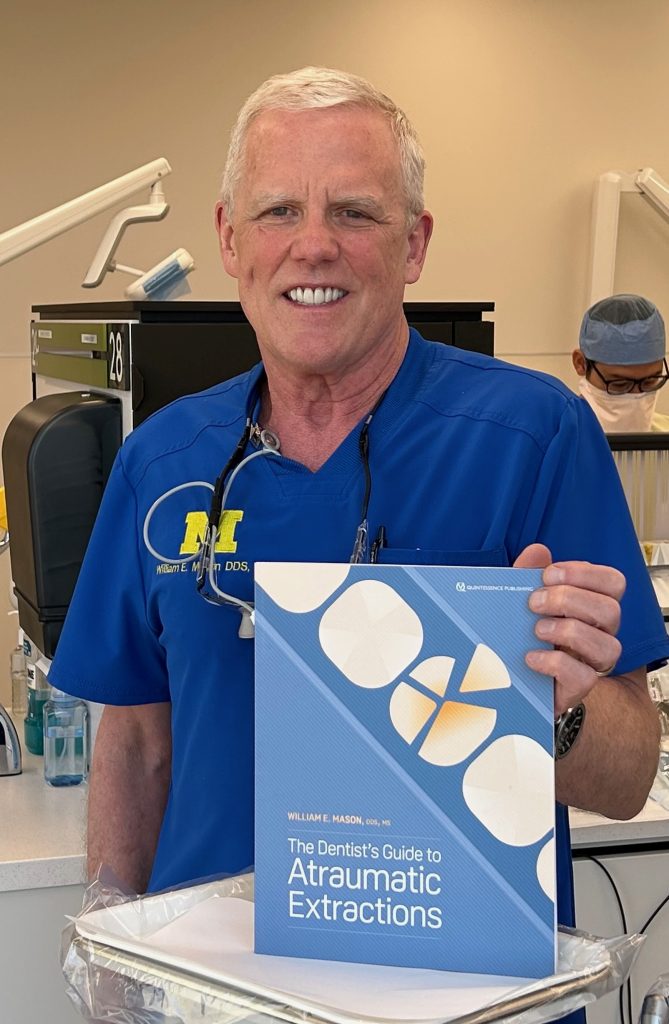 Illustrated with dozens of photographs that Mason took in his office, the book took two years to complete. Mason recounts how the advent of dental implants in the late 1980s prompted the need for improvement in tooth extraction methods. Traditional methods of raising flaps and luxating the tooth to force it out of the bone often results in significant trauma and ridge resorption, which can compromise implant placement.
Mason's atraumatic extraction technique, or AET, relies on systematic removal of root structure to protect the socket from deformation and thereby maintain the patient's original jaw anatomy and facial structure. Root structure is removed to allow space for the remaining tooth structure to be maneuvered and manipulated instead of pushed into the adjacent bony walls, thereby protecting the bone from trauma and resorption.
"Let me be clear that I do not have a big secret or magic bullet for atraumatic extraction," Mason writes in the book. "Instead I have curated many small secrets and tips that together result in a very comfortable, atraumatic, and ridge-preserving experience for the extraction patient."
Mason recounts how very early in his career, when dental implants were first becoming popular in the late 1980s and early 1990s, he initially was not interested because he was a periodontist and implants were the domain of oral surgeons. "As a periodontist I was trained to save teeth, not extract them," he said. But a colleague, Dr. Frank Rugani, persuaded Mason to join him in a training course, and the advantages of implants were soon evident, leading Mason to add implants to the services he provides in his practice.
Today Mason estimates that dental implants make up about 70 percent of his practice and that he has placed more than 5,000 implants over the years. The majority were single tooth extractions with implant placement. "Tooth removal has become a big part of my clinical practice," Mason said, thus his emphasis on limiting extraction damage to the area where the implant will be placed and his mission in sharing his expertise in the new book.
In addition to his private practice and teaching at the School of Dentistry, Mason is also an inventor of dental devices. He developed and patented a device that dentists can use to lessen pain for a patient who receives an anesthetic injection in the roof of their mouth. And he created the Mirror Buddy, which is a silicon pad that fits on a dental mirror handle, just above the mirror, so that the dentist doesn't pinch the patient's cheek during exams and treatment. More on these inventions and Mason's dentistry and teaching career can be found in this profile posted previously on the School of Dentistry website here.
More information on the book, published by Quintessence Publishing, is available here.
###
The University of Michigan School of Dentistry is one of the nation's leading dental schools engaged in oral healthcare education, research, patient care and community service. General dental care clinics and specialty clinics providing advanced treatment enable the school to offer dental services and programs to patients throughout Michigan. Classroom and clinic instruction prepare future dentists, dental specialists and dental hygienists for practice in private offices, hospitals, academia and public agencies. Research seeks to discover and apply new knowledge that can help patients worldwide. For more information about the School of Dentistry, visit us on the Web at: www.dent.umich.edu. Contact: Lynn Monson, associate director of communications, at dentistry.communications@umich.edu, or (734) 615-1971.