Pathways Day celebrates completion of graduating students' research projects

6

min read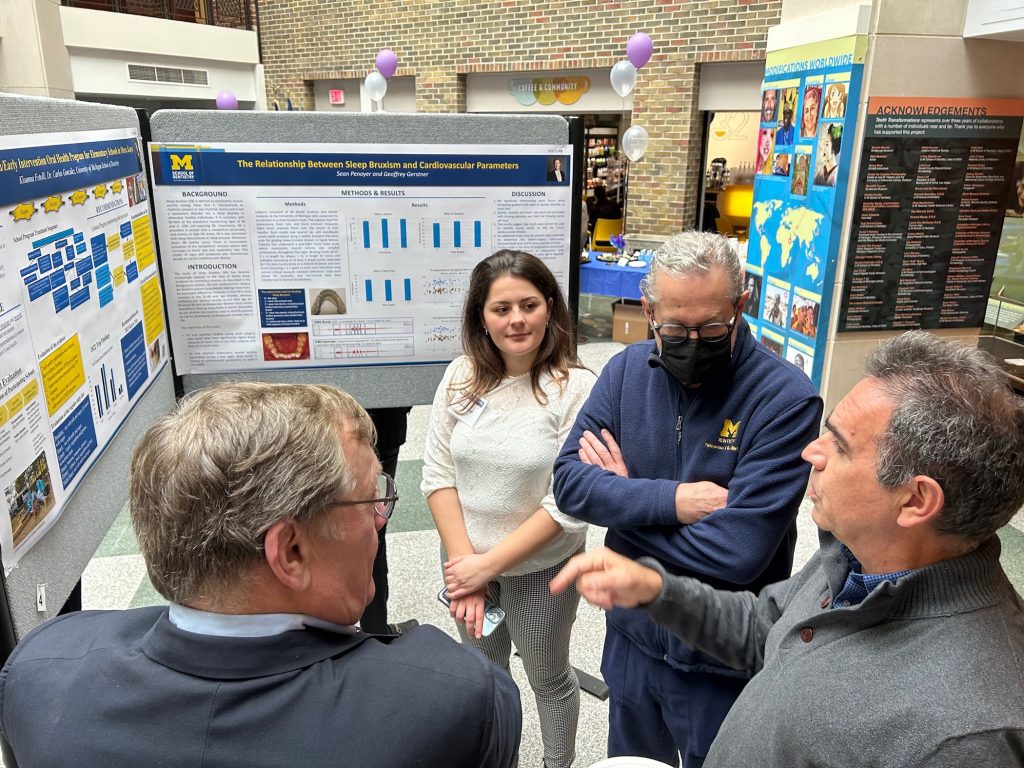 Ann Arbor, Mich., April 3, 2023 – The School of Dentistry on Friday celebrated the completion of more than 30 research projects by members of the DDS Class of 2023 who finished the school's innovative Pathways Program.
Pathways is structured to give students latitude to explore topics they are interested in outside the standard dental school structure. Students can choose either an Immersion pathway, which requires that they conduct a research project on the topic of their choice, or a Selectives pathway that offers various elective courses on advanced dental topics.
Students who completed 31 research projects were the focus of Friday's event, with a poster session highlighting the completion of their research over four years. It was the first time the Pathways event has been held in-person since 2019 before the COVID-19 pandemic.
"Our unique Pathways Program was started to provide a space within the curriculum to ignite passion, foster purpose and sustain the individual professional identity for each of our students," Interim Dean Jan Hu said in her welcoming remarks. "Today, we are impressed by the diverse range and quality of the projects by our students who chose the Immersion pathway. The spectrum of research validates the original intent of Pathways. Our diverse students have a diverse set of interests, so we created Pathways to encourage students to pursue those interests that are most meaningful to them, above and beyond the formal, shared curriculum that is required for their dental education and training.
Hu said the breadth and depth of the projects are impressive, particularly since students are given the autonomy to decide on the topics and how to pursue them. "Our school has long stressed basic science as the foundation of dentistry," she said. "These projects demonstrate many different creative paths examining important aspects of patient care and community engagement."

Examples of the research topics this year include:
• Examining the oral microbiome in head-and-neck cancer patients to look for a microbe or pathogen that exacerbates this type of cancer.
• A national survey on dentists' education, knowledge and attitudes toward treating deaf and hard-of-hearing patients.
• Using clinical augmented reality and artificial intelligence to objectively detect and map pain.
• Analysis of opioid prescribing rates at the School of Dentistry.
• The continued expansion of the school's Victors for Veterans program that provides dental care to underserved veterans at three clinics around Michigan.
Ayesha Niazi, a fourth-year student who graduates in May, investigated whether post-baccalaureate programs prior to dental school are a valuable resource for dental students. Niazi was interested in the topic because she took a gap year after completing her undergraduate degree to prepare for dental school. "Post-bac" programs like the one she enrolled in at Temple University have a variety of advantages, from giving students extra study time in biochemistry or biology courses, for example, that are more tailored to dental school requirements. Post-bac courses also provide mentors who can be particularly valuable for prospective dental students who don't have family members or friends within the dental community to guide them.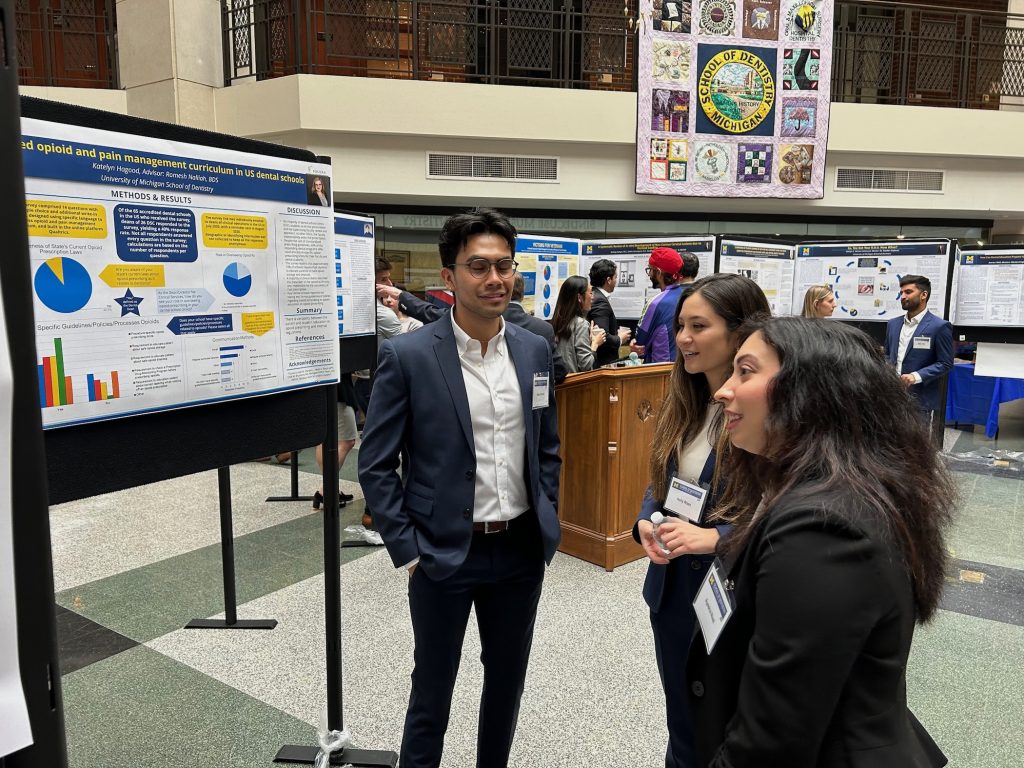 Niazi, who was mentored during the research by faculty member Dr. Marita Inglehart, said most students who have taken advantage of such programs gave them positive reviews, with the chief negative being the expense, which isn't covered by traditional dental school educational loans. Beyond determining that the programs are beneficial, Niazi said an additional element of her research was increasing awareness of such programs.
"I thought it was valuable because only a handful of students were aware of these programs, and I wanted to bring awareness to what these programs are," she said. "Every year it gets harder and harder to get into dental school, so if someone has a friend or sibling who wants to get in, this may be their route. It also does help as a resource for disadvantaged communities or underrepresented minorities who may not know about this option prior to dental school."
Hu said all of the various projects pose important questions that impact the dental profession. "We know that you will keep this curiosity and love of research alive throughout whatever careers – or should I say whatever pathways – that you trailblaze in the years ahead," she told the students.
Faculty member Dr. Dan Chiego is Director of the Pathways Program and the Immersion Pathway. Faculty member Dr. Betsy Van Tubergen directs the Selective Pathway. The program is supported by staff members Charlene Erickson and Katherine Shin. More information is available on the Pathways website here.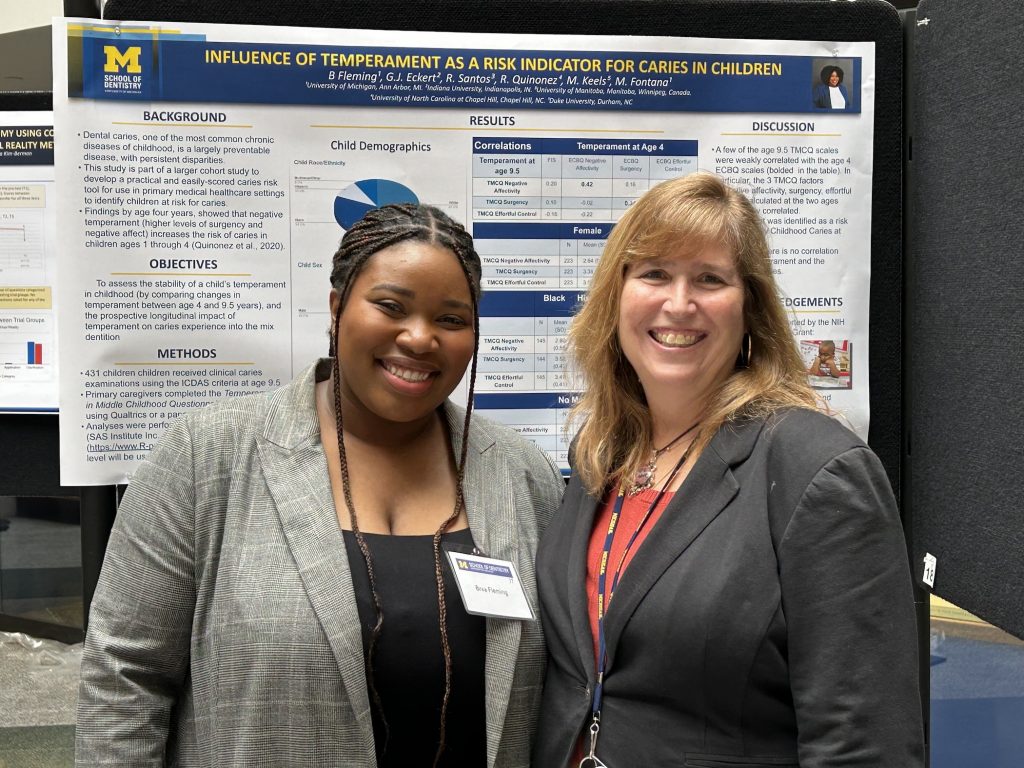 ###
The University of Michigan School of Dentistry is one of the nation's leading dental schools engaged in oral healthcare education, research, patient care and community service. General dental care clinics and specialty clinics providing advanced treatment enable the school to offer dental services and programs to patients throughout Michigan. Classroom and clinic instruction prepare future dentists, dental specialists and dental hygienists for practice in private offices, hospitals, academia and public agencies. Research seeks to discover and apply new knowledge that can help patients worldwide. For more information about the School of Dentistry, visit us on the Web at: www.dent.umich.edu. Contact: Lynn Monson, associate director of communications, at dentistry.communications@umich.edu, or (734) 615-1971.