Research Day: School's annual event focuses on improving health by advancing science

14

min read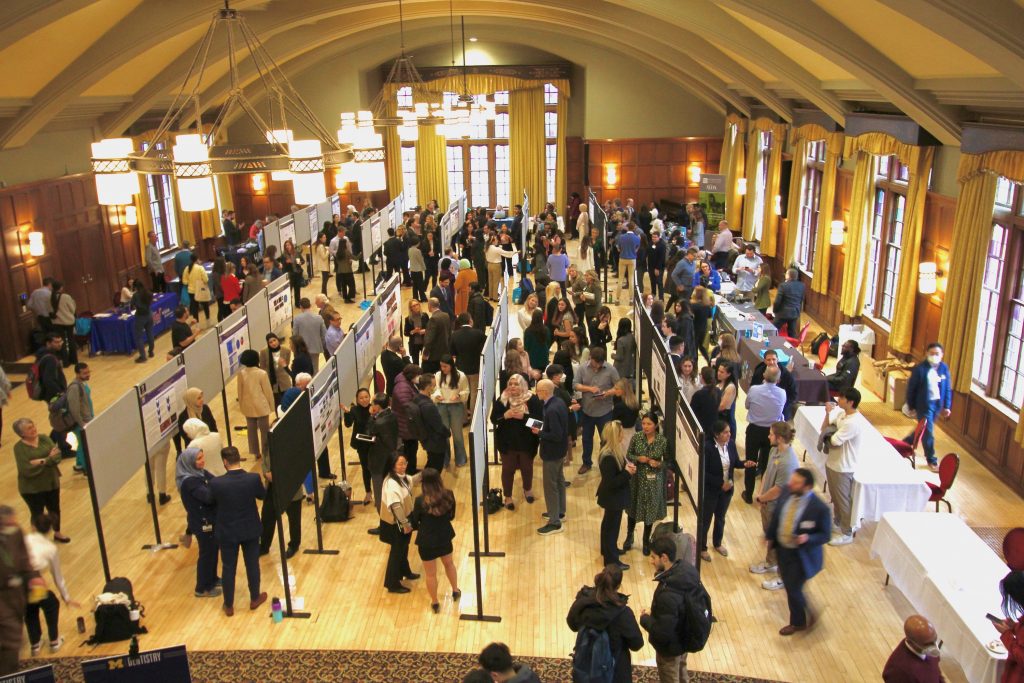 Ann Arbor, Mich., Feb. 22, 2023 – An incredible variety of scientific research projects and a record number of posters energized the annual Research Day on Feb. 16 at the School of Dentistry.
The event celebrates the quest for scientific knowledge by students, postdoctoral trainees, staff and faculty members in the research labs and clinics at the School of Dentistry. Researchers presented their work at morning and afternoon poster sessions at the Michigan League, with a keynote address in-between at the dental school.
This year, researchers presented 126 posters illustrating the school's four research themes: Cancer Biology & Therapeutics; Clinical, Population & Educational Research; Craniofacial, Skeletal Biology & Disease; and Tissue Engineering & Regenerative Medicine.
Interim Dean Jan Hu and Vesa Kaartinen, Associate Dean for Research, said Research Day supports the school's mission of integrating basic, translational, clinical and health services research to stimulate discoveries and their implementation into clinical practice. "The research conducted at the school – and that we put in the spotlight during Research Day – is vital to advancing our understanding of the human body and to improving not just oral health, but overall health, for people around the world," they said in their welcome to participants in the event's printed program.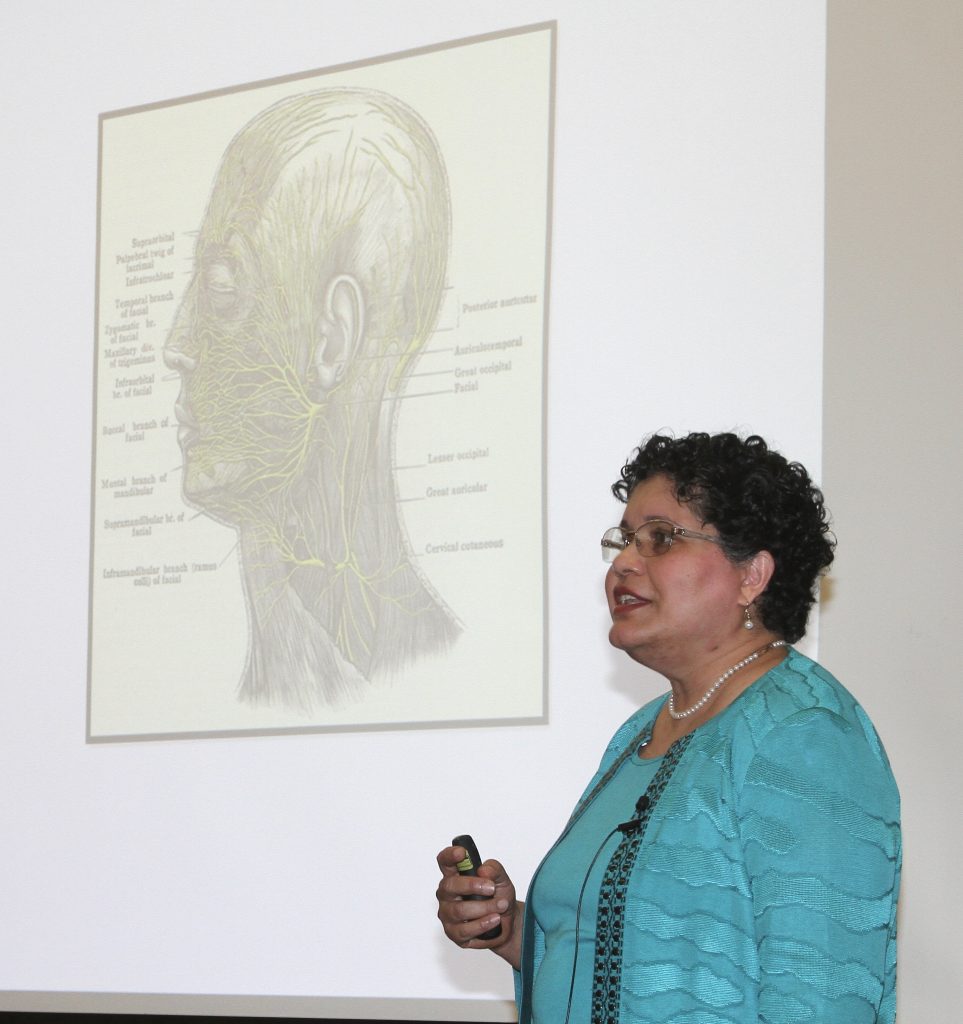 Keynote speaker Nisha D'Silva, BDS, MSD, PhD, a faculty member at the School of Dentistry, provided an update on the latest oral cancer research conducted by her lab, including some so new that she hadn't presented it before. She focused on findings in how cancer cells interact with nerves, a process called perineural invasion, as she discussed research into oral cancer, the sixth most common cancer. By better understanding perineural invasion, it may allow a different and more accurate indicator relating to the stage of a patient's cancer, which can inform treatment decisions that could lead to better outcomes than current methods.
D'Silva is the Donald Kerr Endowed Collegiate Professor at the dental school, a professor of pathology at the University of Michigan Medical School and a member of the University of Michigan Rogel Comprehensive Cancer Center. As a cancer biologist and oral pathologist, she leads research in head-and-cancer that focuses on biomarkers and molecular mechanisms of tumor progression and treatment resistance. Her research has been funded by the National Institute of Dental and Craniofacial Research at the National Institutes of Health, currently by the Sustaining Outstanding Achievement in Research award, and by the National Cancer Institute at NIH.
Kaartinen thanked D'Silva for agreeing on short notice to provide the keynote after the originally scheduled speaker, Dr. Rena N. D'Souza, director of the National Institute of Dental and Craniofacial Research, was unable to attend.
_____________________
2023 Research Day Awards
Faculty judges visited each researcher during the poster sessions and rated the quality of research, poster presentation and researchers' oral summary of their work. Top winners are highlighted below, along with three other annual awards presented by the Research Office. Complete results are posted on the Research Day website here.
SCADA (Student Competition for Advancing Dental Research and its Application)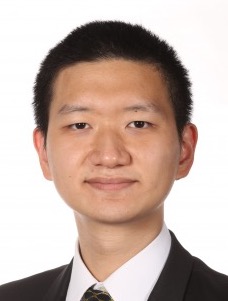 • Andrew Chen, a third-year dental student, received the SCADA Award for his research, "Calcium release to culture media as an indicator of mineral loss in biofilm models to study caries." Faculty mentor: Livia Tenuta. The SCADA award is sponsored by the American Association for Dental, Oral, and Craniofacial Research (AADOCR) and Dentsply Sirona, a dental supply company. Each dental school in the United States and Puerto Rico is invited to select one student to compete in this research program. Chen will represent the school and present his research at the annual meeting and exhibition of the AADOCR in New Orleans, Louisiana, in March 2024. The Dentsply Sirona Student Research Program was launched in 1959 as a joint venture between Dentsply International and the American Dental Association. The program has grown and evolved into a global research program, including 10 national programs worldwide across 21 countries. In 2016, Dentsply International merged with Sirona Dental Systems to become Dentsply Sirona.
AADOCR Travel Award
• Caroline Anselmi, a visiting PhD student, received the AADOCR Travel Award for attending the 2023 IADR/AADOCR annual meeting and exhibition in Portland, Oregon, in March, where she will present her research: "Immunomodulation of LPS-challenged human dental pulp cells by quercetin for vital pulp therapy." Faculty mentor: Marco Bottino.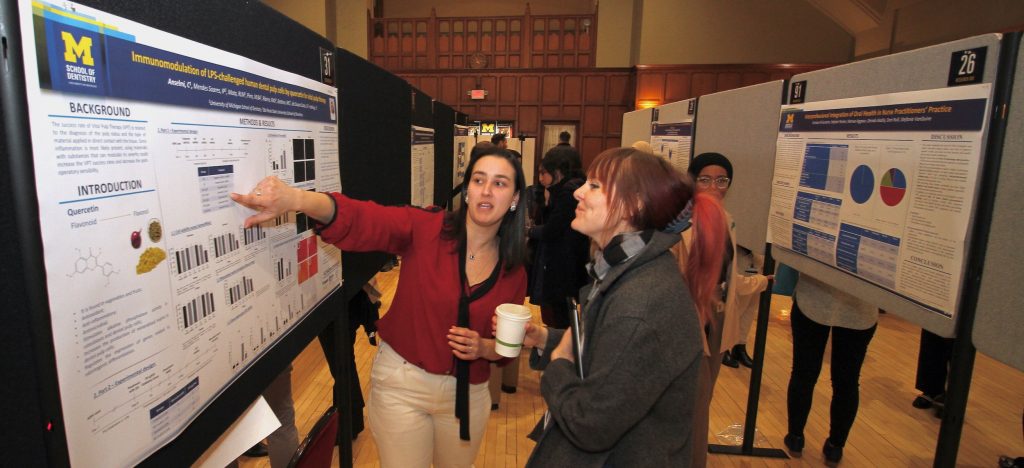 Category 1: Clinical Research and Public Health
• 1st Place among DDS, Hygiene, Masters and Undergrad students – Marwa Aggour and Zeinab Aladily, fourth-year Dental Hygiene students. Research Title: "Interprofessional Integration of Oral Health in the Nurse Practitioner Curriculum." Faculty mentor: Stefanie VanDuine.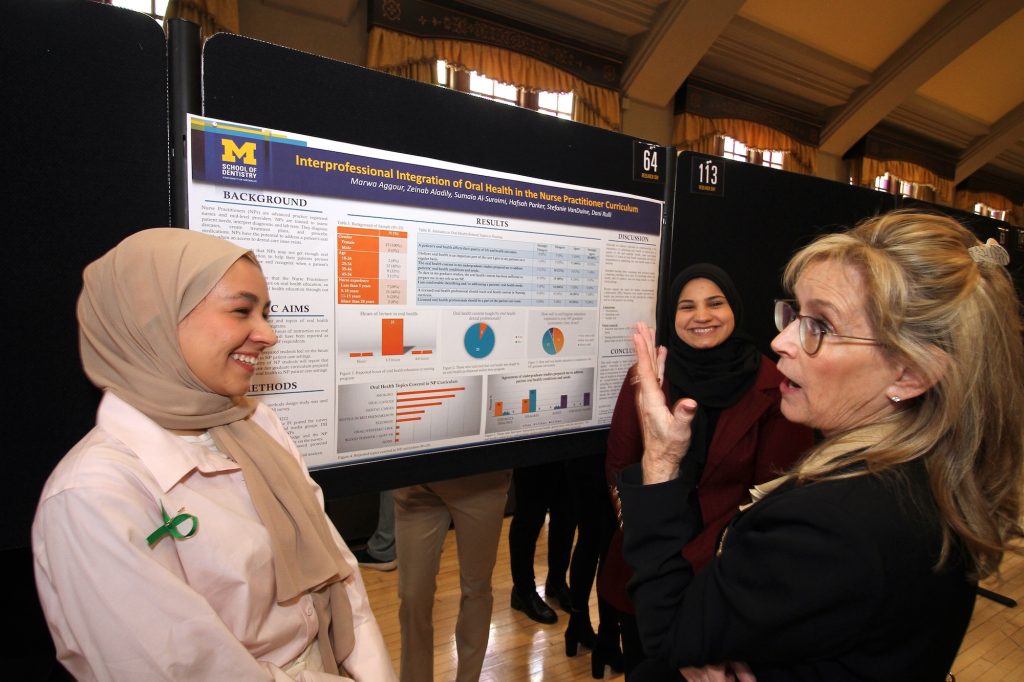 • 1st Place among PhD Students (DDS/PhD), Postdoctoral Trainees and Staff – Amanda Rodriguez Betancourt, a research fellow in the Department of Periodontics and Oral Medicine. Research Title: "Ultrasound-based Jawbone Surface Quality Evaluation for Planning of Dental Implant Surgeries." Faculty mentor: Hsun-Liang Chan.
Category 2: Basic Science Research and Translational Science
• 1st Place among DDS, Hygiene, Masters and Undergrad students – Andrew Chen, a third-year dental student. Research Title: "Calcium release to culture media as an indicator of mineral loss in biofilm models to study caries." Faculty mentor: Livia Tenuta.
• 1st Place among PhD Students (DDS/PhD) and Postdoctoral Trainees and Staff – Hülya Taner, a dual DDS-PhD student. Research Title: "Sox2-driven Epithelial Transformation Promotes IL1-mediated Peripheral Immune Tolerance" Faculty mentor: Yu Leo Lei.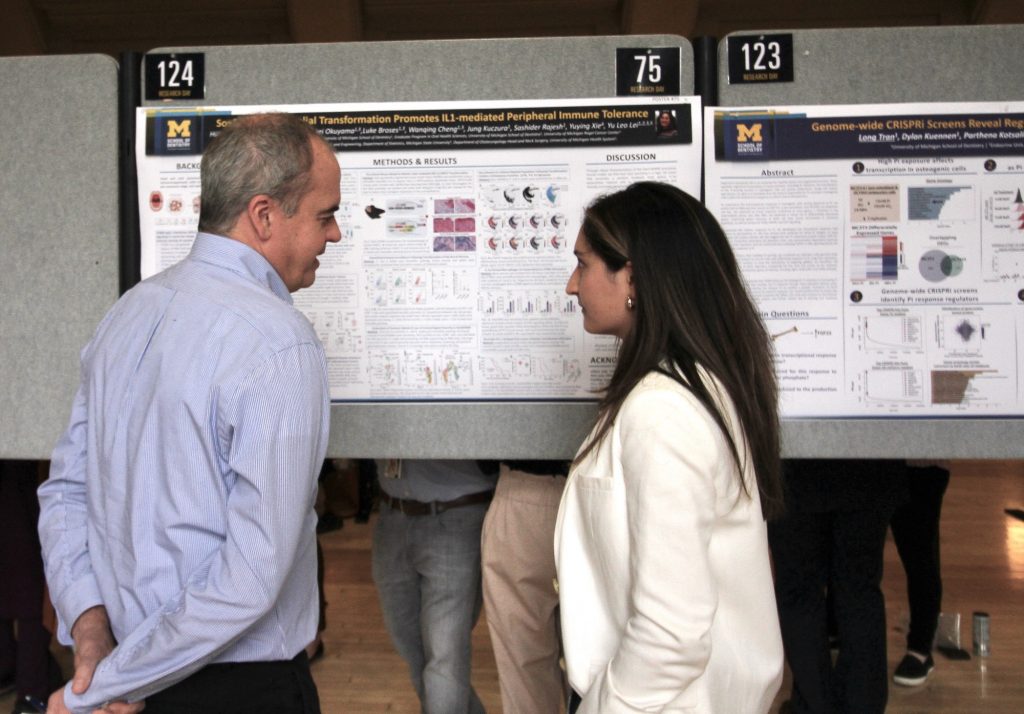 Dental Hygiene
• 1st Place Original Research Award – Haley Harland, Shams Albadry and Alisson Castro Garcia, fourth-year Dental Hygiene students. Research Title: "Stress Management Techniques for Dental Hygiene Students." Faculty Advisor: Stefanie VanDuine.

---
Other Research Day awards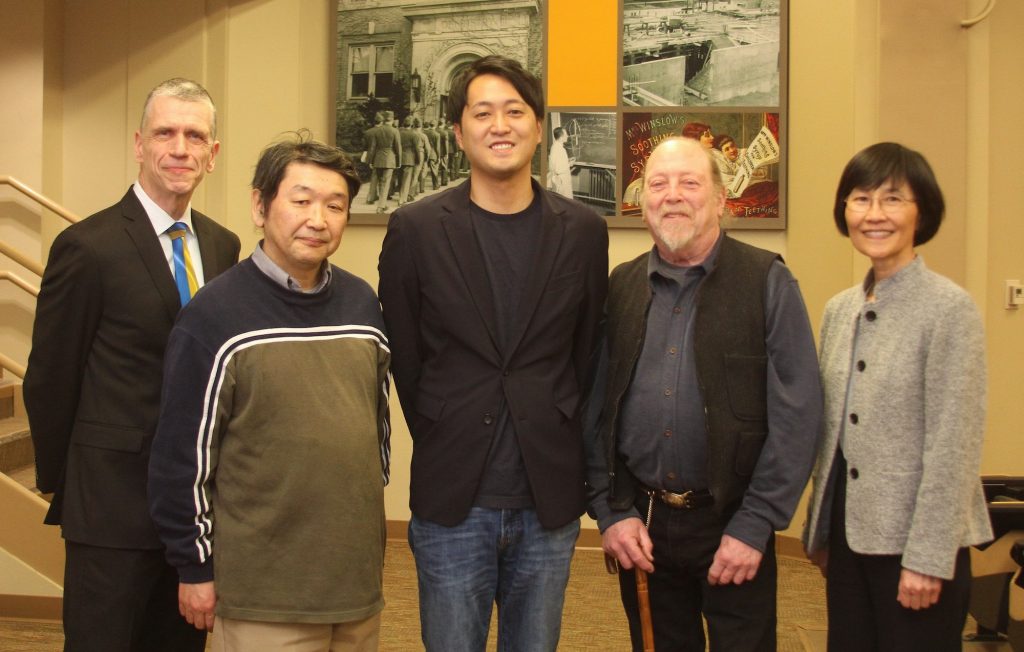 • The Janice E. Berry Prize for Excellence in Research was presented to Hiroki Ueharu, a postdoctoral fellow in the Yuji Mishina lab in the Department of Biologic and Materials Sciences & Prosthodontics. The family of Berry, a longtime U-M and dental school staff member who died in 2016, created the $1,000 award, also known as Jan's Prize, to recognize a full-time researcher who may be currently experiencing a financial hardship. Berry was well-known for her steady and compassionate encouragement and support of researchers at the school, including an understanding that research sometimes creates financial hardships. The recipient of Jan's Prize must have demonstrated excellence in research, teaching, mentoring, service and leadership. Ueharu's research focuses on how bone morphogenetic proteins contribute to craniofacial development through cell fate specification of cranial neural crest cells. Ueharu was cited as a "productive, enthusiastic and hard-working scientist" who is a "a great team player, a leader and an excellent educator." Jan Berry's husband John Copely helped present the award to Ueharu.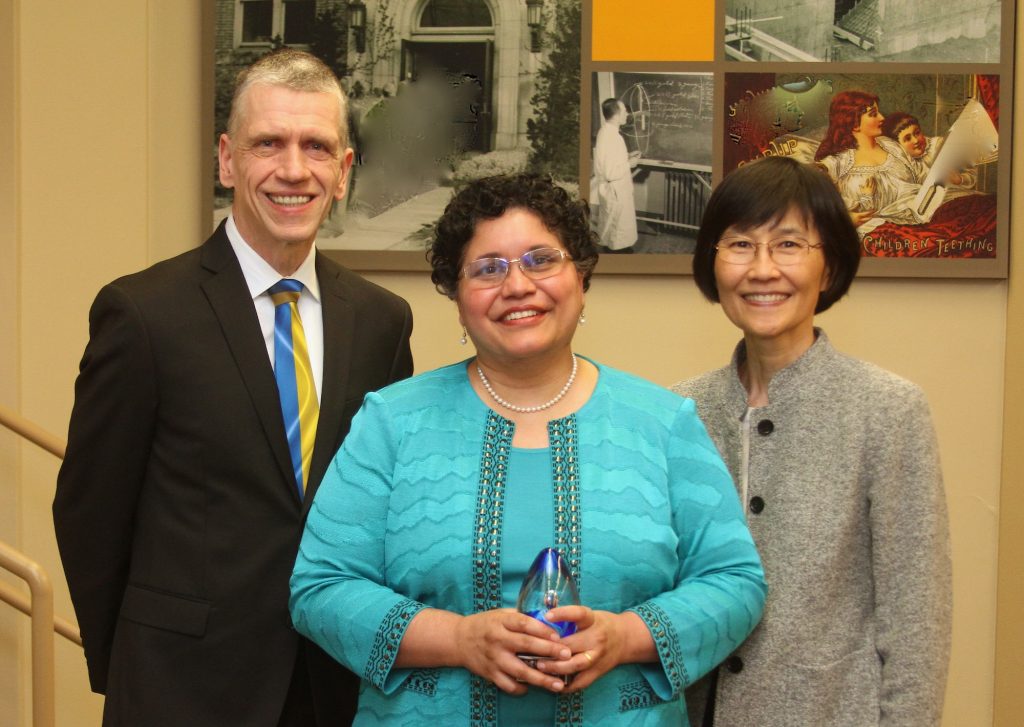 • Dr. Nisha D'Silva, the Donald Kerr Endowed Collegiate Professor at the School of Dentistry, received the Distinguished Faculty Mentoring Award. It recognizes faculty who consistently impart their research knowledge and experience with students and scholars in areas of clinical, basic science and-or translational research. D'Silva has mentored more than 60 undergraduate students, graduate students and post-doctoral fellows. One nominator noted that D'Silva is always available to provide support to her mentees, no matter how busy she is. "While the bar is set very high for her mentees, she tries to provide the tools necessary to meet each level of expectation." Said another of her mentees: "It would be challenging to find a mentor to match her level of commitment. She is truly a gem."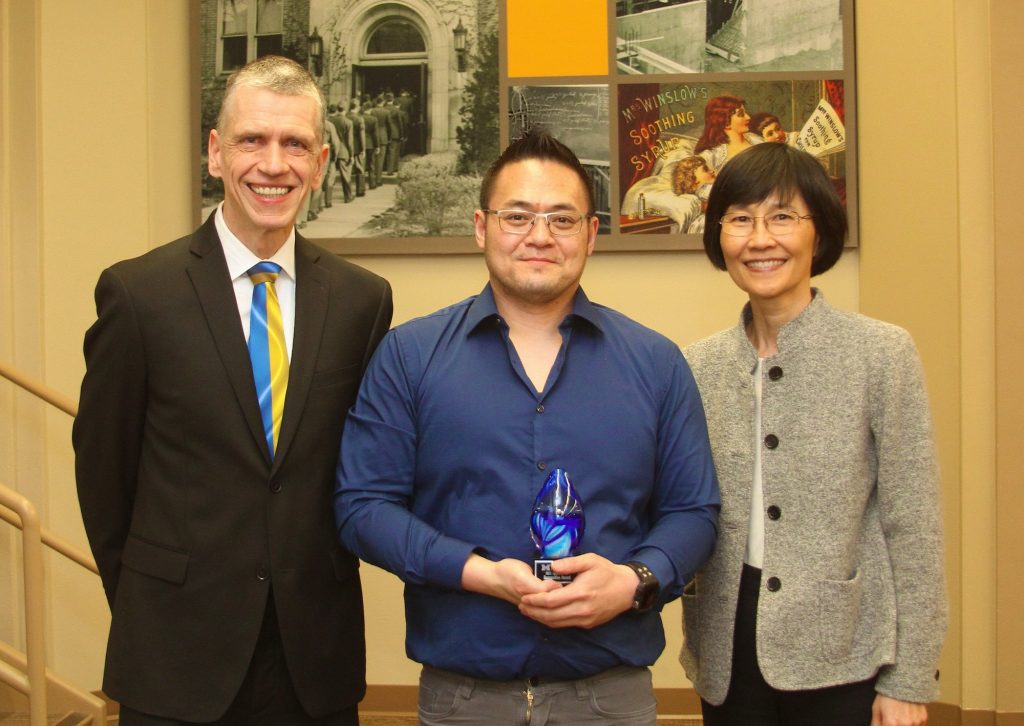 • Patrick Lagua, director of the Office of Research, received the Research Staff Recognition Award. The award recognizes individuals who, over a number of years, have aided in the advancement of the research mission of the school that extends beyond the normal fulfillment of the position's duties. Nominators said Lagua is approachable and committed to supporting the faculty in any way necessary. "His sense of humor and ability to get to the root of whatever issue we are dealing with makes working with him efficient and engaging," said one nominator. "We nominate him for this award because his commitment to the Office of Research has affected us all positively."
A complete list of the 2022 Research Day Awards is posted on the Research Day webpage here. It also contains a link to the event's electronic program with the roster of all student presenters, as well as the dentistry- and research-related companies who attend the event as exhibitors and-or provided sponsorship and advertising to support it.
Research Day is organized by the school's Office of Research, under the direction of Dr. Vesa Kaartinen, the Dr. Roy H. Roberts Professor of Dentistry and Associate Dean for Research, with support from the school's chapter of the American Student Dental Association.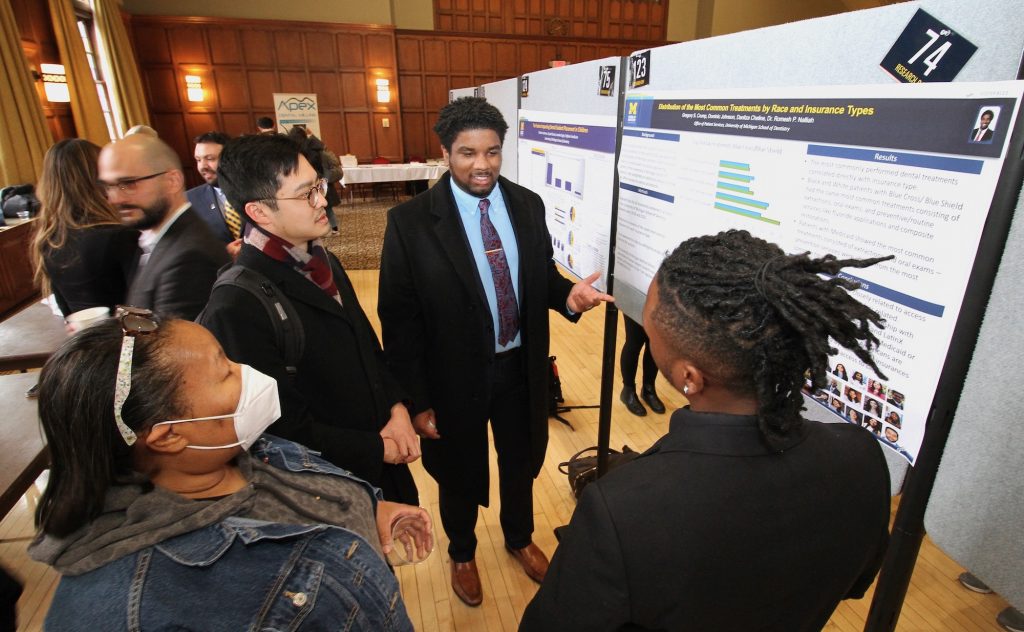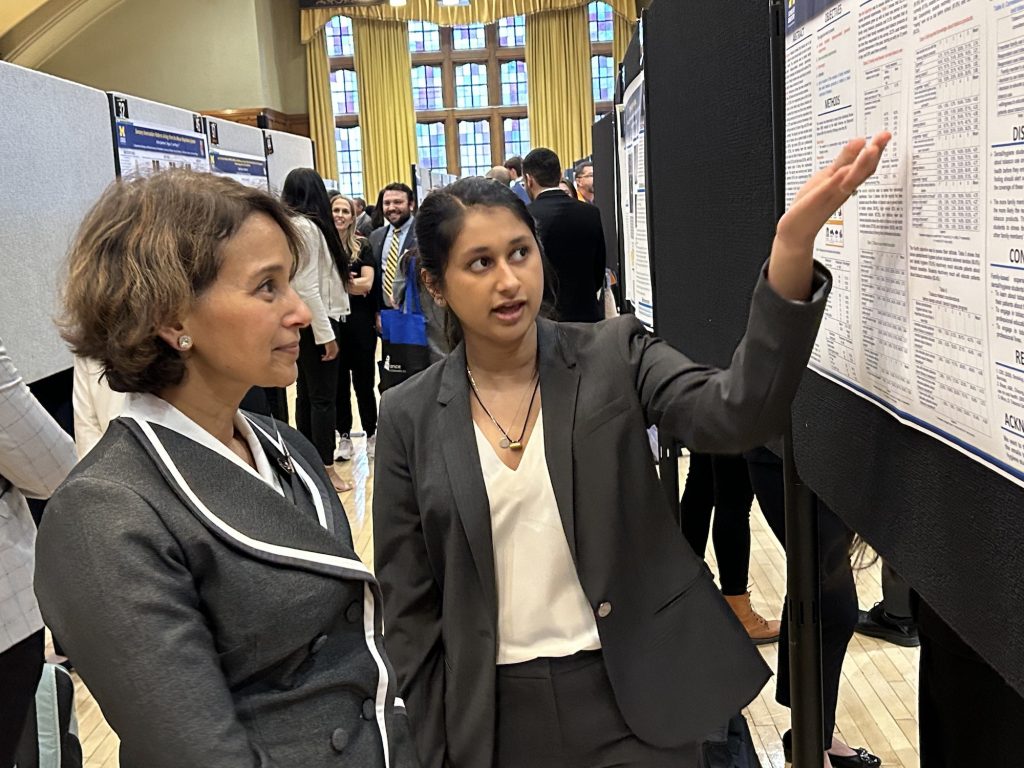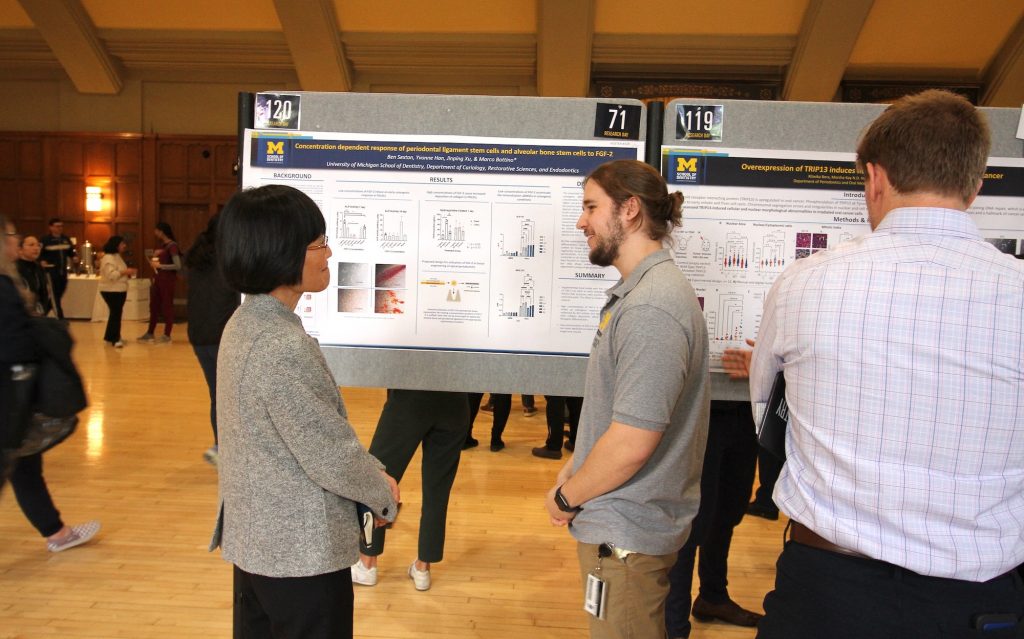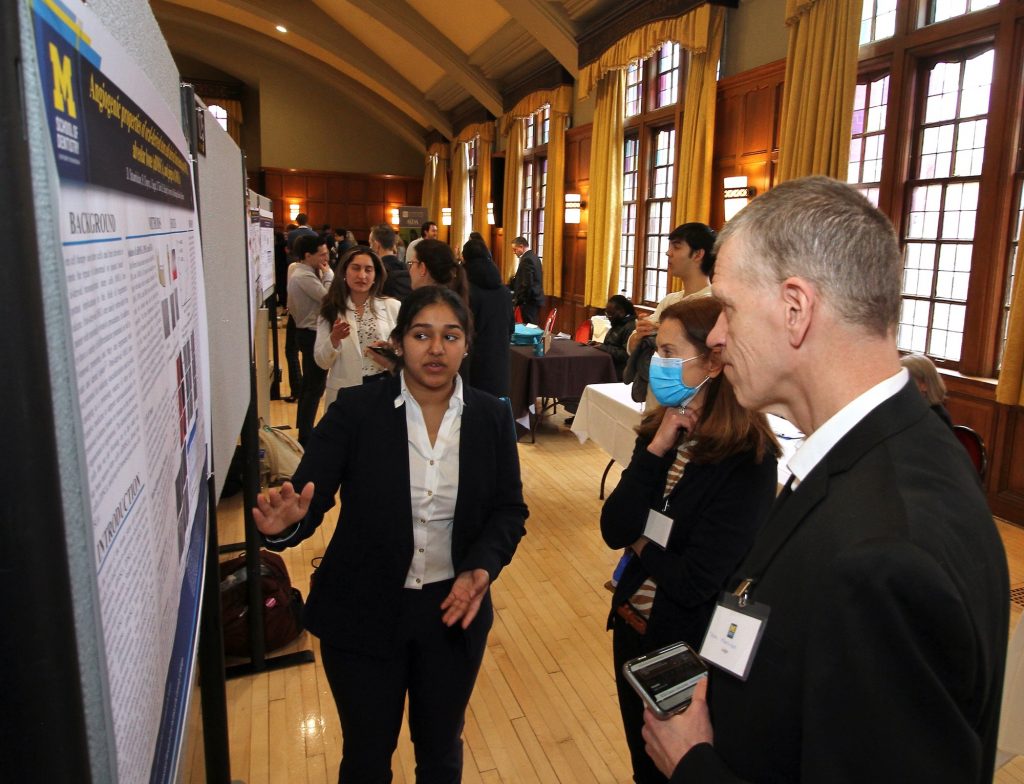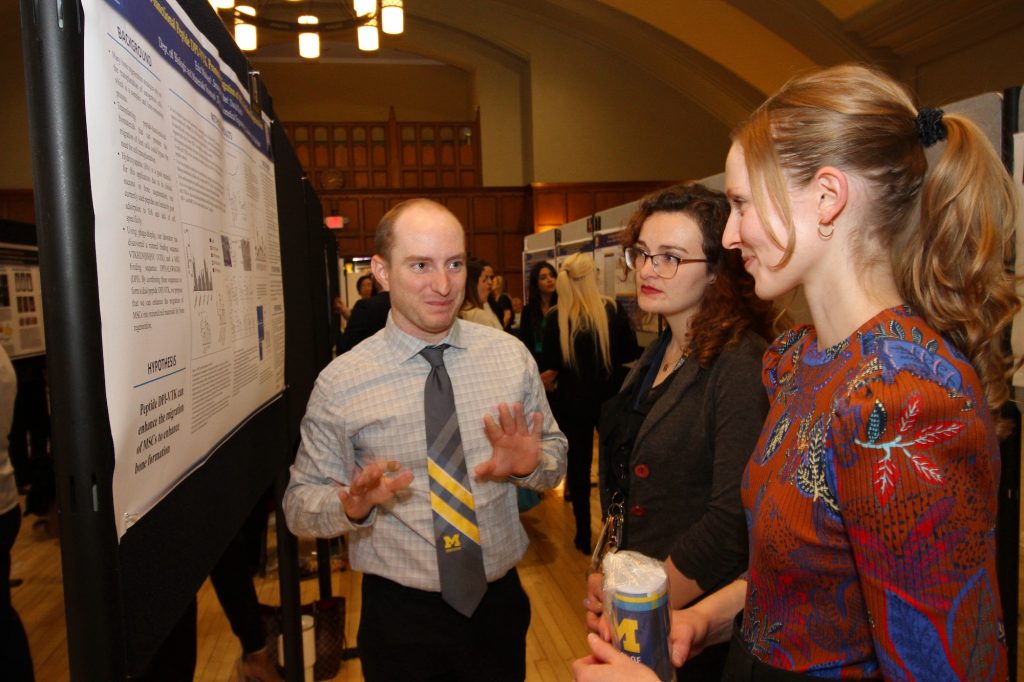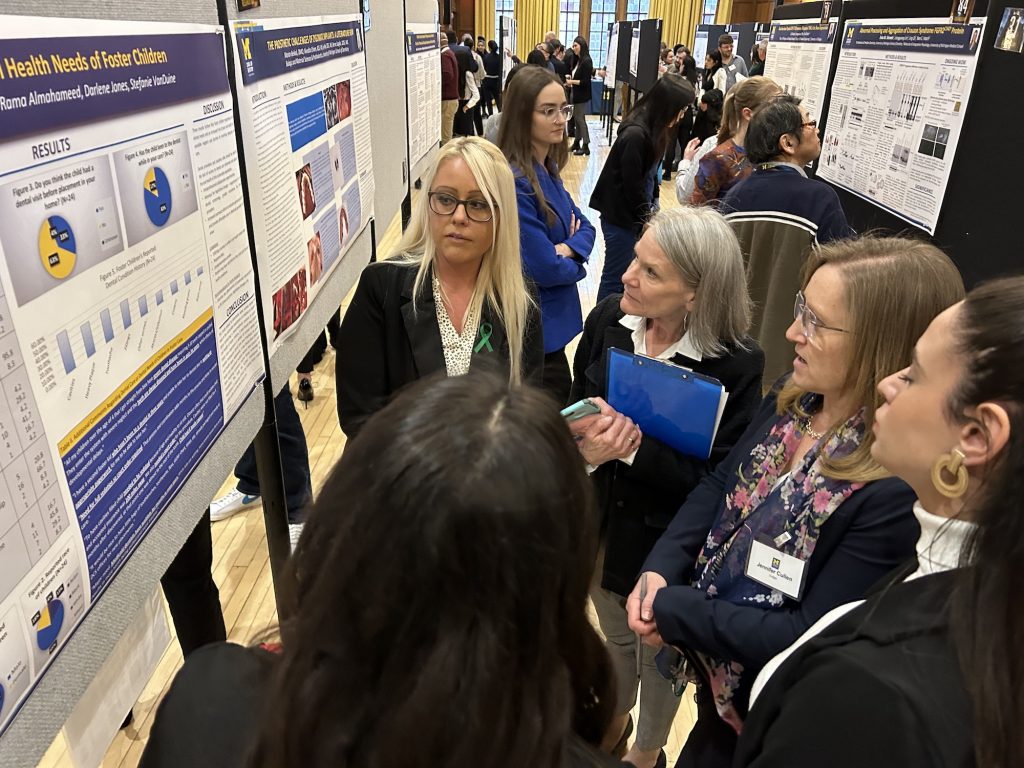 ###
The University of Michigan School of Dentistry is one of the nation's leading dental schools engaged in oral healthcare education, research, patient care and community service. General dental care clinics and specialty clinics providing advanced treatment enable the school to offer dental services and programs to patients throughout Michigan. Classroom and clinic instruction prepare future dentists, dental specialists and dental hygienists for practice in private offices, hospitals, academia and public agencies. Research seeks to discover and apply new knowledge that can help patients worldwide. For more information about the School of Dentistry, visit us on the Web at: www.dent.umich.edu. Contact: Lynn Monson, associate director of communications, at dentistry.communications@umich.edu, or (734) 615-1971.