Donor Profile: Dr. Kevin Goles (DDS 2015) – Breaking new ground early in his dentistry career

12

min read
This profile is one in a series highlighting School of Dentistry alumni, donors and students.
_________________
It's been a productive early career for Dr. Kevin Goles in the seven years since he was a dental student treating patients in the pre-doctoral clinics at the University of Michigan School of Dentistry.
A DDS graduate with the Class of 2015, Goles now practices in Colorado Springs, Colorado, after five years as a dentist in the U.S. Army. Although he is still early in his career, he is already making an effort to maintain his ties to U-M and the dental school. He has returned to campus for football games several times in recent years, including this October when he came back for the Penn State game and made arrangement to tour the newly renovated dental school with one of his mentors, adjunct faculty member Dr. Dan Edwards (DDS 1997).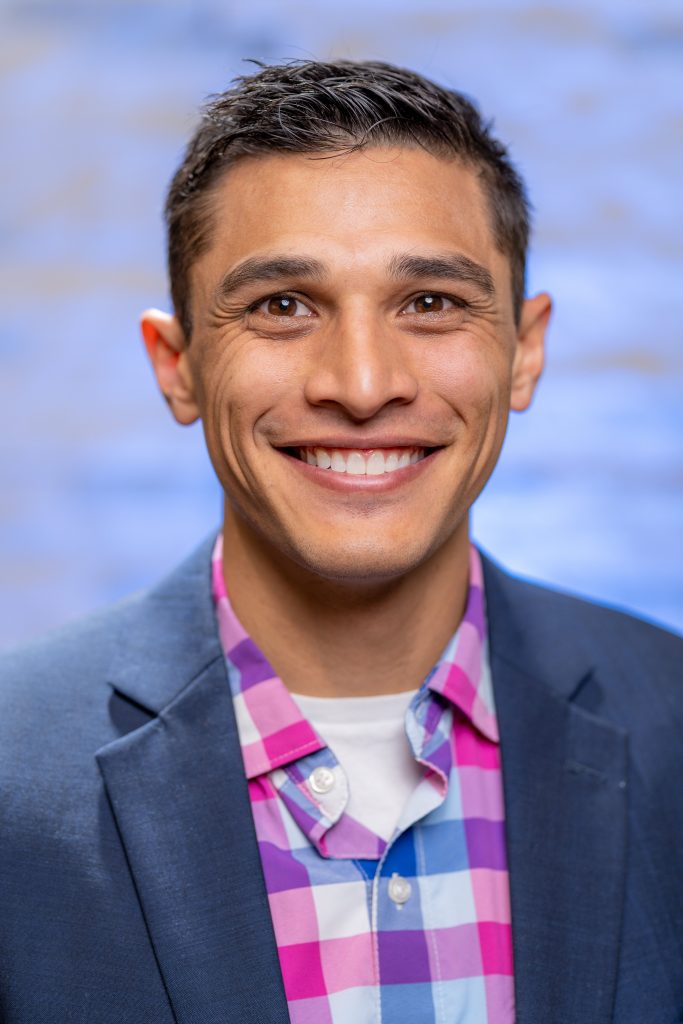 Goles appreciates Edwards not only for his teaching skills in clinic but also for his time as the faculty liaison for the Delta Sigma Delta dental fraternity and the American Student Dental Association, two organizations that Goles was active in during his time at the school. During the tour this fall, Edwards mentioned that one of the fund-raising opportunities for the Blue Renew renovation and expansion project included the opportunity for clinic cubicles to be named for donors.
When the tour reached a corner cubicle, No. 41, in the newly renovated Victors West clinic, Goles was struck by the familiar view through the windows on two sides of the space. He had spent a lot of time treating patients in or near this corner of the original clinic floor plan. Then as now, the window overlooks a small courtyard on the west side of the dental school building, with the top of the iconic Burton Tower visible above the Michigan League across the street.
"This was my spot," Goles told Edwards. Not only for regular clinical care in many cases, but he also recalls being in that location when he treated patients as part of his all-important board exams. "Especially that cubicle, I spent so much time there with that view." The look and the feel of the clinics is brand new after the renovation, but this location and good memories convinced Goles and his wife Tiffany to make the requisite financial gift so Cubicle 41 will carry their names. For decades to come, students will treat patients in the Goles Cubicle – the cubicle with a view.
(And it is merely a trivial coincidence – or is it? – that Michigan scored 41 points in its win over Penn State that weekend when Goles was back reminiscing about Cubicle 41.)
Goles describes his love of the University of Michigan and its School of Dentistry as "devout." It's an unlikely connection for someone who grew up in Nevada and had never considered dentistry as he entered college. Goles was a national-class golfer coming out of his Nevada high school and he headed to Miami, Florida, on a collegiate golf scholarship. If golf didn't work out as a profession, Goles figured, his years of outdoor life spent hunting and fishing in Nevada might lead to a career in wildlife biology and conservation.
It turned out that both golf and life in Miami were so different that it was a difficult transition. So after two years Goles returned to his home state and the University of Nevada-Reno to finish his undergraduate degree. By the time he left Miami, he realized that many of his classmates in his biology and the other science courses were pre-med or pre-dental, which prompted him to begin thinking about dentistry.
Because pre-dentistry courses would be study-intensive, Goles decided against joining the UNR golf team and instead focused on the university's Pre-Dental Society. It was through that organization that he met Dr. David White, a U-M alumnus (DDS 2003) who practices in Reno and has been active for many years with the UNR pre-dent group. White encouraged Goles to jump into dentistry full-throttle and mentored him through his final two undergraduate years. When it came time to apply to dental schools, White's connection to U-M led Goles to become one of several Nevada students who have in recent years formed a professional pipeline to Ann Arbor.
Goles says his time at the dental school was a version of the adage to "work hard and play hard." Using the advice of White, Goles sought out a variety of dental school activities beyond the classroom and clinic requirements. As a member and eventually president of Delta Sigma Delta, he learned the value of community service and networking with DDS students in all four classes in any given year, not just with his own class. He held leadership positions in the American Student Dental Association and joined Edwards on a committee with the Michigan Dental Association. In 2013, Goles was at the national conference of the American Dental Association to accept David White's New Dentist Leadership award because White couldn't attend. At the same event, Goles supported Edwards in receiving the ADA's Golden Apple Award for Outstanding Leadership in mentoring. Goles himself won an ADA award – the Bud Tarrson Student Leadership Award – among several others during his four years at the school.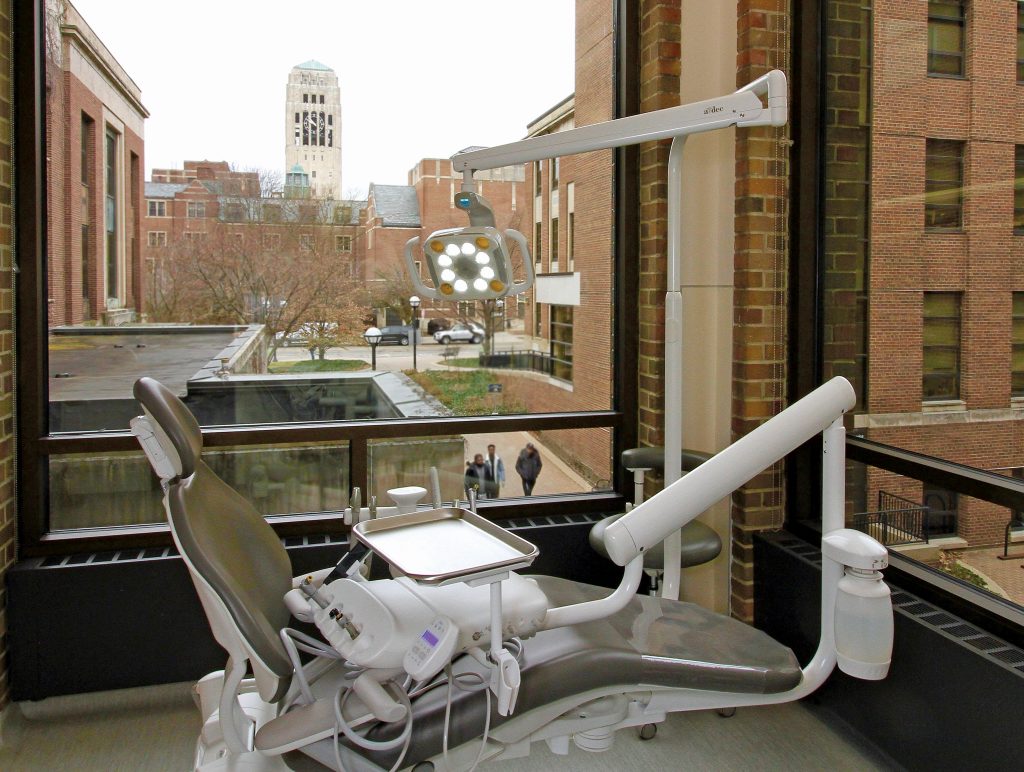 Other faculty influences include Dr. Don Heys (DDS 1972), whom Goles credits with one of the most positive approaches among faculty. "He was so non-judgmental, so supportive," Goles said. "He would never make you feel inferior. He was always such a great supporter. That's why he is such a legend over his whole career there – it's how he works with the students."
Goles also credits former faculty member Dr. Bill Piskorowski for building confidence in students. Goles was one of several students who worked with Piskorowski to create the initial Wolverine Patriot Project to provide dental care for Michigan military veterans. The students teamed with an alumni couple, Drs. Edward and Jan Duski of Gaylord, Michigan, to use their clinic as the start-up location. Students traveled once a month to Gaylord to treat veterans as part of the school's Community-Based Dental Education. The veterans program thrived, has expanded and later was renamed Victors For Veterans.
Goles said Piskowroski, like Heys, was positive, particularly when students expressed their wide-ranging worries, including whether they would be able to set up a practice in areas where numerous dentists were already located. "Bill was a very big picture guy," Goles remembers. "He would say: 'You're going to Michigan. You don't have to worry about saturation of dentists' or all the things you would worry about when you get out into private practice. 'You ARE the competition. You put your shingle wherever you want.' That was reassuring and empowering."
After graduation in 2015, before he could open or join a practice, Goles first had to fulfill a four-year commitment to the U.S. Army in exchange for his dental school tuition. That commitment started while he completed an Advanced Education in General Dentistry residency at Joint Base Lewis-McChord in Seattle, Washington. After that year of immersion into the life of an Army dentist, Goles was assigned to Fort Carson in Colorado Springs, Colorado. In early 2017, he was deployed to Europe only six weeks after the birth of his daughter. He was stationed in Poland as the dental surgeon for a heavy armor and tank brigade comprised of 4,000 soldiers in 14 countries from Estonia to Bulgaria. During his four months in Europe, he drove thousands of miles as he delivered care to soldiers in Germany, Hungary, Lithuania and Latvia, among other countries.
Goles returned to Fort Carson and for the next three years performed the wide-ranging general dentistry duties required to maintain the wide-ranging needs of an Army, as well as working at a nearby emergency dental clinic. He said the constant demands greatly improved his skills and efficiency in many ways, including oral surgery, endodontics and the growing technology of Computer-Aided Design and Computer-Aided Manufacturing, or CAD-CAM. He also began more work with sleep apnea treatments, which he was introduced to earlier during his AEGD residency. During his remaining time at Fort Carson, he twice prepared for additional deployments overseas, but they never materialized, which was particularly a relief the second time because he and his wife were expecting their second child.
Goles has mixed feelings about the time he spent in the Army. The pluses were that it helped him pay off his dental school debt; it advanced the depth and breadth of his dentistry skills; and it taught him how to work with others and overcome obstacles. But it was a tiring and difficult time, even for the high-energy Goles, who has competed in Ironman triathlon competitions. It was particularly a challenge in trying to merge family life with Army responsibilities. He cites the oft-used line about the military and families: "If the Army wanted you to have a family, they would have issued you one."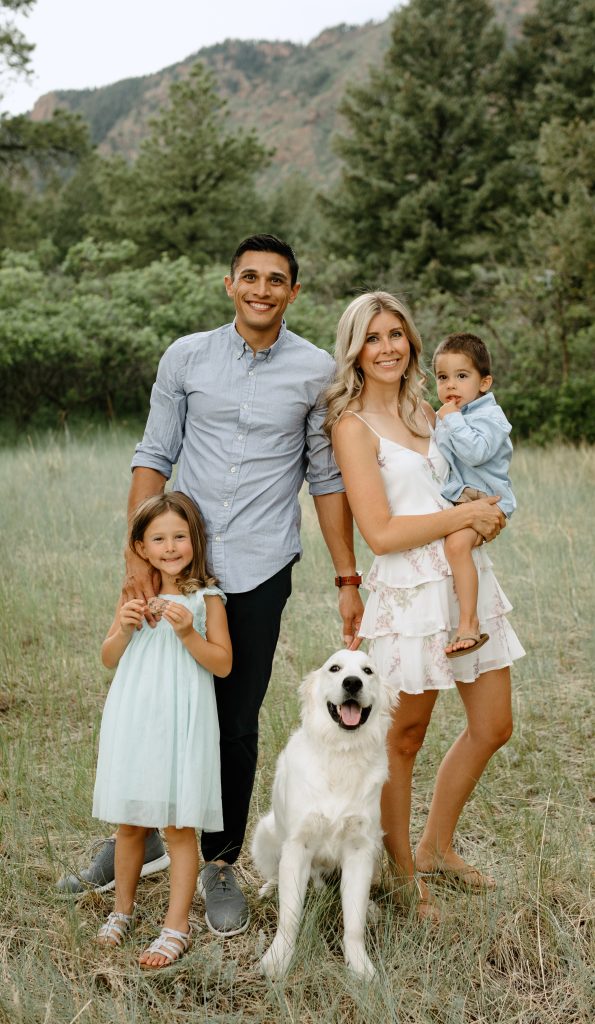 By the time he left the Army in 2020, Goles had already joined a private dental practice in Colorado Springs. He and his partners began exploring the idea of expanding into treatment of obstructive sleep apnea. Goles had enough experience treating the condition during his AEGD residency that he was interested in learning more. At first, he was skeptical of the wide range of health problems being associated with apnea, and he questioned if non-surgical treatments could expand patients' airways and improve their sleep. As he researched the field further, however, he was convinced that the evolving new treatment options were a significant and effective breakthrough that could help improve the lives of many people.
Goles invested in a training program with a company called Vivos Therapeutics. He gradually began spending more time with sleep apnea patients than with the general dentistry practice. He and partners created a companion practice called The Breathing and Sleep Center in Colorado Springs. Several years later, Goles has now treated more adults using the Vivos methods than any doctor in the world. He has participated in clinical trials and he travels the country training other Vivos practitioners about the process, which addresses the root causes of sleep apnea by permanently expanding the airway with non-surgical interventions. It requires the patient to wear a customized oral appliance for up to two years. It is similar to orthodontic devices that straighten teeth, but instead it gradually widens the upper jaw in order to alter the size, shape and position of the soft tissues of a patient's upper airway, thus increasing airflow when the patient sleeps.
Several companion methods are among the treatment options that Goles uses depending on the unique needs of each patient. Clear aligners and laser treatments that tighten the soft tissues at the back of the throat are part of his expertise, which he also shares as a trainer for those products as well.
The ultimate goal is to widen the jaw since a narrow jaw can make breathing while asleep "more like breathing through a coffee straw than a garden hose," he says, using one of his favorite analogies to explain the problem. Children, since they are still growing, provide additional challenges, which are being addressed in related treatment regimes.
Goles says researchers continue to expand their understanding and document how poor sleep caused by labored or interrupted breathing is connected to many other health issues. It's a cause he has embraced because so many people are affected and successful treatment is rewarding for both patient and the clinician. His experience and leadership in the field have already earned him Diplomate status with the American Board of Sleep and Breathing, and he is an ambassador for the Breathe Institute, an industry trade group.
Coming out of dental school, Goles wouldn't have predicted that his career would go down the path of treating sleep apnea. But the dental school has long emphasized scientific research, critical thinking and data-driven practices – the sorts of skills that are serving him well even beyond the extensive clinical dentistry education he received at U-M.
"I had lot of clinical experience that I felt was a huge advantage from Michigan compared to other dental schools. I saw it when I talked to other dentists after I graduated and was in the Army," he said. "Clinically, I had a lot more experience and it gave me an advantage."
As his current practice evolves, he calls on his standard dentistry background even as he tries to break new ground in the rapidly evolving sleep apnea realm. The results so far have been exceptionally rewarding when his grateful patients tell him he has improved health problems that they've often endured for many years.
"Changing people's lives – it's amazing," he said.
And it all began in and around what is now Cubicle 41, the one with the view.
_____________________
More information about Dr. Kevin Goles and The Breathing and Sleep Center can be found on the center's website at https://breathingandsleepcenter.com/ A video describing in greater detail the center's treatment options is here: https://breathingandsleepcenter.com/new-patients/
###
The University of Michigan School of Dentistry is one of the nation's leading dental schools engaged in oral healthcare education, research, patient care and community service. General dental care clinics and specialty clinics providing advanced treatment enable the school to offer dental services and programs to patients throughout Michigan. Classroom and clinic instruction prepare future dentists, dental specialists and dental hygienists for practice in private offices, hospitals, academia and public agencies. Research seeks to discover and apply new knowledge that can help patients worldwide. For more information about the School of Dentistry, visit us on the Web at: www.dent.umich.edu. Contact: Lynn Monson, associate director of communications, at dentistry.communications@umich.edu, or (734) 615-1971.