School receives grant from U-M Academic Innovation center for faculty development project

3

min read
Ann Arbor, Mich., Nov. 9, 2022 – Faculty development and learning is the focus of a new project at the School of Dentistry that has received a grant from the University of Michigan Center for Academic Innovation.
The project, led by Vidya Ramaswamy, director of evaluation and promotion of teaching and learning at the dental school, is one of six initiatives across the university to receive a $5,000 grant in the latest round of funding awarded by the center. The center uses design, technology and educational research to create new models for global, engaged and lifelong learning experiences for students at U-M and around the world.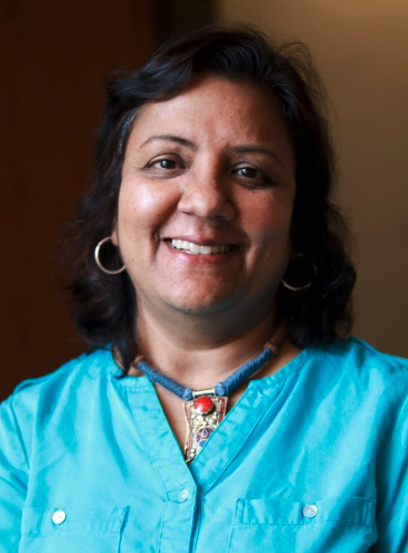 Ramaswamy plans to use a learning management system called GradeCraft that was created by the center to offer faculty development opportunities, including those dedicated to course design, inclusive teaching and assessment. The project will bring a more coordinated approach to the dental school's faculty development offerings and provide new incentives for faculty to adopt innovative teaching methods.
Ramaswamy's team includes Christopher Mong, the educational technology lead for Dental Informatics at the dental school, and Charlene Erickson, an academic program specialist. Ramaswamy hopes the project, if successful, could serve as a model for other schools on campus and dental schools nationally.
GradeCraft is a learning management system that supports game-based or what is referred to as "gamefully designed" courses. Gameful pedagogy is an approach inspired by techniques and methods found in well-designed games. The approach takes inspiration from how good games function, and applies it to the design of learning environments. GradeCraft gives teachers the tools to design courses that feel like gameplay and that encourage students to focus on the craft of learning.
"The big advantage in this project is that it is sustainable over time with periodic modifications and continuous improvement in scope and effectiveness," Ramaswamy said in the grant application.
The six grants from the Center for AI are the latest in an ongoing effort to help U-M faculty and staff adopt and use educational technology to advance teaching and learning. The center provides financial assistance and in-kind technical expertise to help faculty and staff implement the center's educational technology tools. The center provides staff, including software developers and behavioral science experts, to help with project planning and implementation.
Ramaswamy is responsible for evaluating the School of Dentistry curriculum, supporting faculty development, assessing pedagogy and student learning. She has been involved in diverse studies, including investigating the teaching of social determinants in the curriculum, supporting the case-based learning initiative, designing and facilitating educational workshops, and assessing the impact of educational interventions such as virtual reality on student learning.
More information on the six new grants from the Center for Academic Innovation can be found on its website here.
###
The University of Michigan School of Dentistry is one of the nation's leading dental schools engaged in oral healthcare education, research, patient care and community service. General dental care clinics and specialty clinics providing advanced treatment enable the school to offer dental services and programs to patients throughout Michigan. Classroom and clinic instruction prepare future dentists, dental specialists and dental hygienists for practice in private offices, hospitals, academia and public agencies. Research seeks to discover and apply new knowledge that can help patients worldwide. For more information about the School of Dentistry, visit us on the Web at: www.dent.umich.edu. Contact: Lynn Monson, associate director of communications, at dentistry.communications@umich.edu, or (734) 615-1971.