Faculty member Dr. Marco Bottino named Robert W. Browne Professor

3

min read
Ann Arbor, Mich., Sept. 23, 2022 – School of Dentistry faculty member Dr. Marco Bottino has been appointed as the Robert W. Browne Professor.
The school's Executive Committee and Interim Dean Jan Hu recommended the appointment, and it was approved Thursday by the U-M Board of Regents. It is a five-year appointment through Aug. 31, 2027.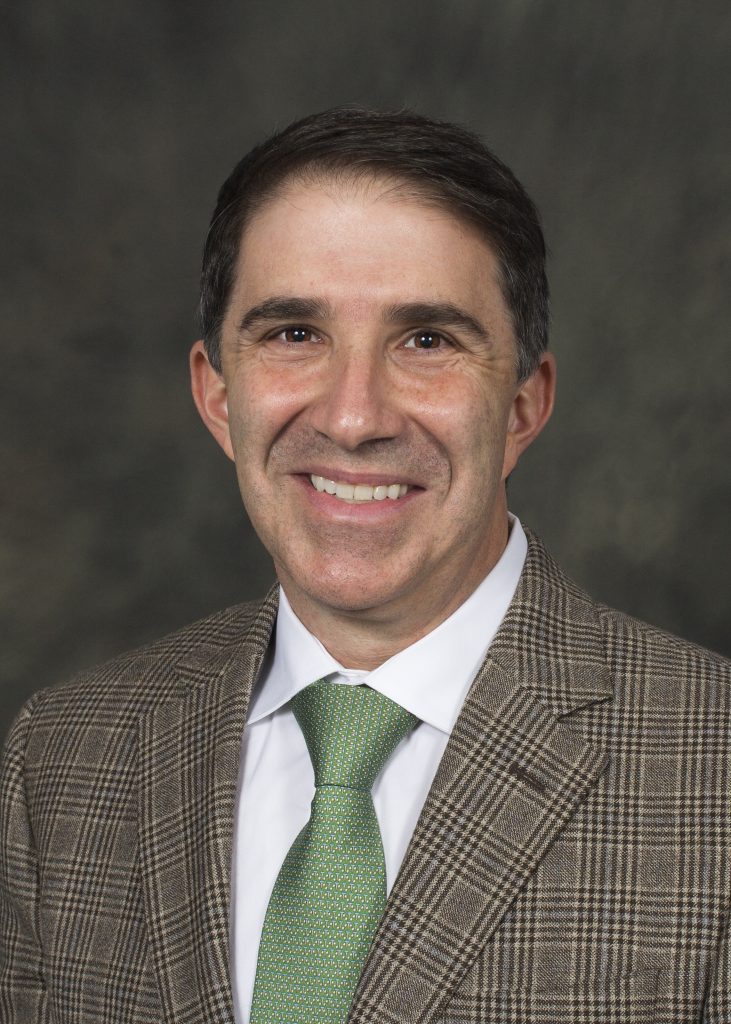 Dr. Bottino is an Associate Professor in the Department of Cariology, Restorative Sciences and Endodontics. He is a leader in the field of regenerative medicine. His research focuses on the development of clinically relevant strategies for engineering dental and craniofacial tissue, with a particular focus on supporting the clinical translation of a novel biomaterial for bone regeneration. He has 130 peer-reviewed publications, five government grants of which he is the principal investigator on three, and numerous foundation grants. He has had 10 government grants as a principal investigator or a co-principal investigator since joining the U-M School of Dentistry in 2017.
"Marco is a dedicated researcher, thoughtful colleague and a committed educator to students whom he mentors," Dr. Hu said in announcing the appointment.
Dr. Bottino earned his DDS in 2001 from Paulista University in Sao Paulo, Brazil, and a clinical certificate in Operative Dentistry and Biomaterials from the São Paulo State University in 2002. In 2005, he earned his MS degree in nuclear technology from the University of São Paulo, and in 2010, his PhD in materials sciences at the University of Alabama at Birmingham. After joining the Indiana University School of Dentistry as an assistant professor, in 2011 he was appointed as an adjunct assistant professor of biomedical engineering at IU. In 2014, he added an appointment as an assistant professor of anatomy and cell biology at the IU School of Medicine. In 2016, he was promoted to associate professor, with tenure, at the IU School of Dentistry. In 2017, he was appointed as associate professor, with tenure, at the Michigan School of Dentistry.
Dr. Bottino has presented at numerous international and national conferences, and is a member of the Musculoskeletal Tissue Engineering Study Section of the National Institutes of Health.  He served as a member of the editorial board of the Journal of Dental Research and Journal of Endodontics and is past president of the Dental Materials Group of the International Association for Dental Research (IADR). He is currently vice-president of the Pulp Biology and Regeneration Group of the IADR.
The professorship is named for the late Dr. Robert W. Browne, an alumnus of the School of Dentistry and one of its most generous benefactors for more than 50 years. Browne died Jan. 8, 2022, in Florida at age 97. Dr. Browne earned his DDS from the school in 1952 and returned for his graduate degree in orthodontics in 1959. He practiced dentistry and orthodontics for many years in Kalamazoo and Grand Rapids, Michigan, then branched out into other business ventures related to nursing homes, recreation and home health care.
###
The University of Michigan School of Dentistry is one of the nation's leading dental schools engaged in oral healthcare education, research, patient care and community service. General dental care clinics and specialty clinics providing advanced treatment enable the school to offer dental services and programs to patients throughout Michigan. Classroom and clinic instruction prepare future dentists, dental specialists and dental hygienists for practice in private offices, hospitals, academia and public agencies. Research seeks to discover and apply new knowledge that can help patients worldwide. For more information about the School of Dentistry, visit us on the Web at: www.dent.umich.edu. Contact: Lynn Monson, associate director of communications, at dentistry.communications@umich.edu, or (734) 615-1971.