Alumni Profile: Dr. Marilyn Woolfolk's career started in research, moved into dentistry and found a home in academia, all at the School of Dentistry over 42 years

12

min read
---
This profile is one in an ongoing series highlighting School of Dentistry alumni, donors and students.
---
When Dr. Marilyn Woolfolk reflects on her 42-year career at the University of Michigan School of Dentistry, it's a success story of resiliency and determination as she navigated a path from researcher to dental student to professor to administrator.
Now retired as Professor Emerita of Dentistry and Assistant Dean Emerita of Student Services, Dr. Woolfolk owns a collection of accomplishments forged during her time in key roles at the school from 1972 through 2014. Beginning as a research assistant in a lab, then earning her DDS, then as a faculty member and later as an assistant dean, she helped advance numerous important initiatives. They included strengthening community outreach by students; continually reassessing admissions and student support; advocating for increased diversity, equity and inclusion throughout the school and the profession; and using her scholarship and teaching to emphasize the importance of public health and reducing oral health disparities in underserved populations.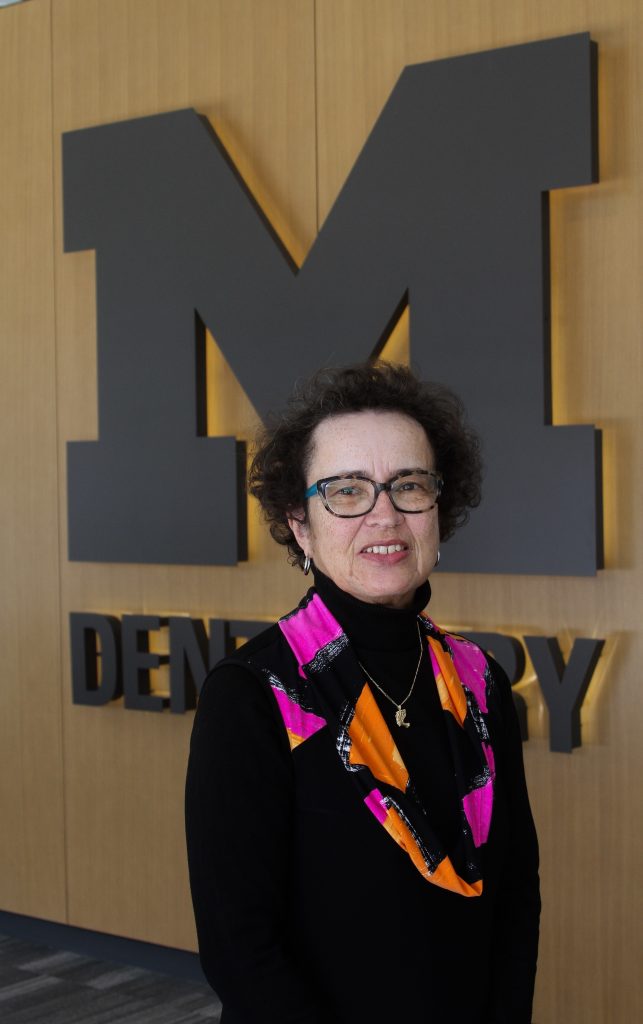 As she considers where she started and where she finished, Dr. Woolfolk remarks on the many changes over the years for both her career and the school as each evolved over time. Her story is part of a new book released last year that she and two colleagues conceptualized and produced: "Undaunted Trailblazers: Minority Women Leaders for Oral Health."
Dr. Woolfolk teamed with Dr. Shelia S. Price and Dr. Jeanne C. Sinkford to collect life stories from 31 minority women, including the three authors themselves, who have made contributions advancing oral health over their lifetimes. Price is a professor and associate dean for admissions, recruitment and access at the West Virginia University dental school. Sinkford was the first female dean of a U.S. dental school when she was named to that position at the Howard University College of Dentistry in 1975. The three led a team that selected stories of women in the fields of education, research, public health and organized dentistry, as well as military service, clinical practice and industry.
Dr. Woolfolk's essay in the book credits her parents, Winder and Gladys Porter, with teaching their two daughters that there were no gender boundaries to careers and success, and that life's obstacles could be overcome with intellect, problem-solving and creativity. Their African-American father was a pediatrician and medical director for the Delaware State Board of Health. Their mother, a descendent of the Nanticoke tribe of American Indians, was an elementary school teacher.
Dr. Woolfolk attended Cornell University with an eye toward a medical career like her father, but by the time she graduated in 1971 she had decided that the lengthy educational path for medicine would significantly delay starting a family. She instead earned her undergraduate degree in microbiology and then came to the University of Michigan for a graduate degree in that field, planning on a career in scientific research. After earning her master's degree in 1972, she stayed in Ann Arbor to accept a job as a research assistant at the School of Dentistry in the lab of Dr. Walter Loesche. She worked in the lab for two years, investigating oral microflora linked to periodontal disease and dental caries, then her career aspirations took another turn. Loesche and a fellow faculty member who would become a mentor for Woolfolk, Dr. Emerson Robinson, convinced the young researcher that a dental degree would be a good career move with more flexibility than staying on the research track.
Woolfolk was admitted to the U-M DDS Class of 1978, a historic breakout class for women, with 28 in a class of 151. It was by far the most women, and highest percentage, in any class up to that point in the history of the school. It was the start of a steady increase in female graduates that finally reached 50 percent on a consistent basis only in the last several years.
Woolfolk recalls that dental school was challenging. It was still a male-dominated profession, with very limited racial diversity. Sometimes the female members of the class felt the faculty were biased against them, yet they knew the male students often endured the same demanding expectations of the faculty. Woolfolk and her female classmates established an informal support network, leaning on a couple of their classmates who were a few years older for leadership and advice. Woolfolk said it was the first of what would become several periods in her career where she would call on resilience, determination and networking to keep advancing down a career path with very few Black female role models to follow.
Her determination was particularly tested by a significant life event near the end of her first year in dental school, when she believes she was the first woman in the history of the school to give birth while enrolled. She had married while working on her microbiology master's degree and was determined to have both a family and a career at a time when conventional wisdom called for professional students to wait until after they finished their degree to have children. Caring for a young child while meeting the academic and clinical demands of attending dental school took a special strength and organizational skill, and it led to what she calls "a personal triumph" in graduating on time with her class. Balancing her early career with family life – she and her husband welcomed two more children – is one of her proudest accomplishments, she says.
During her final year of dental school, her career path took another slight turn when Robinson, her faculty mentor, once again made a suggestion. He asked her to consider academia and a faculty position at the dental school after she graduated. It seemed like a great opportunity so in 1978 she joined the faculty as a full-time clinical instructor in what was then the Department of Community Dentistry, chaired by Dr. Robert Bagramian. For the first year or so she also practiced dentistry in the evenings at a local dentist's office.
Much of her focus in those early years on the faculty was in coordinating the school's clinical outreach initiatives at sites around Michigan. For 12 consecutive summers, she directed theTraverse City Migrant Program, providing dental care primarily for children of migrant farm workers. She led a team of instructors and rotating dental students as they took mobile vans with dental equipment to various sites to treat underserved patients without access to dental care. As she looks back on her career that eventually included many other duties as a faculty member and Assistant Dean of Student Services, Dr. Woolfolk says providing care for the underserved migrant families in those early years remains the most rewarding and meaningful part of her career.
Because of her work in community outreach and public health when she first joined the faculty, Dr. Woolfolk developed contacts within the School of Public Health. That led her to begin work on her Masters of Public Health degree, which she earned in 1982. That in turn set her on the path from assistant professor at the dental school to associate and full professor, which she reached in 2002. She held a joint appointment at the School of Public Health in community health programs from 1983-98.
"The idea of community service dentistry and healthcare has evolved a lot since those days," she says. "My focus with the special population and the migrant experience showed me that the available healthcare resources were not uniform. Over time there has been a wider recognition that everybody does not have equal access to quality services. The healthcare professions have learned to meet a community in their community, so to speak. After working with the migrant programs, for me it was a natural evolution to emphasize community health and facilitate greater access to health professions education."
In 1990, Woolfolk took on an administrative role as Director of Student Affairs for seven years. From 1997 until she retired, she was Assistant Dean for Student services, overseeing admissions, student services and financial aid. Early in her administrative years, she was involved in one of her most significant achievements when she served as principal investigator and helped to secure continual federal Health Career Opportunity Grant funding. That grant had led to the establishment of the school's Profile for Success (PFS) program, a summer enrichment program that drew undergraduate students from disadvantaged backgrounds and students underrepresented in the health professions. In the course of her work in this area, she was recognized as a leader in improving the recruitment, retention and mentorship of women and underrepresented students within the School of Dentistry and the university.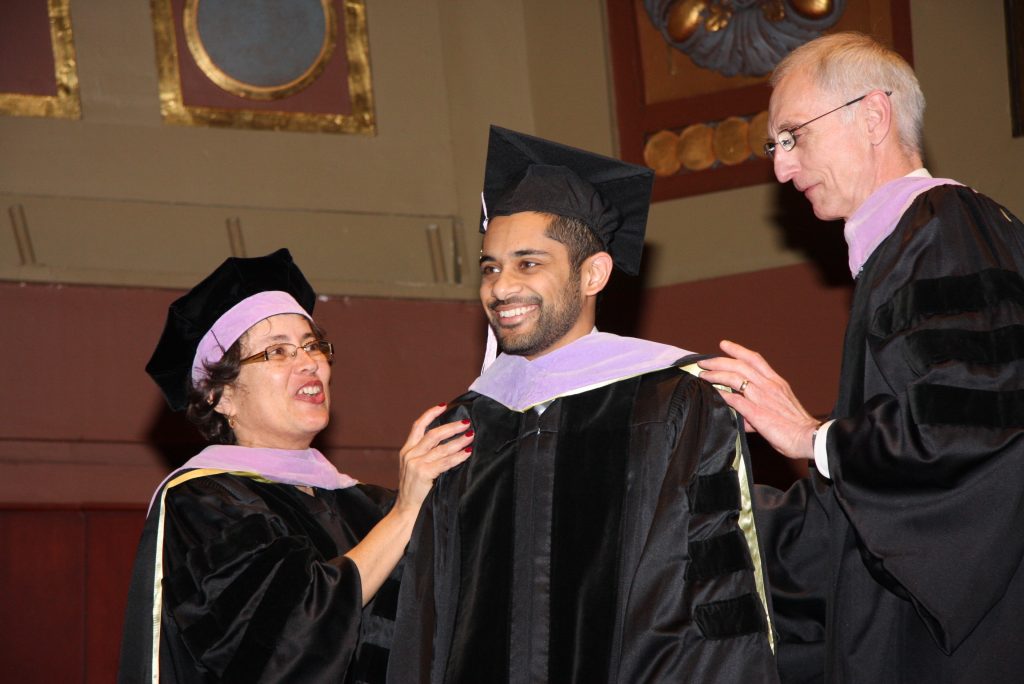 "In dealing with admissions, we had realized that you just can't expect students to compete without giving them the resources and preparation they need to be successful," she said. PFS helped strengthen undergraduate students in the math and science material they would encounter in the application process for dental schools, as well as giving them an insider view of what to expect in dental school. PFS is now in its 28th year and there are dozens of former program participants who are practicing dentistry around the country; many are U-M DDS grads, but others attended different dental schools. Whatever their alma maters, Woolfolk said it has been rewarding to encounter PFS alumni from all those years ago who are now well into successful dentistry careers.
Mentoring students from across the entire student body was always a priority – and very gratifying – for Dr. Woolfolk based on her own experiences earlier in her career. Not only do students benefit from the experience and wisdom of the faculty, but faculty learn from the students as well. Woolfolk said her common message to students was: Believe in yourself.
"When I was doing admissions, I always tried to let the applicants know that they are the CEO of their own corporation. If you are going to invest in somebody, it's often much better to invest in yourself and your own talent than to think that it depends on some other set of circumstances or someone else," she said. "From my experience in dentistry and academia, you have to be able to speak up for yourself and assert your own place and have confidence because it's too easy for people to discount you if you don't. I think that message came through to me in dental school. It led me to seek the resources and focus on problem-solving by realizing when I have a gap in my understanding, how can I get on top of that? You have to have the basic confidence to get to a certain point, but then understand that there are people who can help you get beyond there."
That wasn't always the case for a Black woman in dentistry, academia or leadership roles. Role models who looked like Woolfolk were hard to find until she met Dr. Jeanne Sinkford, who helped fill that void. Dr. Sinkford's experience as the first woman to lead a dental school was inspirational. Sinkford offered advice in many ways, steering Woolfolk to leadership positions in national organizations, among other means of support. By the end of her career, Woolfolk had two "firsts" of her own – as the first Black female full professor and assistant dean at the U-M School of Dentistry. "As a professional, and as a woman, you are looking for people who have done what you are doing," Woolfolk said. "You have unique challenges that maybe someone else has encountered and conquered, and they can encourage you."
That's the spirit in which the "Undaunted Trailblazers" book was created. It's designed as a history project to inform and inspire the current generation to move forward in the knowledge that every career has its difficulties that can be overcome.
"What I love about the book," Woolfolk says, "is that among the 31 authentic stories, there is not one hint of resentment expressed, only optimism and pridefulness. Even though the doors of opportunity were not always held open, and despite some actually being tightly shut for minority women, these leaders were undeterred. They found a path, not only to enter, but to contribute at a high level in both charted and uncharted ways to the advancement of oral health."
The key to that success is resilience, Woolfolk says. "Problems and difficulties can either paralyze you or it can set you into action. And the latter is the requisite and preferred method."
__________________________________
The 2021 book "Undaunted Trailblazers: Minority Women Leaders for Oral Health" is available in both print and digital versions through Amazon and Barnes & Noble. In addition to Dr. Woolfolk's essay, the book has other stories and references about people with connections to the School of Dentistry. The book's senior editor is Dr. Marita Inglehart, professor of dentistry in the Department of Periodontics and Oral Medicine.
###
The University of Michigan School of Dentistry is one of the nation's leading dental schools engaged in oral health care education, research, patient care and community service. General dental care clinics and specialty clinics providing advanced treatment enable the school to offer dental services and programs to patients throughout Michigan. Classroom and clinic instruction prepare future dentists, dental specialists and dental hygienists for practice in private offices, hospitals, academia and public agencies. Research seeks to discover and apply new knowledge that can help patients worldwide. For more information about the School of Dentistry, visit us on the Web at: www.dent.umich.edu. Contact: Lynn Monson, associate director of communications, at dentistry.communications@umich.edu, or (734) 615-1971.