Dr. Robert W. Browne remembered for his generosity to dental school, many other causes

5

min read
Ann Arbor, Mich., Jan. 18, 2022 – Dr. Robert W. Browne, an alumnus of the School of Dentistry and one of its most generous benefactors over the last 50 years, died Jan. 8 in Florida. He was 97.
Dr. Browne earned his DDS from the school in 1952 and returned for his graduate degree in orthodontics in 1959. He practiced dentistry and orthodontics for many years in Kalamazoo and Grand Rapids, then branched out into other business ventures related to nursing homes, recreation and home health care.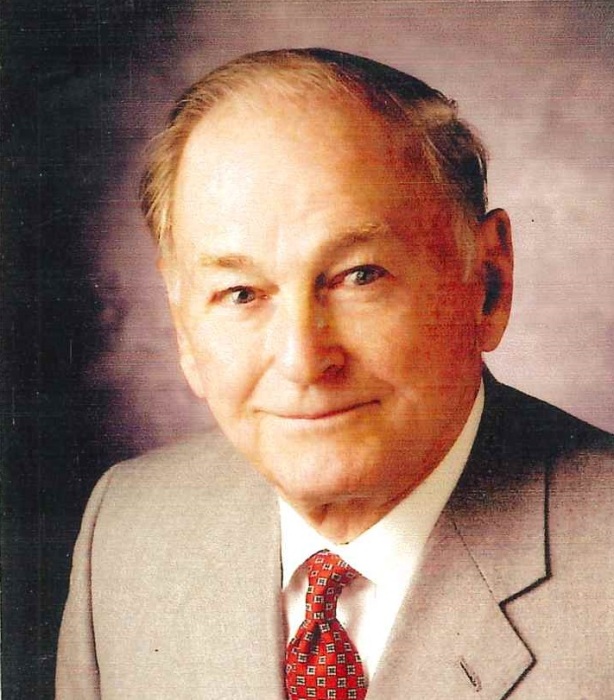 His family began his obituary with this observation: "Dr. Robert W. Browne kept these words close to his heart: 'Success usually comes to those who are too busy to be looking for it.' Although the words belong to American philosopher and author Henry David Thoreau, Dr. Browne committed his life to the essence of their meaning. He believed that self-reliance and a tireless work ethic result in a rewarding life."
Browne learned the value of hard work from an early age in his hometown of Coldwater, Michigan, holding numerous jobs for meager pay as he worked his way through high school and college, which was interrupted by World War II and his service as a pilot for the Army Air Corps. He returned to the University of Michigan after the war to finish his degree in chemistry and then earned his two degrees at the dental school.
After many years as a practicing dentist, he and a fellow dentist, Dr. Robert Richards, and several others formed John Roberts Corporation to acquire several nursing homes in Michigan. He later was founder, chairman and CEO of Care Corporation, which acquired and built skilled and intermediate-care nursing homes around the country. The company had a real estate and recreation division that owned about 25 bowling establishments, golf courses, tennis clubs, assisted living apartments, and a large office building. In 1968, the company went public and was traded on the American stock exchange. It was sold to Owens Illinois Corporation in 1986.
Dr. Browne then served as chairman and president of Trust Investment Management Corporation (TIMCOR) in Grand Rapids and was active in various philanthropic efforts, most related to education or municipal causes, including several facilities in his hometown of Coldwater. His financial gifts spanned the University of Michigan campus, including medicine, athletics and the School of Dentistry.
The school's Graduate Orthodontic Clinic is named for Browne after he made a major gift for its renovation in the 1990s. His financial gifts support three professorships at the school, including one that was created just last year to honor Dorothy Hard, the longtime director of the Dental Hygiene program and a colleague that Brown credited as a positive influence during his time in dental school.
"Dr. Browne was a loyal donor to our school for more than half a century," said Dean Laurie McCauley. "The generosity of Bob and his wife Lynn was truly phenomenal, not only to our school but to many other parts of the university, his hometown and other endeavors. It was never about Bob, but about those who would benefit from his generous philanthropy. We couldn't be more proud to have collaborated with Dr. Browne over the years and to have one of our clinics named for him. He leaves a long-lasting legacy here in our School of Dentistry, in Orthodontics and across our campus."
Richard Fetchiet, the school's Executive Director of Alumni Relations and Development, worked with Browne for 30 years on various projects to benefit the school. "He was one of the most direct yet genuine people you will ever meet," Fetchiet said. "His philosophy was to benefit faculty and students, to give them a boost because they are what the school is all about. He had a strong sense of dedication and gratitude for what the school had meant to his career and life, and he was determined to help others by giving back so they could enjoy the same educational advantages he did."
Dental school alumnus Dr. Robert Sena of Grand Rapids, who earned his DDS a year ahead of Browne, in 1951, this week fondly recalled their 73-year friendship that started in dental school, continued through their dental practices and lasted all these many years of retirement. Sena's son Dr. Kim Sena (U-M DDS 1981), also of Grand Rapids, said his father, now age 96, often attended U-M athletic events and other occasions with Browne, and they still talked regularly by phone in recent years. In reflecting about his friend, the senior Sena remembered Bob Browne this way: "He was always upbeat. In all of our time together, I never heard him speak negatively of anyone. Bob wasted little time on trivia; he was always reaching for the next rung up the ladder and attaining it. He was truly one of a kind. We were pushing each other to 100 and I will miss him greatly on that journey."
Dr. Browne died at his home in North Palm Beach, Florida. Funeral services will be held in Grand Rapids on Thursday, Jan. 20, with family visitation the previous evening. More details and the complete obituary for Dr. Browne can be found here on the website of the Metcalf and Jonkhoff Funeral Service. A related story about Dr. Browne's contributions to Coldwater can be found here in The Daily Reporter newspaper.
###
The University of Michigan School of Dentistry is one of the nation's leading dental schools engaged in oral health care education, research, patient care and community service. General dental care clinics and specialty clinics providing advanced treatment enable the school to offer dental services and programs to patients throughout Michigan. Classroom and clinic instruction prepare future dentists, dental specialists and dental hygienists for practice in private offices, hospitals, academia and public agencies. Research seeks to discover and apply new knowledge that can help patients worldwide. For more information about the School of Dentistry, visit us on the Web at: www.dent.umich.edu. Contact: Lynn Monson, associate director of communications, at dentistry.communications@umich.edu, or (734) 615-1971.