Emeritus Classes of 1970, 1971 lead school's Reunion Weekend festivities

11

min read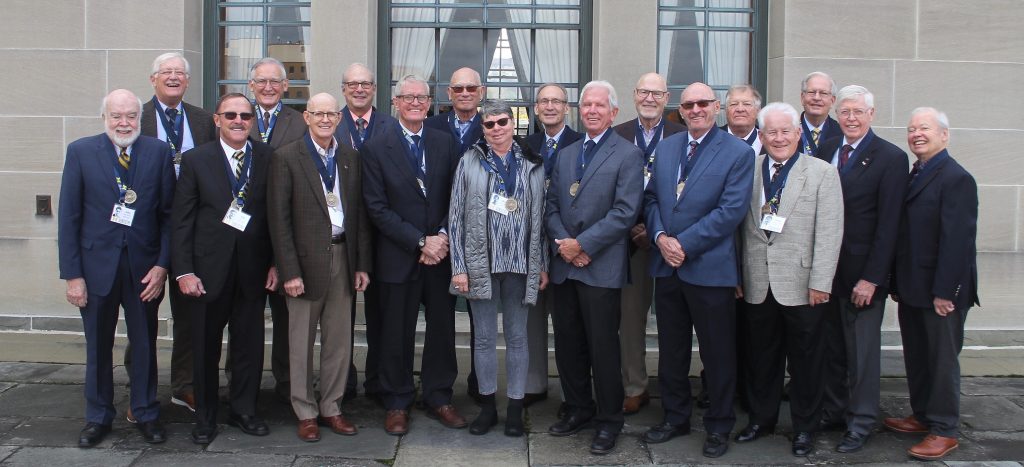 ---
Ann Arbor, Mich., Nov. 5, 2021 – The School of Dentistry's DDS and MS classes of 1970 and 1971 were celebrated as they marked the 50th anniversary of their degrees during the school's annual Reunion Weekend this Thursday through Saturday.
About 20 members of each DDS class and three alumni who received master's degrees in 1971 returned for the reunion. Each was presented with an emeritus medal and pin during a ceremony held at the Rackham Building on Thursday morning.
This year's reunion featured graduates from two years because last year the COVID-19 pandemic prevented a reunion weekend, which would have featured the Class of 1970. In another pandemic-related change, Dental Hygiene alumni celebrating their 50-year anniversaries will be honored next August as part of a special program commemorating the 100th anniversary of the school's Dental Hygiene Program, an event also moved back from its original schedule earlier this year.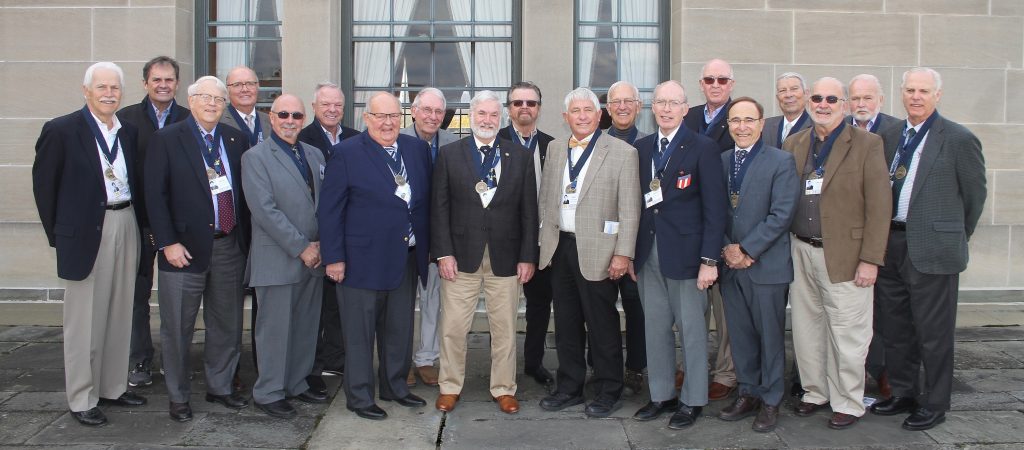 At Thursday's DDS and MS emeritus recognition event, Dean Laurie McCauley thanked the alumni from the 1970 and 1971 classes for coming back from around the country to celebrate their common journeys through the dental school. Although so much has changed in the last five decades – dental tools and technology, demographics including significantly more women in each class, the rising cost of a dental education – the school's high standards haven't changed.
Like it did 50 years ago and even before, the school still today insists on providing students with a deep understanding of science and critical thinking. "This is what we are looking for in our graduates," McCauley said. "A highly skilled, confident clinician with a deep understanding of the scientific foundation and a compassion to serve. This is something that hasn't changed since you were in school – this foundation that is an underpinning to our profession and something we keep central in our education."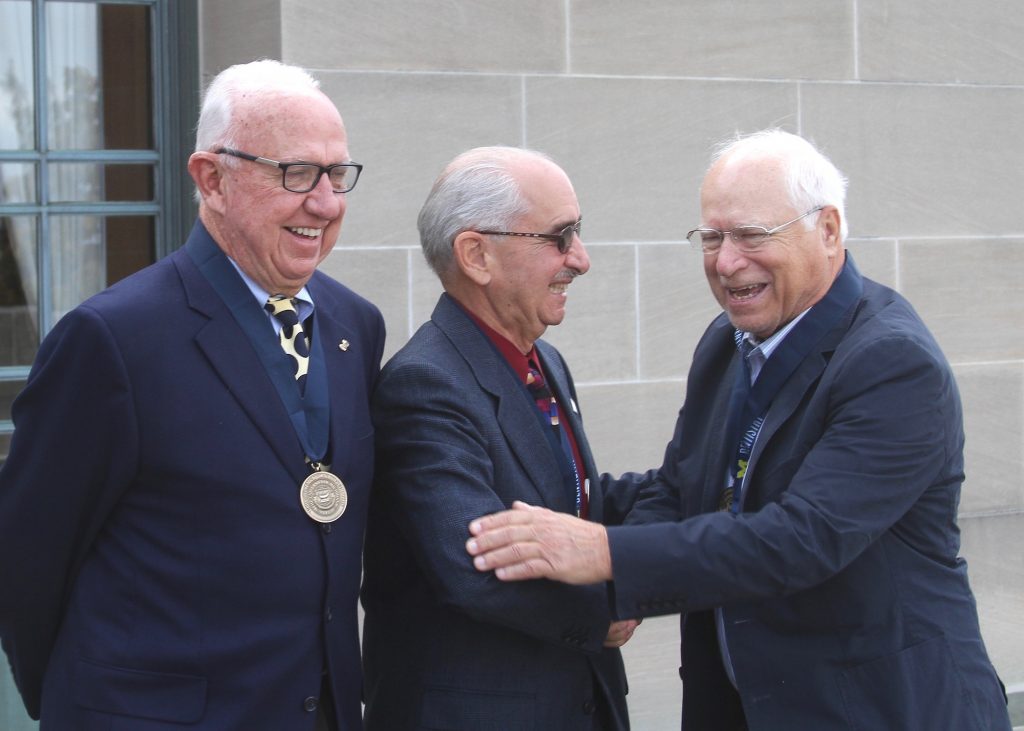 She noted two important parts of the University of Michigan mission statement – serving people and developing leaders – have long been a part of the university's goals for its graduates, even those going through the School of Dentistry 50 years ago. "You, yourselves, have been leaders in our profession and that is something we hold really dear and near to the work that we do," she said. "There are a lot of ways that we infuse leadership throughout our curriculum."
Also as part of Reunion Weekend, the school held its annual Hall of Honor induction and presented its Distinguished Service Award during a luncheon Thursday.
Hall of Honor Award
The Hall of Honor Award is presented posthumously by the school's Alumni Society Board of Governors to recognize and honor individuals who have made outstanding contributions to the profession of dentistry. Nominees must be a graduate of the DDS, Dental Hygiene, MS or PhD programs, a faculty member or a research staff member. Since the Hall of Honor was created in 2003, 52 people have been honored with a plaque in a hallway at the school.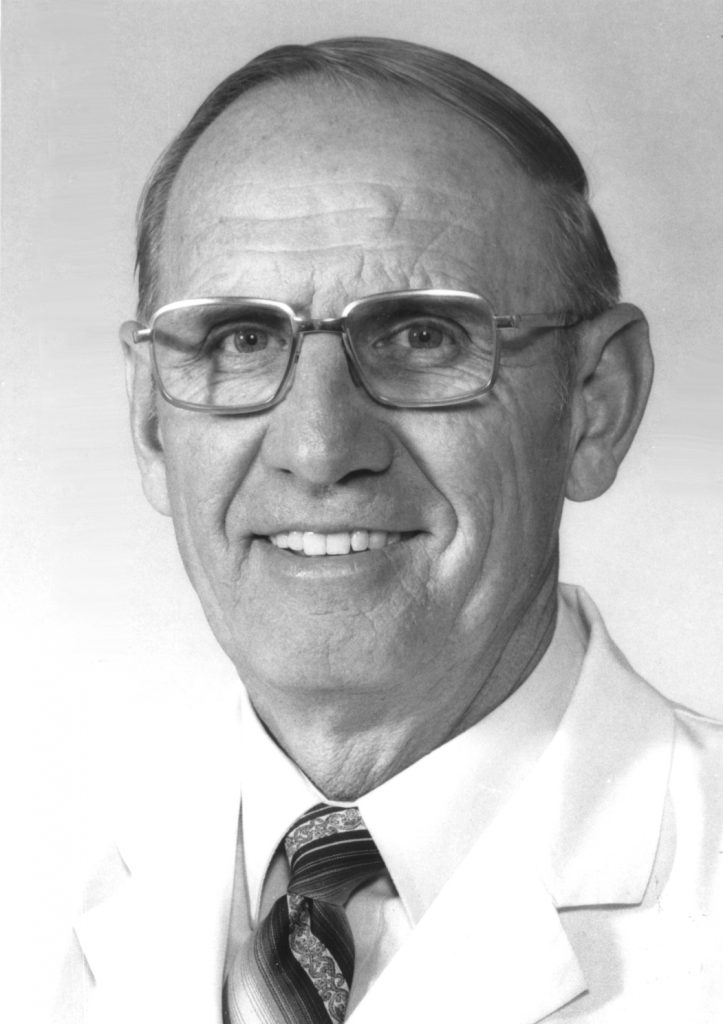 This year's honoree is Dr. Frank Comstock (DDS 1950, MS 1955). Dr. Comstock was a pillar of the School of Dentistry from 1950 to 1984 as an outstanding clinician, professor of dentistry and administrator. He began his career as a clinical instructor in 1950, after graduating from the dental school. His dental school enrollment had been delayed by four years while he served in the U.S. Marine Corps during World War II.
After joining the faculty, he was promoted to assistant professor in 1955, associate professor in 1960 and professor in 1967. He taught in the Department of Operative Dentistry and co-wrote a widely used textbook on the subject. For 15 years he led the Graduate Restorative Program, and he also was instrumental in establishing a dental assistant program in 1961. His leadership as Director of Clinics beginning in 1969 affected nearly every student, patient and staff member since he was responsible for coordinating and scheduling use of the facility to match the needs of the curriculum. The senior DDS class honored him in 1969 with the Paul Gibbons Award for outstanding teaching.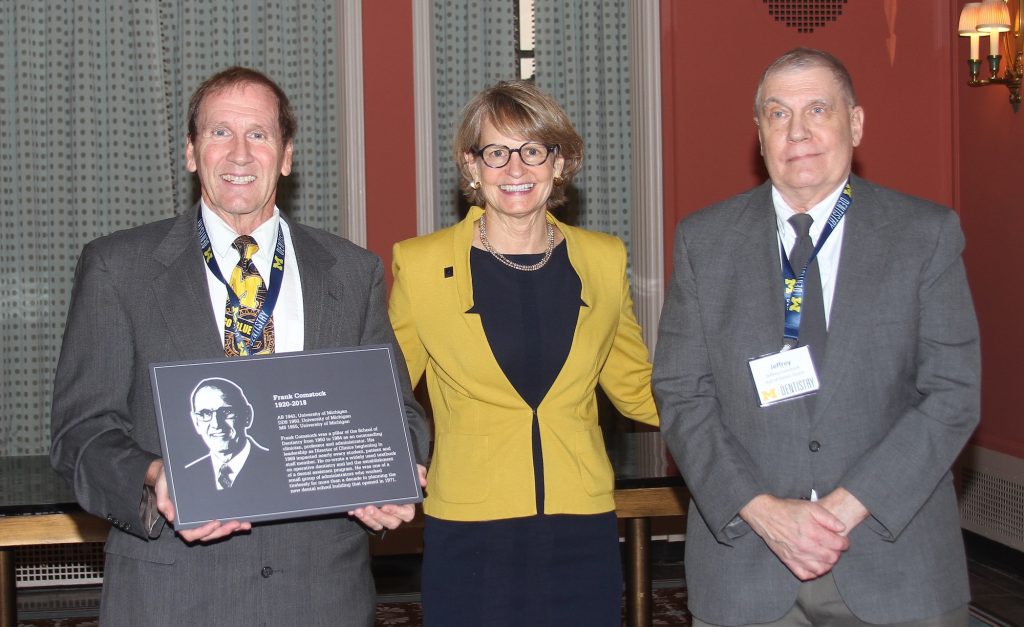 Of particular importance during Dr. Comstock's career was his contribution to the design and construction of the dental school building that opened in 1971. He was one of a small group of administrators who worked tirelessly for more than a decade in planning and making countless decisions that went into the project. There were no modern dental schools around the country to use as a model, so the planning group set out to design their own state-of-the-art building and clinics. They knew the building would need to support the latest technology, methods and materials being developed in the rapidly evolving profession of dentistry and dental education at the time. When it was completed in 1971, the facility became the national model. Even now, 50 years later as parts of it are being renovated, the building is remarkable for its durability and utilitarian design.
Two of Dr. Comstock's children, Mark and Jeff Comstock, thanked the school for the award on behalf of their eight other siblings.
Distinguished Service Award
After devotion to his family and the patients he treated during his 46-year career as a dentist, next on Dr. Peter Kelly's list of priorities has always been service – to his profession, his community and his alma mater.
After earning his DDS and MS degrees from the University of Michigan in 1970 and 1973, he opened a practice in Marquette, Michigan, becoming the first periodontist in the Upper Peninsula. It didn't take long for Dr. Kelly to demonstrate he was a man of action and commitment. For decades he led the Superior District Dental Society, both formally in leadership positions and informally by mentoring young dentists to become active in professional organizations and continuing education. He lectured regularly on periodontics and was a 40-year member of the Northern Michigan University Pre-dental Advisory Board. Concerned about recruiting future dentists to his native U.P., he helped establish and financially support the Upper Peninsula Dental Student Scholarship Fund.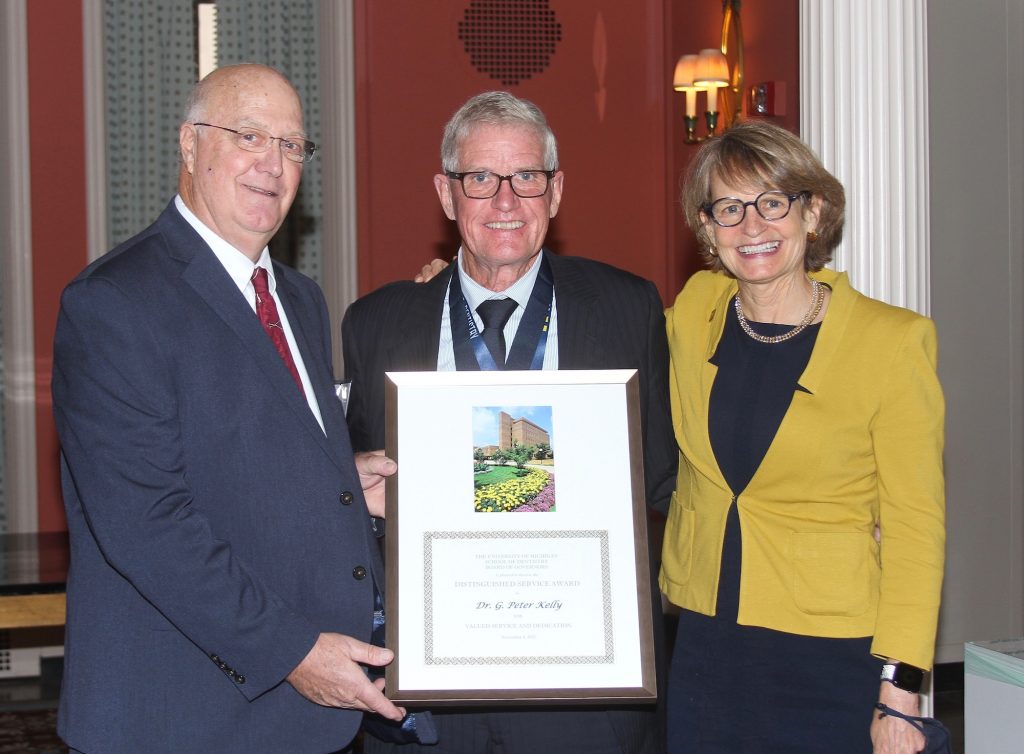 Pete and his wife Barb have contributed in countless ways to the betterment of Marquette, most notably in historical preservation and beautification for an extensive street flower program they have personally maintained for 33 years. They've been the city's Citizens of the Year, and received a lifetime achievement award from the Michigan Historical Society. He is a member of the U.S. Coast Guard Auxiliary, taught safe boating and helped with numerous search-and-rescue operations on Lake Superior.
Dr. Kelly has been a tireless advocate and strong supporter of the School of Dentistry and U-M. A major donor to the school, he was an influential committee member who successfully encouraged other alumni and friends to contribute to the last three major fund-raising campaigns. The Kellys established the Peter and Barbara Kelly Periodontal Scholarship to support students, and they have hosted numerous school functions at their home in Marquette. Dean Laurie McCauley describes Dr. Kelly as "an exceptionally dedicated alumnus who has literally said 'yes' to every request for service to the School of Dentistry."
Dr. Kelly was introduced by a fellow dentist and friend, Dr. Robert "Buzz" Berube (DDS 1975). Berube said Pete and Barb Kelly are so involved in community service that they have inspired countless others to follow their example and make their communities and organizations better and stronger.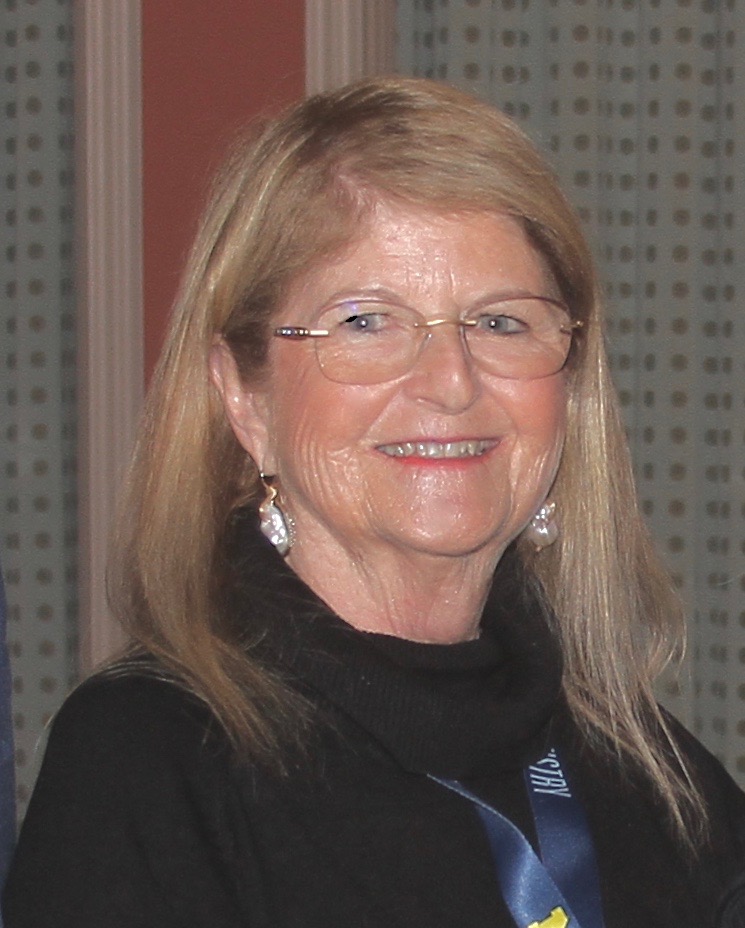 In thanking the school for the award, Dr. Kelly said he and fellow alumni know what a great education they received at the University of Michigan and its School of Dentistry. He said the university and dental school are highly esteemed because of the contributions of many not just a few. Of special importance, he said, is the continual need to attract and recruit the best and brightest students to the dental school. He urged his fellow alumni to contribute financially to scholarship funds for students. "I think that's one way we can really help the university and the dental school – help to get outstanding students here," he said.
Regarding his longtime community service in Marquette and for the profession of dentistry, Dr. Kelly attributed his involvement to the example set by his wife, who showed him how "a little bit of volunteering" can lead to "a great big thing" when others are inspired to join in. "Barb is the one who taught me how to volunteer and to give and to realize what a joy it is to do that," he said.
Also during Reunion Weekend, alumni attended a continuing education course on Friday, and a reception was held Friday evening for School of Dentistry class years ending in 0, 1, 5 and 6. Dental school alumni also are attending the U-M football game versus Indiana on Saturday at Michigan Stadium.
In hosting the awards program, Andy Lewis (DDS 1998), of Seattle, Washington, chair of the School of Dentistry Alumni Society Board of Governors, thanked the alumni for attending and for their contributions to the ongoing success of the dental school. "As I look out on this room before me, I see 50 and 51 years worth of success stories, professional accomplishments, honors, awards and lifetime dreams that have been achieved," he said. "Thank you for laying the bedrock for what I came to know as my dental home. Without you and all of your hard work in becoming leaders and best, I wouldn't have had a place to come and be educated to the level I was. Thank you for what each one of you in this room has done for the University of Michigan School of Dentistry."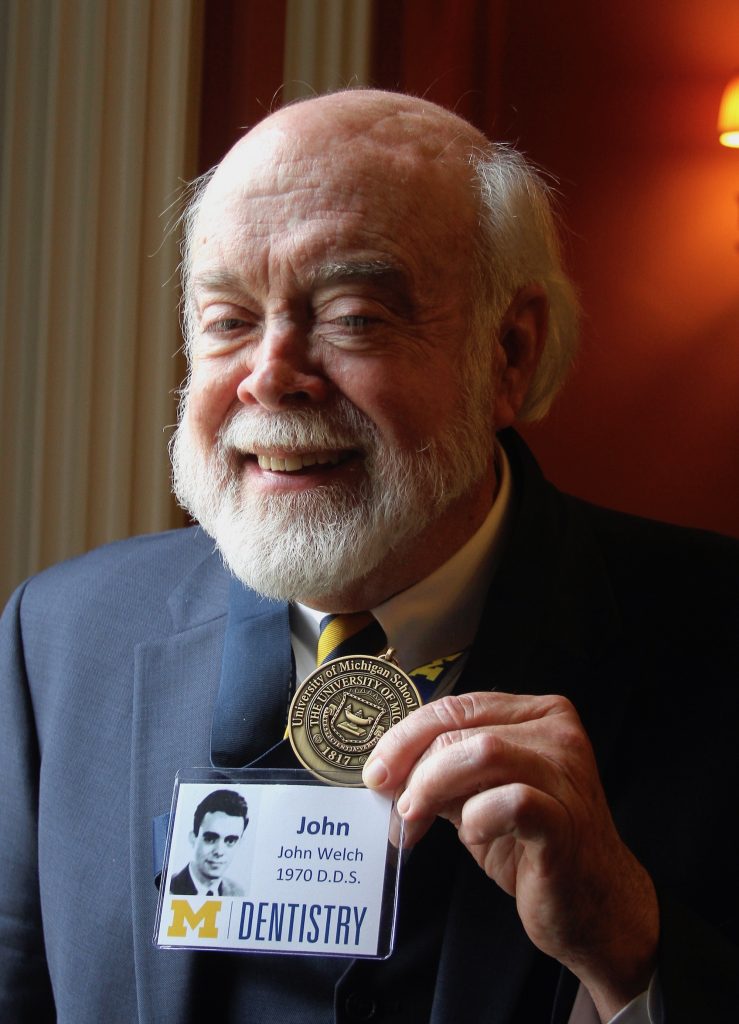 ###
The University of Michigan School of Dentistry is one of the nation's leading dental schools engaged in oral health care education, research, patient care and community service. General dental care clinics and specialty clinics providing advanced treatment enable the school to offer dental services and programs to patients throughout Michigan. Classroom and clinic instruction prepare future dentists, dental specialists and dental hygienists for practice in private offices, hospitals, academia and public agencies. Research seeks to discover and apply new knowledge that can help patients worldwide. For more information about the School of Dentistry, visit us on the Web at: www.dent.umich.edu. Contact: Lynn Monson, associate director of communications, at dentistry.communications@umich.edu, or (734) 615-1971.