Donor Profile: Jane Plasman – Remembering the joy her father found in dentistry

7

min read
This profile is one in an ongoing series highlighting School of Dentistry alumni, donors and students.
---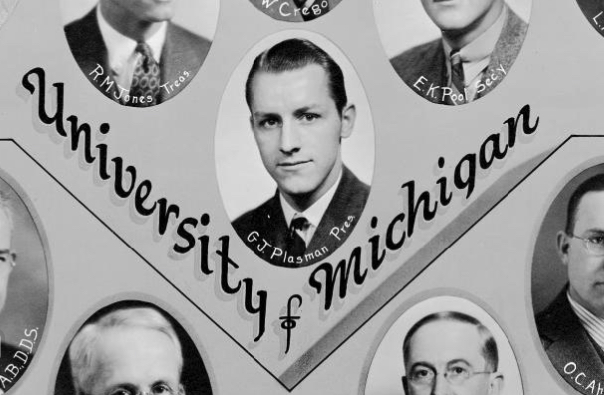 Editor's Note: Jane Plasman, a retired University of Michigan alumna living in upstate New York, made a series of major financial gifts to U-M over the last year, including one to the School of Dentistry. Earlier this summer she discussed the reasons for her philanthropy in an article that appeared in Leaders & Best, a publication of the U-M Office of University Development. In a separate recent interview for the School of Dentistry, Plasman discussed the career of her late father, Dr. Gilbert J. Plasman, a 1940 alumnus of the dental school, and why she chose to honor his legacy with a new endowed scholarship as well as a gift for an existing scholarship fund.
---
Ann Arbor, Mich., Oct. 4, 2021 – Jane Plasman's recollections of her father's career as a dentist center on a common theme: "What I really remember most is his joy of dentistry. He just loved every minute of it. And he loved learning about new things."
Gilbert "Gil" Plasman grew up in Zeeland, Michigan, and earned his undergraduate degree at Hope College in nearby Holland. At the U-M School of Dentistry, he was class president all four years, graduating in 1940. He decided to return to west Michigan and start a practice from scratch in Grand Rapids.
Jane remembers her mother, June, talking about the early days after they found office space above a Post Office in the Madison Square neighborhood. June was the office assistant. "My mom would tell stories about how it was literally like hanging out a shingle and then they both kind of sat there waiting for the phone to ring. And it didn't always ring that often so she said, 'We played a lot of cards.' "
But business picked up over time and soon it was such a thriving practice that Dr. Plasman built his own office building that was large enough to include several other health-related professionals. He added associates from time to time and the practice grew. "He was always busy," Jane said. "He just loved his patients. He knew his patients, not just from a dentistry standpoint, but he knew their entire families, their kids. He had generations of patients who started out young with him and then became parents and grandparents, and all their kids and grandkids went to him."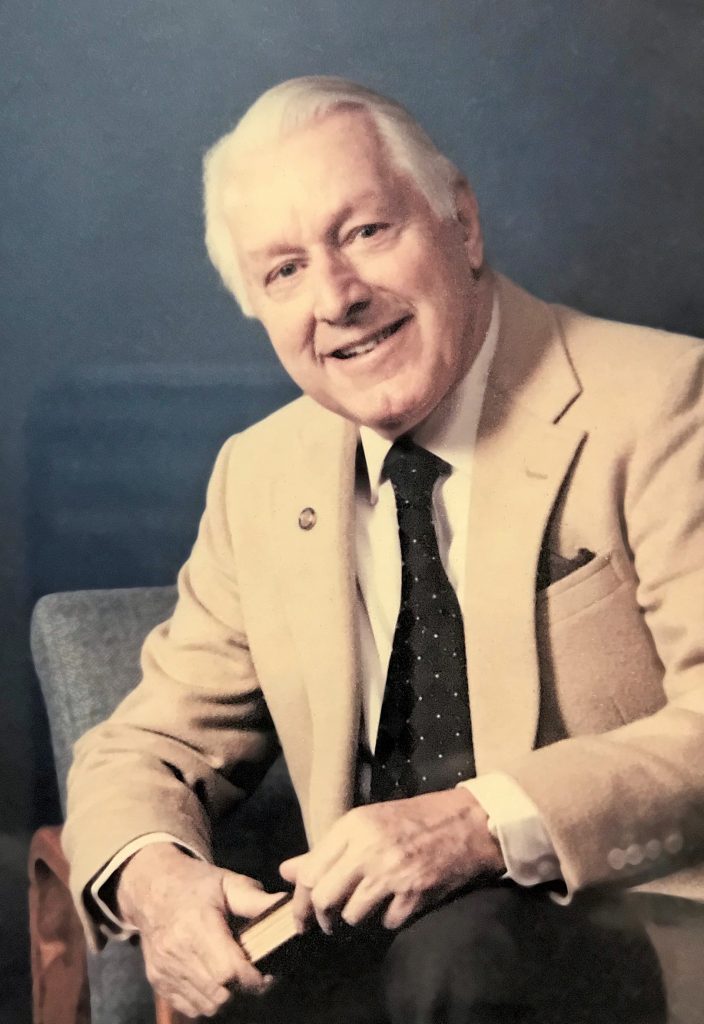 Over time, Dr. Plasman became one of the leading dentists in west Michigan, with a large practice and a leadership commitment to improving dentistry, particularly in his favorite area of crown and bridge work. Because continuing education was important to him, he was an early adherent of the Pankey Institute, named for Dr. Lindsey D. Pankey, Sr., a restorative pioneer and educator who advocated comprehensive, patient-centered dentistry. Before the institute opened in Florida in the early 1970s, Dr. Pankey traveled the country giving seminars, and Jane remembers him staying at their home during one of his trips to Michigan.
Among Dr. Plasman's accomplishments, he was proud to have publicly supported the initiative that led Grand Rapids to be the first city in the country to fluoridate its water, in 1945, five years after he started his practice there.
Then there were a couple of celebrity dentistry stories he loved to recall. Major League Baseball pitcher Jim Kaat suffered serious damage to his mouth and lost three teeth when he was struck by a ball hit by a Detroit Tigers player in July 1962. Using their shared connection as natives of Zeeland, Dr. Plasman offered to restore Kaat's teeth and the pitcher accepted. Kaat continued on to a lengthy career as a top baseball player and later as a baseball broadcaster.
The other celebrity story involves Chi Chi Rodriguez, a professional golfer from the 1960s to the 1990s. Jane said her parents met Rodriguez at a golf resort in his native Puerto Rico when he was beginning his rise to stardom as a talented golfer and popular personality on the PGA tour. The story illustrates Jane's conviction that her father was a convincing advocate, almost a salesman, when it came to making sure people had a great smile.
"My dad got to know him really well and said to him, 'Chi Chi, you really need to fix your teeth. You could have a beautiful smile. Why don't you come to Grand Rapids and let me do that?' And Chi Chi did. He stayed at our house and my dad rebuilt his mouth. He had beautiful teeth when he was finished."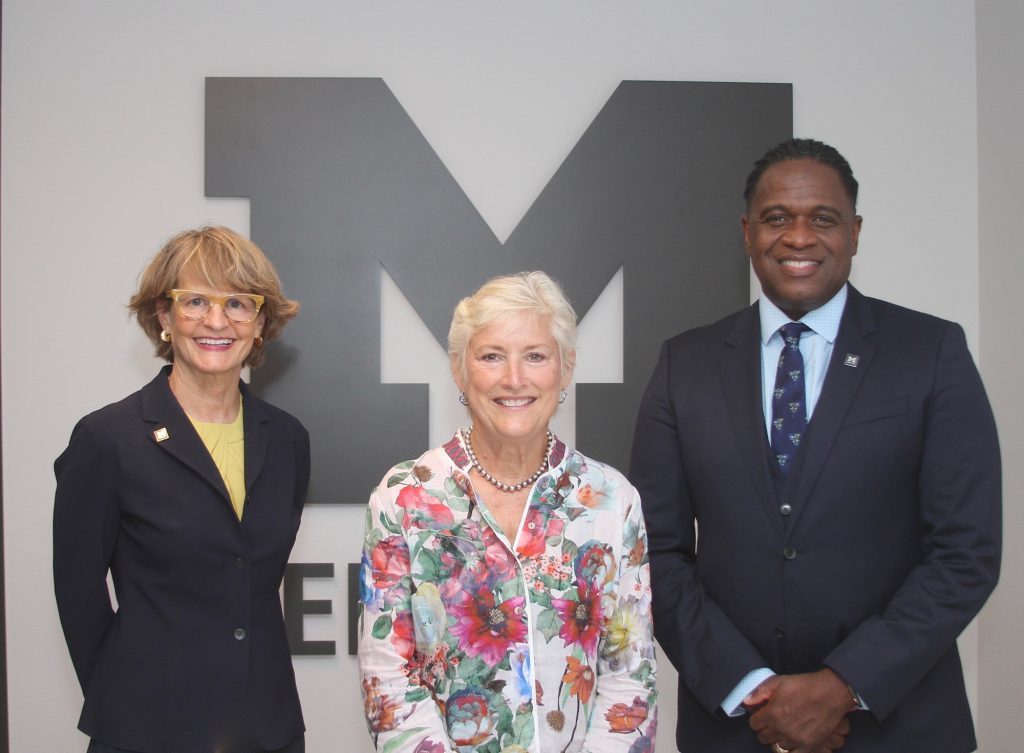 After his family and love of dentistry, the third key aspect of life with Dr. Plasman was going to University of Michigan football games. Jane started the game-day treks to Michigan Stadium as a child and it became an even richer family tradition when she and her older sister were students at U-M. Her father never missed a game, no matter the weather. Tailgating was both a pre- and post-game tradition, not just for family and friends but also for Jane's Chi Omega sorority sisters who became part of the family. Jane believes it is safe to say there was no bigger U-M football fan in those days than her father.
As he approached retirement age, Dr. Plasman didn't want to manage the building he had built for his practice many years earlier, so he sold it and worked at other practices elsewhere in Grand Rapids for a few years. He retired in the early 1980s after four decades of practicing dentistry. He died of Alzheimer's disease in 2002 at age 88.
Jane says her father was grateful for his time at the School of Dentistry and how it paved the way for a rewarding career in support of his family. To celebrate that legacy, Jane made a $500,000 gift to the School of Dentistry. It will be divided evenly between a new Gilbert J. Plasman DDS Endowed Scholarship Fund and the existing Lee Jones Endowment for Dentistry Diversity Programs.
Jane says it seems fitting to provide scholarships and assistance to dental students just starting out as a way to honor her father's long career, love of dentistry and work ethic. Her hope is that the students who benefit from her gift will, like her father, "enjoy every minute" of the special relationship between dentist and patient.
###
The University of Michigan School of Dentistry is one of the nation's leading dental schools engaged in oral health care education, research, patient care and community service. General dental care clinics and specialty clinics providing advanced treatment enable the school to offer dental services and programs to patients throughout Michigan. Classroom and clinic instruction prepare future dentists, dental specialists and dental hygienists for practice in private offices, hospitals, academia and public agencies. Research seeks to discover and apply new knowledge that can help patients worldwide. For more information about the School of Dentistry, visit us on the Web at: www.dent.umich.edu. Contact: Lynn Monson, associate director of communications, at dentistry.communications@umich.edu, or (734) 615-1971.