U-M DPSS presents dental school staff member with lifesaving award

3

min read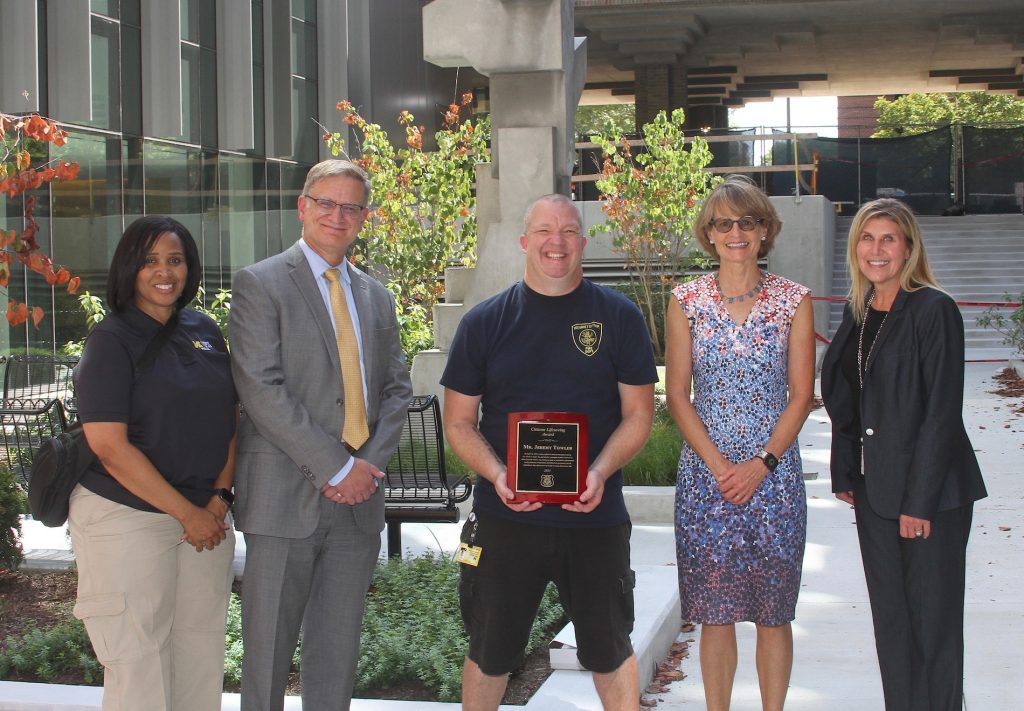 Ann Arbor, Mich., Sept. 2, 2021 – A staff member at the University of Michigan School of Dentistry has received a commendation from the campus police department for his lifesaving efforts during a traffic accident near the dental school in 2019.
Jeremy Towler, an inventory control clerk at the dental school, was on his way to a bus stop after leaving work at around 5 p.m. on April 16, 2019, when he heard a crash. He looked up to see that a car had struck a concrete barrier pole at the University Alumni Center across the street from the dental school. Towler and another passerby pulled the unconscious driver from the car and began chest compressions as part of cardiopulmonary resuscitation. When a police officer arrived on the scene, an automated external defibrillator was also administered after no pulse or respiration was detected. The driver was taken by ambulance to the U-M hospital and survived the crash.
Police said the driver apparently suffered a medical emergency as she was exiting the dental school parking ramp. Her car traveled rapidly across the street and narrowly missed a parked car with two people inside before striking the barrier outside the Alumni Center.
Coincidentally, both Towler and the other citizen first on the scene, Rick Byrd, are longtime firefighters who have received extensive CPR training. Towler, who lives in Pleasant Lake, is a member of the Henrietta Township Fire and Rescue team in Jackson County. Byrd, who lives in Adrian, is an assistant fire chief with the Raisin Township Fire Department in Lenawee County. Byrd works at Michigan Medicine as Supervisor of the Orthopaedic Surgery Call Center.
Robert Neumann, Chief of Police for the U-M Division of Public Safety and Security, presented Towler with a plaque and written commendation at the School of Dentistry on Aug. 26. Byrd had received his award earlier this year. The commendations for the two citizens' actions at the scene of the 2019 car accident were delayed because of the pandemic.
Neumann said the Citizens Lifesaving Award is presented to citizens for heroic efforts to save a life by utilizing life-supporting techniques to revive a victim. "Thank you for your immediate, insightful and effective response in service to another in need," Neumann said in the citation. "Your action was essential to bringing a deadly situation to a safe resolution and exemplified characteristics that strengthen community."
###
The University of Michigan School of Dentistry is one of the nation's leading dental schools engaged in oral health care education, research, patient care and community service. General dental care clinics and specialty clinics providing advanced treatment enable the school to offer dental services and programs to patients throughout Michigan. Classroom and clinic instruction prepare future dentists, dental specialists and dental hygienists for practice in private offices, hospitals, academia and public agencies. Research seeks to discover and apply new knowledge that can help patients worldwide. For more information about the School of Dentistry, visit us on the Web at: www.dent.umich.edu. Contact: Lynn Monson, associate director of communications, at dentistry.communications@umich.edu, or (734) 615-1971.