Gift of Gilda Snowden paintings to dental school honors her father's 1953 DDS degree

6

min read
---
This profile is one in an ongoing series highlighting School of Dentistry alumni, donors and students.
---
Ann Arbor, Mich., April 5, 2021 – Two paintings from the renowned Detroit artist Gilda Snowden will soon hang in the University of Michigan School of Dentistry thanks to a gift from the late artist's estate.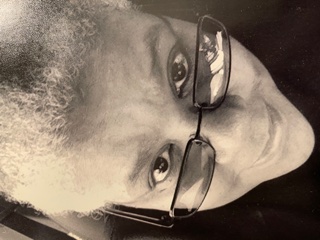 Snowden's father, John Snowden, was a 1953 alumnus of the dental school, and the artist's family decided to donate the paintings in recognition of the important role their father's dentistry degree played in his life and the lives of his family.
"We chose the dental school because all things for our family flowed after my dad got his degree," said Donna Snowden, Gilda's sister and the manager of the Gilda Snowden Estate LLC.
One of the large, abstract paintings is from Snowden's famous tornado series, which the artist said sprang from nightmares she had about tornadoes. The other painting is from a series she named "The Sea of Made and Broken Promises," inspired by the work of Spanish poet Federico García Lorca.
In December, Dean Laurie McCauley visited Donna Snowden's home in Detroit to view the two paintings and many other works by the late artist. The paintings for the dental school will be installed once the school's major renovation and addition now underway is complete next year.
"The Snowden family's generous gift of art from Gilda's collection will be a very special addition to our Blue Renew renovation," McCauley said. "Their connection to the school through their father, John, makes the gift particularly meaningful. We are grateful that these paintings will grace the walls of the school to honor an alumnus and his family."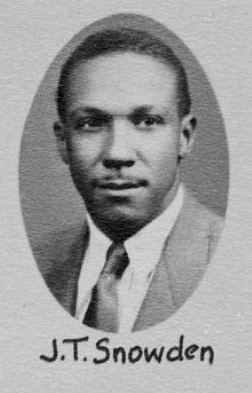 John Snowden grew up in Detroit and went to Cass Technical High School. He earned an undergraduate degree from the Detroit Institute of Technology in 1938. He was a track star in high school and college and was slated to compete in the 1940 Summer Olympics, but they were canceled because of World War II. He was drafted into the Army in 1941 and sent to Fort Benning, Ga., where he contracted tuberculosis. He spent a difficult two years recovering from the disease at the Herman Kiefer Hospital in Detroit.
After his recovery, Snowden decided to pursue dentistry and was admitted to the U-M dental school in 1949. He chose a career in dentistry, Donna said, because he knew it would allow him to earn a good living to support his wife, Clara, and family, which eventually grew to include four children. Later in life, he explained his dentistry decision this way in a letter to Gilda: "I became a doctor so you could do what you want. Anyone can be a dentist. Not everyone can become an artist."
The only Black student in his class, Snowden commuted from Detroit to the School of Dentistry in Ann Arbor. Donna was a young girl then and remembers going with her dad some days when her mother had to work and her grandmother couldn't baby-sit. While her dad was in class, Donna went to the U-M library, where she remembers reading lots of "Winnie the Pooh" books.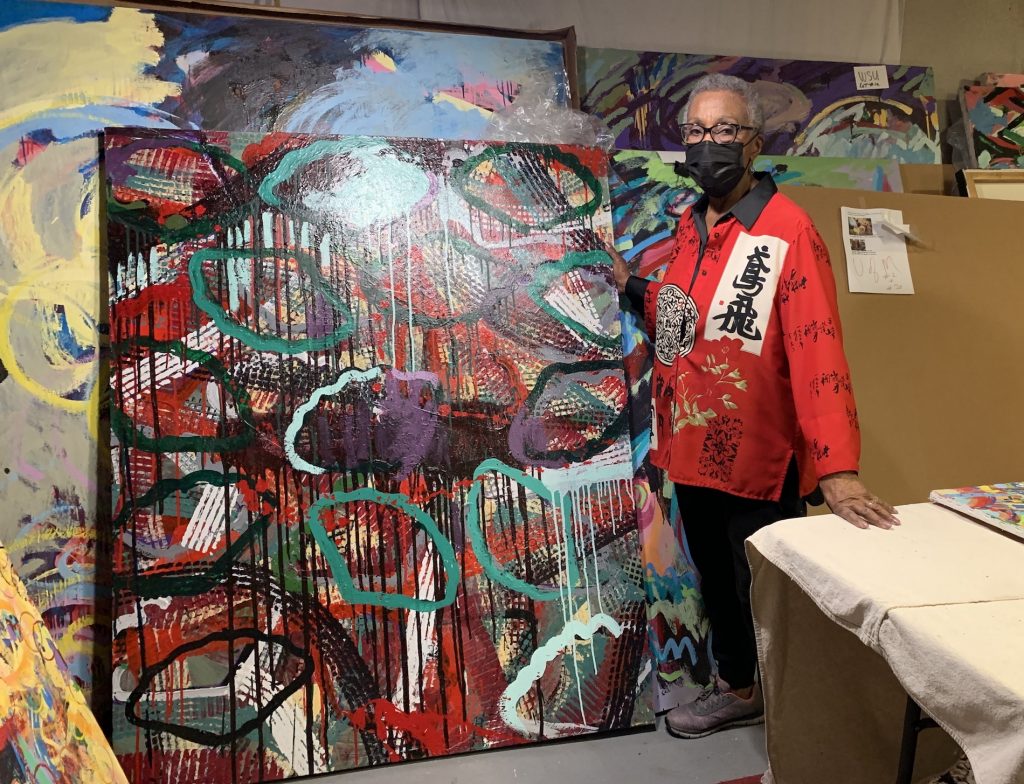 John Snowden graduated in 1953, one year before Gilda was born. He worked as a dentist at the health department for the City of Detroit and had a private practice. He was liked and respected in the Detroit community, Donna said, noting her father's office near 12th and Clairmount streets was one of few buildings spared in that area during the historic riots in July of 1967.
Her father was proud of his University of Michigan education, Donna said. "We grew up watching and rooting for Michigan football." He often sang the fight song as a lullaby for her younger siblings, she said.
Gilda Snowden, who is survived by her husband, William G. Boswell, and daughter, Katherine Snowden Boswell, died of heart failure in 2014 at the age of 60. She was an art professor, first at Wayne State University, from which she earned BFA, MA and MFA degrees, and later for many years at the College of Creative Studies in Detroit. During her career, Snowden created thousands of large and small works of art, including numerous self-portraits, rubbings of manhole covers in Detroit, and encaustic paintings of flowers and tropical plants. Her abstract works often featured bright colors and bold brushstrokes. "She loved her art, and she loved creating," Donna said.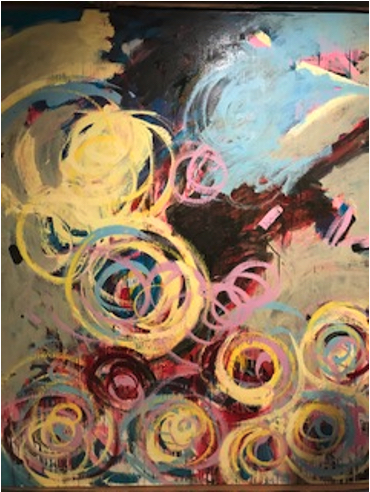 About 1,300 collectors own Gilda's works. Her art has been exhibited throughout the United States, including in New York City, and in Mexico, Canada and West Africa. It has been displayed in the Michigan governor's Mansion and the Manoogian Mansion, home to the mayor of Detroit, and the Detroit Institute of Arts owns several of her works. A section of the Detroit TCF Center, formerly the Cobo Center, is named in her honor.
Gilda was also known as a mentor for many other artists and for attending virtually every gallery opening in the city, often documenting them with YouTube videos. "She had a very generous spirit," Donna said.
The gift of Gilda Snowden's paintings to the dental school will serve as a lasting memorial to her and to their father, Donna said. "When we decided to give those two pieces to the dental school, we all agreed that that was something that Gilda would be very proud of. Daddy was proud of having gone there, and it's something that will carry the Snowden legacy forward."
# # #
The University of Michigan School of Dentistry is one of the nation's leading dental schools engaged in oral health care education, research, patient care and community service. General dental care clinics and specialty clinics providing advanced treatment enable the school to offer dental services and programs to patients throughout Michigan. Classroom and clinic instruction prepare future dentists, dental specialists and dental hygienists for practice in private offices, hospitals, academia and public agencies. Research seeks to discover and apply new knowledge that can help patients worldwide. For more information about the School of Dentistry, visit us on the Web at: www.dent.umich.edu. Contact: Lynn Monson, associate director of communications, at dentistry.communications@umich.edu, or (734) 615-1971.