Three dental school students named CEW+ scholars

4

min read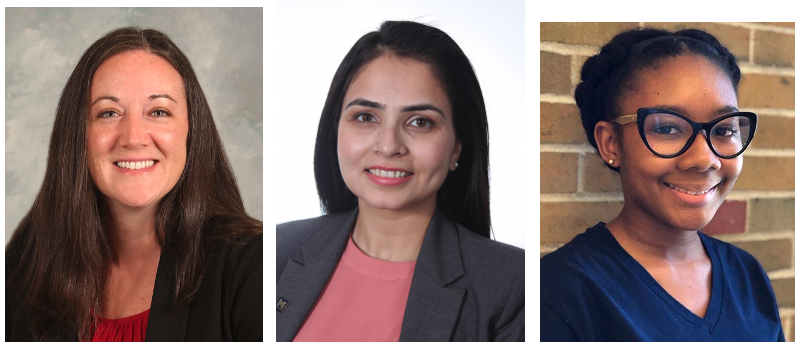 Ann Arbor, Mich., March 15, 2021 – Three School of Dentistry students are among the CEW+ Scholars for 2020-21 announced last week as the organization celebrates 50 years of providing scholarships supporting the education of women and underserved students at the University of Michigan.
CEW+ named 79 Scholars at the Ann Arbor, Dearborn and Flint U-M campuses. They received scholarships totaling more than $570,000, the most ever awarded in a single year by CEW+.
Dental School recipients are:
• Angela Boruszewski, a student in the Dental Hygiene Degree Completion E-Learning program who will graduate in August 2021. She received one of the two Robert Bruce Dunlap Memorial Scholarships. CEW+ credited Boruszewski's devotion to pursuing a bachelor's degree in Dental Hygiene 15 years after completing her associate's degree in the field. In the interim, she held multiple jobs, was a single parent and found time to advance her professional skills, learning along the way that she enjoyed teaching students. Upon completion of her bachelor's degree, she aspires to a dental hygiene faculty position.
• Raysham Hayat, a DDS student in the Internationally Trained Dentist Program. She received one of 19 Margaret Dow Towsley Scholarships. CEW+ noted that when Hayat graduates this spring, she plans to secure a faculty position because she is enthusiastic about educating the next generation. The Pakistan native is also committed to providing dental care for underserved communities. She has participated in the Michigan Dental Association's Missions of Mercy that provides care for uninsured patients.
• Marsha-Kay Hutchinson, a student in the joint DDS/PhD in Oral Health Sciences program. She received the Christine Kahan Black Scholarship. CEW+ cited Hutchinson's background growing up in Jamaica where she witnessed significant healthcare inequities and decided to pursue a career in healthcare so she could advocate for underserved communities. Her current research in the PhD program focuses on improving treatments for patients with oral cancer.
Because of the pandemic, this year's CEW+ Scholars were honored at a series of virtual award ceremonies in recent weeks.
CEW+ said its 79 Scholars this year include 19 doctoral students, 35 master's students and 25 undergraduate students, 68 of whom are studying on the Ann Arbor campus, as well as eight students at U-M Dearborn and three at U-M Flint. This year's awards range from $1,000 to $11,500 to cover the cost of tuition and living expenses, with the average at about $7,250.
Recipients include student parents and primary caregivers, students who are returning to the classroom after a prolonged interruption, students who are underrepresented in STEM fields, first-generation and international students, and students who have overcome great obstacles in order to achieve their dream of earning a degree in higher education. Recipients were selected through a highly competitive process as leaders with great potential to make a significant impact in their field.
The organization now known as CEW+ was established in 1964 as the Center for Continuing Education of Women, and later became the Center for the Education of Women. Its early efforts were to address barriers that kept women from successfully pursuing degrees and careers. Today the program serves nontraditional students of all genders, providing financial support and recognition for students whose voices and experiences are unique in comparison to their peers. Funding for its scholarships and fellowships comes from individuals, organizations, clubs and foundations. Its first scholarships were awarded in the spring of 1970 to mark the 100th anniversary of women being admitted to the University of Michigan. Since then it has awarded more than 2,000 scholarships.
More information about this year's CEW+ Scholars can be found on the organization's website here.
###
The University of Michigan School of Dentistry is one of the nation's leading dental schools engaged in oral health care education, research, patient care and community service. General dental care clinics and specialty clinics providing advanced treatment enable the school to offer dental services and programs to patients throughout Michigan. Classroom and clinic instruction prepare future dentists, dental specialists and dental hygienists for practice in private offices, hospitals, academia and public agencies. Research seeks to discover and apply new knowledge that can help patients worldwide. For more information about the School of Dentistry, visit us on the Web at: www.dent.umich.edu. Contact: Lynn Monson, associate director of communications, at dentistry.communications@umich.edu, or (734) 615-1971.