Prosthodontics resident creates webinar series for African dentists

7

min read
Ann Arbor, Mich., Aug. 28, 2020 – Dr. Uvoh Onoriobe, a resident in the School of Dentistry's Graduate Prosthodontics Program, planned to travel to his native Nigeria this year to help develop a predoctoral implant curriculum for the country's dental schools.
The project, which is his master's degree thesis, was postponed when the coronavirus pandemic ended travel abroad and temporarily deferred his grant application at U-M's Rackham Graduate School.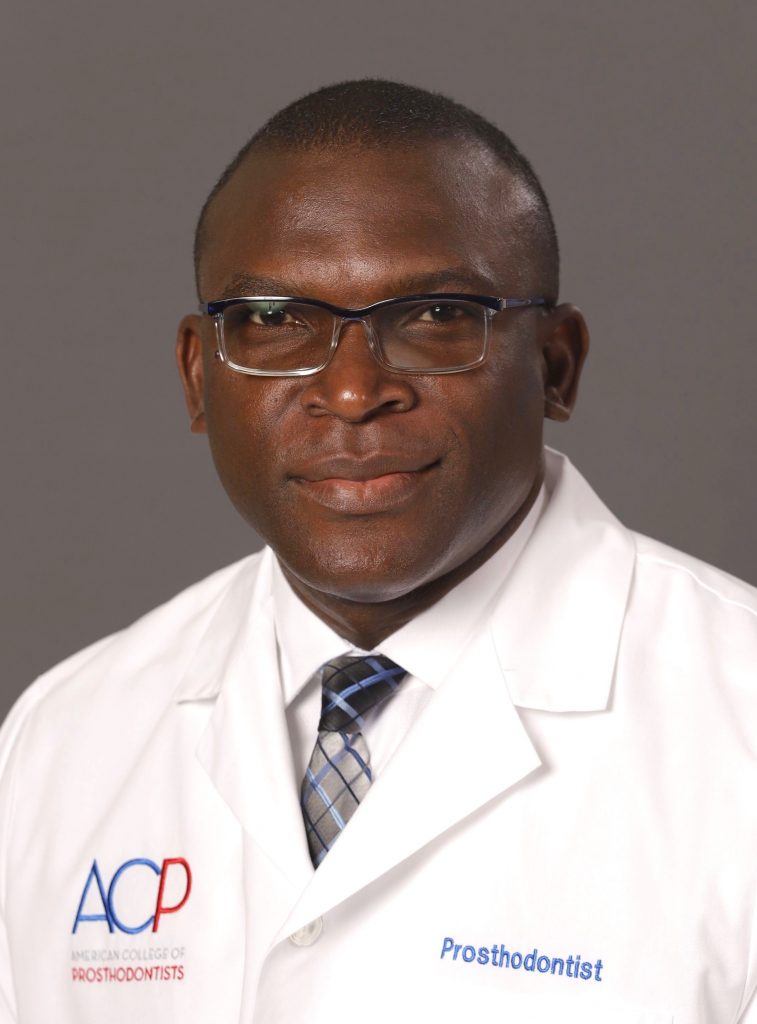 With his project on hold, Onoriobe put together a related alternative that turned out to be popular not only with the dental community in Nigeria but also those in about a dozen other countries. He created an innovative and very successful series of free webinars called "Keeping in Step With Modern Trends." They are designed for dentists, dental assistants, dental students and faculty in places where the practice of dentistry hasn't yet expanded into more advanced methods such as dental implants. Not only would they keep the African dental community abreast of current practices in implant therapy, the webinars would also foster cohesion during a time of social isolation caused by the pandemic.
In networking to find speakers, Onoriobe received help from his U-M faculty mentors, Dr. Michael Razzoog and Dr. Marianella Sierraalta, as well as two dental school alumni who practice in San Diego, Calif. – Dr. Sreenivas Koka, co-president of the International College of Prosthodontists, and Dr. Gadia Peabody. About 50 prosthodontic and periodontic practitioners volunteered to make presentations for the webinars. They include current U-M faculty and residents, U-M dental school alumni, faculty from other universities and prosthodontists with significant international experience.
Beginning in May and continuing through the end of August, Onoriobe's two-hour webinars have been held every weekend, on Saturdays, Sundays and sometimes also on Fridays. The two-hour webinars via Zoom or Facebook Live featured two speakers, each giving a one-hour presentation that included a question-and-answer segment. Topics have included: "Implant Surgery and Sinus Augmentation," "Biomechanics of Removable Partial Denture Design," "Implant Bars for Simple and Complex Reconstructions," "Site Development with Guided Bone Regeneration," and "Digital Dentures: The Present and the Future."
Onoriobe contacted dental schools in Africa and sent advance notices to student groups, who then forwarded the information through social media channels to other students, faculty and dentistry-related groups. The positive response was immediate. Each of the approximately 30 webinars has drawn between 80 and 150 participants. Interest grew beyond Africa and eventually included participants from Nigeria, Ethiopia, Ghana, Sudan, Somalia, Rwanda, Uganda, Senegal, South Africa, Egypt, Brazil, India and Saudi Arabia.
Onoriobe said he is grateful for the generosity of the speakers who volunteered, allowing the webinar series to come together quickly. "When I think back, I wonder how it has happened," he says. "I just started trying. I sent out emails saying this is what I want to do for Africa and the speakers said, 'I want to do this, too.'"
The focus on reaching out to his native Nigeria and other African countries is based on Onoriobe's experiences in dentistry there and in the United States. He earned his dental degree at the University of Benin in Benin City, Nigeria, in 1999 and practiced there for several years, including work as a general dentist for a non-profit organization providing dental services around the African continent. After coming to the United States in 2006, he obtained a master's degree in public health from the University of North Carolina. He later completed the Advanced Standing program for Internationally Trained Dentists and obtained a Doctor of Dental Medicine degree from the University of Illinois at Chicago. He has worked in private practice for the last three years and is in the second year of the three-year prosthodontic master's degree program at the U-M dental school.
The idea of the webinars is to reach out to dentists in Africa who do not have access to the latest training and methods. "I know what they have. I know what they still practice," Onoriobe says. "After training here in the U.S., I know that the dentistry world is moving at light speed and I'm trying to get them accustomed to change. Change is here. Implants are here. Obviously, there is still the old-school way, which is not going away. But modern trends are toward implants. You want to keep up with the trends."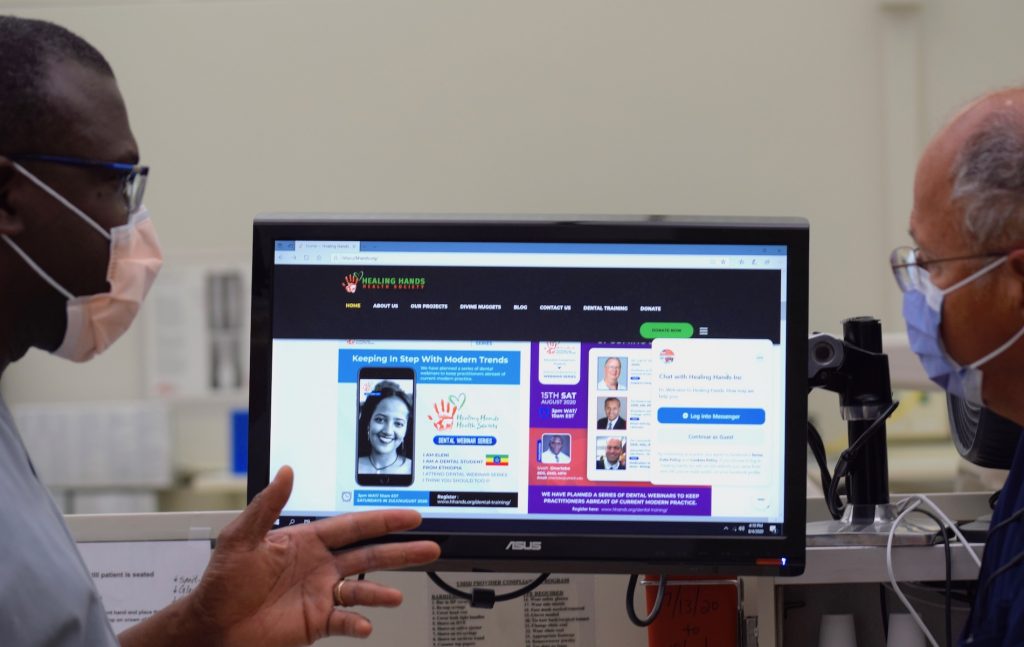 Dr. Razzoog said Onoriobe's experience as a public health dentist is grounded in giving back to the community. Since his plan to give back in person is temporarily on hold, the webinars are an effective way of educating dental practitioners at all levels in very underserved areas. "It's wonderful that it involves our school, but it's gone way beyond the U-M community," Razzoog said. "It's literally gone to the world, both for presenters and participants. At a time when we're all talking about doing things for others, here's a young man who actually is. To me, it is just really, really impressive."
During his session as a presenter, Razzoog talked about licensure, board exams and graduate programs in the United States. "A lot of these people have dreams and aspirations to come and do training in the United States," Razzoog said. "And some, like Uvoh, hope to move to the States. I talked to them about career paths, the possibilities, the challenges they will face. We had a pretty frank and open discussion about it."
Now that the webinar series has reached the end, Onoriobe said he wants to transition to a more formal online course that progresses through various implant-related topics. The future of the pandemic determines whether he will be able to resume his original plan to introduce implant curriculum to Nigerian dental schools. In the meantime, he has posted recordings of his webinars on YouTube so they will gain an even wider audience.
This latest commitment to community service was hosted by a faith-based non-profit, Healing Hands Health Society, that Onoriobe founded in 2010 in Nigeria. Now with ties here in the U.S., the organization provides health care, health education, housing and disaster relief in Nigeria and several other African countries, as well as Brazil, Cambodia and the Caribbean. In addition to raising money for the non-profit, Onoriobe has gone on numerous mission trips sponsored by the organization. Most recently, Healing Hands initiated a food program in Nigeria as a result of the coronavirus pandemic. The dentistry education series is just another success in a broader portfolio of community service that Onoriobe is building.
"I'm just bringing people together," he says. "Who would have thought that professors from all of Africa would participate? I was reading about social conditions and the fact that we are supposed to be isolated during the pandemic, but through education we can come together. People are commenting that there is a kind of hope, a desire to move on. When we do that, we're not thinking about corona. People are looking forward to practicing something new and that gives them a reason to hold on, to have meaning."
---
… More information about the seminar program is available on the Healing Hands website here.
… Recordings of the Dental Webinar Series can be found by going to YouTube.com and searching for "Uvoh Onoriobe dentistry."
###
The University of Michigan School of Dentistry is one of the nation's leading dental schools engaged in oral health care education, research, patient care and community service. General dental care clinics and specialty clinics providing advanced treatment enable the school to offer dental services and programs to patients throughout Michigan. Classroom and clinic instruction prepare future dentists, dental specialists and dental hygienists for practice in private offices, hospitals, academia and public agencies. Research seeks to discover and apply new knowledge that can help patients worldwide. For more information about the School of Dentistry, visit us on the Web at: www.dent.umich.edu. Contact: Lynn Monson, associate director of communications, at dentistry.communications@umich.edu, or (734) 615-1971.