Faculty member Dr. Mark Fitzgerald receives IPE award

3

min read
Ann Arbor, Mich., Monday, April 20, 2020 – School of Dentistry faculty member Dr. Mark Fitzgerald has received an award for innovation and excellence in interprofessional education and shared a second award with a task force working to advance IPE.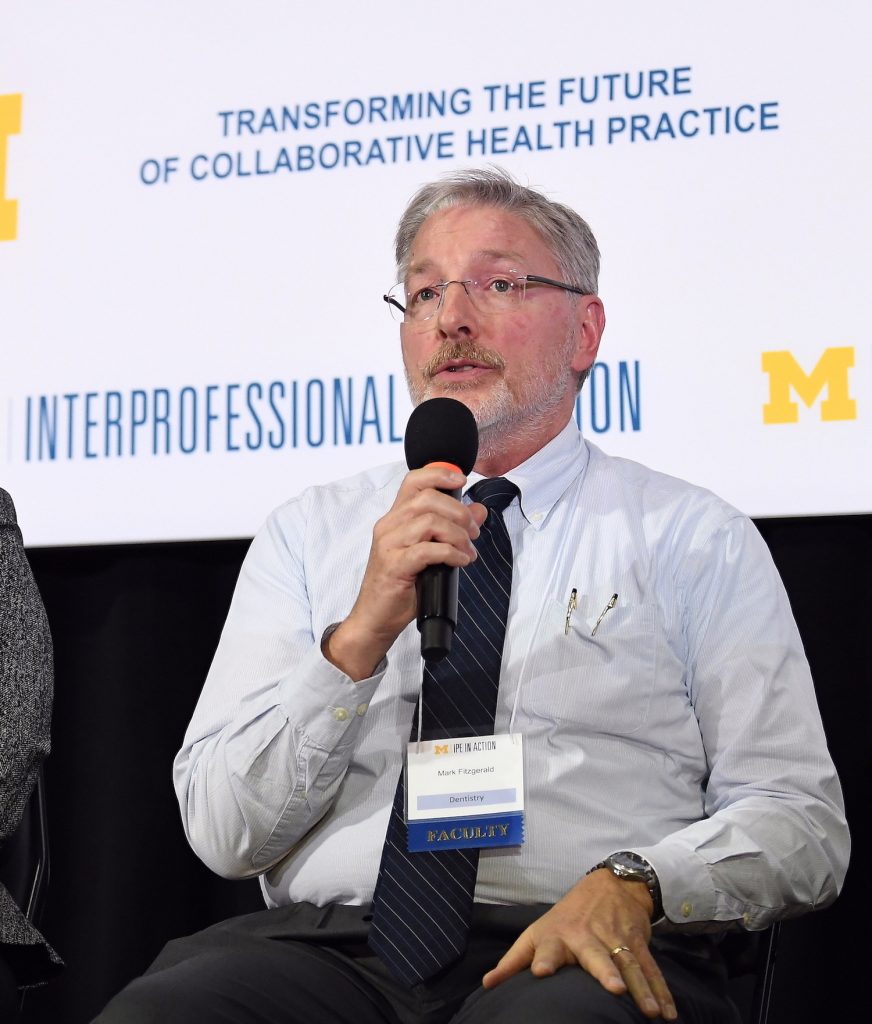 Fitzgerald was recognized by the University of Michigan Center for Interprofessional Education as part of its second annual Awards for IPE Innovation and Excellence. Fitzgerald is Associate Dean for Community-Based Collaborative Care and Education at the School of Dentistry and an associate professor in the Department of Cariology, Restorative Sciences and Endodontics.
The awards were to be presented during the center's sixth annual Health Professions Education Day on April 14, but that event was canceled because of the COVID-19 pandemic. The center instead created an online awards video presentation for the four awards it presented, two for faculty and two for students. The center coordinates a series of educational programs throughout the year to ensure that students in U-M's nine health science schools on the Ann Arbor, Dearborn and Flint campuses gain the necessary knowledge and skills to become effective members of the collaborative health care teams of the future.
Fitzgerald was cited for helping to develop and continue to teach Team-Based Clinical Decision Making. He has forged partnerships with other schools to collaborate on or create IPE activities, including Hospital Dentistry, U.S. Health Systems MOOC, Intro to IPE and IPE in Action. He has led or co-led the IPE Curriculum Committee since its inception in 2015, and has won numerous awards related to his IPE work both from U-M and the Midwest Interprofessional Practice, Education, and Research Center.
Fitzgerald is also one of 12 members of the IPE 101 Taskforce, which won the other faculty award this year. The taskforce, chaired by Laura Smith, Associate Professor in Physical Therapy at U-M-Flint, has led the development and evolution of the Introduction to IPE online course, which provides a foundation for IPE to more than 1,600 students spanning more than 10 U-M health science schools. They recognized a need for in-person introductory IPE activities and implemented IPE in Action, the largest educational activity to ever take place at U-M. They have published and presented on their work and have won an award from the Midwest Interprofessional Practice, Education and Research Center.
Christina Tang, a student at the U-M College of Pharmacy, and a student group, Blueprints for Pangaea, received the other two IPE awards presented this year.
More on the awards, along with a video featuring the recipients, can be found on the Center for Interprofessional Education website here.
###
The University of Michigan School of Dentistry is one of the nation's leading dental schools engaged in oral health care education, research, patient care and community service. General dental care clinics and specialty clinics providing advanced treatment enable the school to offer dental services and programs to patients throughout Michigan. Classroom and clinic instruction prepare future dentists, dental specialists and dental hygienists for practice in private offices, hospitals, academia and public agencies. Research seeks to discover and apply new knowledge that can help patients worldwide. For more information about the School of Dentistry, visit us on the Web at: www.dent.umich.edu. Contact: Lynn Monson, associate director of communications, at dentistry.communications@umich.edu, or (734) 615-1971.