Research Day 2020: Awards presented from wide range of scientific inquiry

13

min read
Ann Arbor, Mich., Feb. 21, 2020 – More than 100 studies highlighted during the School of Dentistry's annual Research Day on Wednesday tracked an impressive variety of scientific questions.
Researchers examined complex cell biology related to many aspects of oral health, as well as topics such as predicting future tooth loss and a potential therapy for chronic pain affecting the facial nerve that controls biting and chewing. How cancer stem cells are involved in the progression of oral dysplasia was studied by one researcher, while another looked at the effect of electronic cigarettes on dental implants. Devices like titanium dental implants were researched, along with human behavior, such as the value of dental and dental hygiene students working together.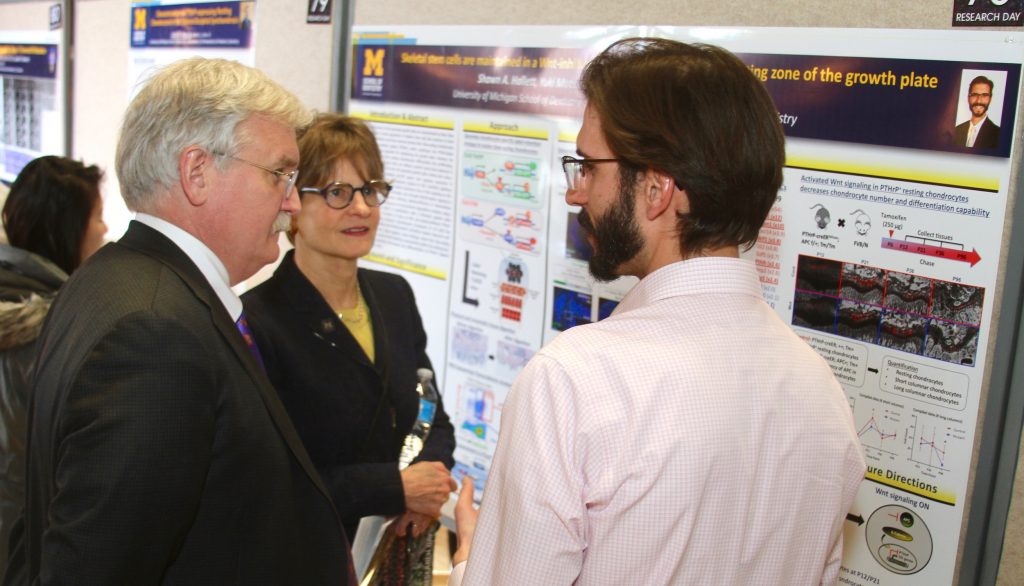 The school set a Research Day record with 121 scientific studies by dental and dental hygiene students, graduate students in various specialties, PhD candidates, postdocs, faculty, staff and visiting scholars. It broke the previous record of 119 that was set last year.
Several hundred people attended the event, which started with a keynote address at the dental school followed by research poster presentations at the Michigan League. It included exhibitors and sponsors from organizations and companies related to dentistry. Research awards were presented in several categories from undergraduate to PhD and postdoctoral fellows. Faculty and staff also were honored for their contributions to the school's research mission.
Dr. Vesa Kaartinen, Associate Dean for Research and a professor in the Department of Biologic and Materials Sciences & Prosthodontics, said Research Day celebrates the scientific discoveries and scholarship of the dental school community. "To quote Sir Isaac Newton, 'There has never been a higher source of earthly honor or distinction than that connected with advances in science,'" Kaartinen said. "Today we will have the opportunity to share the evidence and discoveries learned by those engaged in research in oral health sciences and craniofacial biology."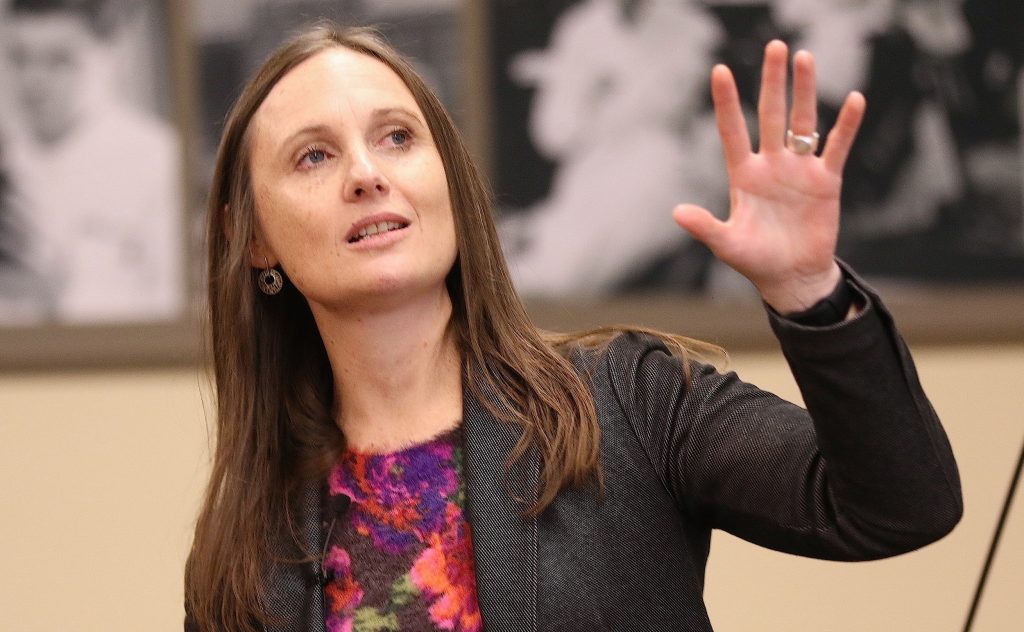 Sarah Knox, Associate Professor of Dentistry at the University of California San Francisco, opened the event with a keynote presentation, "A Little Bit Nervous? Peripheral Nerves and Organ Development, Regeneration and Aging." Knox leads research into how nerve-epithelial communication regulates exocrine organ development, regeneration, autoimmune disease and aging using a multiorgan approach. The research includes organ biology, regenerative medicine, genetics, RNA sequencing, organogenesis, biochemistry and radiation biology. Knox is leading a pre-clinical trial focused on the potential to regenerate radiation-damaged salivary glands in head-and-neck cancer patients.
Dean Laurie McCauley said the variety of research on display Wednesday shows that it has been a tremendous year for science at the school. "The topics have become so diverse and all of you have been so engaged and energized in presenting your research." she said at the awards ceremony at the end of the day. She thanked event sponsors and dentistry-related companies that sent representatives, noting that such partnerships elevate the quality of the research and teaching mission of the dental school.
The results of judging by faculty members were announced by Dr. Kaartinen. The following is a summary of the top awards: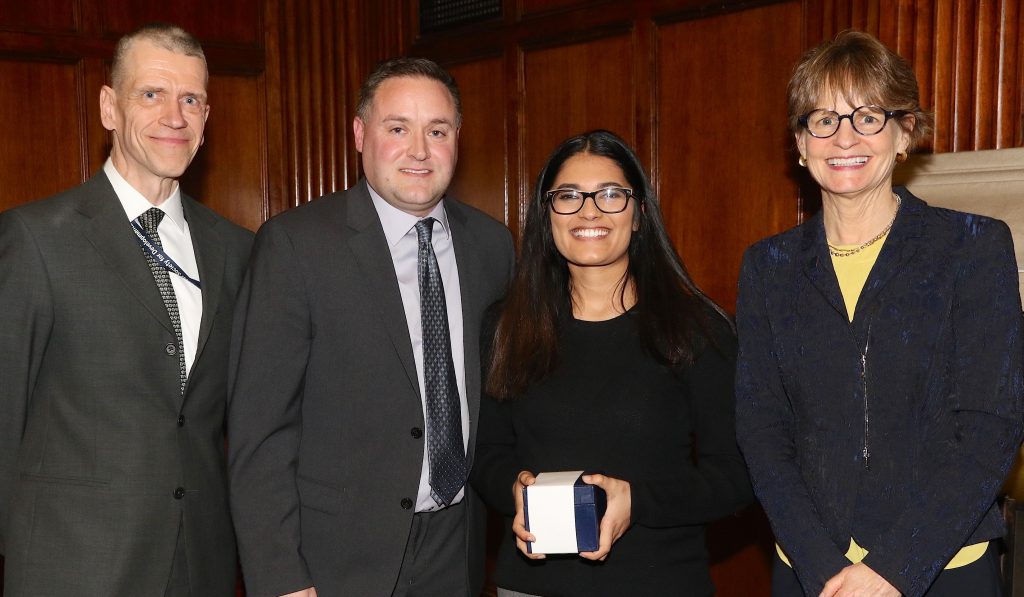 • Harleen Athwal, a DDS-PhD candidate, won the American Association of Dental Research (AADR) SCADA award, or Student Competition for Advancing Dental Research and its Application. Her research – "Determining Sox10's Potential in Radiation Protection of Adult Epithelial Salivary Gland Duct Cells" – is mentored by faculty member Isabelle Lombaert. Athwal will represent the school and present her research at the 50th annual meeting and exhibition of the AADR in Boston, Mass., in March 2021. This award is sponsored by Dentsply Sirona, a dental supply company, and the AADR.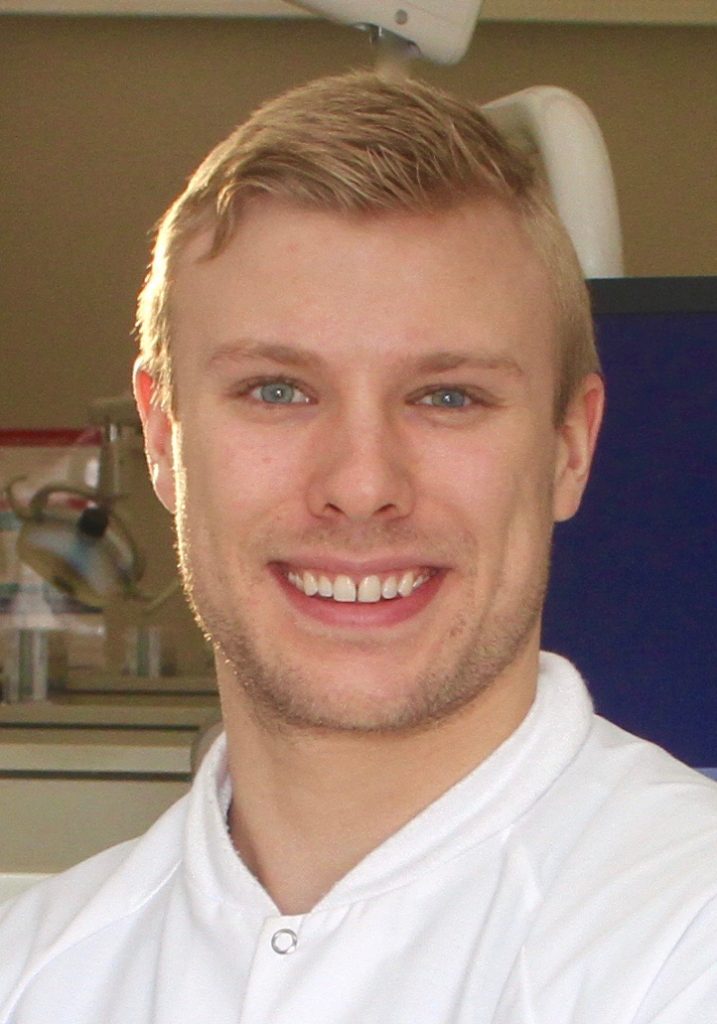 • Curtis Herzog, a fourth-year dental student, received the AADR Travel Award to the 2020 IADR/AADR annual meeting and exhibition in Washington, D.C., in March 2020. His research, "Characterization of PTHrP-expressing Resting Chondrocytes in the Spheno-Occipital Synchondrosis," is mentored by Noriaki Ono.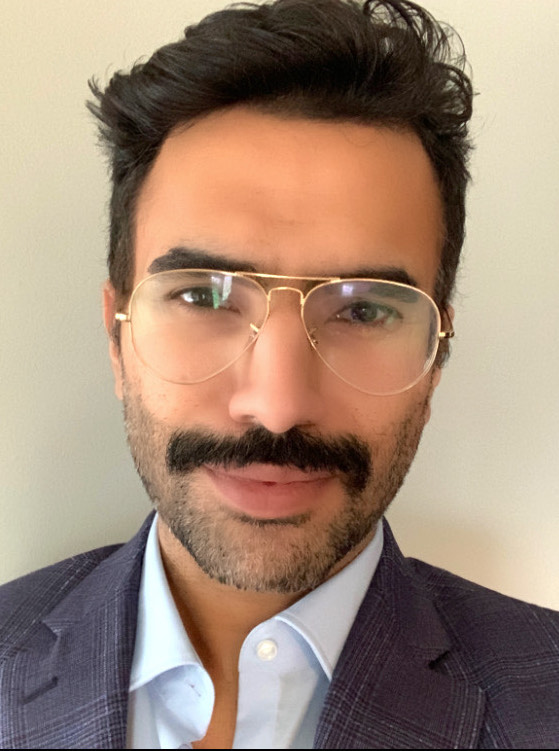 • Students pursuing DDS, Dental Hygiene, Master's of Science or undergraduate degrees received School of Dentistry research awards in two categories. First place in Clinical, Population and Education Research was presented to Majed Almadani, a master's degree student in Restorative Dentistry, for his project: "International vs. U.S. Residents' Stress, Discrimination, Subjective Well-being and Depression." He is is mentored by faculty member Marita Inglehart. First place for Basic Science and Translational Research was awarded to Hafsa Affendi, a postgrad in Endodontics, for her research, "Designer Receptors: A novel potential therapeutic for management of trigeminal neuropathic pain." Her mentor is Tatiana Botero.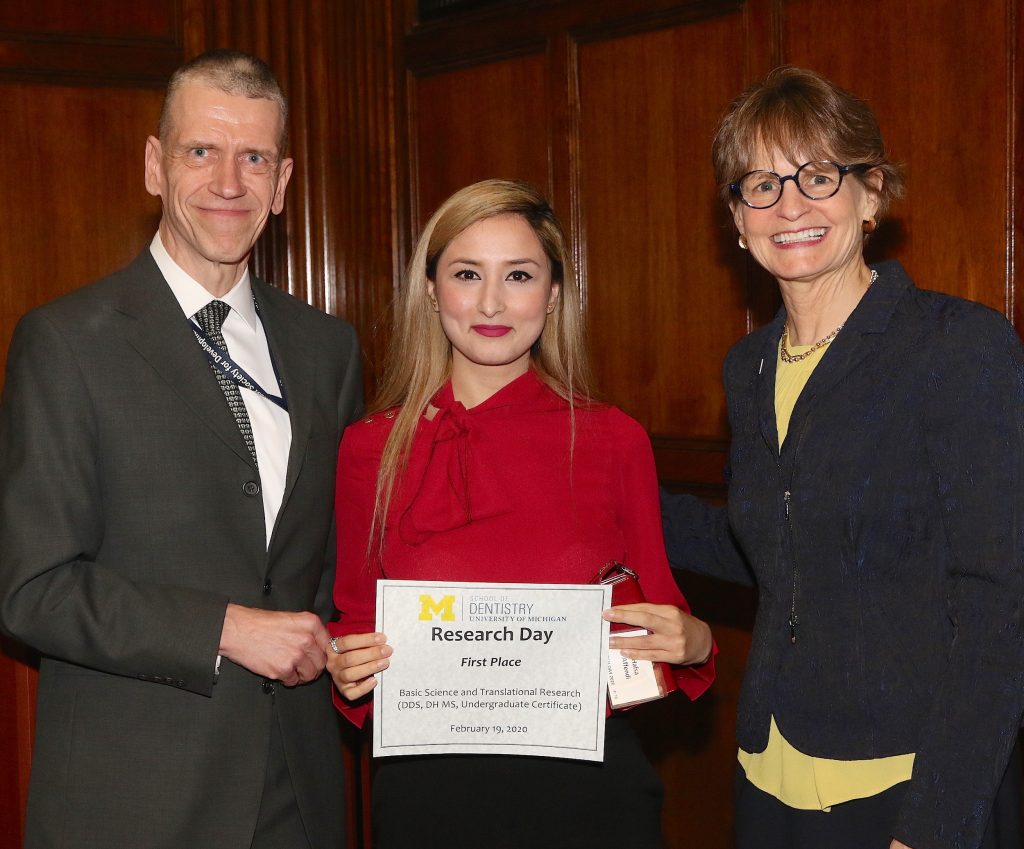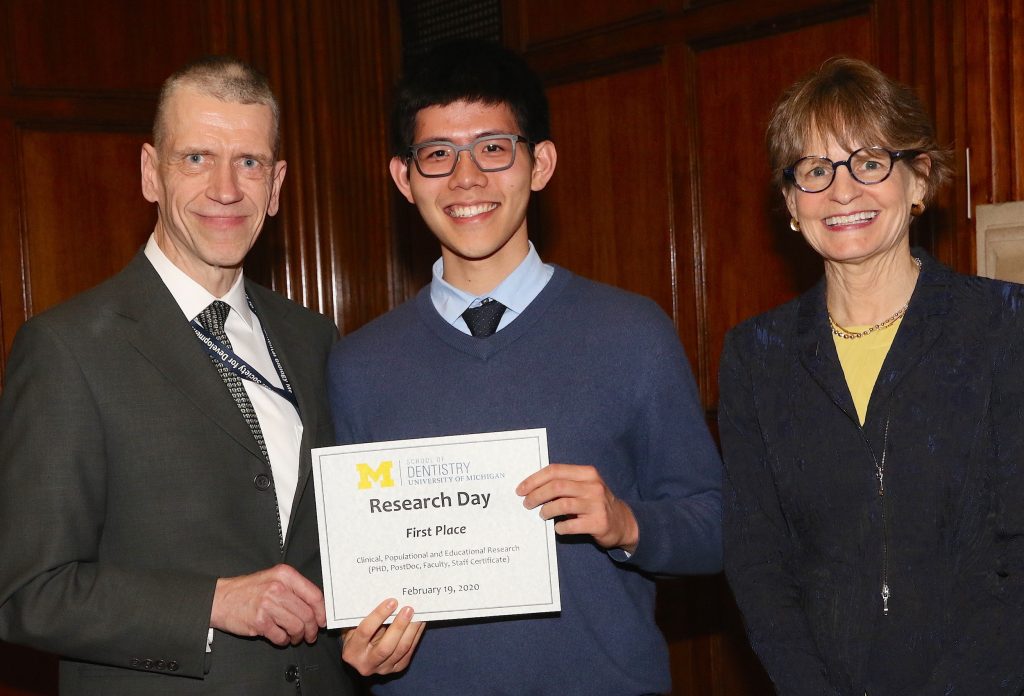 • PhD candidates, post-doctorate, staff and faculty received School of Dentistry research awards, also in two categories. First place for Clinical, Population and Education Research was presented to Ying Chun (Preston) Pan, a Biomedical Engineering student mentored by faculty member Hsun-Liang Chan for "Supplementing Cone Beam Computed Tomography with Ultrasound in Edentulous Ridge Width Measurement." First place for Basic Science and Translational Research was awarded to Harleen Athwal, a DDS/PhD candidate for her research, "Determining Sox10's Potential in Radiation Protection of Adult Epithelial Salivary Gland Duct Cells." She is mentored by faculty member Isabelle Lombaert.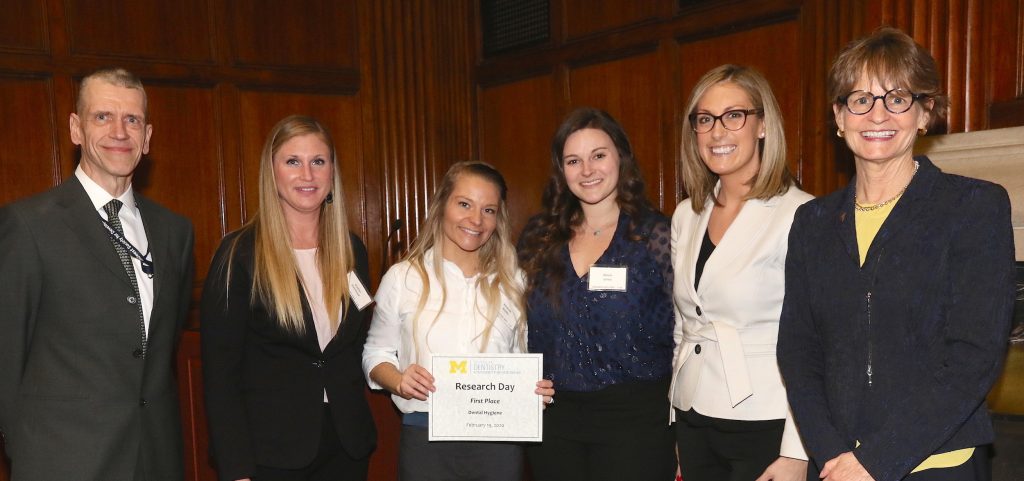 • Dental Hygiene research awards included first place in Original Research to Kaitlin Halstead, Lexi Jones and Amanda Kimlin, mentored by faculty member Valerie Nieto, for their research project, "Michigan Dental Hygiene Students' Utilization of Dental Loupes and Confidence in Clinical Skills: A Statewide Survey." First place for DH Table Clinic was presented to Taylor Dolan, Ayah Hammoud and Ayesha Khan for their research, "The Effects of Saliva Substitutes in increasing Xerostomia Relief: A systematic Review." Mentor: Valerie Nieto.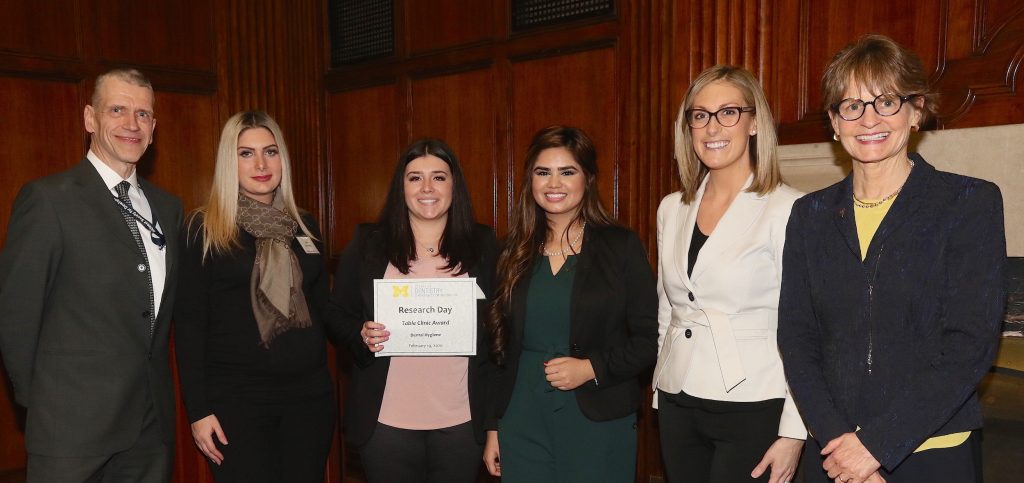 • First place in the research award for Visiting Scholars was presented to Jingwen Yang, mentored by faculty member Yuji Mishina, for "Augmentation of BMP signaling causes midline facial clefting via suppressing glucose metabolism."
• First place in the "411 Presentation" was won by Eric Madsen, a DDS/PhD candidate, for his project, "Dual-functional peptides promote migration and differentiation of MSCs." His mentor is faculty member David Kohn. Students who are attending the AADR session are judged by the faculty of the Michigan AADR chapter. Each student prepares a four-minute presentation on a research topic based on one slide and followed by one question from judges.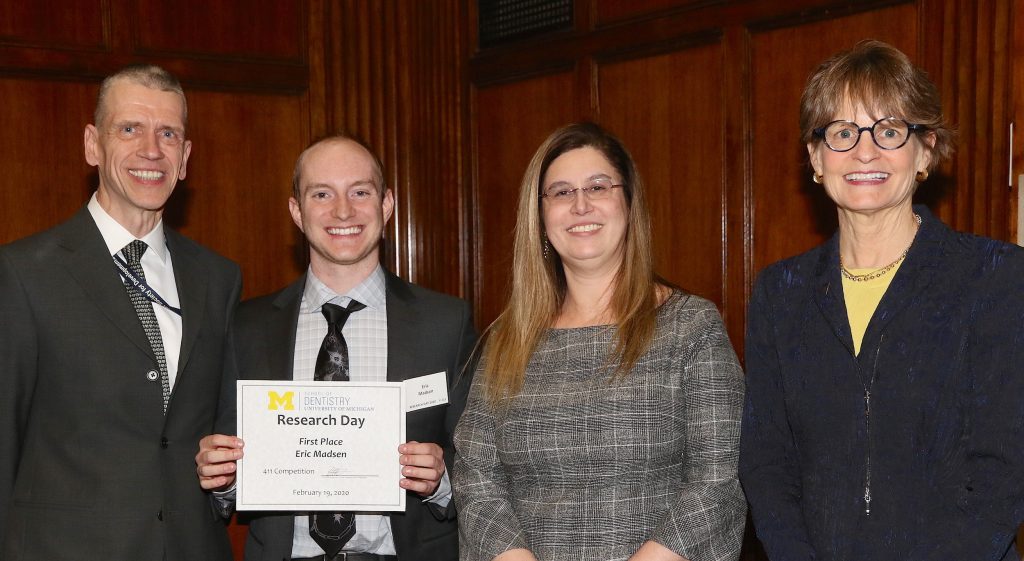 Other awards presented Wednesday were not tied to specific research projects. They include:
• Maiko Omi, a research fellow in the Department of Biologic and Materials Sciences & Prosthodontics, received the Janice E. Berry Prize for Excellence in Research. The family of Berry, a longtime U-M and dental school staff member who died in 2016, created the $1,000 award, also known as Jan's Prize, to recognize a full-time researcher who may be currently experiencing a financial hardship. The applicant must have demonstrated excellence in research, teaching, mentoring, service and leadership. Omi was described as "a great team player, a leader and an excellent educator" by a faculty nominator who cited her research into understanding mechanisms of craniofacial development and homeostasis. Since joining the lab of faculty member Yuji Mishina in 2016, Omi has published four papers as first-author. One of her findings on bone coupling mechanisms has led to seven presentations and six awards. A U-M student who worked under Omi as part of the Undergraduate Research Opportunity Program said she was an excellent mentor. "There was not a day I spent in the laboratory when Maiko was not hard at work. She takes pride in her projects, and her passion inspires those around her to work harder as well. Her findings contribute immensely to the scientific community, and she truly is a wonderful scholar, role model, colleague, teacher and friend." Janice Berry's husband John Copely presented the award.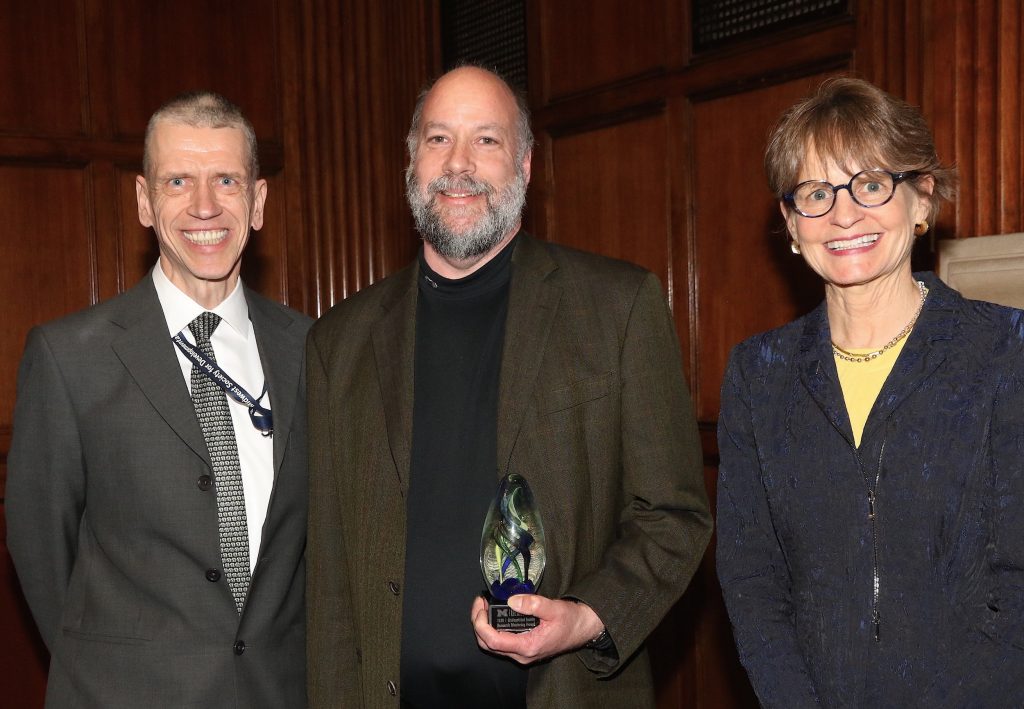 • David Kohn, a professor in the Department of Biologic and Materials Sciences & Prosthodontics and professor of biomedical engineering in the College of Engineering, received the Distinguished Faculty Research Mentoring Award after being nominated by students and colleagues. The annual award recognizes faculty who impart their research knowledge and experience with students and scholars in areas of clinical, basic science and-or translational research. A PhD student who nominated Kohn cited his steadfast support for students who train under him. "He has a breadth of experiences to guide trainees to their selected paths, which is evident by the diverse positions that graduates from the lab hold," the student wrote. "From successful academics across the country as well as internationally, to lead engineers at the FDA, to private biomedical industry and technological transfer, Dr. Kohn has helped to foster growth in individuals to think critically, problem solve, and not be bound by the status quo. He has created a supportive environment in the lab to train individuals from a diverse set of backgrounds and is accommodating to many of life's circumstances; always prioritizing his trainee's well-being over anything else."

• Janet Sloan (photo above left), a research process coordinator in the Contracts and Grants Service Center, and Jim Sugai (photo above right), a senior research lab specialist in the Department of Periodontics and Oral Medicine, were named the winners of the Research Staff Recognition Award. The faculty member who nominated Sloan described her exceptional ability to manage a wide variety of grants, both pre- and post-award, for many faculty members. "She is unquestionably at the top of the list of the best and most dedicated staff people I have worked with," the faculty member wrote. "Janet has done an exceptional job in every aspect of her job – both defined aspects, as well as the unexpected. Her dedication, thoroughness, efficiency and positive attitude make her an invaluable member of the school!" Sugai works with dental school researchers at the Biointerfaces Institute at the North Campus Research Complex. He was described as a selfless individual and the consummate team player who "gets things done" for the good of the greater enterprise while serving as "compassionate counsel" to students in the research labs. "In addition to his recognized expertise in cell and molecular biology, histological techniques, immunohistochemistry and the like, he is also a highly talented laboratory manager," a faculty nominator said. "Jim is one of those individuals who is always willing to help at the lab, departmental or schoolwide level as it relates to moving the research agenda forward."
A complete list of the 2020 Research Day Awards is posted on the Office of Research webpage.
Research Day is organized by the school's chapter of the American Student Dental Association (ASDA) and the school's Office of Research.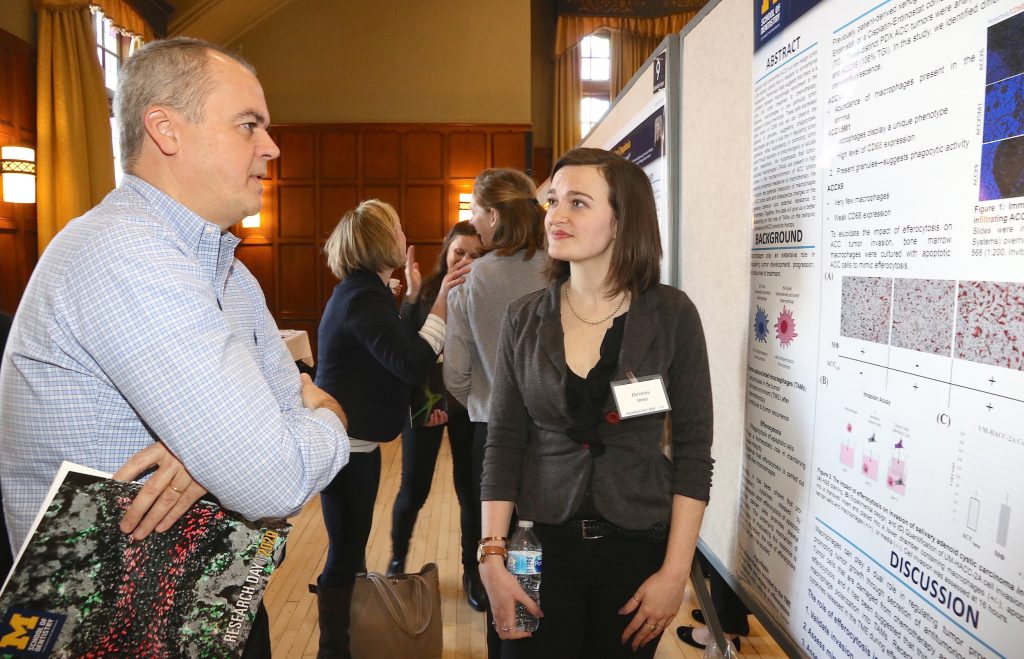 ###
The University of Michigan School of Dentistry is one of the nation's leading dental schools engaged in oral health care education, research, patient care and community service. General dental care clinics and specialty clinics providing advanced treatment enable the school to offer dental services and programs to patients throughout Michigan. Classroom and clinic instruction prepare future dentists, dental specialists and dental hygienists for practice in private offices, hospitals, academia and public agencies. Research seeks to discover and apply new knowledge that can help patients worldwide. For more information about the School of Dentistry, visit us on the Web at: www.dent.umich.edu. Contact: Lynn Monson, associate director of communications, at dentistry.communications@umich.edu, or (734) 615-1971.