Record Number of Posters Set for Annual Research Day Feb. 19

3

min read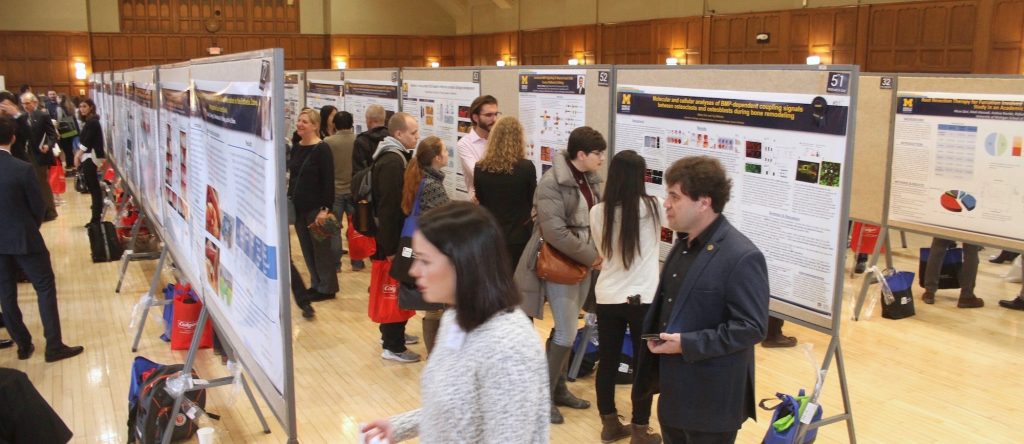 Ann Arbor, Mich., Feb. 6, 2020 – The annual Research Day tradition at the School of Dentistry continues on Feb. 19 with the presentation of the latest scientific studies by dental and dental hygiene students, graduate students in various specialties, PhD candidates, postdocs, faculty, staff and visiting scholars.
Research is thriving at the school with organizers expecting to set a Research Day record for the most posters, with 121, which will break the previous record of 119 that was set last year.
After a keynote speech at the School of Dentistry, the poster and exhibit session is held in the ballroom and two other second-floor rooms at the Michigan League. Several hundred people attend Research Day, including exhibitors and sponsors from organizations and companies related to dentistry. Research awards are presented in several categories from undergraduate to PhD and postdoctoral fellows, and faculty and staff are honored for their contributions to the school's research mission.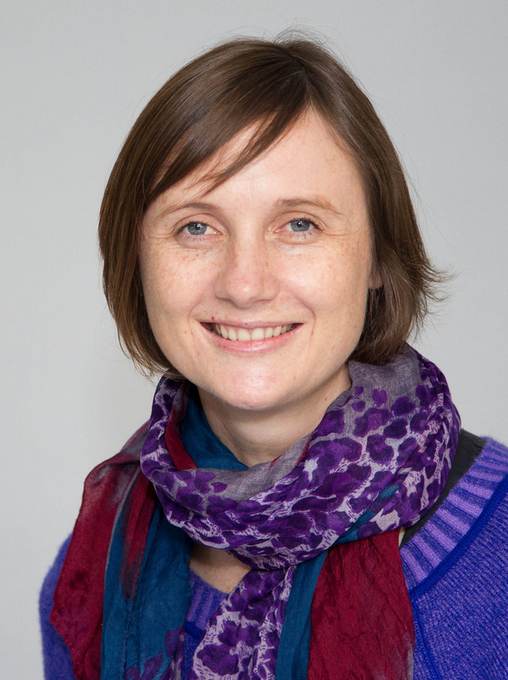 This year's keynote speaker is Sarah Knox, Associate Professor of Dentistry in the Department of Cell and Tissue Biology at the University of California San Francisco. Her topic is "A Little Bit Nervous? Peripheral Nerves and Organ Development, Regeneration and Aging." Knox leads research into how nerve-epithelial communication regulates exocrine organ development, regeneration, autoimmune disease and aging using a multiorgan approach. The research includes organ biology, regenerative medicine, genetics, RNA sequencing, organogenesis, biochemistry and radiation biology. Knox is leading a pre-clinical trial focused on the potential to regenerate radiation-damaged salivary glands in head-and-neck cancer patients. Recent awards for Knox include the Sustaining Outstanding Achievement in Research Award (SOAR) in 2018 from the National Institute of Dental and Craniofacial Research. She also was named the Research Group Salivary Researcher of the Year in 2017 by the International Association for Dental Research.
The keynote is at 1 p.m. in the dental school's Kellogg Auditorium, Room G005. The Research Presentations with a poster session, along with an exhibitor forum, begin at 2 p.m. on the second floor of the Michigan League. Awards will be announced at 4:30 p.m., also on the second floor of the League.
This event is hosted by the school's chapter of the American Student Dental Association (ASDA) and the school's Office of Research.
The origins of Research Day date to the 1960s when the school started a Table Clinic Day to promote student research. A Student Research Program was begun in the early 1980s with a grant from the National Institutes of Health, which led to the first Student Research Forum in 1983. The school held both Table Clinic Days and the Student Research Forum for many years until it was combined into one event – Research Day – in 1999.
More information is available on the school's Research Office web page.
###
The University of Michigan School of Dentistry is one of the nation's leading dental schools engaged in oral health care education, research, patient care and community service. General dental care clinics and specialty clinics providing advanced treatment enable the school to offer dental services and programs to patients throughout Michigan. Classroom and clinic instruction prepare future dentists, dental specialists and dental hygienists for practice in private offices, hospitals, academia and public agencies. Research seeks to discover and apply new knowledge that can help patients worldwide. For more information about the School of Dentistry, visit us on the Web at: www.dent.umich.edu. Contact: Lynn Monson, associate director of communications, at dentistry.communications@umich.edu, or (734) 615-1971.