$3.8 million 'Cancer Moonshot' research grant awarded to dental school; Dr. Yu Leo Lei will lead researchers from U-M, other universities

4

min read
Ann Arbor, Mich., Oct. 18, 2019 – School of Dentistry faculty member Dr. Yu Leo Lei is the principal investigator for research on new cancer prevention therapies that has been funded by a major grant from the National Cancer Institute (NCI) and the National Institute of Dental and Craniofacial Research (NIDCR).
The five-year, $3.8 million grant supports research that is part of the NCI's Immuno-Oncology Translational Network (IOTN), which fosters team science to translate basic discoveries to new cancer immunotherapies. The IOTN is part of the Cancer Moonshot Initiative, which was established on the recommendation of a national Blue-Ribbon Panel comprised of leading experts from a wide spectrum of scientific fields, cancer advocacy organizations and pharmaceutical companies. Congress passed the 21st Century Cures Act in December 2016, authorizing $1.8 billion in funding for the Cancer Moonshot Initiative, which aims to achieve a decade's worth of transformative progress in cancer prevention, diagnosis and treatment in just five years.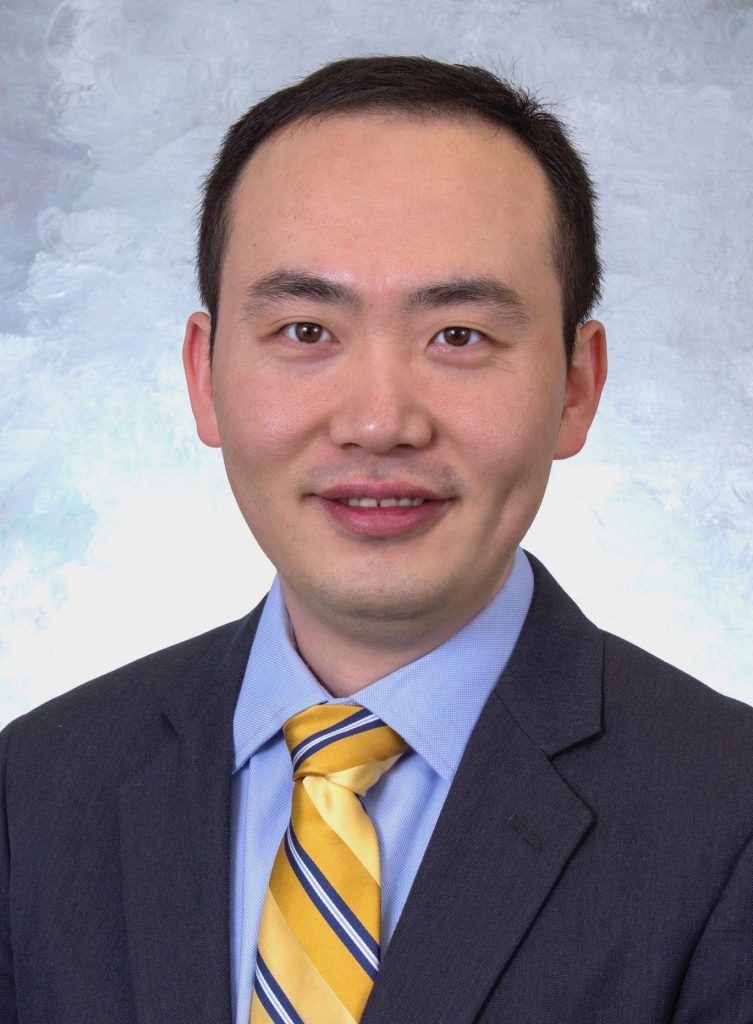 Lei is Assistant Professor of Dentistry in the Department of Periodontics and Oral Medicine and adjunct Assistant Professor of Otolaryngology – Head and Neck Surgery at Michigan Medicine. He is collaborating with co-Principal Investigators Dr. Nouri Neamati, John G. Searle Professor of Medicinal Chemistry, at the U-M College of Pharmacy, and Dr. Chad Brenner, Assistant Professor of Otolaryngology-Head and Neck Surgery at Michigan Medicine.
Oral leukoplakias – white patches or spots in the mouth – often represent oral epithelial dysplasias (OEDs) that precede oral cancers and offer a unique time window for disease eradication. However, surgical resection in the orofacial region results in significant morbidity and function loss, and more importantly, cannot reverse field cancerization where pre-malignant lesions keep recurring. A subset of OEDs transforms into malignancy despite vigilant follow-ups. As one of only three U01 cooperative agreements within the IOTN focused on immunoprevention and the only one based in a dental school, Lei's project will help precisely identify oral leukoplakias with a bona fide high-risk, understand the immune landscape shift as pre-malignant lesions progress, and employ advanced medicinal chemistry approaches for more effective immuno-prevention. The program title is "Robust Immuno-prevention Strategies for High-Risk Oral Epithelial Dysplasia."
"Our focus is on helping patients with high-risk oral leukoplakia and oral cancer and on developing immuno-prevention strategies that also maximally preserve function," said Lei. "Currently, the method of identifying OEDs with a high malignant transformation potential and preventing them from transforming remains very limited. We appreciate the opportunity to be surrounded by the esteemed colleagues here at Michigan and the IOTN network to address this challenge."
Other co-Investigators and consultants in the research include Drs. Yuying Xie, Assistant Professor of Computational Mathematics, Science and Engineering and of Statistics at Michigan State University; Fei Wen, Associate Professor of Chemical Engineering and Associate Chair for Undergraduate Education at the U-M College of Engineering; Mark Prince, Professor of Otolaryngology – Head and Neck Surgery and Department Chair at Michigan Medicine; and Brad Neville, Distinguished University Professor of Dentistry and Director of Oral Pathology, Medical University of South Carolina. "They bring transformative technologies, an entrepreneurial spirit and a joint vision to advance immuno-prevention approaches," Lei said. "Leveraging their expertise as well as the IOTN technology hub and data center creates a truly multidisciplinary structure to catalyze the success of this translational program. The integration of our program into this national infrastructure will also help us receive expert input to realize our promise to patients."
Lei is a recognized immunologist with clinical certification by the American Board of Oral and Maxillofacial Pathology. He is a recipient of the NIH Rising Stars Award, the NIH/NIDCR Dentist-Scientist Pathway to Independence Award, the Joseph Lister first-place Award from the IADR, and the Leon Barnes Award from the United States and Canadian Academy of Pathology, among others.
###
The University of Michigan School of Dentistry is one of the nation's leading dental schools engaged in oral health care education, research, patient care and community service. General dental care clinics and specialty clinics providing advanced treatment enable the school to offer dental services and programs to patients throughout Michigan. Classroom and clinic instruction prepare future dentists, dental specialists, and dental hygienists for practice in private offices, hospitals, academia and public agencies. Research seeks to discover and apply new knowledge that can help patients worldwide. For more information about the School of Dentistry, visit us on the Web at: www.dent.umich.edu. Contact: Lynn Monson, associate director of communications, at dentistry.communications@umich.edu, or (734) 615-1971.