Dental Hygiene division celebrates 10 years of E-Learning Program

8

min read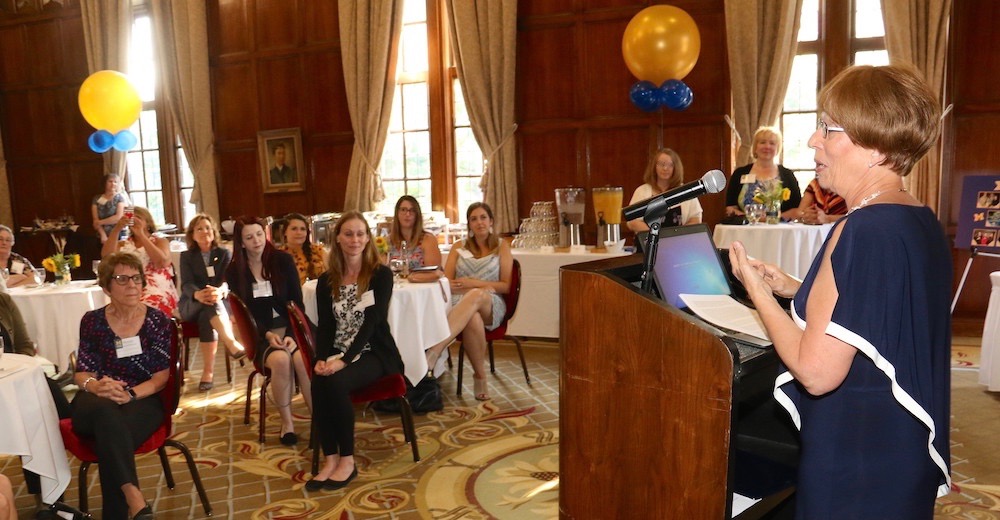 Ann Arbor, Mich., Aug. 15, 2019 – The online degree completion program for Dental Hygiene at the University of Michigan School of Dentistry recently celebrated a decade of success in providing an alternative for off-campus dental hygienists who want to expand their career options.
When the Dental Hygiene Degree Completion E-Learning Program was established 10 years ago, it was the first online degree completion program on U-M's Ann Arbor campus. Over the decade the school has conferred 89 bachelor's degrees for hygienists who are now involved in many aspects of dental hygiene in addition to their clinical foundation.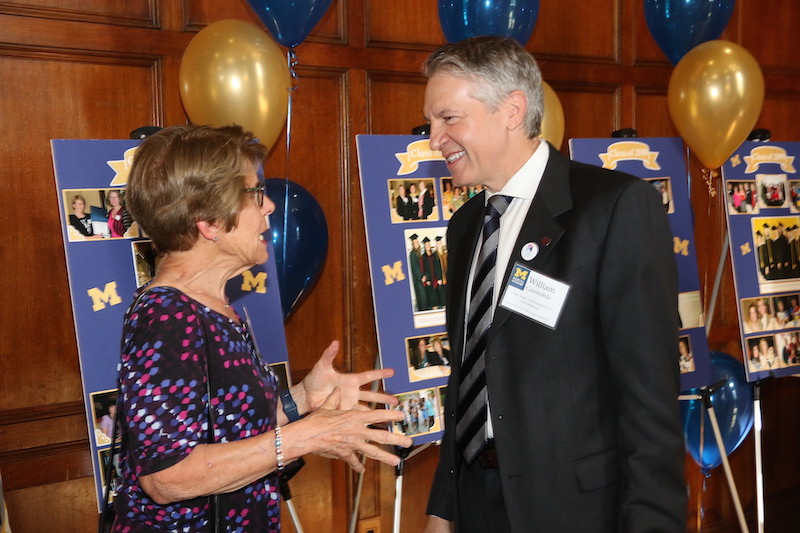 To celebrate the E-Learning program's first decade, about 30 of its alumni joined faculty, administrators, staff and special guests in early August for a 10th anniversary reception. Speakers commended the foresight and remembered the challenges of creating a new and innovative program. At the time, there was a degree completion program for on-campus students, but the online program had to be researched and built with no model to follow. Today, both the on-campus and online variations are designed for dental hygiene students who either have an associate's degree or certificate, or who have completed some of the coursework for a bachelor's degree. The course of study provides a broad-based education and enables graduates to expand their career options beyond clinical practice to include dental hygiene education, among other options. At the completion of both the online and on-campus programs, students receive a Bachelor of Science in Dental Hygiene.
The program's history and importance were acknowledged by reception speakers, including Dr. William Giannobile, Chair of the Department of Periodontics and Oral Medicine; Wendy Kerschbaum, former Director, Division of Dental Hygiene; Anne Gwozdek, former Director, Degree Completion Program; Jennifer Cullen, Director, Degree Completion Program; and Janet Kinney, Director, Division of Dental Hygiene.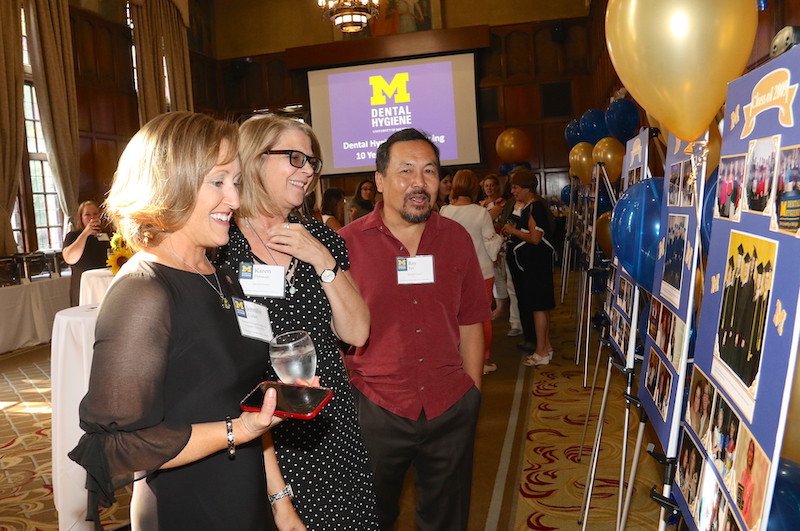 School of Dentistry Dean Laurie McCauley was chair of the Department of Periodontics and Oral Medicine during the time its Dental Hygiene Division began developing the online program. "It was an amazing coalescence of expertise and desire and interest in being innovators in this area," she said in a video tribute shown during the celebration. "One of the benefits of this program was to allow dental hygienists to stay in their communities and continue to practice clinically while they were further honing their skills and developing their career paths. The impact they will have because of this phenomenal learning program will be really wonderful to see as it moves forward. They will continue to engage, many of them going on for master's degrees, staying in academia or being leaders in their communities."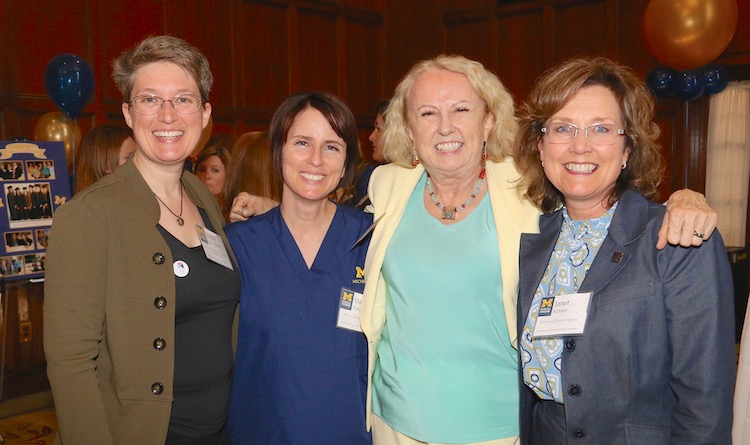 Kerschbaum shared that she was initially overwhelmed by the idea of creating an online program from the ground up. She credited the support of McCauley and Lynn Johnson, Associate Dean for Faculty Affairs and Institutional Effectiveness. Johnson has a PhD in instructional design and technology and is a nationally recognized leader in adapting the latest technology to advance dental education. Gwozdek, then an adjunct faculty member who was completing a master's degree in educational technology, would lead the development and running of the online program for nine years. Also part of the development team was Emily Springfield, then in the Dental Informatics office and Lisa Dodge, the Dental Hygiene administrative assistant. Supported by other U-M departments, dental school faculty, and faculty in other DH programs, the team worked for 18 months to research, create and implement the program.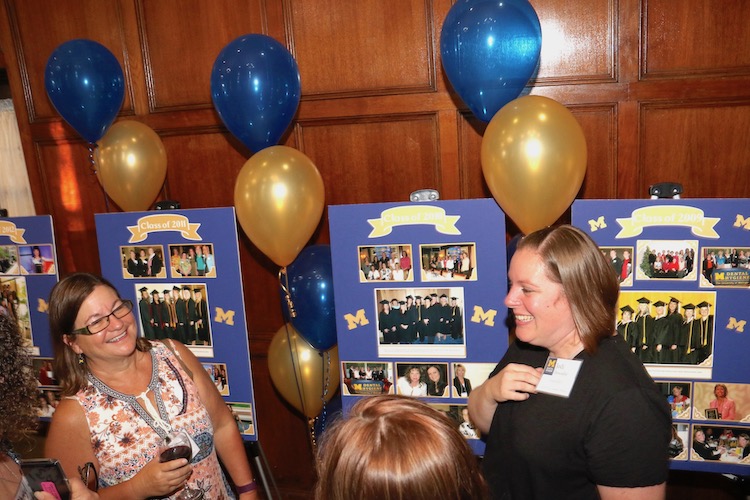 Speakers said that, from the start, the E-Learning program development team had a clear vision that the program would prepare dental hygienists for the future. Graduates would understand total health care and oral health's role in it, have the skills to practice in non-traditional roles, be able to use evidence-based decision making in all care settings, and be leaders and change agents in the profession. A final pillar of the vision was that even though these were online students, they would feel a sense of belonging to a community of scholars, the dental hygiene program, and the University of Michigan.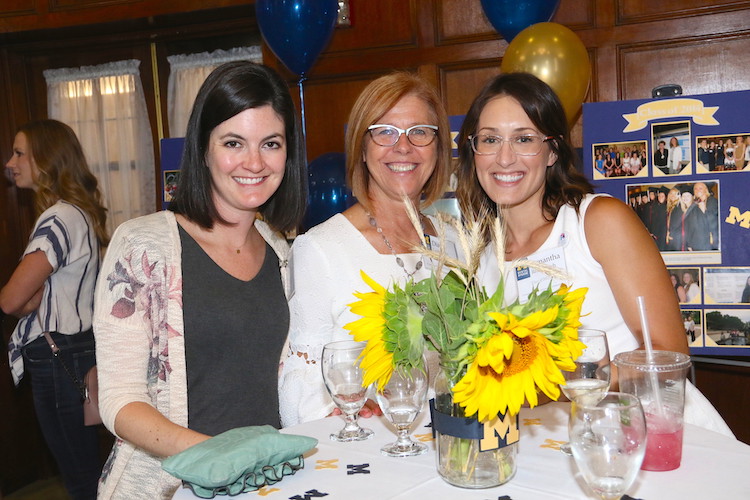 Speakers at the anniversary event cited the community and camaraderie among students, faculty and administrators from the start of the program. "The most heartwarming part is that you have remained connected to your University of Michigan family," Gwozdek told the gathering. It was a theme echoed by Kinney. She remembered the ongoing efforts by program leaders to stay innovative and invested in its students. "The E-Learning faculty wore many hats, but the one they had in common was the Michigan hat, uniformly striving to make the Michigan difference," she said.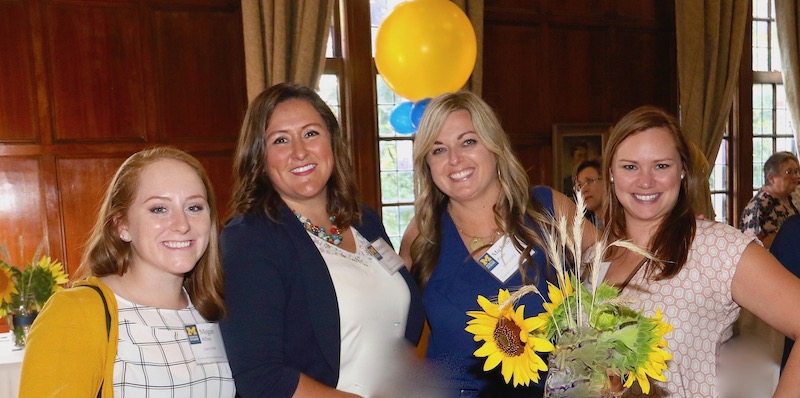 Cullen, the current director of the degree completion program, cited statistics that show graduates have branched out into new areas of dental hygiene. Alumni reports on post-degree professional activities find that, two years after graduation, more alumni are involved in DH education, public health and administrative roles when compared to their professional activities two years before they enrolled in the program. Seventeen alumni have gone on to advanced areas of study such as education technology, workforce development, dental health education, public health, healthcare management, health information technology, clinical research and business. Among the 89 E-Learning alumni, 15 have had papers in national journal publications, seven received national research awards, two have earned U-M School of Dentistry research awards, and 12 have presented posters at national and international conferences.
The current graduating class and the rising seniors are already making their mark through their advocacy, community work, and capstone experiences, Cullen said. "Students and graduates of the degree completion E-Learning program are excellent examples of why University of Michigan alumni are known as leaders and best around the world," she said.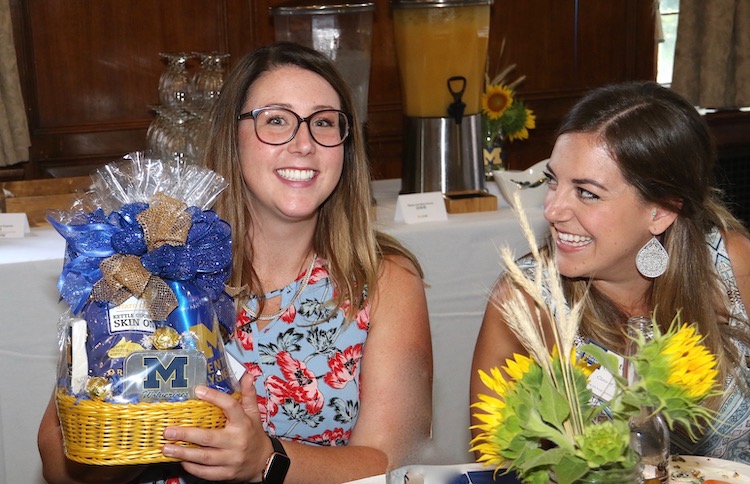 ###
The University of Michigan School of Dentistry is one of the nation's leading dental schools engaged in oral health care education, research, patient care and community service. General dental care clinics and specialty clinics providing advanced treatment enable the school to offer dental services and programs to patients throughout Michigan. Classroom and clinic instruction prepare future dentists, dental specialists and dental hygienists for practice in private offices, hospitals, academia and public agencies. Research seeks to discover and apply new knowledge that can help patients worldwide. For more information about the School of Dentistry, visit us on the Web at: www.dent.umich.edu. Contact: Lynn Monson, associate director of communications, at dentistry.communications@umich.edu, or (734) 615-1971.