Dental assistant at school shares professional insights with WCC students

3

min read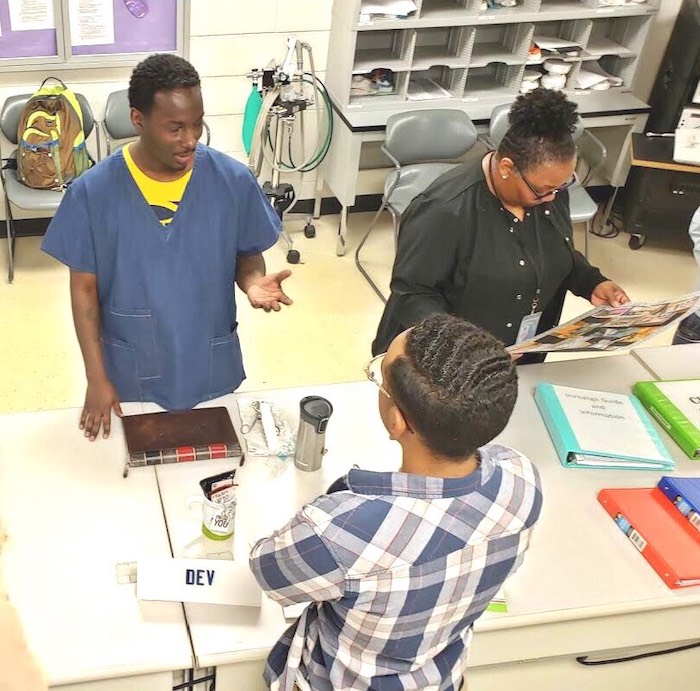 Ann Arbor, Mich., May 23, 2019 — Deverell Baty, a senior dental assistant in the School of Dentistry's pediatric program, recently returned to Washtenaw Community College to share his professional experiences with students in the same program from which he graduated.
The WCC Dental Assisting Program held Assistant's Day, where current students can talk with alumni who are working in the field. Baty explained to the WCC program's Class of 2019 what they can expect if they were to work in a pediatric clinic.
Baty, more commonly known as Dev, graduated from the WCC program in 2012 and began assisting at Oak Valley Dental in Ann Arbor under Dr. Joseph Kolling, an alumnus and adjunct faculty member at the U-M dental school. Baty joined the dental school in 2013, working as an assistant at the school's Community Dental Center in downtown Ann Arbor and as an auxiliary assistant in the school's Vertically Integrated Clinics. He moved to the Department of Orthodontics and Pediatric Dentistry in 2016.
Baty said he was happy to share his experiences with students at his alma mater. Among the reasons it is a strong program, he said, is that a strong team of faculty members are committed to helping students succeed. "I am proud to be a 2012 graduate of the program and can confidently say that I was more than prepared when I was hired by a private practice shortly after graduation," he said. "I was excited for the opportunity to go back and share with future graduates the awesome opportunities that await them."
Baty assists dentists and DDS students with dentistry procedures (commonly called four-handed dentistry) in the Samuel D. Harris Children's Dental Unit, as well as graduate students in the Kenneth A. Easlick Pediatric Dentistry Clinic. He also assists at the Michigan Medicine Mott Children's Hospital and the Hospital Dentistry Clinic.
The WCC Dental Assisting Program prepares students for entry-level dental assisting positions in a variety of settings, such as private dental offices, dental schools, the military and dental insurance offices. The curriculum includes required dental radiography courses that allow graduates to expose dental radiographs in the state of Michigan. The program also prepares students for the Dental Assisting National Board examination, which leads to the nationally recognized status of a Certified Dental Assistant (CDA). As a CDA, graduates assist in the treatment of patients. Graduates of the program are also prepared to take the Michigan State Board of Dentistry examination, which gives recognition as a Registered Dental Assistant (RDA). As an RDA in the State of Michigan, graduates can perform specific intra-oral functions generally performed by a dentist. Baty is RDA Certified.
###
The University of Michigan School of Dentistry is one of the nation's leading dental schools engaged in oral health care education, research, patient care and community service. General dental care clinics and specialty clinics providing advanced treatment enable the school to offer dental services and programs to patients throughout Michigan. Classroom and clinic instruction prepare future dentists, dental specialists and dental hygienists for practice in private offices, hospitals, academia and public agencies. Research seeks to discover and apply new knowledge that can help patients worldwide. For more information about the School of Dentistry, visit us on the Web at: www.dent.umich.edu. Contact: Lynn Monson, associate director of communications, at dentistry.communications@umich.edu, or (734) 615-1971.