Donor Profile: Thea Glicksman

8

min read
Preserving the dignity of special needs patients
This profile is one in a series highlighting School of Dentistry alumni, donors and students.
Ann Arbor, Mich., May 21, 2019 — Ann Arbor resident Thea Glicksman is joining with the University of Michigan School of Dentistry to improve the way patients with specialized healthcare needs receive dental care.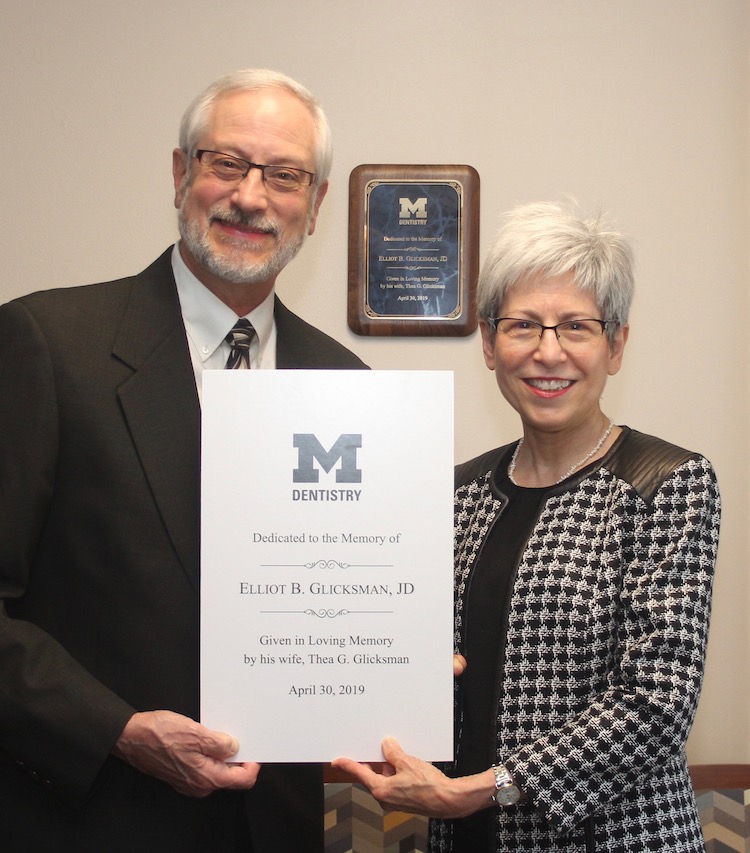 Glicksman has made two substantial financial commitments to help fund a dental school initiative focused on new facilities for treating special needs patients and educating students in their care. Glicksman's initial gift supported a special needs clinic that the school opened last year at its Community Dental Center (CDC) in downtown Ann Arbor. A second gift is designated for a wheelchair lift to assist patients who will be treated at a special needs clinic that is part of a major renovation now underway at the dental school on campus.Elliot Glicksman
Glicksman made the gifts in memory of her husband, Elliot, who died in 2016. Glicksman adopted this cause after reflecting on the difficult journey her husband endured during six years of declining health before his death.
Elliot Glicksman, a lawyer, was one of the first faculty members at the Thomas M. Cooley Law School when it was established in Lansing the early 1970s. He was a popular professor there for 35 years, with expertise in evidence law, until a medical disability forced an early retirement in 2010. He was on his way to what appeared to be a successful recovery from heart surgery when he experienced complications related to medications. He fell down the staircase in the Glicksmans' Lansing home and was diagnosed with a closed head brain injury. Although his injury appeared to be something he might recover from, and he did improve after the first year, he continued to suffer seizures, falls and a string of other setbacks until he died in hospice care in Ann Arbor in July 2016 at age 74.
Thea Glicksman said her husband — an intelligent, well-respected and dignified man — endured a frustrating mental and physical decline. Together they were immersed in the healthcare system to a degree they never could have imagined. Much of his medical care was at U-M in Ann Arbor, with some of his physical therapy in Lansing. As his ability to walk and other physical systems began to fail, he needed to be closer to the doctors and therapists in Ann Arbor, so the Glicksmans sold their Lansing home and moved to Ann Arbor. Elliot needed the care of an assisted living facility, extensive therapy and many other medical consults.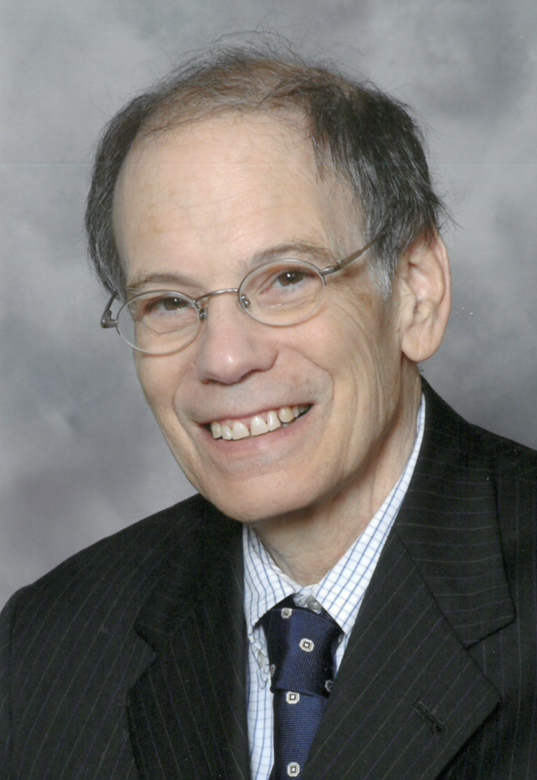 Among the myriad changes facing the Glicksmans after their move to Ann Arbor was the need to find a new dentist to replace their longtime Lansing dentist, Dr. Peter Chiaravalli (U-M DDS 1972). Thea Glicksman followed a friend's recommendation to the Dental Faculty Associates (DFA) clinic at the dental school, where Dr. Stephen Stefanac became Elliot's new dentist. Glicksman praises the care that Stefanac and dental hygienist Pauline Lobbestael provided Elliot for three years. She recalls the upbeat way the staff accommodated Elliot while he was using a walker for his first appointments at the DFA, and later when he could still assist with moving in and out of his wheelchair. Eventually, his increased weight and inability to walk required the assistance of three and sometimes four aides for any move in and out of the wheelchair for his daily routine or appointments. That meant visits to the dentist were no longer possible.
Elliot died a few months after his last dental appointment. In the year after his death, as Thea relived and recovered from the traumatic chapter in their lives, she recalled talking with Dr. Stefanac about the dental school's vision for a clinic to treat patients with unique needs, which was in the planning stages at that point. She had learned through a deeply personal experience that everyone deserves the dignity of access to excellent healthcare – not just medical care, but also dental care. After thinking about it for an extended period, Thea contacted the dental school and said she wanted to contribute financially and advocate for the Special Care Clinic initiative.
"I wanted to know how the special needs clinic had progressed in the planning and how I could assist," she said. "I could have helped simply by making a monetary contribution in Elliot's memory. But I came to realize that I also could make a contribution by becoming involved in both the promotion of the special needs clinic and with fundraising. I want people to know how important it is to provide dental care for special needs patients." Research shows that oral health is directly linked to a person's overall health, she noted. "If people don't have proper dental care, it can adversely affect the rest of their health," she said.
The commitment to special needs dental care is "the new thing and the big thing for me," said Glicksman, a retired high school history teacher. "Following Elliot's death, the thought remained with me that other people shouldn't have to go through what he did. I want to help make it so that we can provide proper dental care for everyone."
Glicksman's gifts will supplement a major gift from the Delta Dental Foundation that provided the initial funding for the clinic at the CDC and what will become the Delta Dental Integrated Special Care Clinic that is part of the dental school renovation. The clinics feature specialized equipment designed to facilitate the treatment of patients with a wide variety of conditions, such as cerebral palsy, autism spectrum disorder, dementia, traumatic brain injury, progressive neurologic disorders, and disabilities that limit mobility, vision or hearing. Larger, barrier-free treatment rooms allow for greater accessibility for those in wheelchairs, their care providers and the treatment team. New versions of standard dental chairs can be moved aside to make room or accommodate very large patients. Special lifts allow patients to remain in their wheelchairs, yet provide dentists with the ability to adjust the patient's position to facilitate procedures. Other features are adjustable lighting that dims for patients who are sensitive to bright light; portable, hand-held x-ray devices; and rooms with more privacy than dental clinics with open floor plans.
Stefanac, who is Senior Associate Dean and Associate Dean for Patient Services, said the dental school appreciates the partnership Thea Glicksman has offered. Speaking at a reception at the CDC last month to commemorate her gift, Stefanac said he enjoyed the opportunity to treat Elliot, who was a perfect example of why both private practitioners and dental educators need to advance the unique treatment of each person with special needs. He also praised Thea Glicksman's dedication to an open and ongoing dialogue that she established during Elliot's treatment, both in person and by phone as his condition changed over time. That sort of commitment to frequent communication between the dentist and the special needs patient's family leads to the best possible care for the patient, he said. "Thank you for your wonderful gesture," Stefanac said of the financial gifts. "Thank you for helping us to do even more."
Rich Fetchiet, Executive Director of Alumni Relations and Development, noted that gifts like this have a lasting impact. "These new facilities, where we can give dental students the experience of treating a variety of special needs patients, means that upcoming generations of our graduates will be comfortable bringing those patients into their practices because they've already had the experience of meeting their needs."
Thea Glicksman said she is pleased to engage on this initiative with the dental school. During those last six years of Elliot's life, she learned firsthand how important it is to provide excellent healthcare even when it becomes increasingly difficult for a seriously ill person. "It's about preserving dignity," she said.
###
The University of Michigan School of Dentistry is one of the nation's leading dental schools engaged in oral health care education, research, patient care and community service. General dental care clinics and specialty clinics providing advanced treatment enable the school to offer dental services and programs to patients throughout Michigan. Classroom and clinic instruction prepare future dentists, dental specialists and dental hygienists for practice in private offices, hospitals, academia and public agencies. Research seeks to discover and apply new knowledge that can help patients worldwide. For more information about the School of Dentistry, visit us on the Web at: www.dent.umich.edu. Contact: Lynn Monson, associate director of communications, at dentistry.communications@umich.edu, or (734) 615-1971.