DH Student's Opioid Prescribing Research Wins National Award

3

min read
Ann Arbor, Mich., May 2, 2019 -– A dental hygiene student at the School of Dentistry has won a national award for her research related to opioid prescription trends.
Colleen Freund, an on-campus DH Degree Completion Program student, received a first-place award from the American Association of Public Health Dentistry during the National Oral Health Conference in Memphis, Tenn., in April.
Freund's research project, Retrospective Study of Opioid Prescription Trends in a Dental School Clinic Using Electronic Health Record Data, 2012-2017, received the top award in the category of Dental Hygiene Student Merit Award for Outstanding Achievement in Community Dentistry.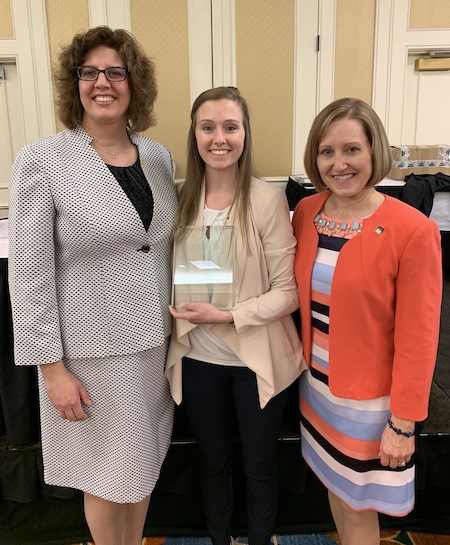 The study analyzes external influences on recent trends in opioid prescribing in dental school clinics as the national opioid crisis was declared a federal health emergency. Dental schools have an important role to play in a national effort to reduce opioid deaths that includes new prescribing guidelines, legislation and provider education. The methods employed in the study create a model for monitoring prescription frequency trends against the backdrop of public health initiatives directed at reducing harm and improving awareness of the opioid epidemic.
Freund received a $500 cash award and presented her research poster during the conference's general poster session. Her faculty mentors are Jennifer Cullen and Stefanie VanDuine.
Judging criteria included originality and design of the project, the quality of data, level of student responsibility and leadership, and the community value of the project.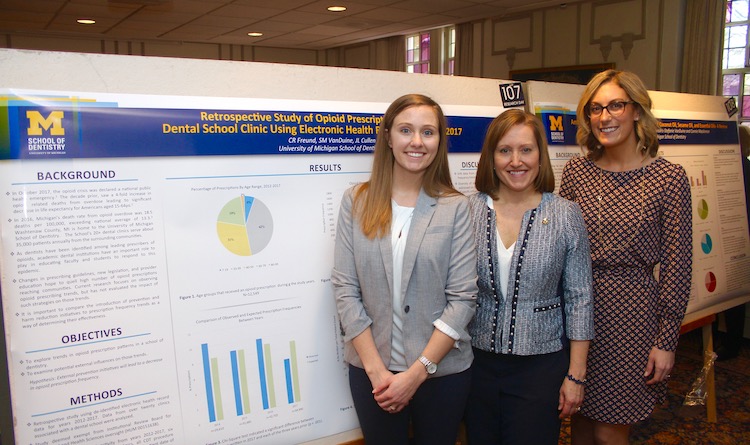 ###
The University of Michigan School of Dentistry is one of the nation's leading dental schools engaged in oral health care education, research, patient care and community service. General dental care clinics and specialty clinics providing advanced treatment enable the school to offer dental services and programs to patients throughout Michigan. Classroom and clinic instruction prepare future dentists, dental specialists and dental hygienists for practice in private offices, hospitals, academia and public agencies. Research seeks to discover and apply new knowledge that can help patients worldwide. For more information about the School of Dentistry, visit us on the Web at: www.dent.umich.edu. Contact: Lynn Monson, associate director of communications, atdentistry.communications@umich.edu, or (734) 615-1971.