D2 student Lea Sarment to focus on recycling during year as Dow Fellow

3

min read
Ann Arbor, Mich., Feb. 26, 2018 — Second-year dental student Lea Sarment will explore new ways to expand recycling in dentistry and medicine this year as a University of Michigan Dow Sustainability Master's Fellow.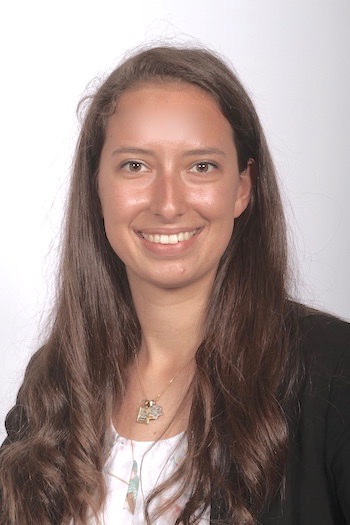 Sarment is one of 34 graduate students at the university who were selected to participate in the program for 2019. Now in its seventh year, the program provides a learning community for fellows to focus on interdisciplinary solutions to sustainability challenges — from local to global — related to cities, climate, energy, food, health, human behavior, transportation, water and more. Teams of fellows interact with clients, communities, project consultants, U-M faculty and Dow Doctoral Fellows. Sarment will work with students from nine other schools and colleges across the university, including business, engineering, environment and sustainability, information, law, medicine, public health, public policy, and architecture and urban planning.
Sarment developed recycling and sustainability projects during her undergraduate education before starting at the School of Dentistry in 2017 and has expanded her work in the area in her first year and a half at the school. During her undergrad studies in Biomedical and Green Engineering at Virginia Tech in Blacksburg, Va., she noticed a lack of recycling options at apartment complexes around the city. She developed and led a petition drive asking the Blacksburg Town Council to require one recycling receptacle beside every trash bin. More than a thousand people signed her online petition, she lobbied the town council and an ordinance was eventually enacted.
After starting at the School of Dentistry, Sarment joined and has continued a recycling and zero waste push that was led by a now-graduated dental student, Shivani Kamodia, who was also a Dow Master's Fellow, in 2016. Kamodia and other students, including Sarment and D2 Christina Kasper, solved numerous problems in developing a dental school program that led to a large-scale recycling of the surgical gloves worn by dental students, faculty and clinical staff at the school. In the first year of the program, about 44,000 gloves were recycled rather than discarded. They were sent to a company that froze the gloves into a powder and recycled the material into park benches and containers. In her Dow application, Sarment said she would like to continue the progress made with the initial program, expanding it to dental practices, hospitals and medical facilities across the country by increasing education and solving problems that still inhibit widespread recycling in medical professions.
"To initiate changes at this larger scale, the support of the Dow Sustainability Fellowship program is vital," Sarment wrote in her application. "Fortunately for this project, dentistry is typically performed in small private practices, which leads me to believe that real world impact can happen quickly. During the fellowship, I would like to reach out to local practices and implement sustainable behavior changes. I am convinced that practitioners, just as city councils, will embrace suggestions and support our ideas. Together, we can affect the local community, paving the way for bigger scale impact."
U-M's Graham Sustainability Institute administers and supports the Dow Master's Fellows program. Each fellow receives $20,000 for their studies and become part of a community of sustainability scholars and fellows.
###
The University of Michigan School of Dentistry is one of the nation's leading dental schools engaged in oral health care education, research, patient care and community service. General dental care clinics and specialty clinics providing advanced treatment enable the school to offer dental services and programs to patients throughout Michigan. Classroom and clinic instruction prepare future dentists, dental specialists and dental hygienists for practice in private offices, hospitals, academia and public agencies. Research seeks to discover and apply new knowledge that can help patients worldwide. For more information about the School of Dentistry, visit us on the Web at: www.dent.umich.edu. Contact: Lynn Monson, associate director of communications, at dentistry.communications@umich.edu, or (734) 615-1971.