DEI Day, Ida Gray Awards emphasize the strengths of diversity

7

min read
Ann Arbor, Mich., Feb. 20, 2019 -– A fourth-year dental student, a staff member who supports numerous programs and an Ann Arbor dentist who is an alumnus were honored Tuesday with Ida Gray Awards by the School of Dentistry.
The awards were the centerpiece of a Diversity, Equity and Inclusion Day program that called attention to the school's longstanding and ongoing efforts to create a welcoming, inclusive environment throughout the school.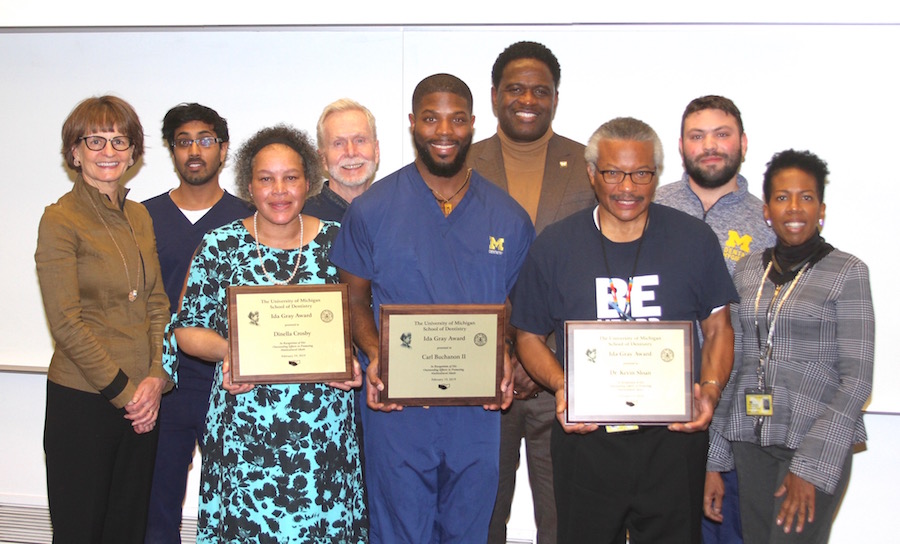 The award is named for Dr. Ida Gray, the first African American woman in the country to earn a DDS when she graduated from the School of Dentistry in 1890. She was also the first black woman to practice dentistry in Chicago. Students, faculty and staff nominate candidates, with the winners selected by the Multicultural Affairs Committee (MAC).
This year's Ida Gray Award winners are:
• Carl Buchanon II: A fourth-year student who graduates this spring, Buchanon was cited as a model of professionalism and respect for the way he works with patients and classmates. A student colleague who nominated Buchanon recalled working with him at a clinic for children, where his efficient dental skills were complemented by the reassuring manner he demonstrated with the kids. "I have no doubt that he will be one of the people that I will never forget in my life and I always look up to him for inspiration and motivation," the student said. Another nominator noted that Buchanon has earned widespread respect, as evidenced by the leadership positions he has held in several organizations. "He is eager to learn and unselfish in giving to others," the nominator said. "Carl is disciplined, adaptive, ethical, giving and committed; he has an infectious personality which brightens every room and situation in which he finds himself."
• Dinella Crosby: A program specialist in the Student Affairs office, Crosby works closely with several programs and initiatives, including the Profile for Success Program that prepares pre-dental students for the dental school admission process. A nominator who cited her work with the MAC, the Student National Dental Association and the Hispanic Student Dental Association, called her "one of the most inspirational people I've had the pleasure to meet" at the dental school. A nominator said Crosby is like a mother to many of the students. "Her work in organizing many different events throughout the year to promote diversity, equity and inclusion is phenomenal," a nominator wrote. "Dinella goes above and beyond to make sure that everyone feels welcome at all DEI events and really models what equity and inclusion should feel like. When I think of DEI, I think of Dinella."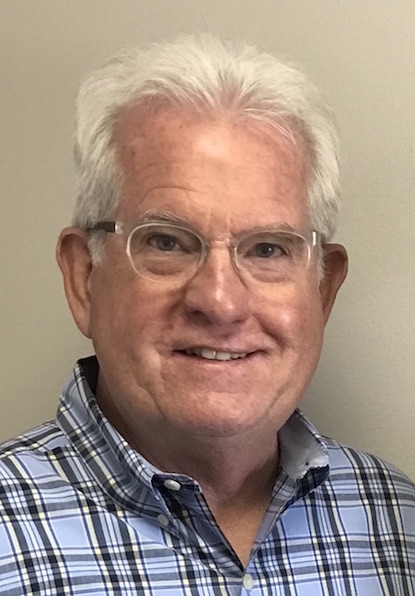 • Dr. Kevin Sloan: An alumnus (DDS 1982 and MS restorative 1985), Dr. Sloan has maintained his private practice in Ann Arbor since 1982. He is a former faculty member who taught crown and bridge prosthodontics for more than 10 years. He helped start and has continued to work at the dental clinic that is part of the Hope Medical Clinic in Ypsilanti, a nonprofit medical, dental and social service agency that treats those in need. Nominators cited Sloan's work with Hope and other similar programs that help the underserved, noting that he is a highly motivated and disciplined person. "To be in Dr. Sloan's presence and observe him in his element is an honor," said a nominator. "One has to stay on point to keep up with him … you see his commitment and passion for alleviating pain and restoring form, function, and esthetics. Dr. Sloan gives back to the community with his time, talents, and resources. … He has that gift of getting other dentists involved so more dentistry can be done, especially for those in need."
A panel comprised of a faculty member, staff member and student discussed what the legacy of the Rev. Dr. Martin Luther King, Jr. means to them personally. Though expressed in different ways, the common theme is that MLK's dream of eliminating racism in its many forms is still evolving slowly but the momentum must be maintained. The speakers echoed a short university-created film that highlighted one of MLK's oft-quoted maxims about the pace of progress: "If you can't fly, run. If you can't run, walk. If you can't walk, crawl. But, by all means, keep moving."
Dean Laurie McCauley credited the work of the school's Multicultural Affairs Committee and its leaders over the last 20 years, as well as the current DEI initiatives led by Dr. Todd V. Ester, Assistant Dean for Diversity, Equity and Inclusion. "This place is a better place because of all of you and because of all of the work that you do," she said. The DEI day theme of "Making Connections" is an apt way of describing the past accomplishments and ongoing goal of bringing the many elements of the dental school together to form a stronger community. "We still have a ways to go, and I think we all realize that, but it's really satisfying for me to see the work we have done as a community," McCauley said.
In the program's closing remarks, Dr. Brandon Gordon, DEI graduate student services assistant, said there are "still strides that need to be done, there is still work that needs to be done, there are still connections that need to be made and there is still work that we all have to do." The question, he told audience members, is: Where do you fit in? "If you are in this building, you are here for a reason. You are here to build. You're here to help. You're here to promote. And, moreover, we're here to move forward." Whether as an individual or as a dental practitioner, taking the initiative for significant communication, collaboration and connections will move the dental school, campus, city, state and country forward, Gordon said. "The ability to interact on more than just a surface level to get an understanding of who somebody is, what their culture is, how they operate. It only makes us a better place," he said.

Recipients of Ida Gray Awards Since 1997
2019 – Carl Buchanon II, Dinella Crosby, Dr. Kevin Sloan
2018 – Kelsie Pittel, Hussain Haider, Dr. Shahrzad (Sherry) Mirafzali, Dr. Elliott Hill
2017 – Dr. Kenneth B. May, Carlotta Fantin-Yusta, Teresa Patterson
2016 – Dr. Bonita Neighbors, Guneet Kohli, Dean Laurie McCauley
2015 – Dr. David White, My Yang, Dr. Margherita Fontana
2014 – Scott Ward, John Squires, Isabel C. Castillo
2013 – Jauana Gissendanner, Elizabeth Easter, Wolverine Patriot Project
2012 – Ricardo Lugo, Dr. Henry Temple, Dr. James Lee
2011 – Christinel Dima, Evelyn Lucas-Perry, Dr. Sharon Brooks
2010 – Synthinia Pryor, Javier Johnson, Dr. Preetha Kanjirath
2009 – Dr. Ali Nikoo, Nejay Ananaba, Dean Peter Polverini
2008 – Elizabeth Rodriguez, Joan Anderson, Dr. William Gregory
2007 – Patricia Anderson, Brent Frey, Dr. Marilyn Woolfolk
2006 – Tamanika Terry Stewart, Paul Lopez, Dr. George Taylor
2005 – Diane Nixon, Justin Smith, Dr. Todd Ester
2004 – Patricia Katcher, Erika J. Tyler, Dr. GrahamR. Holland
2003 – Cara Voss, Paulta Lloyd, Dean William Kotowicz
2001 – Cheryl Quiney, Damon Watson
2000 – Dr. Emerson Robinson
1999 – Dr. Lisa Tedesco
1998 – Dr. Marita Inglehart
1997 – Dr. Lee Jones

###
The University of Michigan School of Dentistry is one of the nation's leading dental schools engaged in oral health care education, research, patient care and community service. General dental care clinics and specialty clinics providing advanced treatment enable the school to offer dental services and programs to patients throughout Michigan. Classroom and clinic instruction prepare future dentists, dental specialists and dental hygienists for practice in private offices, hospitals, academia and public agencies. Research seeks to discover and apply new knowledge that can help patients worldwide. For more information about the School of Dentistry, visit us on the Web at: www.dent.umich.edu. Contact: Lynn Monson, associate director of communications, at dentistry.communications@umich.edu, or (734) 615-1971.