Faculty Profile: Tae-Ju (TJ) Oh

7

min read
An educational journey from South Korea has lasted much longer than planned
This profile, originally printed in the Fall 2018 Dentalum alumni magazine, is one in a series highlighting School of Dentistry alumni, donors, faculty and students.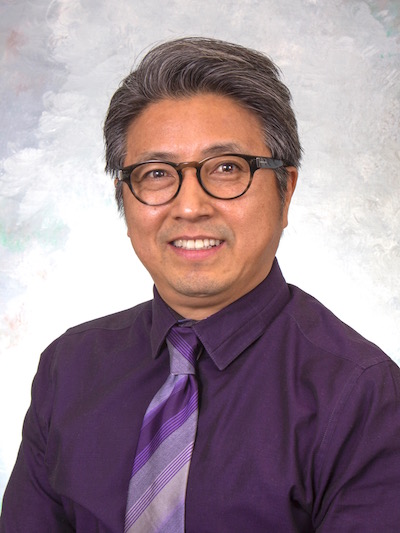 Ann Arbor, Mich., Dec. 1, 2018 — Tae-Ju Oh was a young dentist in Seoul, South Korea, in 1996 when he came to the University of Michigan School of Dentistry to advance his expertise in periodontology, prosthodontics and dental implants. He expected to complete his training and return to his thriving dental practice in a busy section of the South Korean capital.
Today, more than 20 years later, Oh's personal and professional journey is firmly established in Michigan and at the School of Dentistry. His 39-page CV documents two decades as a tireless and versatile educator, advanced clinical researcher and a leading periodontist who has held numerous leadership positions at the dental school and in professional organizations.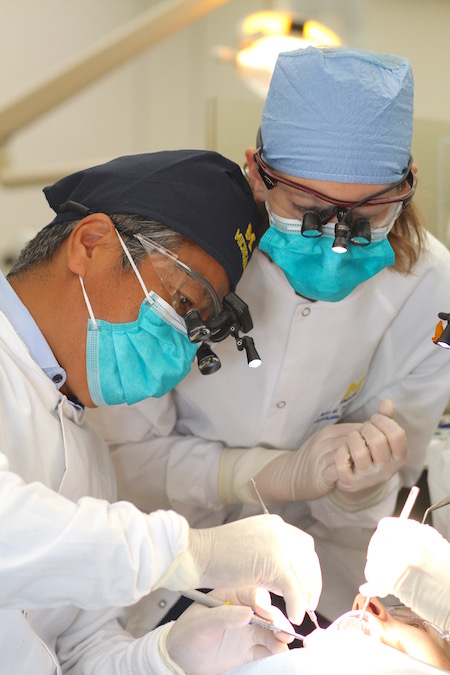 Oh is a clinical professor and associate chair of the Division of Periodontics in the Department of Periodontics and Oral Medicine. He teaches both in-classroom and in-clinic to all levels of pre-doc and graduate students, including dental hygiene students and the Internationally Trained Dentists Program. His basic clinical periodontics expertise is complemented by his experience in implant surgery and advanced bone grafting procedures. A major interest is flapless implant surgery, a minimally invasive surgery designed to preserve hard and soft tissue.
His research into implants and periodontics have led to more than 50 papers or book chapters in peer-reviewed journals and textbooks. He is a Diplomate and Examiner of American Board of Periodontology and Diplomate of the International Congress of Oral Implantologists. He serves on the Peer Review Panel of the Journal of Periodontology and on the editorial board of the Journal of Periodontal & Implant Science. He is a reviewer for a number of other scientific journals, including the Journal of Dental Research, International Journal of Oral & Maxillofacial Implants and Clinical Oral Implants Research. In 2007, he received the Tarrson Award from the American Board of Periodontology Foundation, and also the Outstanding Teaching and Mentoring in Periodontics Educator Award from the American Academy of Periodontology.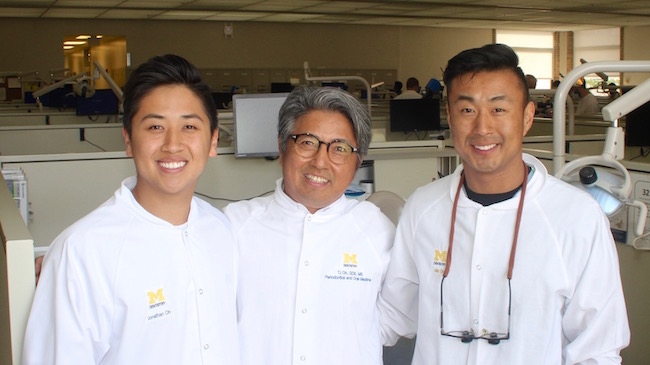 That's a resume Oh couldn't have imagined when he first graduated from the dental school at Seoul National University in South Korea in 1989. He spent the first three years of his dental career fulfilling his country's requirement for either military or community service. He chose the Public Health Service option and was assigned to provide dental care in a small, rural agricultural community, a vast change from his urban upbringing and fast-paced dental education. For a young dentist wanting to establish a thriving practice, it was a long three years. "I learned a lot from people, actually. They were not very educated, but they have a lot to give and share. So I grew up," he says with a smile. "I grew a lot from interacting with those people and meeting their dental needs."
He returned to Seoul and opened a private practice where he worked for three years. That was during a time when dental implants were a new trend in South Korea. While completing continuing education courses, he met dentists who trained in the specialty in the United States, so he began to think about expanding his expertise by doing the same. His older brother, Christian, was already in the U.S., in Michigan, after attending Calvin College and its seminary. "I got a taste of the U.S. training and education, and my brother was here and we sometimes talked about it," Oh said. "I really wanted to expand my scope, so that was the reason I came to the U.S. One reason was I knew that Michigan is one of the best universities in the world and the other reason was that my brother was here."
At the School of Dentistry, Oh first earned a postgraduate certificate in prosthodontics, then one in periodontics. He decided to complete a master's degree in periodontics, finishing in 2001. And then came another of his life-changing decisions: There was a lecturer opening in the graduate periodontics program. Oh's mentor, faculty member Hom-Lay Wang, encouraged him to apply.
"I did not plan to stay here," Oh said. "I planned to learn implant dentistry, which was very cutting edge at the time, and then go back to practice and be successful in a big city like Seoul. But I had the teaching opportunity and I was lucky to get the position. Even then, I planned to have the job for two or three years and go back to Korea."
As he settled into teaching, research and the annual cycle of academia, Oh liked what he was doing. He became more and more involved in clinical research, which he found rewarding, and he and his wife, Joo Youen, were busy raising three sons. "They were growing up and I was happy in what I was doing and I ended up staying," he says. After a year as a lecturer, he was appointed as a clinical assistant professor in 2002, then an associate professor in 2007 and a full professor in 2012. Remaining in academia was not an easy decision, he says, because income at the junior faculty level doesn't match what private practice would generate. He remembers numerous counseling sessions from his colleagues and mentors, including Hom-Lay Wang, Robert Eber, William Giannobile and Laurie McCauley, now dean of the school. Like most people early in their careers, his focus was more internal — on his family, his success and his future, he says, but over time he matured and realized that he could make a significant difference in the lives of others by staying in academia, for both teaching and research.
"I just try to work hard. Whatever was given to me, I wanted to work hard. Like clinical research, publications, teaching. And I got guidance from my mentors. I was lucky to be moved up," he said. "I like everything. That's why I stay here. I like to work with the people. My research is mainly the clinical projects so I interact with people — my co-investigators, the patients. I'm a quite active person, so it is more energy and motivation for me — seeing patients, seeing faculty, my colleagues and students."
Another of his rewards for staying at the dental school is that these days he has a front-row seat to see his sons progress in their chosen field. His oldest son, Min, is a joint DDS/PhD student at the dental school. His middle son, Jonathan, is a D1 just starting his DDS quest. His third son, Hoon, is also on the U-M campus, as a pre-med undergraduate student. "I feel blessed to be able to observe my sons pursuing their dream here at the U-M, the best dental school in the world," he says. "We all are so proud of each other and sometimes have lunch together sharing our experiences at this institution. I confess that it is very positive aspect of my life."