Dental students' Global Initiatives trip featured by university

1

min read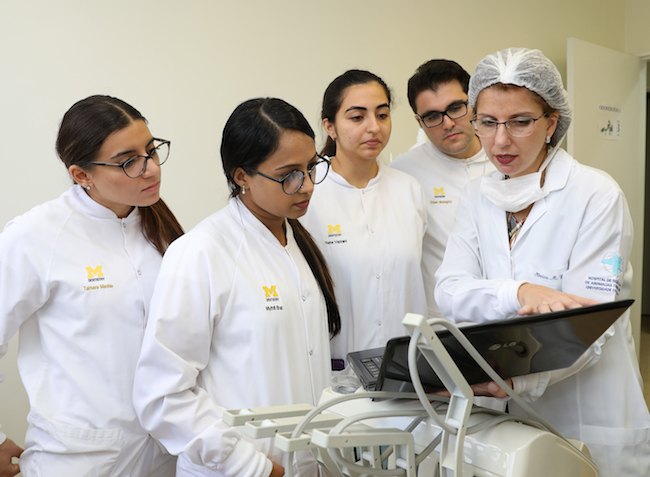 Ann Arbor, Mich., Nov. 19, 2018 -– Four students from the School of Dentistry who traveled to Brazil for an international study program earlier this year are the focus of a story featured on the home page of the University of Michigan website.
"A Global Vision of Dentistry" documents the experience of students Mythili Ramakrishna Bhat, Tamara Mackie, Ehsan Mostaghni and Neha Vazirani as part of the school's Global Initiatives in Oral and Craniofacial Health program. Mackie and Vazirani are fourth-year DDS students; Bhat and Mostaghni are enrolled in the school's Internationally Trained Dentists Program.
The students spent two weeks with the pediatric team and student dentists at the Bauru School of Dentistry at the University of São Paulo, working at Centrinho, the university's Craniofacial Anomalies Rehabilitation Hospital. It specializes in the treatment of congenital craniofacial anomalies, especially cleft lip and palate. In Brazil, one in every 650 children is born with the related conditions; worldwide, it is one in every thousand children.
The story, written by Fernanda Pires of Michigan News, details the hospital's interdisciplinary education and comprehensive rehabilitation process for children it treats.
Bhat said observing how dentists, physicians, speech therapists, local clinics and distant clinics coordinate care for the best possible results was a great learning experience.
Read the full story on the Global Michigan website.