Margherita Fontana installed as the Clifford T. Nelson Endowed Professor of Dentistry

7

min read
Ann Arbor, Mich., Nov. 7, 2018 -– Margherita Fontana, a professor in the Department of Cariology, Restorative Sciences and Endodontics, was installed on Oct. 26 as the Clifford T. Nelson Endowed Professor of Dentistry.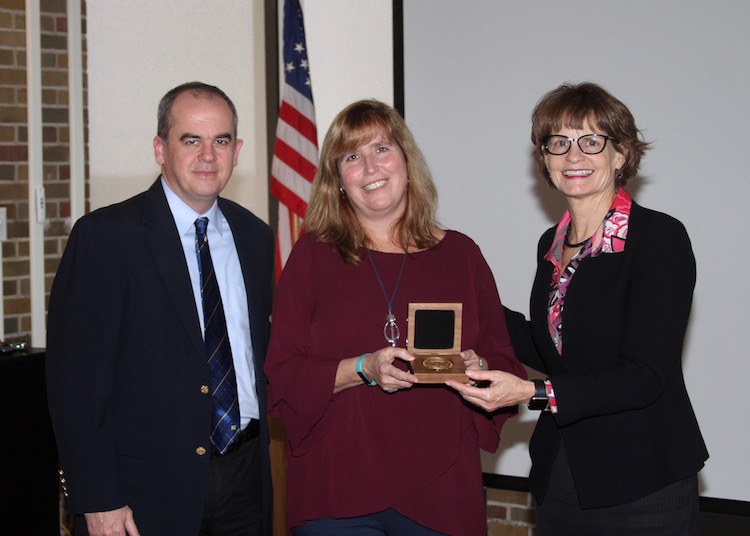 Fontana is recognized internationally as a leading scientist in the field of cariology, the study of tooth decay and how cavities develop and can be controlled, and has an extensive clinical research background in childhood caries management. The professorship is named for a 1919 graduate of the School of Dentistry who practiced in Grand Rapids for 58 years.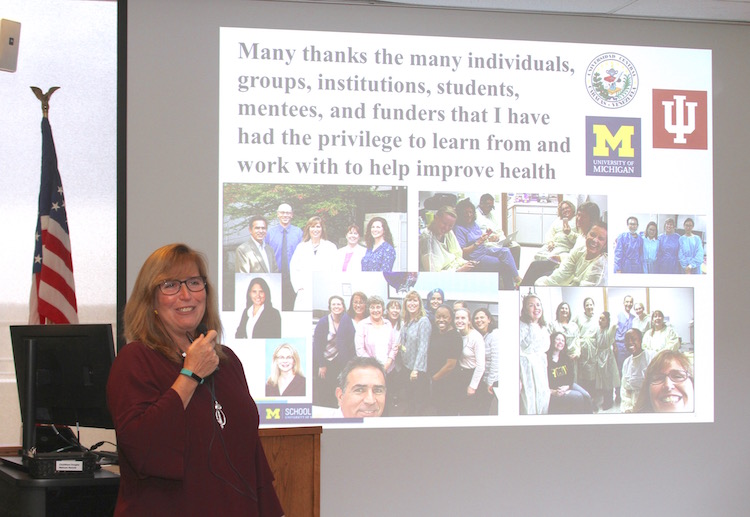 Dean Laurie McCauley said named professorships are a way to honor both outstanding faculty and the legacy of generous donors to the school. "The greatest institutions have the best minds, the most creative researchers and the most engaged teachers, and we are here today to celebrate one of them," McCauley said during the installation. "Not only is Professor Fontana's research exceptionally strong scientifically, but it has an incredible impact for children all around the world whose lives will be changed by this work."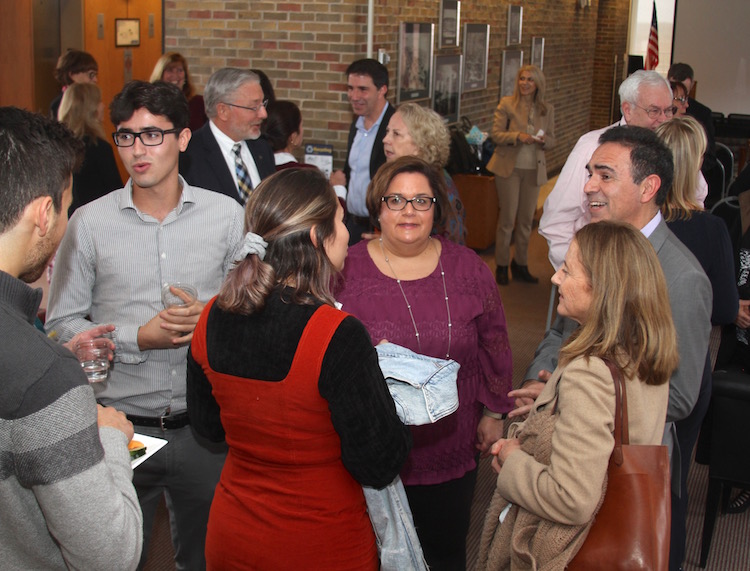 Fontana has conducted research in many areas of cariology and is currently focused on two particularly important long-term studies funded with $18.3 million in grants from the National Institutes of Health. The first, which expands research into predicting caries risk in young children, began clinical examinations in July 2018. The second grant, which began this fall, is a Phase 3 randomized clinical trial testing the effectiveness of Silver Diamine Fluoride, or SDF, in arresting caries in children ages 2-5. Both grants include multidisciplinary teams from around the world.
Jacques Nör, chair of the Department of Cariology, Restorative Sciences and Endodontics, introduced Fontana, praising her ability to bring together scholarship and teaching. He said her work in cariology is "helping to redefine the cariology curriculum in the United States and around the world."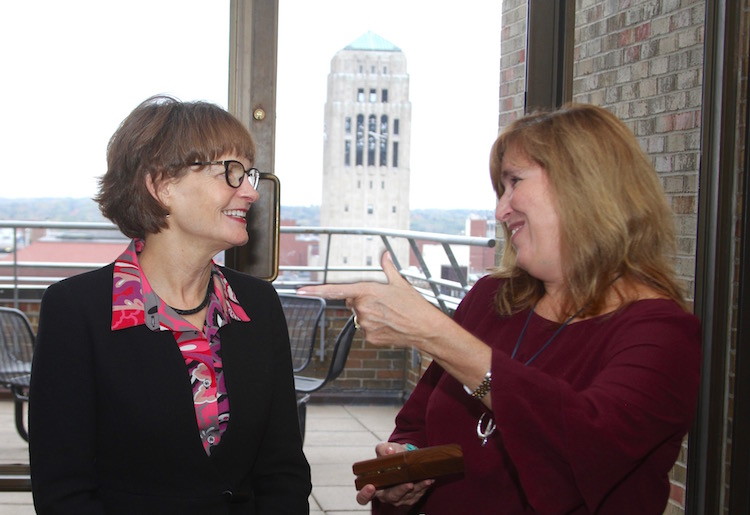 In her installation lecture, "Moving Dentistry Towards Evidence-Based Caries Management," Fontana highlighted numerous themes that run through her research projects and the increasing number of studies in the field of cariology. While dental professionals understand that oral health is integral to general health, she said, the general population is still learning why it is so important to manage oral health from early childhood and continuing on through the entire "life spectrum."
Throughout the world, even in the U.S., dental caries is a common and progressive disease that needs intervention. Safe and effective prevention measures exist, but are under-utilized, particularly in high-risk groups such as low-income communities where dental care is either not widely available or prohibitively expensive. While the traditional treatment of filling a cavity remains the most common way to manage advanced consequences of this disease, studies are showing that earlier stages of the caries disease process can be effectively treated using less invasive, less intimidating and less costly methods such as sealants and fluoride varnish. And even cavitated lesions can be treated less invasively using strategies such as SDF, now undergoing long-term studies in the U.S.
If caries lesions can be prevented and treated with the less-invasive procedures that do not involve drilling, for example, people are likely to be less hesitant to regularly see a dentist, Fontana said. "The more 'gentle' we can make the management of this disease process, the more likely people are going to want to come back," she said. "This is a chronic disease process and if people don't have a regular dental home, it is really hard to control because caries risk can change over the life of an individual. So we need to make these management strategies really patient-friendly and less costly."
Fontana emphasized the need for building a more coordinated system for improving children's oral health. She noted that children usually see doctors more often than dentists in the kids' early years because of vaccinations and other health developments. That makes it important for doctors to understand and educate families about best practices to maintain good oral health, while improving the flow of patients and information between medical and dental providers. The network needs to also include schools and social service agencies to ensure that oral health education and prevention messaging is consistent to facilitate implementation and follow-through.
"In order to be able to really tackle this disease process throughout the life spectrum, we can't do it alone," Fontana said, referring to dentists. "Certainly, we can't do it alone with the two contact points a year for a few minutes that we have with the patient. We really need an interprofessional team where preventive messages can be consistently delivered and interventions can be applied more broadly."
Fontana thanked the school for the professorship, praised the teams of researchers who help conduct her research, and acknowledged the contributions of the educators and mentors who have guided her education and career thus far. She also thanked her family, including her husband, Carlos González-Cabezas, the Richard Christiansen Collegiate Professor of Oral and Craniofacial Global Initiatives, for their support of her career, which often involves travel around the country and internationally.
Fontana completed her DDS at the Universidad Central de Venezuela in Caracas Venezuela, in 1990. She earned her PhD in dental sciences from Indiana University in 1996. In 2009, she was recruited to the U-M School of Dentistry as an associate professor and was promoted to professor in 2014. Among her many honors, she was recognized in 2012 at the White House by President Barack Obama with the Presidential Early Career Award for Scientists and Engineers. She has authored more than 100 peer-reviewed publications and nine book chapters. She has been invited to speak at 168 national and international conferences and has given numerous oral and poster presentations at research meetings. She served as a member of the state advisory committee on fluoridation. The University of Michigan presented her with its Faculty Recognition Award, given in recognition of a midcareer faculty who has made exceptional contributions to research, teaching and service.
At the dental school, Fontana has developed and co-directs two first-year courses in cariology, and contributes to 15 additional courses in the pre-doctoral dental, dental hygiene and graduate programs. She received two grants from the Center for Research on Learning and Teaching to further develop and improve the teaching of cariology. Both projects involved dental students, and have led to multiple presentations at the American Dental Education Association, the American Association for Dental Research and the International Association for Dental Research. She received the school's Ida Gray Diversity Award in 2015 and the Outstanding Teacher Award in 2011 and Certificate of Appreciation in 2018 from first-year dental students.

The professorship's benefactor, Clifford T. Nelson, grew up in Newaygo County on the west side of Michigan, the son of Swedish immigrants. He enrolled at the U-M School of Dentistry in 1915 and held leadership positions as class president and treasurer. During his nearly six decades of practicing dentistry in Grand Rapids, Nelson was noted for his devotion to excellence and his work in developing and perfecting techniques in restorative dentistry, including a method for casting gold inlays. Beginning in the 1960s, and continuing for more than three decades, he provided an annual award of $100 to the senior dental student showing the greatest interest and proficiency in direct gold inlay procedures. The winner was selected by the Department of Operative Dentistry. In 1984, he gifted 18 models of restorations with gold inlays to the school. After his death in 1988, a significant gift from his estate allowed the school to create the named professorship.
Fontana's renewable five-year appointment was effective June 1, 2018, and continues through May 31, 2023. The establishment of the professorship and the appointment of Fontana were approved by the U-M Board of Regents.