Four School of Dentistry students named CEW+ scholars

3

min read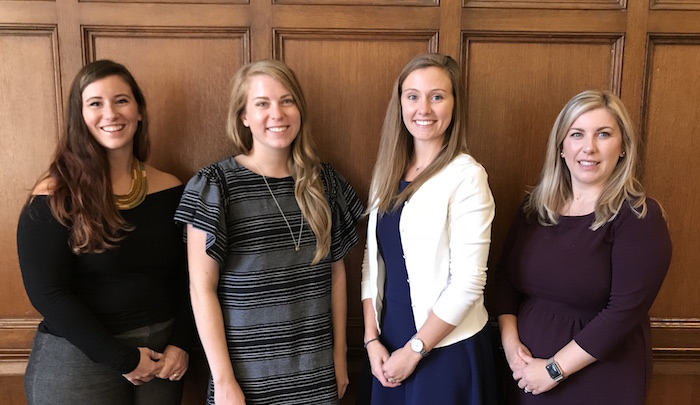 Ann Arbor, Mich., Sept. 27, 2018 -– Three dental hygiene students and a DDS student at the School of Dentistry received scholarships from CEW+ Sunday during the organization's 48th annual awards program.
The organization, formerly known as the Center for the Education of Women, presented 58 scholarships and four fellowships. The scholarship program was established in 1970 as part of the center's early efforts to support women returning to school; today the program serves nontraditional students of all genders, providing financial support and recognition for students whose voices and experiences are unique in comparison to their peers.
Students from the dental school who received awards this year are:
• Allison Carron, in her second year of the three-year Dental Hygiene bachelor's program, received a Margaret Dow Towsley Scholarship. Carron is a 2011 U-M graduate in fine arts whose career path began as an administrative assistant at two universities. She decided to switch into dental hygiene with the ultimate goal of earning a master's degree and working as a dental hygiene educator.
• Collen Freund, a second-year student in the on-campus Dental Hygiene Degree Completion program, received the Robert Bruce Dunlap Memorial Scholarship. After earning an associate's degree in dental hygiene, Freund worked as a hygienist for several years to pay her student loans. Encouraged by patients to pursue her dream of being a dentist, she is now working toward her bachelor's degree in dental hygiene, then plans to apply to dental school.
• Kristy Sanfilippo, a second-year student in the E-Learning Degree Completion Program, received the Molly H. Dobson Scholarship. Family, work and financial obligations prevented Sanfilippo from going beyond her associate's degree in dental hygiene for several years, but she was inspired by a co-worker who returned for a bachelor's degree later in life. Once Sanfilippo finishes the bachelor's degree, she plans to pursue a master's in either dental hygiene or public health.
• Heather Rae McAlvey, a third-year DDS student, received a Margaret Dow Towsley Scholarship. After completing her undergraduate degree in Spanish, McAlvey worked for Americorps VISTA, connecting members of a predominantly Spanish-speaking community to food banks, health care professionals and domestic violence shelters. She later worked at a nonprofit farm that provided rehabilitation services to people with traumatic brain injuries. On track to graduate from dental school in 2020, her vision is to use her career as a dentist to spread health and well-being to those who need it most.

CEW+ said the collective $390,000 in awards this year is the largest annual total in its history. This year's scholarships range from $1,000 to $15,000, with an average of $6,000, to cover the cost of tuition and living expenses.
The organization was founded in 1964 and its first scholarships were awarded in the fall of 1970 to mark the 100th anniversary of women being admitted to U-M. CEW+ provides immediate and ongoing services and the financial support needed to ensure educational success and degree completion. Women and underserved students are CEW+'s primary constituency, but all students are welcome. CEW+ also serves those who encounter education and career obstacles based on their non-linear paths to, and experiences within, the university community. Funding for its scholarships and fellowships comes from individuals, organizations, clubs and foundations. More information about CEW+ is available on its website.