Message to Class of 2018: Unleash your greatness

10

min read
DDS, Dental Hygiene and graduate degrees celebrated at Hill
Ann Arbor, Mich., May 8, 2018 -– School of Dentistry graduates left their commencement ceremony Friday at Hill Auditorium with more than degrees focused on the oral health of their patients; they also carried with them the responsibility of leadership and public service for the greater good of their communities.
That was a common message emphasized by speakers as the school presented 130 Doctor of Dental Surgery degrees, 39 Bachelor of Science in Dental Hygiene degrees, one Doctor of Philosophy in Oral Health Sciences degree and 29 Master of Science degrees in Dental Hygiene, Endodontics, Orthodontics, Pediatric Dentistry, Periodontics, Prosthodontics and Restorative Dentistry.
Dean Laurie McCauley said the ceremony celebrates the graduates' decision to pursue a career that will significantly improve the lives of thousands of people in their work as dentists, dental hygienists, researchers and educators. "We also celebrate your ability to reach the finish line – your ability to push through the hard work, the grueling study sessions, the micro details that your professors demanded," McCauley said. "We couldn't teach you the answer to every possible dilemma you will encounter, but we're confident that we've prepared you to think, to collaborate and to lead the way to the best solution to whatever challenge you encounter along your path."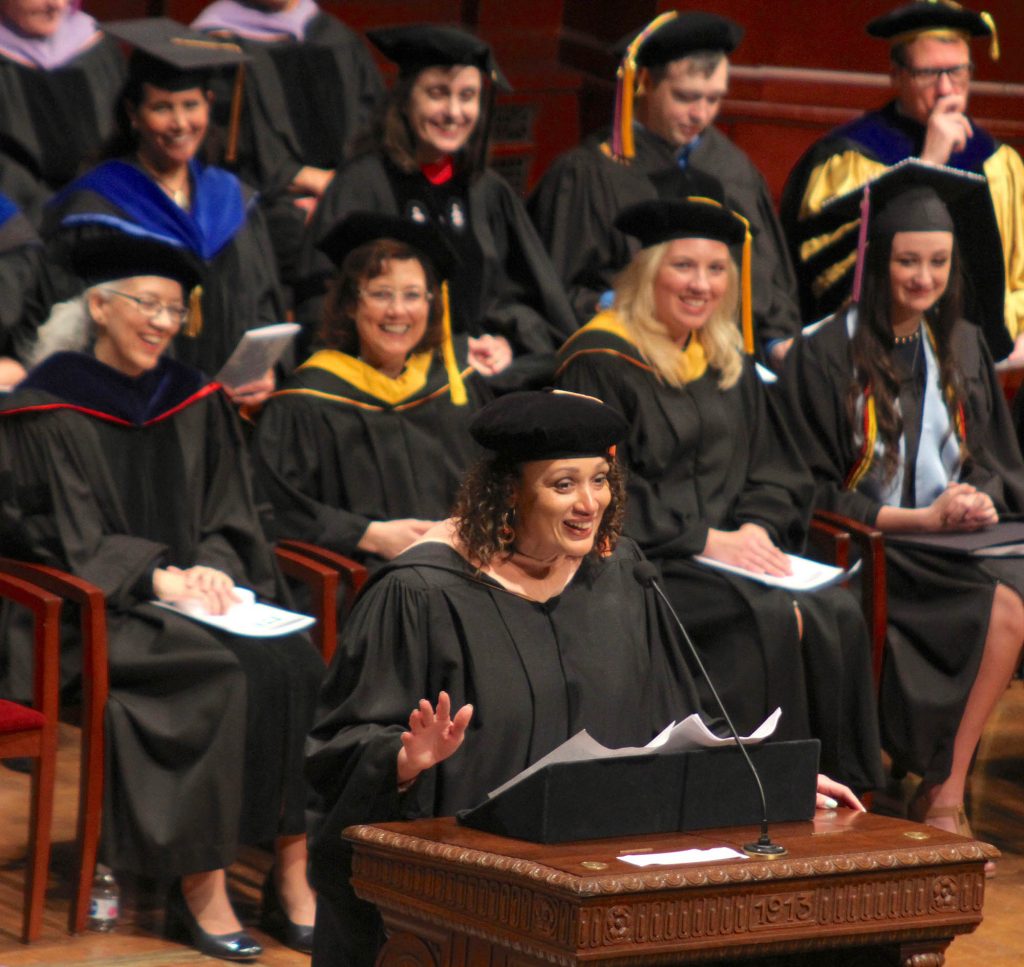 In introducing commencement speaker Tonya Allen, McCauley noted that Allen is "a shining example of how one person can make a difference in a community." Allen, president and chief executive officer of The Skillman Foundation in Detroit, has a long list of accomplishments as a civic leader and social justice advocate. The foundation she leads works to ensure that the youth of Detroit have access to high-quality educational and economic opportunities.
Allen told graduates they are a "new tribe" ready to be change agents and leaders wherever they may go with their careers. "You ought to be excited, you ought to be exhilarated, you ought to be exhausted, and you ought to be ready to change the world," she told them. "That's exactly what all of us in this room are expecting of you. We're ready for you to take on the world."
Allen listed five rules for being part of the new tribe: Know your DNA; make leadership your cultural norm; develop problem-smashing audacity; understand the importance of risk, urgency and momentum; and be persistent. The first step is to know yourself and your particular purpose, Allen told graduates, adding, "Stop trying to fit in and start trying to stand out." She said a good leader is about being the change rather than asking others to change. "Understanding the burden of citizenship – what is not your fault is still your responsibility – will change your perspective," she said.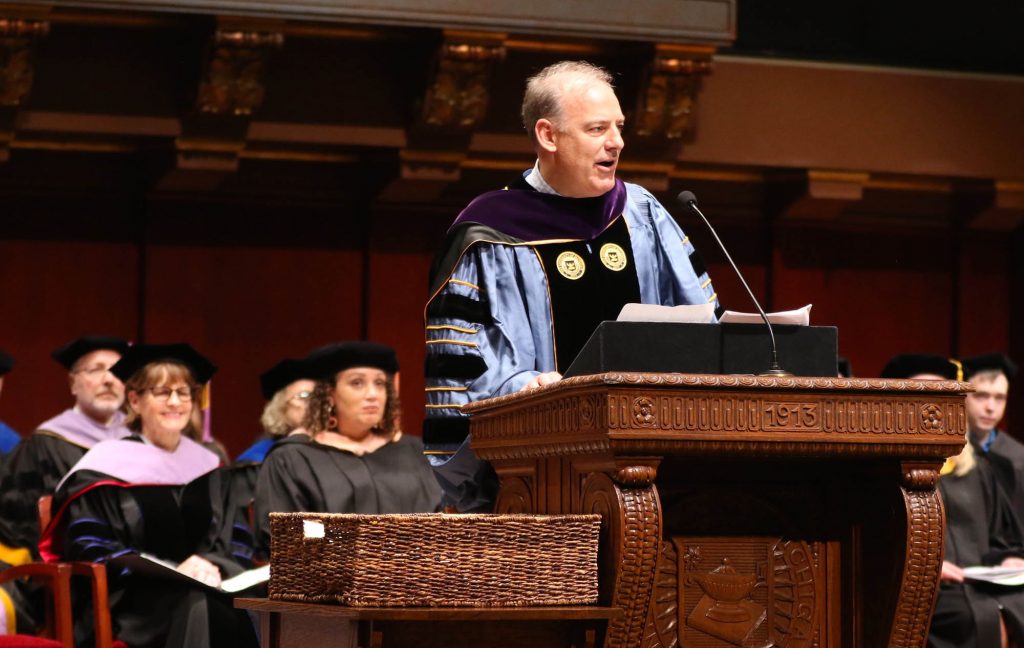 Allen said audacity is a boldness, a willingness to confront problems without restraint while understanding that change comes from persuasion rather than force. Solving problems involves curiosity, questioning, probing, uncovering, connecting, listening and engaging others, she said. Engaging in societal issues requires risk, urgency and momentum, particularly in contentious times when it might seem easier to stay out of the fray. "Make sure you are pushing toward the kind of change you believe this world deserves," she said. "We need you to act … to be deeply imbedded in communities and knowing that everything you do matters." Allen said the most important quality is persistence, quoting the adage that "a river cuts through rock not because of its power but because of its persistence."
"We are waiting on you to unleash your greatness, your power and your contribution – to your patients, to your families and to our society," Allen said.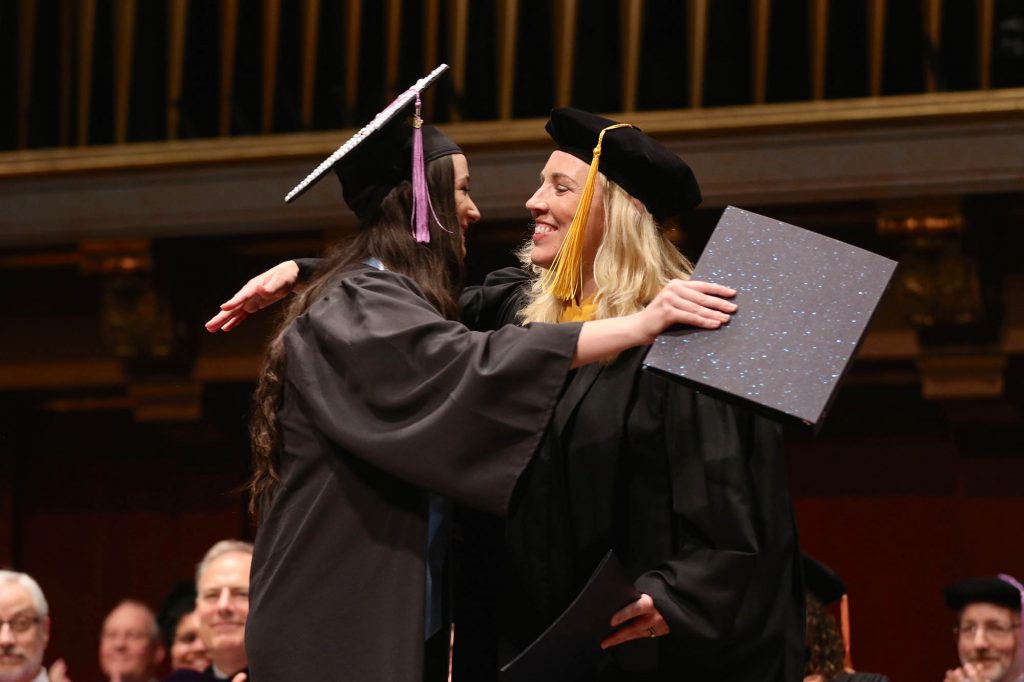 Tristan Clark, president of the Dental Hygiene senior class, said that pursuing her education at U-M changed her life. "Coming to this university has forced me out of my comfort zone and taught me to not be afraid of failure," she said. "It is because of this that I was truly able to find myself and grow as a person. It is here that I learned that I – just like all of us graduating today – can do anything we set our minds to."
Clark reflected on what it means to graduate from the top dental school in the nation at a university that cites "The Michigan Difference." "At first, I thought it meant impossible exams and having a 93 percent be a B-plus," she said. "But then, I took a moment to reflect and thought back to something that I was told at orientation and that has always stuck with me. When entering this program, we were told that although perfection is impossible, it was expected. To me this is The Michigan Difference. It is to strive for the impossible and to truly be the leaders and the best in our fields."
Clark introduced the Dental Hygiene Faculty Award, describing clinical lecturer Iwonka Eagle as a faculty member with unending patience when students struggled with both basic skills in their early classes and with the more complex and intimidating procedures throughout their three years in the program. Eagle acknowledged the difficulties of clinical requirements, proficiencies, test cases, exams and group projects, but said that makes the students' graduation all the more impressive. "What we have given you at the University of Michigan is a solid foundation, but you will learn so much more working in the real world," she said. "You will, without knowing it, become more proficient, more skilled, and, most importantly, you will become mentors, educators and advocates for your patients."
Eagle urged the graduates to view their degree as a stepping stone to many other career alternatives. "I challenge you to be lifelong learners, and continually stay open to new opportunities that may lead you to a path you never thought you would take," she said. "Go forth and set the world on fire!"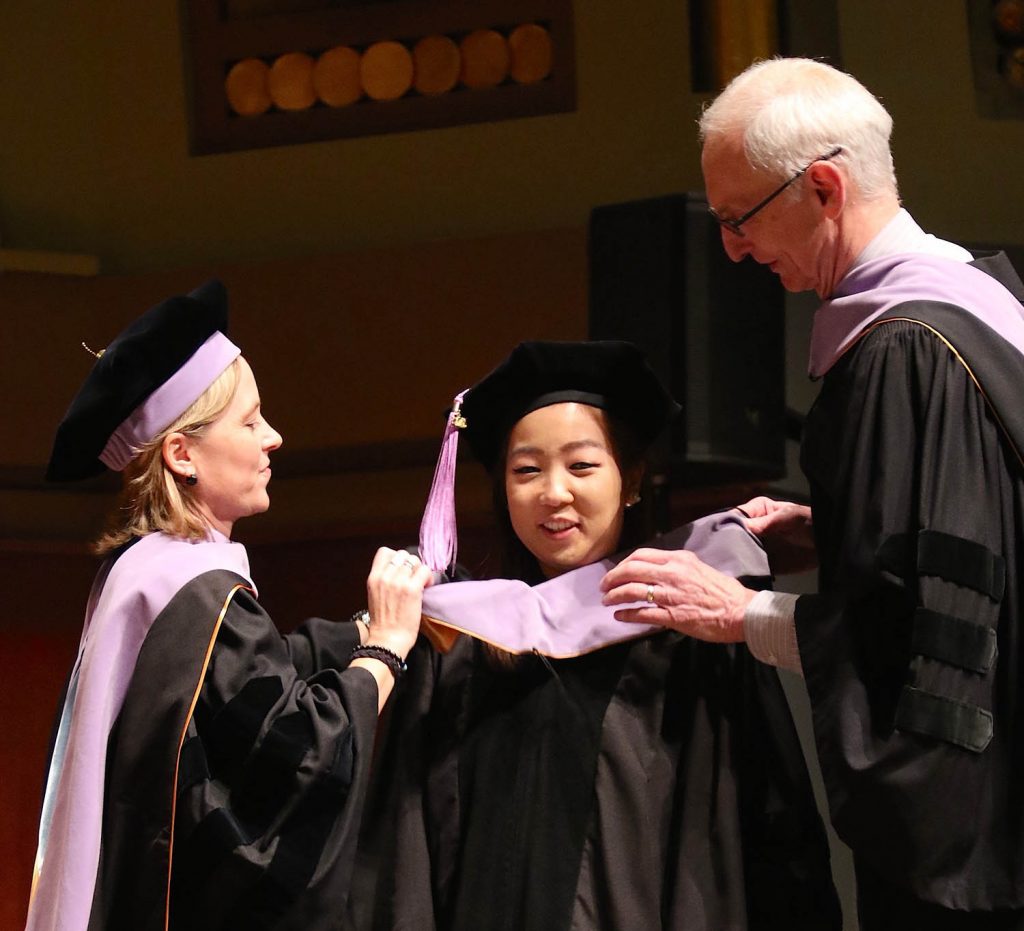 Alisa You Yeon Lee, who served as president of the DDS Class of 2018 for all four years, reflected on how a group of more than 100 people arrived as strangers and quickly bonded as classmates, colleagues and friends during the shared hardship of navigating a new, difficult and fast-paced curriculum. Among the adventures along the way: Many hours in the head and neck anatomy lab; preparing their first set of plastic teeth; taking 10 exams in a week; cleaning each other's teeth for the first time; practicing local anesthesia on each other; playing phone tag with patients; learning to extract teeth; and working in community health clinics all around the state of Michigan.
"We have become friends and we have become family," Lee said. "Everything from sharing study guides for exams to reminding each other to not forget to eat that free bagel on Wednesday mornings, we were inseparable and we always had each others' backs. I feel extremely lucky to have these intelligent, kind, patient and good-looking classmates as my colleagues, friends and family."
Lee also recognized family members for their contributions: "All of you sitting out there today, we aren't here to be celebrated by you, we are here to celebrate alongside you." Lee thanked family members for their patience in listening to the frequent and long conversations as students vented over the last four years about teeth, dental school, dealing with patients and various frustrations. "On behalf of my colleagues and I, we're sorry and we thank you for putting up with us on our good days and our stressed days," she said. "We could not have gotten through it without your support and we want to thank all of you for traveling here to join us on this important day."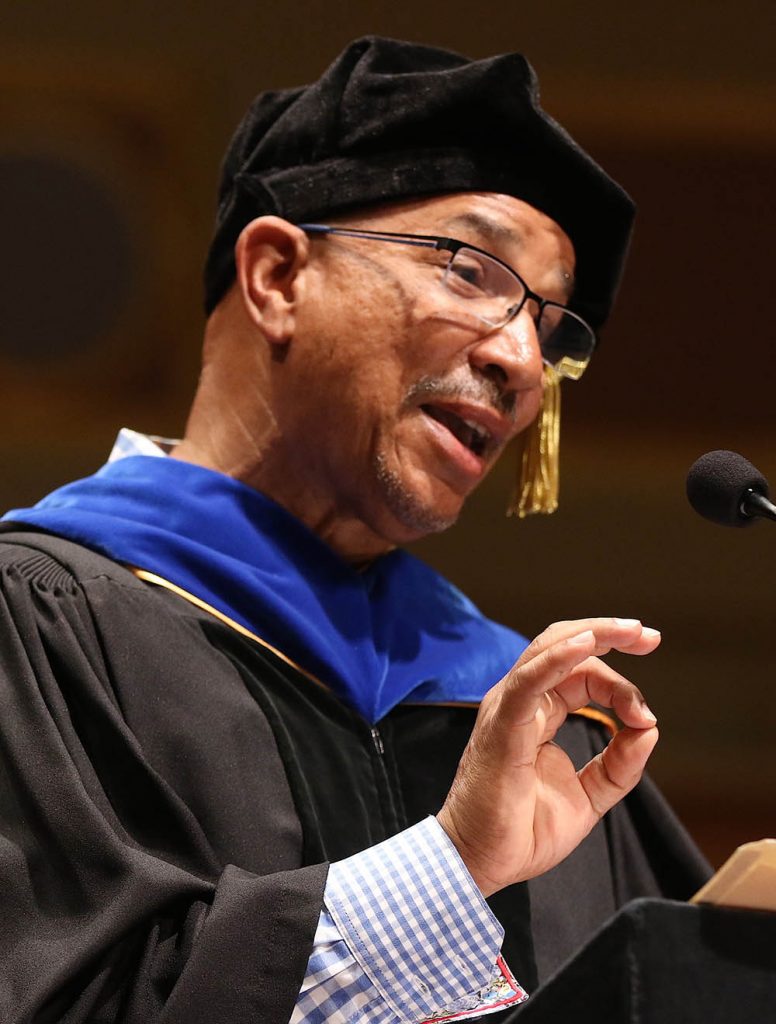 Lee introduced Dr. Elliott Hill, a clinical assistant professor who was selected by the senior class for the Paul Gibbons Award, presented to a faculty member who has contributed significantly to the success of the class. Hill's speech, which was more a lyric poem with a catchy cadence and rhyming throughout, drew a standing ovation led by the senior class. Hill said his philosophy revolves around a simple act: "When you open your eyes each morning, decide to have a great day." He continued:
"You see, a great day is a decision, a choice that you make.
It doesn't depend on events in the path that you take.
A great day's about me, it's not about you.
It's not affected by the things that other folks do."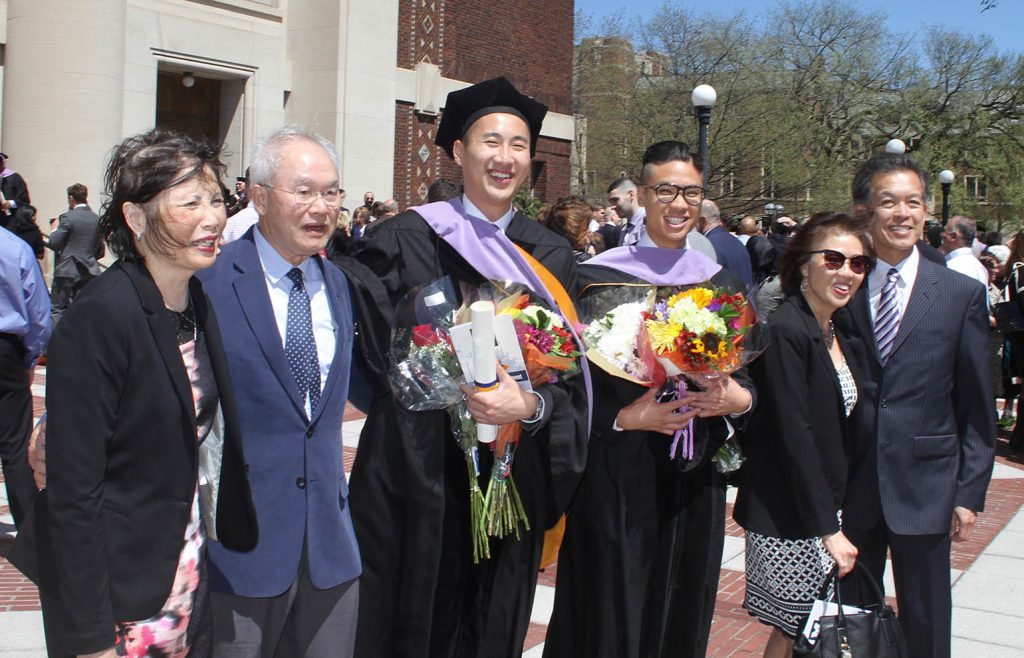 Hill related a letter he received in the last year from a woman who recounted a conversation they had 17 years ago when they were both part of a worship music team. She was young and going through difficult times. She said Hill noticed that she seemed depressed and engaged her in conversation. Hill said he had forgotten the encounter, but the woman remembered his words of encouragement that included the advice: The only one who can stop you is you. Hill said he was emotional as he read the woman's letter, but it made him feel better, like a superhero.
"So my message is simple, my message is this:
Each morning when you wake up, it's up to you to insist
That today will be a great day and if this decision you have the courage to enlist
Then you will realize and surmise that along with the sunrise
A great day is dawning for you
And if you do
Believe that it's true
Not only will you Go Blue
But one day you'll be a hero, too."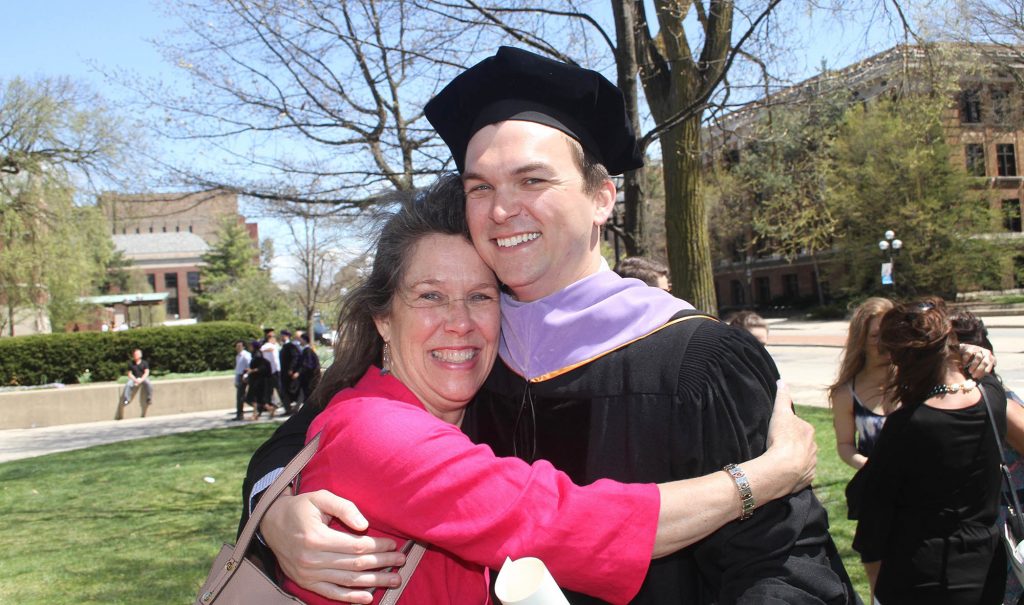 ###
The University of Michigan School of Dentistry is one of the nation's leading dental schools engaged in oral health care education, research, patient care and community service. General dental care clinics and specialty clinics providing advanced treatment enable the school to offer dental services and programs to patients throughout Michigan. Classroom and clinic instruction prepare future dentists, dental specialists, and dental hygienists for practice in private offices, hospitals, academia and public agencies. Research seeks to discover and apply new knowledge that can help patients worldwide. For more information about the School of Dentistry, visit us on the Web at: www.dent.umich.edu. Contact: Lynn Monson, associate director of communications, at dentistry.communications@umich.edu, or (734) 615-1971.