Research Day showcases the school's scientific breadth and depth

6

min read
Ann Arbor, Mich., Feb. 22, 2018 — A dual degree DDS/PhD student studying head and neck cancer stem cells received one of the top awards Wednesday at the School of Dentistry's 2018 Research Day, which also honored research staff and faculty for their contributions to the school's research mission.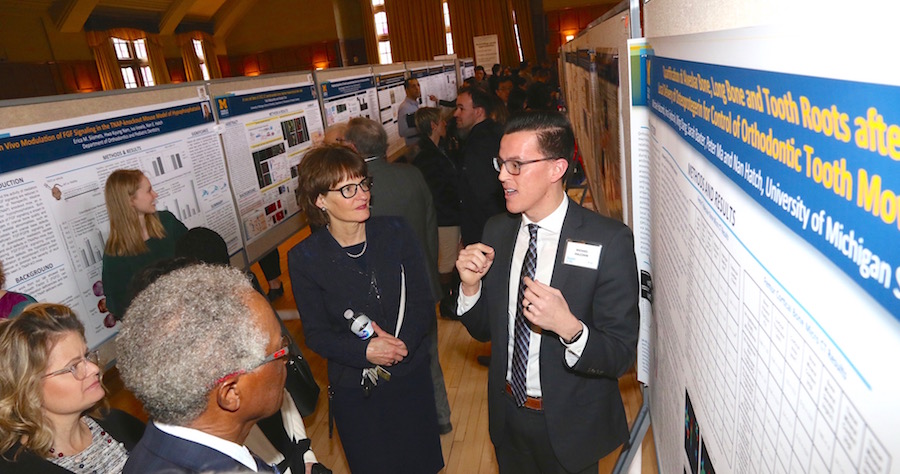 The annual event showcases a wide array of research by the school's dental and dental hygiene students, faculty and staff. This year, 98 poster presentations were on display at the Michigan League. Awards were presented in several categories from undergraduate to PhD and postdoctoral fellows. The event is also attended by exhibitors and sponsors from organizations and companies related to dentistry.
Dr. Lawrence Tabak, principal deputy director of the National Institutes of Health, was the keynote speaker, and he also conducted a public policy discussion on campus earlier Wednesday. (See related story.)
During an awards ceremony at the end of the day, Dean Laurie McCauley said the variety and quality of research by the school's students is outstanding. "It just keeps getting more and more awesome every year," she said. "There's only one thing better than doing great science and that's communicating it. I hope that you all really enjoyed being able to share the science that you did with our community, and for those of us who got to see and hear about it, we really appreciate it."
Judging was completed in advance this year. Judges reviewed research abstracts and selected 16 finalists to give oral presentations. The finalists were identified with ribbons during the poster presentation, with the winning researchers announced at the awards ceremony by Dr. Russell Taichman, Associate Dean for Research.
Among the top awards:
• Alexandra Oklejas, a dual degree DDS/Oral Health Sciences PhD student, won first place in the American Association of Dental Research SCADA program, or Student Competition for Advancing Dental Research and its Application. Her research – "Combination Chemotherapy Decreases Head and Neck Cancer Stem Cells" – is mentored by Dr. Jacques Nör, chair of the Department of Cariology, Restorative Sciences and Endodontics. Oklejas's research focuses on Cisplatin, a chemotherapy medication used to treat various cancers. While it is effective in some, cancer stem cells continue to develop in head and neck squamous cell cancer. Oklejas's research shows promise with a combination chemotherapy of Cisplatin and Tocilizumab, an immunosuppressive drug, to decrease cancer stem cells in this type of cancer. Oklejas will represent the school and present her research at the annual national conference of the AADR next year. This award is sponsored by Dentsply-Sirona, a dental supply company.

• Students pursuing DDS, Dental Hygiene, Master's of Science or undergraduate degrees received School of Dentistry research awards in two categories – Clinical Research and Basic Science. First place for Clinical Research was presented to I. Ching Wang, a master's degree student who is mentored by Dr. Hom-Lay Wang, for "3D Volumetric Tissue Changes on Immediate Implants With or Without Immediate Provisionalization." First place for Basic Science was awarded to Nolan Kavanagh, a master's degree student mentored by Dr. William Giannobile, for "Micropatterned scaffolds with immobilized adenoviral growth factor delivery regenerate bone and periodontal ligament-like tissue in vivo."
• PhD candidates, post-doctorate, staff and faculty also received School of Dentistry research awards in both Clinical Research and Basic Science. First place for Clinical Research was presented to Mustafa Tattan, a post-doc mentored by Hsun-Liang (Albert) Chan, for "3D Ultrasonography of Alveolar Ridge Surface: A Proof of Principle Pre-Clinic Study." First place for Basic Science was awarded to Maiko Omi, a post-doc mentored by Yuji Mishina, for "Molecular and cellular analyses of BMP-dependent coupling signals between osteoclasts and osteoblasts during bone remodeling."
• The AADR Travel Award was presented to Michael Halcomb, who receives a travel stipend to attend this year's AADR conference in March in Florida. The third-year DDS student's research presentation was "Microsphere Controlled Drug Delivery for Local Control of Tooth Movement."
• Dental Hygiene research awards included first place in Original Research to Tristan Clark, Elizabeth Sciriha and Christy Weidmayer for "Surveying Nurses' Knowledge and Confidence of Discussing Oral Health with Patients with Bleeding Disorders."
Other awards presented Wednesday were not tied to specific research projects. They include:
• Xiaoxi Wei, a visiting scientist in the lab of Dr. Fei Liu, received the Janice E. Berry Prize for Excellence in Research. The family of Berry, a longtime U-M and dental school staff member who died in 2016, created the $1,000 award last year to recognize a full-time researcher who may be currently experiencing a financial hardship. The applicant must have demonstrated excellence in research, teaching, mentoring, service and leadership. Wei was cited for her enthusiasm and commitment to scientific research, and for mentoring others.
• Charlotte Mistretta, professor in the Department of Biologic and Materials Science, received the Distinguished Faculty Research Mentoring Award after being nominated by students and colleagues. The annual award, now in its second year, recognizes faculty who impart their research knowledge and experience with students and scholars in areas of clinical, basic science and-or translational research. Nominations described Mistretta as approaching data with unique perspectives that lead projects in new and unexpected directions. "As a scientist, she is unapologetically rigorous," one nominator said.
• A new award, the Research Staff Recognition Award, was presented to two staffers. Hwa Kyung Nam, a research lab specialist associate in the Orthodontics and Pediatric Dentistry Department, was cited for her outstanding work ethic and for encompassing "every core value of the School of Dentistry's mission statement." Chris Strayhorn, a laboratory supervisor in Oral Medicine and Pathology, was praised for contributing to the school's mission of excellence over the last 25 years through his many contributions to countless research projects and papers.
• Pat Schultz, business manager for the Office of Research, and Manette London, an administrative specialist in the office, were recognized for their essential contributions to the success of the research program. Both are retiring later this year.
• Dan Chiego, associate professor in the Department of Cariology, Restorative Sciences and Endodontics, was cited for his longstanding work with Research Day and mentoring of students.
View the complete list of awards at the 2018 Research Day.
###
The University of Michigan School of Dentistry is one of the nation's leading dental schools engaged in oral health care education, research, patient care and community service. General dental care clinics and specialty clinics providing advanced treatment enable the school to offer dental services and programs to patients throughout Michigan. Classroom and clinic instruction prepare future dentists, dental specialists, and dental hygienists for practice in private offices, hospitals, academia and public agencies. Research seeks to discover and apply new knowledge that can help patients worldwide. For more information about the School of Dentistry, visit us on the Web at: www.dent.umich.edu. Contact: Lynn Monson, associate director of communications, at dentistry.communications@umich.edu, or (734) 615-1971.