Alums Joe and Barb Kolling: A remarkable commitment to dentistry

9

min read
This profile is one in a series highlighting School of Dentistry alumni, donors and students.
Ann Arbor, Mich., Jan. 9, 2018 -– When Barb Franke and Joe Kolling started dating in 1977, she was a senior at a suburban Detroit high school and he was a student at the University of Detroit. Among the things they shared in common, they discovered, was an interest in dentistry.
A few months after they met, Joe entered the University of Michigan School of Dentistry on his way to a DDS in 1981 and an MS in 1984 in what was then Restorative Dentistry, also known as Crown and Bridge. Barb also chose U-M and earned her bachelor's degree in Dental Hygiene in 1983.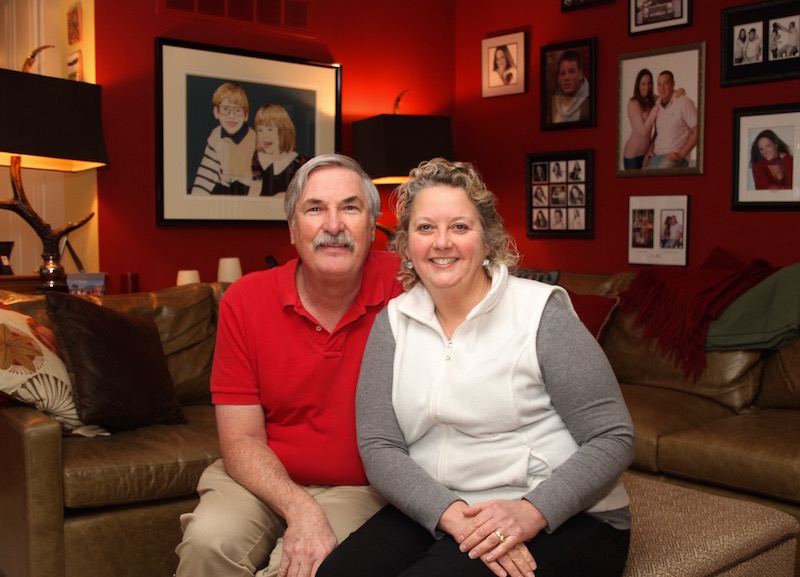 Today, 40 years later, the married couple's "interest" in dentistry is better described as a lifelong devotion. On a recent snowy winter afternoon, they sat in the warm comfort of their Ann Arbor home and talked about how their life together has always involved – and continues to involve – the advancement of dentistry.
Joe is a co-owner of Oak Valley Dental Associates, a private practice in Ann Arbor, and he continues to teach at the School of Dentistry as he has since 1981. His lengthy resume shows an extensive list of leadership positions he has held with local, state and national dental organizations, including a year as president of the Michigan Dental Association from 2005-06. He has won numerous teaching awards from dental students and received the Distinguished Service Award from the School of Dentistry Board of Governors in 2011. Barb is mostly retired as a hygienist, working a single morning a week, after 35 years of meeting the needs of patients at three local practices. Her immersion in dentistry continues, however, because six years ago she became executive director of the Washtenaw District Dental Society, the local organization affiliated with the Michigan Dental Association and the American Dental Association.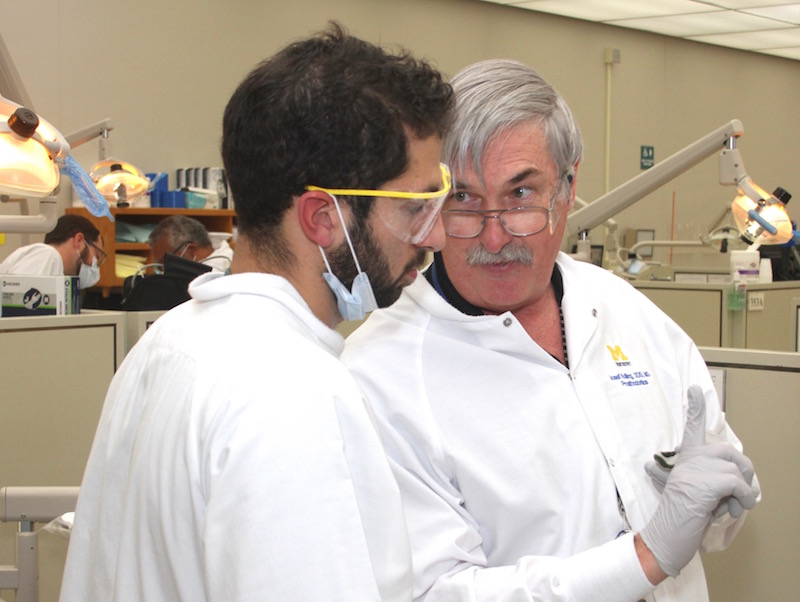 Joe says he's glad he has never had to choose between teaching and private practice because he loves both. He says he was lucky to fall into a teaching position even before he graduated from dental school. "It's not a joke," he says, "I graduated on a Sunday and started teaching on a Monday." That sweet deal for a new grad was facilitated by faculty members Gerry Charbeneau, from operative dentistry, and George Myers, from crown and bridge, who each offered Joe a half-time teaching position – thus, a full-time job – once he graduated. He hadn't thought much about teaching, but couldn't say no to such a great offer and that was the start of what has turned out to be a lifelong combination of teaching and practicing.
During that first year of teaching, local dentist Dr. Hugh Cooper invited Joe to join his practice as an associate, so Joe worked a couple of nights a week for Cooper while teaching during the day at the dental school. The following year Joe returned to dental school full-time to earn his master's in restorative dentistry, a move that would help him advance in the private practice as well as in teaching. Over the next 20-plus years of his tenure with the Cooper practice, first as an associate and later as an owner, he gradually dropped his teaching appointment from half-time to 30 percent. That amounts to a day and a half a week at the dental school, which has been his routine since 2001.
On a recent Friday teaching shift, he bounces around the 3-Blue clinic as students summon his expertise via the faculty requesting system on electronic tablets at each end of the room. His upbeat demeanor provides a reassuring, can-do confidence for the students as he checks their work and helps them with various prosthodontic devices and procedures. In one cubicle, he explains to fourth-year student Maryam Qureshi about bite splint fabrication, then returns later to make sure her final product works well for the patient. He crosses to the far side of the clinic to demonstrate the various steps that third-year student Patrick Dionise will need when border molding a custom tray with compound for a denture impression. "The most common mistake is …," he says, offering up an observation based on his years of experience. Satisfied that the student can proceed without him, Joe starts to leave the cubicle, then leans back in for a moment to offer: "The only other tip I have for you is …"
Joe acknowledges that his methods are a product of the so-called "Michigan Way" – a culture of unrelenting excellence and the highest standards for procedures pioneered by the world-class dentists who have led the school over the last century. "For me, the Michigan Way was not only learning how to do something, but also learning why we were doing it," Joe says. "Not only did you learn how to do the thing, but you learned how to explain it to your patient and explain it to a colleague. And probably teach it to a few people who weren't quite sure why they were doing what they were doing. So it was another layer of detail beyond what I think was happening in other places."
Barb remembers the same culture on the Dental Hygiene side of the school – an emphasis on listening to patients and thinking critically about every procedure. "They taught you to think at Michigan," she said. "They didn't just teach you to pass the boards. For example, if you went to speak with a drug representative or with a salesperson, the faculty taught you what the word 'efficacy' means. They taught you how to question (the companies') tests and to see if that was really what you needed, what you wanted. I think it's the thinking underneath – critical thinking."
Barb laughs when she thinks back on the early days of her hygiene training. In those days, hygiene students wore white uniforms and hats. The only earrings allowed were studs that couldn't be more than 4 millimeters, or some such restriction; students wondered if administrators would really come around with calipers to measure. More seriously, she remembers great faculty and her own sense of idealism as she began her first clinical work. "I was going to be the one to change the world. I was going to be the one to get that patient to brush, to get that patient to floss. Oh, no, they are not going to get their teeth extracted, they are going to do a great job and have their teeth for the rest of their life. I was so idealistic."
Her patients have had extractions, of course, but she takes satisfaction in the two-way nature of the relationships with her patients over the years. "We help give them what they need. In return, they give us something that we need – pats on the shoulder, telling us good job, smiling. It's about knowing you left something better than you found it, and empowering them to do it on their own."
Both Kollings have found rewards beyond the main patient care part of the profession. When Joe was president of the MDA in 2005, he spent much of his year working on a plan to purchase or construct a much-needed new building for the organization. He determined that the MDA House of Delegates needed to approve a special assessment for long-term funding of the project so that property negotiations could move forward. He and other MDA officers and board members convinced the House to approve the assessment, which led to the completion of a new MDA headquarters in Okemos. Subsequent re-approvals of the special assessment allowed the building to be paid off in short order. Joe considers this to be the lasting legacy of all the leaders who guided the organization during that time.
Joe has also served the American Dental Association on various committees and initiatives, and chaired the successful campaign for Ray Gist, a U-M alum, to become president of the ADA, the first African-American to hold the position. Joe says his work with the dental organizations have not only advanced the profession but provided the Kollings with many new and very close friendships that have enriched their lives.
Barb's work with the Washtenaw District Dental Society has included linking to the membership management software of the ADA, one of the first local dental societies across the country to do so. The society received a national award from the ADA for its efforts to engage dental students from U-M and the University of Detroit-Mercy with its more than 400 members; the "Sponsor a Student" program invites students to attend the society's general meetings, usually held four times a year, so that students can meet with practicing dentists to talk about the profession and gain career advice. Most recently, Barb worked with WDDS members and the MDA Foundation to raise money and start a new scholarship for U-M students.
Asked why the couple became involved in so many aspects of dentistry, from supporting the U-M dental school to working with local, state and national groups, they point to being taught from an early age in their families that "you leave things better than you found them."
"It's a culmination of so many things," Barb said. "When things work, it's wonderful. You just want to keep making things better. It's the relationships with people. The students keep you energized. … I think people were good to us and dentistry was good to us, and I want to make sure it's like that for everybody."
###
The University of Michigan School of Dentistry is one of the nation's leading dental schools engaged in oral health care education, research, patient care and community service. General dental care clinics and specialty clinics providing advanced treatment enable the school to offer dental services and programs to patients throughout Michigan. Classroom and clinic instruction prepare future dentists, dental specialists, and dental hygienists for practice in private offices, hospitals, academia and public agencies. Research seeks to discover and apply new knowledge that can help patients worldwide. For more information about the School of Dentistry, visit us on the Web at: www.dent.umich.edu. Contact: Lynn Monson, associate director of communications, at dentistry.communications@umich.edu, or (734) 615-1971.