Students receive Customized Oral Hygiene Therapy awards

5

min read
New initiative focuses on patient education
Ann Arbor, Mich., Jan. 5, 2018 -– Eight School of Dentistry students were recently recognized for their contributions to a new patient education initiative that uses customized instructional videos to help patients learn about and improve their oral health.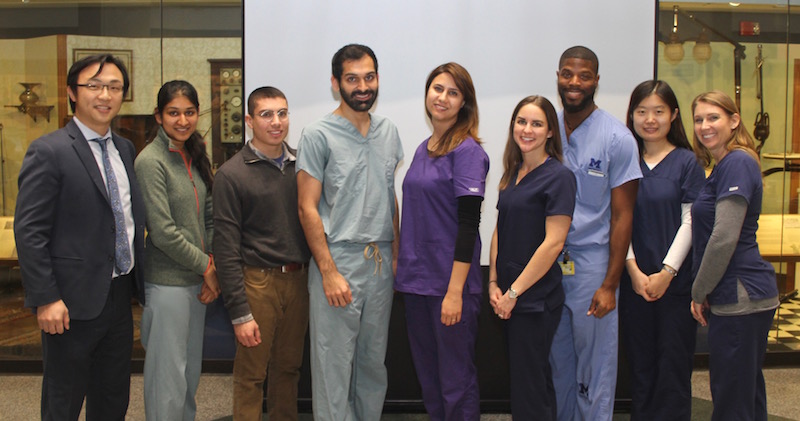 Students participating in the initiative, called Customized Oral Hygiene Therapy (COHT), are piloting a personalized concept to improve and motivate each patient's oral hygiene home care. Students apply critical thinking to create effective instructions based on each patient's needs, with an emphasis on demonstrating in a mirror and videotaping how selected oral care products (such as interdental brushes) are used in the patient's mouth. The videos sent to the patients – sometimes recorded by the patient's own cellphone – give them the chance to later review the techniques that were demonstrated during the appointment.
DDS faculty member Jeff C.W. Wang and Dental Hygiene faculty member Martha McComas, both from the Department of Periodontics and Oral Medicine, launched the initiative in 2016. The objectives are to enhance patient treatment outcomes, improve interaction and communication between patients and student clinicians, and emphasize that Customized Oral Hygiene Therapy should be a critical part of comprehensive patient care. To promote the activity, a video and case report competition is open to the third- and fourth-year dental students and dental hygiene students.
The students recognized at the 2017 awards ceremony in mid-December are: Behnoush Bakhtiari (Internationally Trained Dentist Program 2019), Carl Buchanon (D3), Stevan Djordjevic (D4), Aditi Gupta (ITDP 2018), Zainulabdeen Nezar Rabeeah (DH3), Amanda Robertson (D3), Neil Thomas (D3) and Yu Wang (ITDP 2019). The overall top prize – the 2017 Outstanding Victor for Oral Health Education Award – was presented to Robertson.
McComas said patients need individualized direction in their oral health care, rather than relying on handing them the traditional free toothbrush, toothpaste and floss at the end of their dental appointment. "The whole goodie bag thing is just not working. The patient has to be involved in the care that we are giving them," she said.
Several videos made by the students were shown at the ceremony. They featured demonstrations of oral care aids based on each patient's specific needs, with students providing encouragement for the patients. Patients in the videos said they appreciated the extra attention; some said they weren't previously aware of additional oral cleaning aids and methods other than tooth-brushing.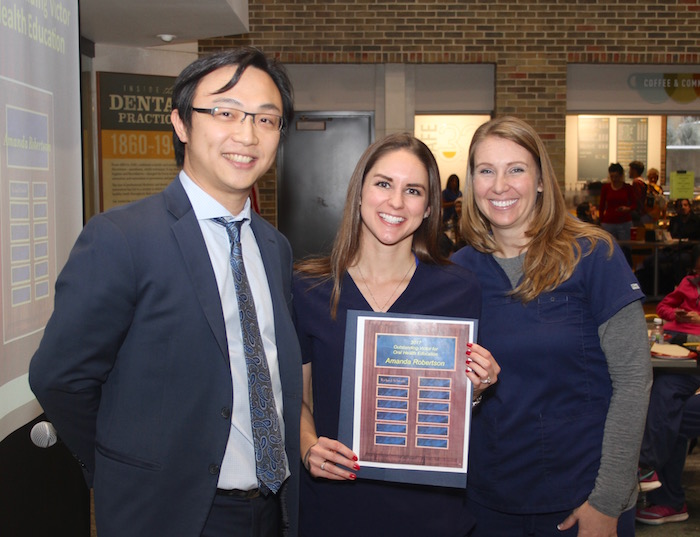 "Patient education is a very important part of our health care service and impacts the overall treatment success tremendously," Wang said. "We have to recognize that it shouldn't be our current standard of care to just tell the patient to brush two times a day and floss one time a day. We have to think about how we can make it easier for the patient and not just blaming the patient for not flossing their teeth."
Wang said an easy but effective method is to use a hand mirror to show the patient their "hot spots" where there is the most plaque accumulation. "Then we need to show them in the mirror how to clean those areas with specific aids and techniques and to make sure it is effective," he said. "That's also a way to motivate them, through visualization. That goes hand-in-hand with patient education. The more they know about the etiology, the signs and progression of the disease, and the progressive outcome of the treatment, they will be more motivated and willing to work together for long-term success of periodontal health and stability."
Students who received awards encouraged other members of the student body to join in the initiative. Several said they initially worried that adding more tasks – like making a video – to their patient's appointment would make it too long. But most reported that it was a relatively simple and brief process, appreciated by patients and effective in encouraging better oral health.
Bakhtiari called it "a very promising approach to motivating patients." Buchanon said it added only 5-10 minutes to appointments, while Robertson called the process "a super easy experience." She cited one patient who watched her own video several times when she returned home because she had never before been taught how to properly brush.
"Your patients really will appreciate this," Thomas said. "It's a good way to build your relationship with them. They like to see that you genuinely care about their oral health and you are thinking of ways for them to specifically improve it."
For more information on Customized Oral Hygiene Therapy and the student awards program, visit the initiative's web site.
###
The University of Michigan School of Dentistry is one of the nation's leading dental schools engaged in oral health care education, research, patient care and community service. General dental care clinics and specialty clinics providing advanced treatment enable the school to offer dental services and programs to patients throughout Michigan. Classroom and clinic instruction prepare future dentists, dental specialists, and dental hygienists for practice in private offices, hospitals, academia and public agencies. Research seeks to discover and apply new knowledge that can help patients worldwide. For more information about the School of Dentistry, visit us on the Web at: www.dent.umich.edu. Contact: Lynn Monson, associate director of communications, at dentistry.communications@umich.edu, or (734) 615-1971.