Trying to Solve the Mysteries of TMJD and Orofacial Pain

3

min read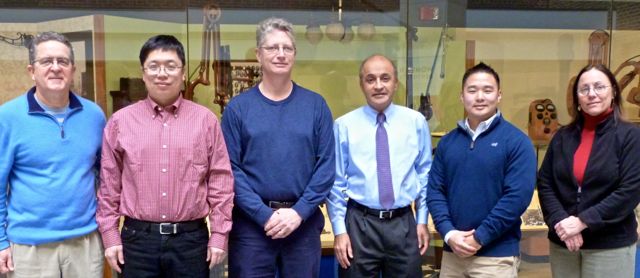 Ann Arbor, MI — January 20, 2014 — It's a complex spectrum of disorders that affects as many as 10 million Americans. Its exact causes, however, are unknown. Researchers, dentists and other health care professionals have been searching for decades for clues that may offer insights into what causes temporomandibular joint disorders and orofacial pain (TMJD/OP)
A new interdisciplinary program led by the University of Michigan School of Dentistry may lead to a better understanding of these disorders.
TMJ/Orofacial Pain Background
The temporomandibular joint (TMJ) is a hinge that connects the mandible (lower aw) and the base of the skull (temporal bone) located on both sides of the head near the ears. The muscles attached to the TMJ help the jaw to move smoothly, both up and down and side to side, enabling us to talk, chew, swallow, talk and yawn.
A variety of symptoms are linked to the TMJ including jaw pain, difficulty opening and closing the mouth, headaches, neck aches, pain in or around the ear, clicking or popping noises when opening the mouth or chewing, and even locking of the jaw. Pain associated with TMJDs and other orofacial conditions are referred to as "orofacial pain."
A recently-awarded five-year, $2 million grant from the National Institutes of Health will support training of three faculty and research scientists annually whose work will enhance the understanding and diagnosis of TMJD/OP so oral health care providers can ultimately deliver better care to their patients. The long-term objectives of the interdisciplinary program are to help scholars develop the knowledge and expertise in this field of research as well as provide long-term career development for participating scientists that will serve as a springboard to further discoveries in TMJD/OP.
Understanding the Causes, Developing Therapies
Dr. Sunil Kapila, chair of the School's Department of Orthodontics and Pediatric Dentistry, and Dr. Daniel Clauw, professor of anesthesiology and internal medicine at the U-M Medical School, obtained the funding and will lead the new interdisciplinary effort.
Kapila said the collaboration between the School of Dentistry and the Medical School "will provide unique opportunities and the environment to train a new generation of TMJ researchers, clinicians, and scholars who may be able to identify specific factors that cause a person to be susceptible to TMJD and orofacial pain. Unfortunately," he added, "these conditions can be debilitating and have significant adverse effects on a person's quality of life. We want to help change that."
With advances in genetics, proteomics, cell and molecular biology, and computer and imaging technologies, Kapila said, "the ultimate goal is to develop personalized therapies that meet each patient's specific needs."
Extensive Teamwork
Each scholar will be trained in one of three areas — orofacial pain and therapeutics; TMJ pathogenesis; and developmental biology, regeneration and tissue engineering.
Mentors with expertise in one or more of these areas will be appointed from a group of 37 from the School of Dentistry, the Medical School, the School of Public Health and the College of Literature, Sciences and the Arts.
Working with an interdisciplinary team of four mentors, each scholar will create a personal career plan that includes research experiences, didactic course work and experiential learning that may result in discoveries that ultimately lead to new therapies that help patients.