3 Faculty Inducted as International College of Dentist Fellows

2

min read
Ann Arbor, MI — November 8, 2013 — Three University of Michigan School of Dentistry faculty members have been inducted as Fellows into the International College of Dentists (ICD).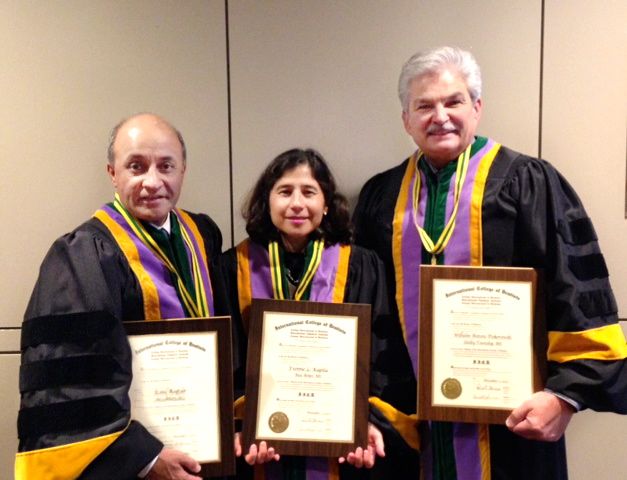 Drs. Sunil Kapila, Yvonne Kapila, and Bill Piskorowski were among 300 dentists from across the U.S. who were inducted during ICD's annual convocation in New Orleans.
ICD is the oldest and largest international honorary dental organization with more than 12,000 members, designated as Fellows, from around the globe. Fellowship in the College is by invitation only and is granted in recognition of a dentist's outstanding professional achievements, meritorious service and dedication to the continued progress of dentistry.
Sunil Kapila, BDS, MS, PhD, is the Robert W. Browne Endowed Professor of Dentistry and has chaired the Department of Orthodontics and Pediatric Dentistry since 2004. He is also director of the School's Graduate Orthodontics Program.
Dr. Yvonne Kapila, DDS, PhD, is professor of dentistry in the Department of Periodontics and Oral Medicine. She is also the director of the School's Global Oral Health Initiative. In addition to teaching periodontics in classrooms and clinics, she is a cell and molecular biologist whose laboratory focuses on the process of cell death. Her other research seeks to determine if certain biomarkers can be used to predict the likelihood of periodontal disease before it occurs.
Dr. Bill Piskorowski, DDS, is assistant dean for Community-Based Dental Education and a clinical associate professor in the Department of Cariology, Restorative Sciences and Endodontics. He lectures in practice management and the clinical foundations curriculum. His research focuses on health care delivery, outreach programs and methods of reaching underserved populations. He is also a member of the Michigan Dental Association's Special Committee on Access to Care.