3 School of Dentistry Women Awarded Scholarships

3

min read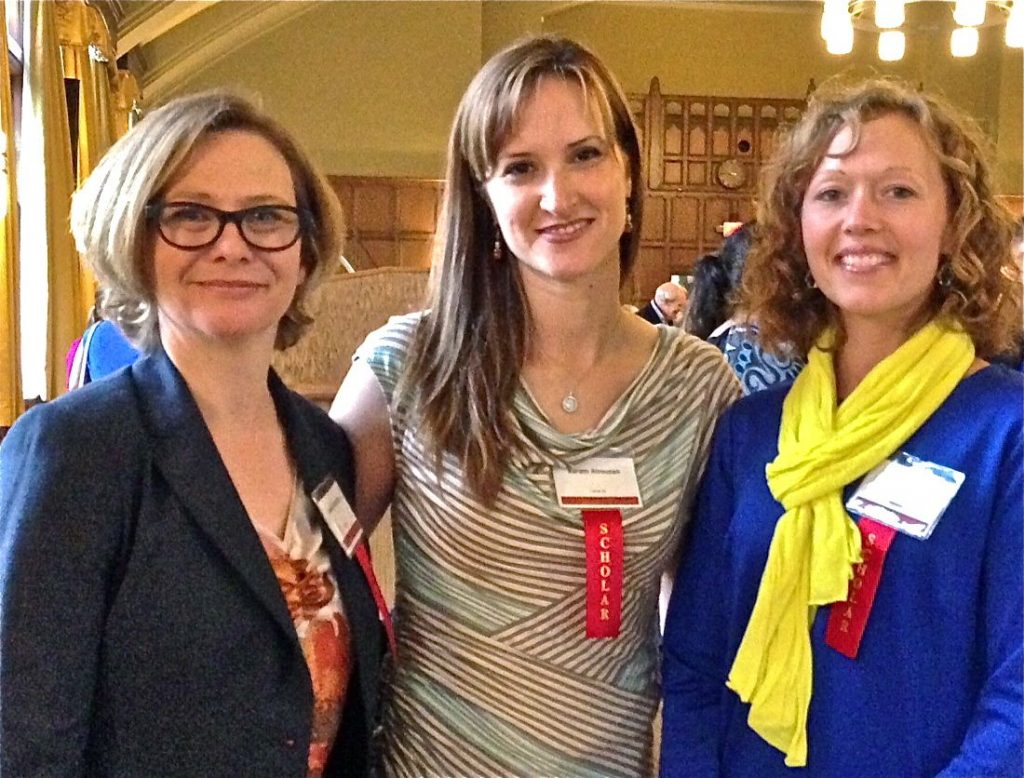 Ann Arbor, MI — October 3, 2013 — Three women pursing their education at the University of Michigan School of Dentistry have been awarded scholarships by the U-M Center for the Education of Women. The awards, presented during the CEW's 43rdAnnual Scholarship and Fellowship Program, honor women whose academic plans were temporarily put on hold for professional or personal reasons.
The three students, and 51 others from U-M's three campuses, all have strong academic records, impressive achievements and ambitious goals. School of Dentistry award recipients were:
Leslie McGarvey, fourth-year dental student, Beatrice Kahn Scholarship
Elisa Dack, dental hygiene e-learning student, Mary Elizabeth Bittman Memorial Scholarship
Dr. Karam Al-Rousan, graduate prosthodontics resident, Elizabeth M. Dusseau Scholarship
Leslie McGarvey
Leslie McGarvey's interest in dentistry began when she was 13 and tried to remove her orthodontic braces with a pair of pliers. When her family dentist learned about her unsuccessful attempt, "he treated me with kindness and respect and taught me that we were partners in my dental health care," she said.
After graduating with a degree in biology from the University of Scranton, McGarvey was an environmental engineer for General Motors, but later left to begin her dental studies. After graduation, she plans to practice dentistry in a public health clinic or veteran's hospital.
The Beatrice Kahn Scholarship honors the memory of Kahn who worked for 29 years as a therapist and marriage counselor in Ann Arbor.
Elisa Dack
Elisa Dack earned an associate's degree in dental hygiene from Ferris State University and became a dental hygienist. "Then motherhood stepped in," she said and plans to continue her education were delayed. With her three children now in school, she enrolled in the School of Dentistry's E-Learning Degree Completion Program last fall and plans to graduate next August. She is considering the possibility of teaching at the university level.
The Bittman Memorial Scholarship was established to help women, whose studies have been interrupted, complete their education.
Dr. Karam Al-Rousan
After earning her dental degree in Jordan and establishing a dental practice in that country, Dr. Karam Al-Rousan moved with her husband to Michigan. With two children now in grade school, she applied for, and was admitted to, the School of Dentistry's Graduate Prosthodontics Program.
Following the completion of her current studies, Al-Rousan hopes to teach and will emphasize to undergraduate and graduate dental students the importance of incorporating dental techniques and oral health care products that have been proven to be safe and effective. She also plans to apply the standards in her own practice.
Presented for the first time, the Elizabeth M. Dusseau Scholarship honors the memory of the late assistant professor at U-M who earned her bachelor's and master's degrees in public health from U-M.