DH Alumna, Students Honored

4

min read
Ann Arbor, MI — May 7, 2013 — An alumna of the University of Michigan School of Dentistry's dental hygiene program and graduates of the Dental Hygiene Class of 2013 have been recognized for their contributions to the profession and their academic achievements.
Christine Farrell, Outstanding Alumna
Christine Farrell (DH 1981) received the Outstanding Dental Hygiene Alumna Award for her service to the profession for more than 30 years. The award was presented by the U-M Dental Hygiene Alumni Association during its luncheon with the Washtenaw District Dental Hygienists' Association last month.
After graduating, Farrell spent a short period of time in clinical practice and then worked in state government, beginning in 1988, for the Michigan Department of Community Health. She was a Medicaid analyst administering the Department's dental insurance program. In 2010, she was appointed director of oral health.
Active in local, state, and national levels of dental hygiene and public health, Farrell was president of the Michigan Dental Hygienists' Association (1993-1994) and editor of the Bulletin of the Michigan Dental Hygienists' Association (1998-2001). She served a three-year term on the School of Dentistry's Alumni Society Board of Governors (1996-1999), including a two-year term as secretary.
Farrell also served four terms on the ADHA's Council of Public Relations (2000-2004), including a one-year term as chair, was national chair of the Medicaid/State Child Health Improvement Program (2004-2007), and was ADHA delegate chair (2008-2010).
She earned a Master in Public Administration degree from the University of Michigan in 2006. Farrell is currently a course director in both the Degree Completion E-Learning Program and Master of Science Dental Hygiene Program.
Honor Society Inductees
Three dental hygiene students, a master's degree graduate, and a faculty member were inducted into the Sigma Phi Alpha Nu Chapter of the National Dental Hygiene Honor Society during its annual spring brunch.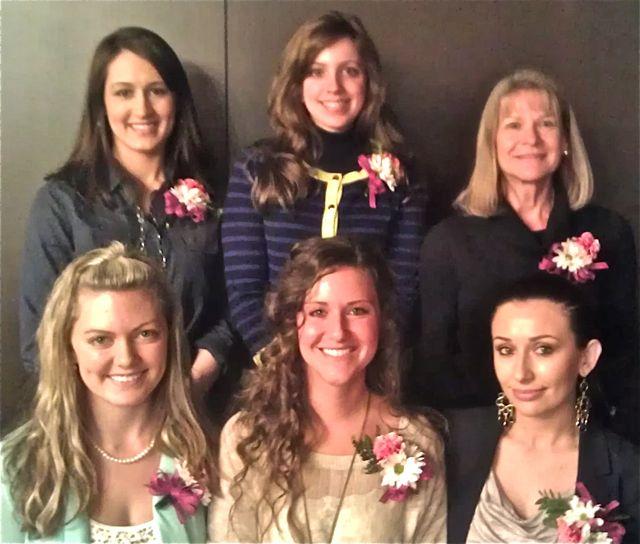 The three dental hygiene students are: Chelsea Hutson, Emily Fish-Entry, and Lindsay El Awadi.
The graduate of the master's Degree Completion E-Learning program was Bridget Beattie. The faculty member inductee was Darlene Jones, dental hygienist at the Community Dental Center and adjunct clinical lecturer.
Student Awards
Members of the Dental Hygiene Class of 2013 were also honored with awards:
Annette Kavanaugh, the Pauline Steele Student Leadership Award. Named for the second director of the School of Dentistry's dental hygiene program, this award recognizes a senior dental hygiene student who has demonstrated outstanding leadership.
Stephanie Wolski, the Washtenaw District Dental Hygienists' Society Student Profession & Community Involvement Award. This award is presented to a student who demonstrates commitment to professional development by participating in professional activities and/or community service.
Chelsea Bissell, the Colgate Oral Pharmaceuticals Student Total Achievement Recognition (STAR) Award for demonstrating enthusiasm for community service and compassion in patient care.
Chelsea Hutson, the Hu-Friedy Golden Scaler Award. This award is presented to the student who exemplifies the role of a dental hygienist in all aspects of clinical care.
Emily Fish-Entry, the Johnson & Johnson Professional Excellence Award for outstanding clinical expertise in dental hygiene, health promotion and disease prevention education.
Sara Wesley, the American Association of Public Health Dentistry Dental Hygiene Student Merit Award for Outstanding Achievement in Community Dentistry.
Annette Kavanagh and Sara Wesley received Ginsberg Center Service Cords for completing at least 135 hours of community service.
Samantha Metcalf, a third-year dental hygiene student received the Wendy Kerschbaum Emerging Leader Award. The new award is named to honor the legacy of Prof. Wendy Kerschbaum who directed the School of Dentistry's dental hygiene program for 25 years (1988-2013) and was only the third director of the program since it was created in the 1920s. The award will be presented annually to a second- or third-year dental hygiene student who is a member of the Student American Dental Hygienists' Association exhibiting a strong commitment to the dental hygiene profession and demonstrates leadership in the organization.