Dental Hygiene program adds new pathway to BS, MS degrees

3

min read
Ann Arbor, Mich., May 9, 2023 – Dental hygienists with associate's degrees who wish to further their education and career opportunities by obtaining bachelor's and master's degrees have a new option at the School of Dentistry.
The school's Dental Hygiene division has created an innovative new online program that streamlines the time it takes to earn the BSDH and MSDH degrees without changing the current master's program rigor or structure. The new pathway, called the Accelerated Online AS-MS in Dental Hygiene Program, will be available starting in Fall 2023.
The program integrates the 15-year-old online E-Learning ​Degree Completion ​Program with the existing MSDH degree ​program in a way that reduces​ the time ​needed ​to complete the BS and ​MS degree​s separately, from four years to three years. Students complete their BS degree through a combination of undergraduate and graduate credits before applying to the MS program through the University of Michigan Rackham Graduate School, just as previous and current MSDH students have done.
DH faculty conducted an in-depth feasibility study using data from rigorous internal and external reviews. The plan was then reviewed and approved by the Rackham Graduate School.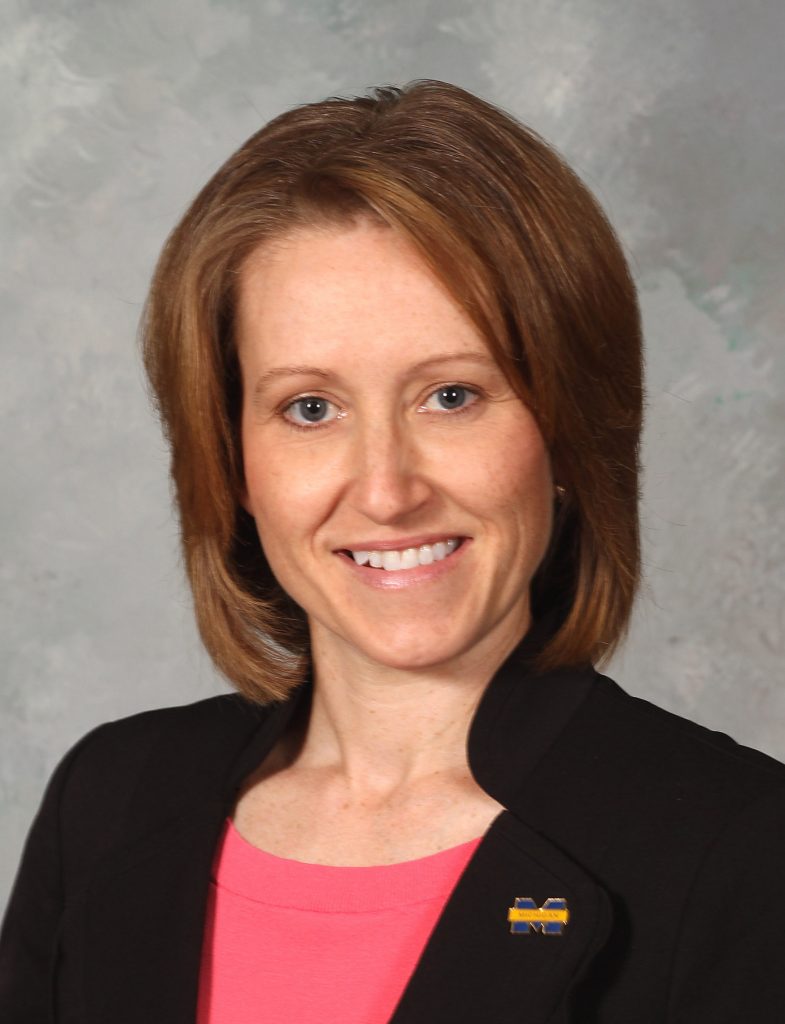 DH faculty member Jennifer Cullen, a Clinical Lecturer and Director of the Dental Hygiene Degree Completion Program, will direct the new program in collaboration with faculty member Danielle Rulli, a Clinical Associate Professor and Director of the MSDH program.
Darlene Jones, Interim Director of the Division of Dental Hygiene​, and Martha McComas, Interim Associate Director, announced the program in April. They credited Cullen, Rulli and DH faculty member Janet Kinney, a Clinical Professor of Dentistry, for their "relentless efforts" in researching and designing the program. Purnima Kumar, Chair of the Department of Periodontics and Oral Medicine, which oversees the DH division, and Jan Hu, the dental school's Interim Dean, were also instrumental in supporting the plan, Jones and McComas said.
Cullen said the AS-MS pathway is of benefit to hygienists who wish to expand their professional opportunities into academia, clinical and behavioral research, public health, health administration, policy or management. Since the program is being offered online, practicing hygienists can continue in their current jobs and communities while earning the additional degrees that will allow for future professional advancement and increased earning power. By reducing the time commitment from four years to three, it not only speeds the process, but it also reduces costs for students.
"The expanding landscape of the dental hygiene discipline is creating demand for streamlined paths to graduate degrees, especially for the working professionals who make up the majority of our student population," Cullen said. "Like our other online offerings, this program will support the mission of the School of Dentistry to provide innovative and engaged learning while advancing health through education, service and research."
The on-campus degree completion program will still be an option for associate-prepared hygienists wishing to complete the BS degree only. The traditional two-year MS program (online or on campus) will also still be available to dental hygienists who already have their bachelor degree.
More information is available on the Dental Hygiene section of the School of Dentistry website here.
###
The University of Michigan School of Dentistry is one of the nation's leading dental schools engaged in oral healthcare education, research, patient care and community service. General dental care clinics and specialty clinics providing advanced treatment enable the school to offer dental services and programs to patients throughout Michigan. Classroom and clinic instruction prepare future dentists, dental specialists and dental hygienists for practice in private offices, hospitals, academia and public agencies. Research seeks to discover and apply new knowledge that can help patients worldwide. For more information about the School of Dentistry, visit us on the Web at: www.dent.umich.edu. Contact: Lynn Monson, associate director of communications, at dentistry.communications@umich.edu, or (734) 615-1971.