Professor Peter Polverini delivers Harvard's Goldhaber Award lecture

3

min read
Ann Arbor, Mich., Dec. 7, 2022 – School of Dentistry professor and former dean Peter Polverini received the annual Goldhaber Award from the Harvard School of Dental Medicine last month and delivered the lecture associated with the award.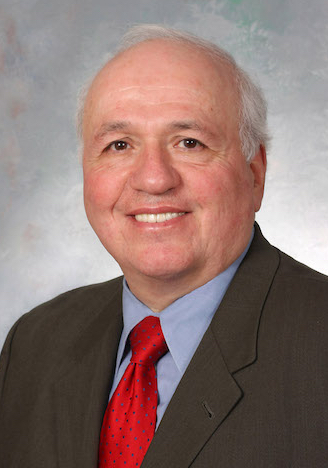 The Harvard dental school presents the Goldhaber Award and Lecture each year to recognize a recipient who is held in the highest international esteem in his or her field related to oral and systemic health. Dr. Polverini, a leader in the field of vascular and cancer biology, was selected for his contributions to oral tumorigenesis throughout his scientific career. His current research focuses on the role of cancer stem cells in the progression of premalignant oral epithelium.
Harvard noted that Polverini is recognized as an accomplished mentor, scholar and administrator who has fostered innovation in dental education by promoting scholarship and scientific rigor.
His lecture, on Nov. 14, discussed "How Crosstalk between Cancer Stem Cells and the Tumor Microenvironment Drives Neoplastic Progression of Premalignant Oral Epithelium."
Polverini is the Jonathan Taft Distinguished University Professor at U-M. He is a professor of oral and maxillofacial pathology in the Division of Oral Pathology/Medicine/Radiology in the Department of Periodontics and Oral Medicine at the dental school. He is also a professor of pathology at the U-M Medical School. He served as dean of the U-M School of Dentistry from 2003-13.
Polverini received his Doctor of Medical Sciences degree and specialty training in oral and maxillofacial pathology from Harvard in 1977.
Polverini is a diplomat of the American Board of Oral and Maxillofacial Pathology, fellow of the American Academy of Oral and Maxillofacial Pathology, a fellow of the American Association for the Advancement of Sciences, and past President of the American Association for Dental Research. He has been the recipient of numerous awards and honors, including the Distinguished Alumnus Award from Harvard School of Dental Medicine. He is an elected member of the National Academy of Medicine.
The Goldhaber Award was established in 1989 in honor of Dr. Paul Goldhaber, a periodontist, researcher and former Dean of the Harvard School of Dental Medicine, upon the completion of his 22 years as dean. It is the highest research award presented by the Harvard dental school.
###
The University of Michigan School of Dentistry is one of the nation's leading dental schools engaged in oral healthcare education, research, patient care and community service. General dental care clinics and specialty clinics providing advanced treatment enable the school to offer dental services and programs to patients throughout Michigan. Classroom and clinic instruction prepare future dentists, dental specialists and dental hygienists for practice in private offices, hospitals, academia and public agencies. Research seeks to discover and apply new knowledge that can help patients worldwide. For more information about the School of Dentistry, visit us on the Web at: www.dent.umich.edu. Contact: Lynn Monson, associate director of communications, at dentistry.communications@umich.edu, or (734) 615-1971.