First cohort of students begins new OHS MS program at School of Dentistry

8

min read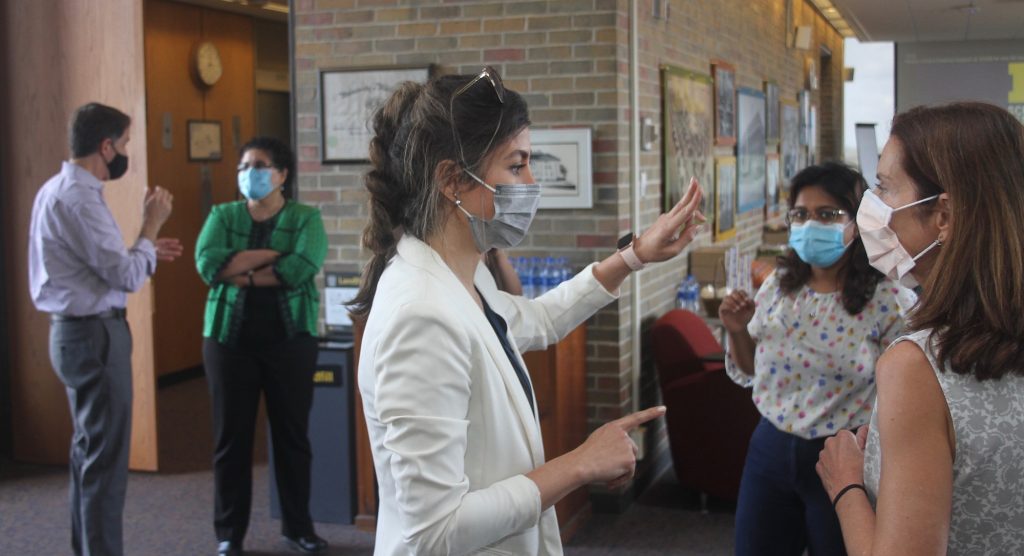 Ann Arbor, Mich., Sept. 8, 2021 – The new master's degree program in Oral Health Sciences at the University of Michigan School of Dentistry has attracted both local students and some from the other side of the world.
The first cohort of seven students arrived this summer to begin the one-year program leading to a Master of Science degree. The group includes a woman who is very familiar with the halls of the dental school after spending three years here earning her bachelor's degree in Dental Hygiene. Another student just finished his undergraduate degree in Biopsychology, Cognition and Neuroscience at U-M. Coming from much farther away are students with degrees from universities in North Carolina and Washington, as well as two with educational backgrounds in India and one who is a native of Iran.
"We're biased because we vetted the applicants, but we have such a wonderful first cohort," said faculty member Dr. Elisabeta Karl, director of the new program. "They are super-great students with very interesting backgrounds." Some are pursuing the new degree to bolster their academic credentials to apply to dental school, some hope to continue on the academic track to a PhD and others are exploring and broadening their research opportunities.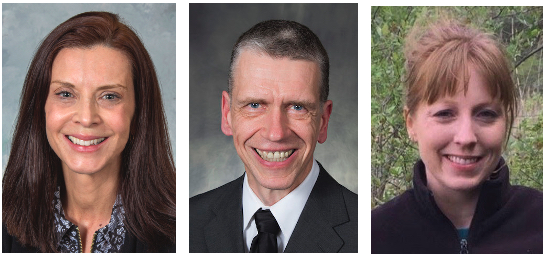 Research is a key component whether students choose either the research-intensive track or the course-intensive track. The research track allows students to select faculty mentors not only among researchers at the School of Dentistry but also across the entire U-M campus, with research likely done in labs. The course-intensive track is a mix of dental school courses and seminars, along with courses the students choose in other areas of the university, with the research more likely to be literature review, for example, rather than in a lab. Each track requires students to document a capstone project at the end of the year.
"One goal from the beginning was to offer a very broad range of mentors," Karl said. "When we talked to applicants, we noticed that one of the things that attracted them to our program was the wide variety of research labs and research possibilities. So we worked to offer a lot of mentors here in the dental school and across campus."
Amy Watson, a dental school staff member who is the program coordinator, said the program's appeal is the diversity of research available at U-M. "This program shows the students all the different facets of what you can do in research, that it doesn't always require being inside a lab," Watson said. Adds Karl: "We are trying to show our students and potential students that it doesn't matter the topic you choose. If you follow the good research methodologies, you can make a contribution to science. Maybe it won't be in a traditional area like oral cancer, but you will bring something new to the field of oral health science."
Dr. Vesa Kaartinen, associate dean for research, notes that dental school faculty have more than 30 labs in areas such as Craniofacial, Skeletal Biology and Disease; Cancer Biology and Therapeutics; Tissue Engineering and Regenerative Medicine; Clinical, Population and Educational Research. Add in researchers at the U-M medical school and the many other science departments on campus, and the research opportunities are nearly limitless, he said.
While many of the master's degree programs on campus are two-year, the OHS MS degree is a one-year, 30-credit alternative that begins in July and finishes at the end of the following winter term. "We were very honest with potential applicants from the beginning," Karl said. "When they asked what will be required for the program, I always said to them: Tons of discipline, because you will have lots of heavy courses. And determination, because with only 10-12 months, you won't have time to spin your wheels, you have to be focused. It's pretty intensive."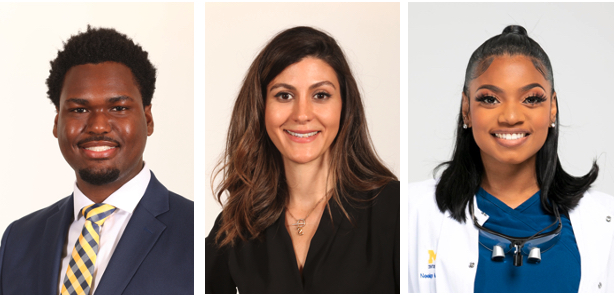 One of the master's students, Ainslie Woodward, is fresh off his undergraduate degree last spring from U-M in Biopsychology, Cognition and Neuroscience. He decided to take a gap year before applying to dental school in order to strengthen his academic credentials. He was looking for a biomedical masters program somewhere in Michigan when he came across the announcement about the new program at his alma mater. He believes the combination of graduate level courses plus expanding his knowledge of oral health through research will help both his dental school application and ultimately his coursework and clinic experience once admitted to a dental school. For his research, he's already planning to work with a trio of dental school faculty – Karl, Dr. Andrea Mantesso Pobocik and Dr. Clarissa Fontoura – on their project, "Anxiety Control Strategies As Tools To Increase General And Oral Health of Vulnerable Populations."
Sharon Namazi, a native of Iran, earned her DDS in Dubai and came to the U.S. to further her education. For the last several years, she has been at U-M. At the Medical School, she was in a post-doc program and taught head and neck anatomy to dental and medical students. After her application to the Endodontics master's program at the dental school was turned down, she was advised to pursue a master's degree in a related health field and then re-apply. Coincidentally, that was just as the dental school was publicizing its new OHS master's program. "My training was more clinical and practical, but not research-oriented," she said. "So I was trying to get more research training because I want to apply for a PhD program eventually." Because she has an interest in regenerative medicine, she is likely to pursue that as her research project for the OHS MS and as a next step after the master's in her continuing educational journey.
Neelege Watson spent a year working as a dental hygienist after earning her BSDH from the dental school in 2020. She also took pre-dental courses, including organic chemistry, this year prior to joining the OHS MS program. She said the extra year, plus the upcoming year earning her master's in the new program, will position her well for applying to dental school. "My plan for the master's program is basically to help enhance my application to dental school next year," she said. "Also, to get more experience in research and some more intensive courses related to oral health sciences and dentistry. I've loved the University of Michigan since I've been here and that's why I chose the master's program here. And, hopefully, getting accepted into dental school here is in the plan, too."
The OHS Master of Science degree proposal was initiated by the school in January 2020 and subsequently approved by the Executive Board of the Rackham Graduate School and by the Michigan Association of State Universities. Unique among Michigan universities, the program is
intended to prepare students to acquire skills and knowledge necessary for a competitive application to dental school, an application to a PhD training program or for employment in a research laboratory in the field of oral health sciences and craniofacial research. The program is also designed to enhance diversity among students considering dentistry or research in oral health sciences/craniofacial biology as their future careers. The competitive nature of the dental school application process as well as the shortage of a research workforce that engages in dental, oral and craniofacial health sciences were others reasons the program was proposed..
Administrators hope to expand the program to 15 students by 2022 and 20 students by 2023. It joins the PhD program in Oral Health Sciences already offered by the School of Dentistry.
More information on the OHS MS program can be found on the School of Dentistry website here.
###
The University of Michigan School of Dentistry is one of the nation's leading dental schools engaged in oral health care education, research, patient care and community service. General dental care clinics and specialty clinics providing advanced treatment enable the school to offer dental services and programs to patients throughout Michigan. Classroom and clinic instruction prepare future dentists, dental specialists and dental hygienists for practice in private offices, hospitals, academia and public agencies. Research seeks to discover and apply new knowledge that can help patients worldwide. For more information about the School of Dentistry, visit us on the Web at: www.dent.umich.edu. Contact: Lynn Monson, associate director of communications, at dentistry.communications@umich.edu, or (734) 615-1971.