Faculty member, students receive awards at national research conference

5

min read
Ann Arbor, Mich., July 30, 2021 – A School of Dentistry faculty member, several students, a professor emeritus and a retired staff member received awards at the recent annual conference of the American Association of Dental, Oral and Craniofacial Research, or AADOCR.
The newly re-named AADOCR, formerly the American Association for Dental Research, or AADR, is the largest division of the International Association for Dental Research (IADR). Last week's virtual conference, from July 21-24, was the annual joint meeting of the IADR, AADOCR and the Canadian Association for Dental Research. The virtual event was attended by more than 3,500 participants around the world.
D'Silva receives mentoring award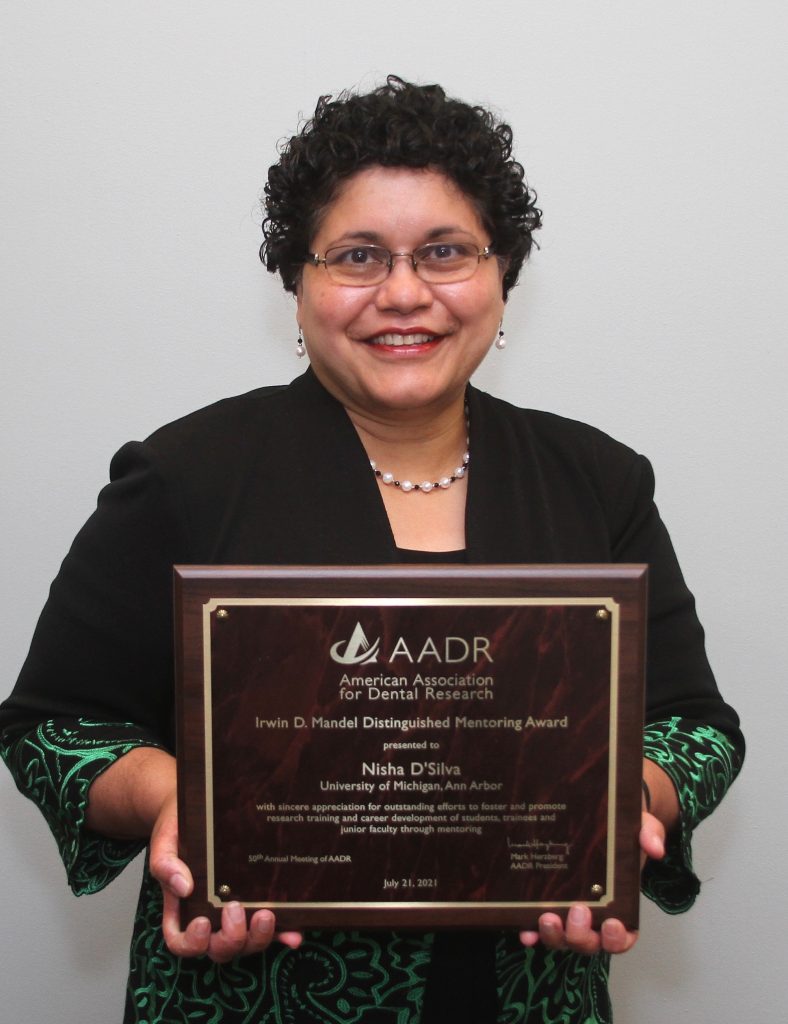 Dental school faculty member Nisha D'Silva received the Irwin D. Mandel Distinguished Mentoring Award. The award was established to provide national recognition for outstanding efforts to foster and promote research training and career development of students, trainees and junior faculty. It is intended to identify researchers at all levels of their career with an exemplary record of mentoring.
D'Silva is the Donald A. Kerr Endowed Collegiate Professor of Oral Pathology and a Professor in the Department of Periodontics and Oral Medicine in the School of Dentistry. She is also a Professor of Pathology at the U-M Medical School. She has mentored more than 60 undergraduate, graduate students and post-doctoral fellows, including pre-dental, dental students and faculty, in her work as an oral pathologist, cancer biologist and educator. Her research in head and neck cancer focuses on biomarkers and molecular mechanisms of tumor progression and treatment resistance.
D'Silva has volunteered in many ways for IADR and AADOCR. She currently serves as IADR treasurer (2018-21) and as a Journal of Dental Research Editorial Board member (2008-22). She has previously served as the AADR representative to the IADR/AADR Publications Committee (2017-20) and as president of the IADR Oral Medicine and Pathology Group. D'Silva is an AADR Fellow and won the 2017 IADR Distinguished Scientist Award for Oral Medicine and Pathology Research.
Student awards
• Shawn Hallett and Marsha-Kay Hutchinson, dual degree DDS-PhD students in the Oral Health Sciences program (OHS), received AADR Bloc Travel Grant Awards, which are supported by the National Institute of Dental and Craniofacial Research. Hallett is mentored by faculty member Renny Franceschi and former faculty member Noriaki Ono. Hutchinson is mentored by Nisha D'Silva.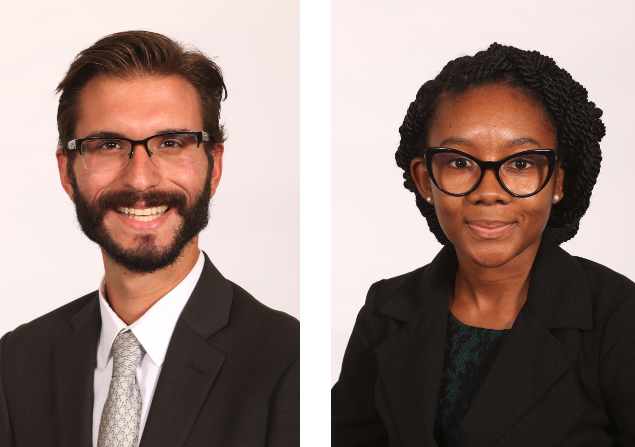 • Yao Yao, a PhD student in the OHS program, won 2nd place in the Basic Science Category of the 411 Rapid Research Competition sponsored by AADR and the National Student Research Group. The competition is designed for students to improve their ability to communicate their science to a non-scientific audience. The 411 name is based on competitors having 4 minutes and 1 slide to explain their research, then they are asked 1 question. Research title: "3D Melt Electrospinning Writing (MESW) Multiphasic-Structured Scaffolds for Coordinated Periodontal Regeneration." Mentor: Joerg Lahann, an OHS faculty member who is Director of U-M Biointerfaces Institute and a professor of Biomedical Engineering.

Three students received AADR Student Research Fellowships, which are supported by American Academy of Periodontology, Colgate Oral Pharmaceuticals, P&G Professional Oral Health, Crest + Oral-B, Dentsply Sirona, GlaxoSmithKline and AADR Group Chapters, Sections and Members.
• Marsha-Kay Hutchinson, DDS/OHS PhD student. Research title: "Mechanism of TRIP13-Mediated Radiation Resistance in Oral Cancer." Mentor: Nisha D'Silva.
• Eric Madsen, DDS/OHS PhD student. Research title: "Peptide DPI-VTK promotes migration of MSCs." Mentor: David Kohn.
• Ben Swanson, DDS/OHS PhD student. Research title: "Controlled Release of Odontogenic Exosomes from a Biodegradable Vehicle Mediates Dentinogenesis as a Novel Biomimetic Pulp Capping Therapy." Mentor: Yuji Mishina.
Presidential Citations
Also at the conference last week, retired School of Dentistry staff member Sharon Grayden and Professor Emeritus Dr. Stephen Bayne were two of three people who received the 2021 AADR Presidential Citation. Grayden, who was the school's Director of Communications, and Bayne have long been active in AADR and IADR. She was a charter member of the IADR Education Research Group in 1997 and served in every ERG officer role over 10 years, among many contributions. Bayne, an AADR Fellow, is a former president of AADR (1999-2000) and IADR (2006-07) whose research in dentistry has been widely published. In 2016, the couple established the AADR Legacy Society for individuals who have committed future assets, through estate and planned giving, to AADR, ensuring support for future initiatives and growth of the organization.
---
See related story about School of Dentistry faculty member Dr. Jacques Nör becoming president of the AADOCR for 2021-22 at the conclusion of last week's conference.
###
The University of Michigan School of Dentistry is one of the nation's leading dental schools engaged in oral health care education, research, patient care and community service. General dental care clinics and specialty clinics providing advanced treatment enable the school to offer dental services and programs to patients throughout Michigan. Classroom and clinic instruction prepare future dentists, dental specialists and dental hygienists for practice in private offices, hospitals, academia and public agencies. Research seeks to discover and apply new knowledge that can help patients worldwide. For more information about the School of Dentistry, visit us on the Web at: www.dent.umich.edu. Contact: Lynn Monson, associate director of communications, at dentistry.communications@umich.edu, or (734) 615-1971.